Lisbon is a beautiful city endowed with rich cultural heritage sites that elevate its persona.
Labyrinthine streets in Alfama and Castelo, castles embellished on the hilltop, and the Vasco da Gama tower, the tallest skyscraper in Lisbon, are the gems of the city.
When you're in Lisbon, there are many places you may want to visit, but your tour is incomplete without a Lisbon Cable Car tour.
Though you can tour around in vintage trams or book HIPPOtrip tickets, cable car in Lisbon offers an incomparable and phenomenal experience.
This article shares everything you need to know before buying your Lisbon Cable Car tickets.
Top Lisbon Cable Car Tickets
What to expect from the Cable Car
There is no better way to explore the picturesque neighborhoods of Lisbon than a Lisbon Cable Car.
Step onto the Nations Park Gondola Lift and get ready to witness an aerodrome view that you'll never forget in your entire life.
The Nations Park Gondola Lift was inaugurated in March of 1998 for the International Exposition of Lisbon (EXPO'98), and since then, it has become an integral component of tourists' itinerary.
This lift has 40 closed cabins, automatic doors, and a capacity for eight passengers.
The aerial trams on ropes offer a panoramic view of the sky washed with clouds, Tagus River's water shimmering, and the land embellished with colorful houses and trees.
The 12 minutes ride of Telecabine Lisbon shows you the heaven below your feet, and the scenery you see before your eyes is jaw-dropping.
You'll catch glimpses of the Oceanarium, the Portugal Pavilion, St. Gabriel and St. Raphael towers, the Atlantic Pavilion (Meo Arena), the Vasco da Gama Tower (My Riad hotel), and the Vasco da Gama Bridge.
If you're an adventurer who loves trying new things, you must go for this ride without a second thought.
You can get the Lisbon Cable Car tickets alone or get the Cable Car + Oceanarium tickets. The Lisbon Oceanarium is right next to Telecabine Lisbon's South Station, which is why families with kids prefer the combo ticket.
---
---
Lisbon Cable Car tickets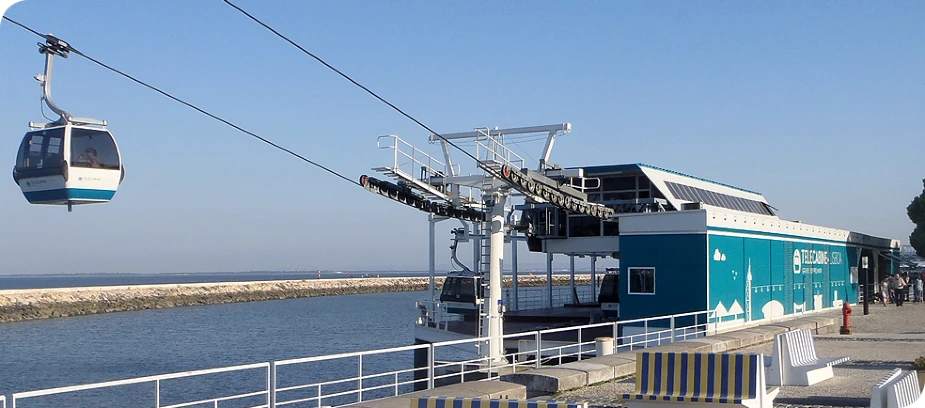 You can purchase Lisbon Cable car tickets at the attraction or book them online.
Where to buy tickets
You can purchase your Lisbon Cable car ticket at the North Station or South Station.
Mountain Cable car in Lisbon is at Passeio das Tágides, next to the old Vasco da Gama tower, now the Myriad hotel.
Telecabine Lisboa South Station is located at Passeio Neptuno near the Oceanarium.
You can also buy tickets online if you want to reserve your seats in advance and avoid last moment disappointment.
How online ticket works
You can schedule your tickets as per the date and time of your choice.
Booking tickets online saves time and money and assures you an entry into the Nations Park cable car.
When you've e-tickets, you don't have to worry about leaving home early and standing for long hours in a queue to get tickets.
The Lisbon Cable car tickets get emailed to you as soon as you purchase them.
On the day of your visit, you can show the tickets on your mobile and walk in – no need to take printouts.
Ticket Prices
Adult ticket (13+ years): € 9
Child ticket (3 to 12 years): € 6
Infant ticket (up to two years): Free
---
---
How to reach the station
The Nations Park cable car service has two stations – the North Station and the South Station.
The North Station is next to the Old Vasco da Gama tower (Passeio das Tágides). Get Directions
The South Station is next to the Lisbon Oceanarium (Passeio de Neptuno). Get Directions
By Metro
The nearest subway station is Oriente, just 14 minute walk to the Telecabine Lisbon.
If you don't want to walk to the Lisbon Cable Car site, hop onto buses 705, 708, 725, 744, 759, and 782 and get down at Av. Boa Esperança.
From the bus stop, the Lisbon Cable Car station is 9 minute walk away.
By Bus
The closest bus stops ars Cais Olival – Al. Oceanos (26B), Av. Boa Esperança (208, 210, 705, 708, 725, 744, 759, and 782), and Esc. Vasco Gama (26B).
By Train
Train station Estação do Oriente is nearly 1.3 km (almost a mile) from the Cable car's North Station.
You can either walk and go or take buses 705, 708, 725, 744, 759, and 782 to Av. Boa Esperança.
Telcabine North Station is just a 9-minute walk from the Av. Boa Esperança bus stop.
Car Parking
If you're coming for a Lisbon Cable Car ride in your car, turn on your google maps.
You can park your vehicle at parking FIL, a walkable distance from Telecabine Lisbon's North Station.
---
---
Opening hours
Cable Car in Lisbon operates from 11 am to 6 pm.
The trip lasts 12 minutes on a course of 1.2 km (almost a mile).
Tourists hover over the Tagus River at the height of 30 meters (98 feet).
How long does it take
The Lisbon Cable Car ride is just 12 minutes long.
While you float over the Tagus River at the height of 30 meters, you will catch sight of the incredible and iconic attractions of the city.
Best time to ride Lisbon Cable Car
If you want to avoid the car, the best time to board the Nations Park gondola lift is as soon as they open at 11 am.
For the best views from the cabin, it is better to time your visit with the sunset.
---
Lisbon Cable Car combo tickets
Telecabine Lisbon's South Station is right next to Lisbon Oceanarium, which is why most families opt for the Cable Car + Oceanarium tickets.
When you buy them together, you save at least 3 Euros per person – a discount of about 11%.
Lisbon Cable Car tickets combined with Belém Tower and Jerónimos Monastery are also popular among tourists.
Sources

# Telecabinelisboa.pt
# Civitatis.com
# Tripadvisor.com

The travel specialists at TheBetterVacation.com use only high-quality sources while researching & writing their articles. We make every attempt to keep our content current, reliable and trustworthy.
Popular attractions in Lisbon