Calouste Gulbenkian Foundation and Museum is where history, geography, culture, and arts converge to tell people how diverse or unique civilizations were.
Ruy Jervis d'Athouguia, Pedro Cid, and Alberto Pessoa architected Museu Calouste Gulbenkian to create a perfect space for its collection.
This article explains everything you should know before you purchase Calouste Gulbenkian Museum tickets.
About Calouste Gulbenkian's Museum
Calouste Gulbenkian was a philanthropist with an unimaginable interest in collecting artifacts like vases, paintings, sculptures, jewelry, and other decorative items.
Right since childhood, he began gathering rare items and his travel from one country to another developed more taste in collectibles.
Armenian in origin, born in Turkey and established in London, Calouste Gulbenkian spent roughly ten years in Lisbon, where he took his last breath.
He struggled to keep his growing collection safe and wished to set up an institute or gallery where all his collections, which he often referred to as his children, could find shelter.
While the government of Great Britain turned down this proposal, the negotiations between French Government and the National Gallery in Washington took so long that they continued after his demise.
Later all the collections of Calouste Gulbenkian were moved to Portugal, and his dream finally turned into reality fourteen years after his death.
The cornerstone of the Calouste Gulbenkian Museum was laid in Lisbon to commemorate his passion for art and culture.
---
---
Tickets for Calouste Gulbenkian Museum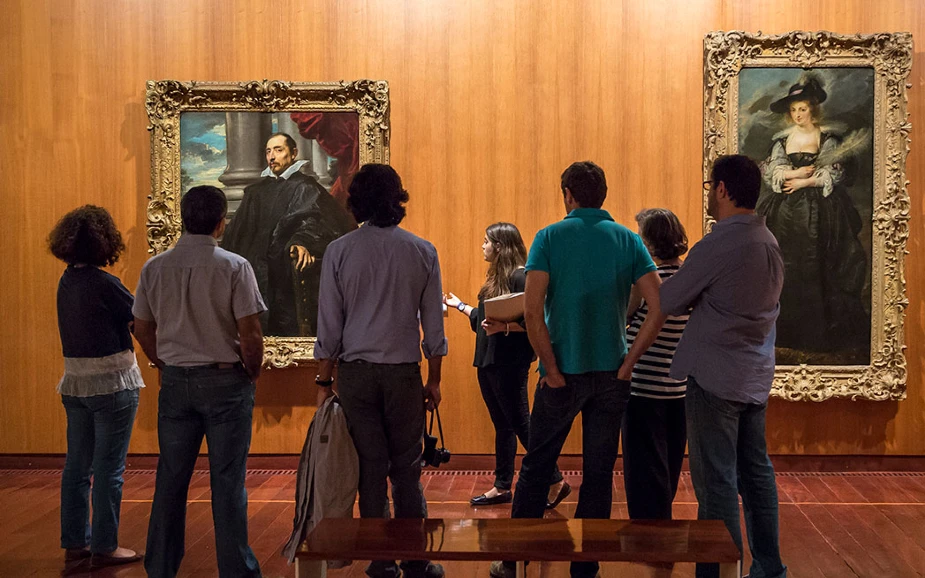 You can purchase Museu Calouste Gulbenkian tickets offline and online.
When you buy your tickets at the venue, you pay more and have to stand in the long queues in front of the ticket counter.
When you book your tickets online, you pay less, save time and also avoid last-moment disappointment.
The Museum offers free admission for carers for people with disabilities or limited mobility.
Ticket Prices
Senior ticket (65+ years): € 5.50
Adult ticket (30 to 64 years): € 10
Youth ticket (12 to 29 years): € 5.50
Child ticket (up to 11 years): Free
---
---
Calouste Gulbenkian Museum + Lisbon Zoo
The Lisbon Zoo is only 3.5 km (2 miles) from Calouste Gulbenkian Museum, which is why some tourists visit them on the same day.
The walking distance is only 1.5 km (one mile) and takes around 20 minutes. By car, it is an 8-minute drive.
If you want to visit Museu Calouste Gulbenkian and Lisbon Zoo, what can be better than buying a single ticket and enjoying the tour?
The combo ticket saves you time as you don't have to spend time purchasing two tickets separately.
You also get a discounted price and save € 4 per person.
---
---
Opening hours
Calouste Gulbenkian Museum is open daily from 10 am to 6 pm, except on Tuesdays.
Museu Calouste Gulbenkian remains closed on 1 January, Easter Sunday, 1 May, 24, and 25 December.
The last entry is 30 minutes before the closing time.
Best time to visit the museum
The best time to visit Calouste Gulbenkian Museum is as soon as they open at 10 am.
During the morning hours, the crowd is less, so you get sufficient time to spend at the Museum exploring jewelry, sculptures, books, paintings, etc.
On Sunday, entry into Museu Calouste Gulbenkian is free after 2 pm – it is a great time for backpackers and those on a budget holiday to visit the collection.
However, on Sundays, it can be really crowded, affecting your tour of the Lisbon museum.
How long does the museum take
Tourists take an hour to two hours to explore Calouste Gulbenkian Museum.
The tour duration can extend depending on your love and interest in art and culture.
If you get tired, you can always step into the cafeteria, take a break, and return to exploring.
Note: The Modern Collection building is temporarily closed for remodeling works.
---
---
What to expect at the museum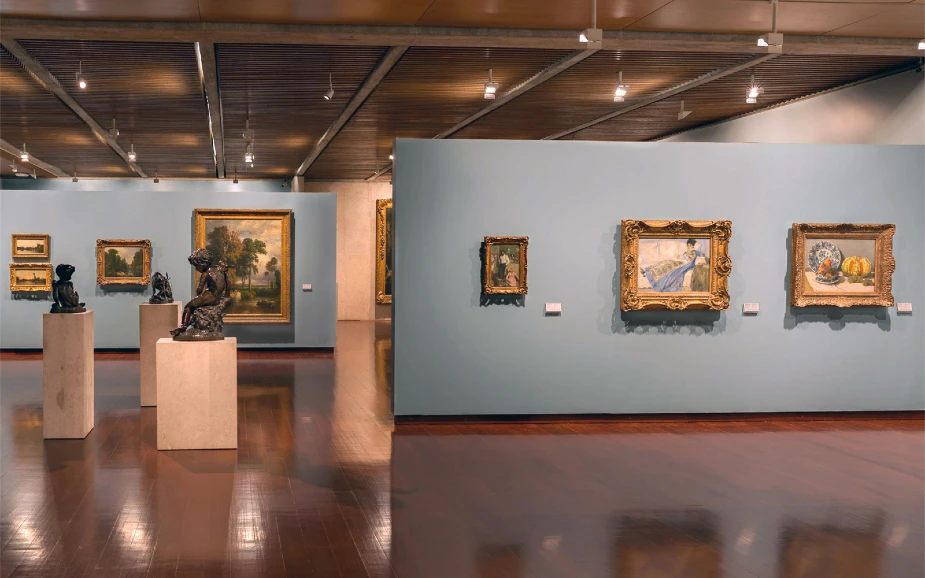 At Calouste Gulbenkian Museum you will dig into the unique and astounding private collection of artifacts.
Travel through 5000 years of history and taste the Art of Egyptians, Greco-Romans, Mesopotamians, Eastern Islamics, Armenians, Chinese, and many more.
Come closer and look at the portraits and paintings representing pain, happiness, glory, jealousy, love, etc.
Some of the famous paintings decorating the walls of the Museum are:
Portrait of Helena Fourment, Camille Monet, Thomas Germain, and His Wife
The Presentation in the Temple / The Stigmatisation of Saint Francis
The Break-Up of the Ice
Peacock and Hunting Trophies
The Giudecca Canal with the Church of Saint Martha
Lady and Child Asleep in a Punt under the Willows
Still Life or 'La Table Garnie'
'Sacra Conversazione' or Rest on the Flight into Egypt
Witness the beauty of sculptures carved by artists who induced life into the figures shaped by them.
Some of the sculptures dotted around the Museum are:
'Baigneuse'
Bacchus
'L'Amour à la Folie'
Sacred and Profane Love
Portrait bust of Louis XIV
Nymph and Satyr
Sculpture
Panther seizing a stag
Faith
Winged siren seizing an adolescent
Explore the decorative arts collection from Brussels, Paris, Venice, China, etc.
Some of the intriguing decorative arts found at the Museum are:
Tapestry' Vertumnus and Pomona'
Medal cabinet (one of a pair)
Ewer with lid
Dish cover
Rolltop desk
Tureen with tray and spoon
Three fish-shaped vases
Discover the book and literary collection of Calouste Gulbenkian and turn back to pages of history and culture.
The Art of the Book collection includes:
'Fêtes galantes'
Don Quichotte de la Manche'
'Bouvard et Pécuchet'
Book of Hours of Alfonso I d'Este
Apocalypse
Hours of Margaret of Cleves
Look at the jewelry designed by René Lalique, the famous jeweler and glassmaker.
The Museum is adorned with jewelry made from gold, enamel, horn, sapphire, ivory, etc., some of which are :
'Female figure' choker plaque
'Cats' choker
'Cockerel' diadem
'Landscape' comb
'Female face' pendant
'Dragonfly-woman' corsage ornament
'Serpents' sugar bowl
Touchscreen info stations fill you in on the history and context while giving the art room to breathe, so feel free to explore at your own pace.
After exploring sculptures, jewelry, paintings, etc., settle down in the Garden, where you can contemplate your experience at the Museu Calouste Gulbenkian.
---
---
How to reach the museum
Calouste Gulbenkian Museum is located close to Praça de Espanha, inside a 7.5 hectare garden.
The main entrance is at Avenida de Berna, 45A.
Address: Av. de Berna, 45A, 1067-001 Lisbon. Get Directions
By Metro
The nearest metro stations to the Museum are São Sebastião (Blue and Red lines) and Praça de Espanha (Blue line).
From São Sebastião, the Museum is 5 minutes walk away, while from Praça de Espanha, it is 4 minutes.
By Bus
The bus routes to the museum are 716, 726, 756 (Av. de Berna), 746 (Av. António Augusto de Aguiar) and 713, 742 (Rua Marquês da Fronteira)
The museum is 4 minutes walking distance from Av. de Berna, 14 minutes from Av. António Augusto de Aguiar and 15 minutes from Rua Marquês da Fronteira.
By Train
Entrecampos station is located at a roughly 15-minute walk from the Calouste Gulbenkian Foundation and has a connection with the metro network.
City Tours
The Calouste Gulbenkian Museum is part of Lisbon's major city tours. Lisbon Sightseeing (Grey Line) – Orient Line and Belém Line. City Sightseeing (Hop-on Hop-off) – Blue Line and Red Line.
Car Parking
If traveling by car, turn on your google maps and get started.
The Museum has ample parking spaces, including Parque Berna (underground) and Praça de Espanha.
Both the parking lots are within 4 minutes walking distance from the Museum.
Sources

# Gulbenkian.pt
# Wikipedia.org
# Tripadvisor.com
# Golisbon.com

The travel specialists at TheBetterVacation.com use only high-quality sources while researching & writing their articles. We make every attempt to keep our content current, reliable and trustworthy.
Popular attractions in Lisbon