The Monserrate Palace or Palácio de Monserrate (in Portugese) is a palace located on Sintra foothills.
Romanticism and Mudéjar Moorish Revival architecture influence the Palace's design with some Neo-Gothic elements.
In 1995, UNESCO defined the Park of Monserrate as a World Heritage Cultural Landscape, which is why a visit to the Palace is a must.
This article shares everything you need to know before buying your Monserrate Palace tickets.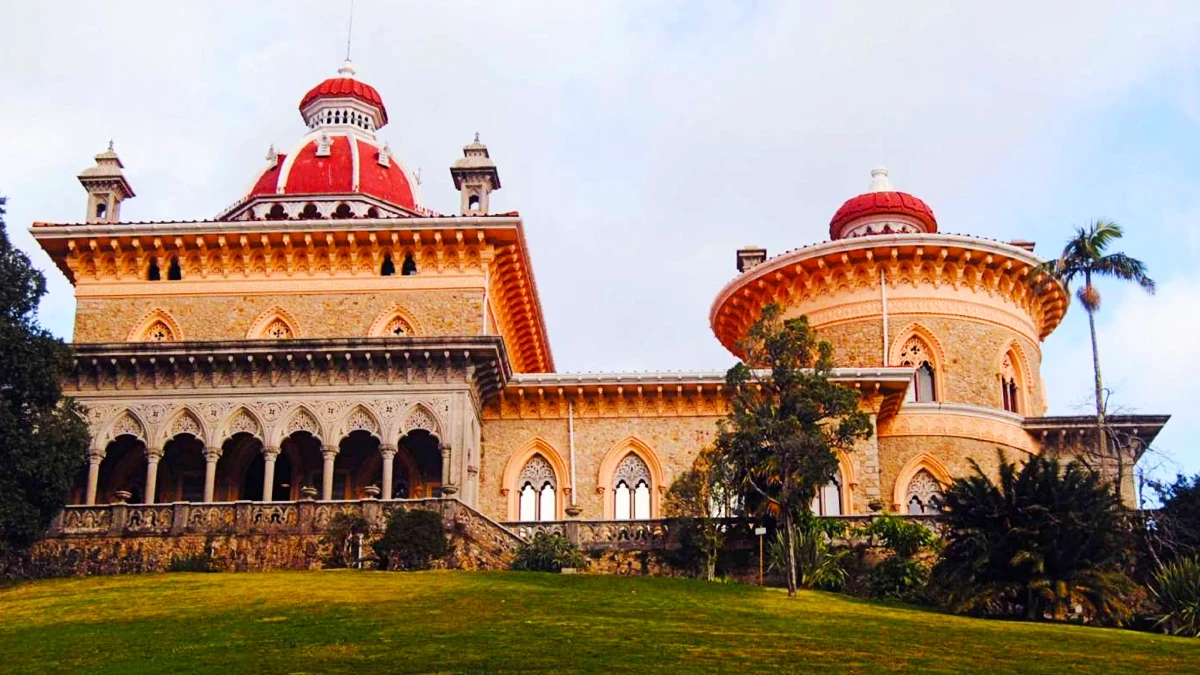 What to expect at Monserrate Palace
It is one of Portugal's richest and most romantic palaces, botanical gardens, etc., and visitors dig deep into the history of Portugal.
The major highlights of the Palace of Monserrate are:
Sacred Art Room: The Sacred Art Room introduces you to the collection of pieces of religious art by Francis Cook. The room has a stained glass window that fosters a religious ambiance.
Billiards Room: This was a room dedicated to the billiards lovers, and it now has an elegant table in imitation porphyry.
Kitchen: Visit the Palace's kitchen and see how the King's chefs prepared hot and cold meals.
Library: Check out the library that also served as a working office for Francis Cook and his descendants.
Music Room: Step into the music room where the royal family organized musical afternoons and evenings. The entire room's structure and decoration have an acoustic theme.
Garden
The soul of the Monserrate Palace is its garden which will fill you with joy and peace.
Mexica Garden: It features collections of warm climate plants, Palms, Yuccas, Nolinas, Agaves e Cycads.
Rose Garden: It hosts some historical varieties of roses.
Japanese Garden: The major highlight of this garden is the bamboos and camellias.
Farmyard of Monserrate: This place recreates a small farm where you can find areas of orchards, vegetables, wild berries, cereals, and aromatic plants.
The surroundings are fields for horses, donkeys, cattle, and a poultry hut.
Vathek's Archa, Beckford's Waterfall, Indian Arch, Sitting Room, etc., are other key highlights of the Palace that you must see.
---
---
Monserrate Palace tickets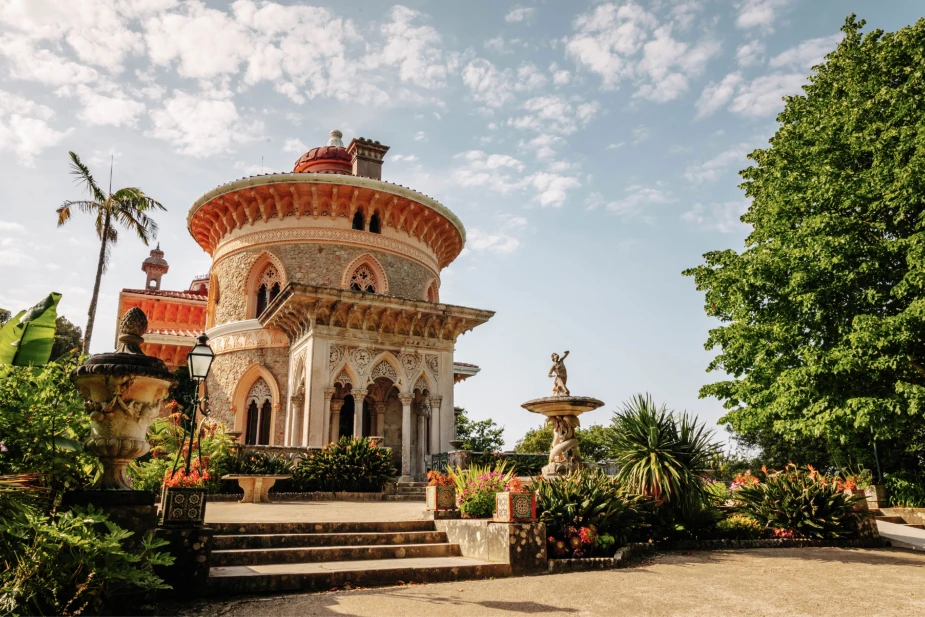 There are two ways to purchase Park and Palace of Monserrate tickets – you can buy them on-site or book them online.
We highly recommend purchasing Palace of Monserrate tickets online, as it will save time, money, and energy.
If you buy tickets at the attraction, be prepared to stand in queues, and wait for your turn.
How online tickets work
Immediately after you purchase your tickets for Monserrate Palace, they get emailed to your email ID.
On the day of your visit, you can show the e-ticket on your phone at the gate and enter. You don't need to take printouts!
Children under six years get in free. However, on the ticket booking page, you must select a free ticket for them.
Ticket Prices
Adult ticket (6+ years): € 8
Infant ticket (up to five years): Free
---
---
National Palace of Sintra + Monserrate Palace
Amplify your tour of Lisbon by buying a combo ticket for the National Palace of Sintra + Monserrate Palace.
National Palace of Sintra and Monserrate Palace are only 4 km (2.5 miles) apart, which is why many visitors explore them one after the other.
Visitors save on average € 2 when they buy the combo ticket.
---
---
Park and Pena Palace + Monserrate Palace
Step up your Lisbon tour by buying a combo ticket for Park and Pena Palace + Monserrate Palace.
Buying a combo ticket gives you immense relief as you don't have to bear the burden of buying tickets separately.
The best part is that you can save on average € 2 on buying a combo ticket.
---
---
Opening hours
The Monserrate Palace is open from 9.30 am to 6.30 pm, while the Monserrate Palace Park is open from 9 am to 7 pm throughout the week.
The last entry is one hour before the closing.
How long does it take to explore
A minimum of two hours is needed to explore the Monserrate Palace and Park as it is spread over a vast area.
It takes about 40 to 45 minutes to explore the Palace from inside, while it takes 75 to 80 minutes to explore the delightful gardens.
Usually, visitors spend most of the time strolling in the garden away from the crowd.
If you're a history buff and love to spend time at heritage sites, you can surely devote more time to walking through the Palace of Monserrate.
There is much to learn at the Palace, like its architecture, monarchs and their lineage, terraces, etc.
---
---
Best time to visit Monserrate Palace
The best time to visit the Monserrate Palace in Sintra is as soon as they open at 9.30 am.
The view from the top of the Palace is excellent during the morning light, and also during the evening sunset hours.
When you reach early, you can avoid the crowd and explore the rooms at your pace.
From May to September, the weather in Sintra is pleasant, making it the perfect weather to visit the Monserrate Palace.
---
---
How to reach Monserrate Palace
Address: Monserrate Palace,27 10-405 Sintra. Get Directions
Unlike other tourist attractions and palaces in Lisbon, Monserrate Palace is quite far and secluded.
There is hardly any subway or train station near the Palace.
If you're considering visiting the Palace of Monserrate, you either hop on a tourist bus or drive to the Palace.
By Bus
Monserrate Palace is 4.4 km (3.7 miles) from the Sintra train station, and the best way to get there is via the 435 tourist bus.
435 tourist bus starts at Sintra train station and stops in the historic town of Sintra.
If you are holidaying in Lisbon, don't worry; getting to Sintra is also easy.
Daily, there are trains at least every 30 minutes from Lisbon's Rossio station.
Car Parking
If you're traveling in your car to the Palace, turn on your google maps and get started.
You can park your car near the Palace.
Sources

# Parquesdesintra.pt
# Wikipedia.org
# Sintra-portugal.com
# Tripadvisor.com

The travel specialists at TheBetterVacation.com use only high-quality sources while researching & writing their articles. We make every attempt to keep our content current, reliable and trustworthy.
Popular attractions in Lisbon
# Sao Jorge Castle
# Pena Palace
# Lisbon Zoo
# Oceanarium Lisbon
# Lisbon Tram 28
# National Palace of Sintra
# Arco da Rua Augusta
# Lisbon Cable Car
# Luz Stadium & Benfica Museum
# HIPPOtrip Lisbon
# Monserrate Palace
# Calouste Gulbenkian Museum
# Fado in Chiado