Las Vegas Indoor Skydiving, located near the famous Las Vegas Strip, offers an exciting and unique experience.
It's a modern facility where you can feel the thrill of flying through the air without needing a plane or parachute.
Using a special wind tunnel, you'll experience the sensation of weightlessness and the excitement of freefalling.
It's a great activity for people of all ages. Trained instructors will guide you and ensure you're safe throughout the experience.
Prepare to fly, defy gravity, and create unforgettable memories as you try this incredible adventure at Las Vegas Indoor Skydiving.
This article covers everything you should know before booking tickets for Indoor Skydiving in Las Vegas – tickets, timings, directions, and much more!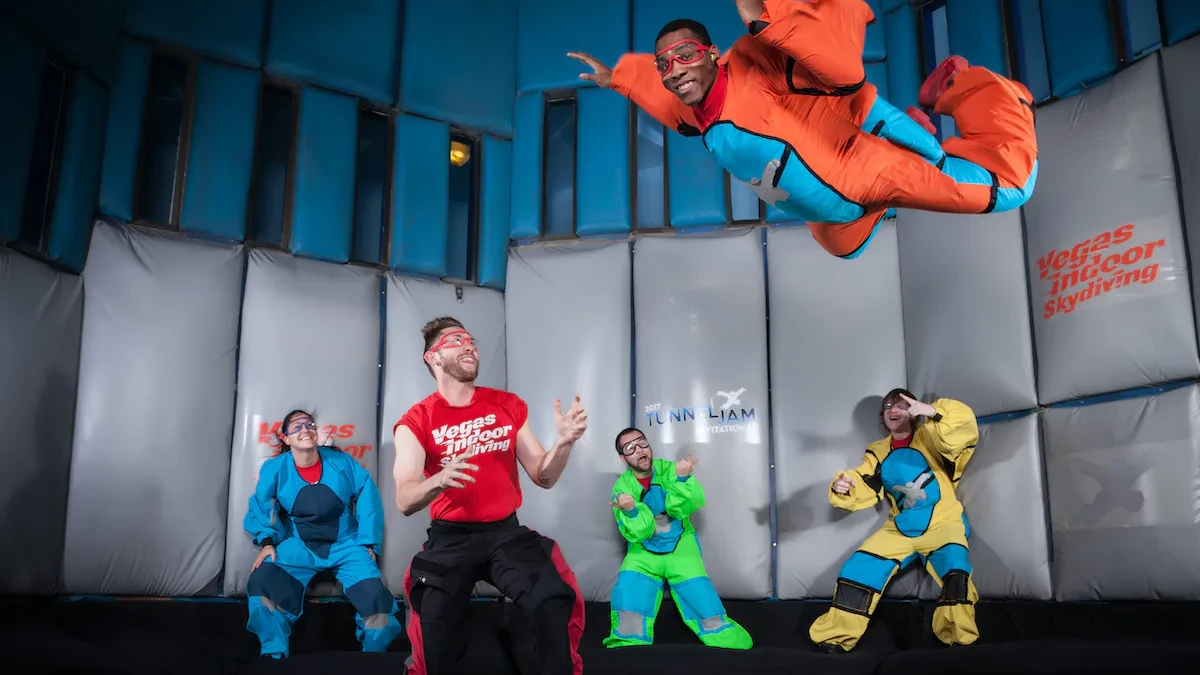 What to expect
Without having to leap out of a plane, Indoor Skydiving is a fantastic way to feel the rush of skydiving.
Before your flight, you'll receive a briefing from trained instructors.
They will explain the proper body positions and hand signals to use during your flight.
They'll also go over safety procedures to ensure you have a safe and enjoyable experience.
The wind tunnel is usually 40 feet tall and 20 feet wide, with a top speed of 120 miles per hour (193 kph).
You will spend three minutes hanging above a wind tunnel through winds reaching 120 mph (193 kph).
You'll be provided with a jumpsuit, helmet, and goggles to wear during your flight. These are essential for your safety and comfort.
The instructors will assist you in wearing the gear correctly and making sure you're ready to enter the wind tunnel.
The heart of the experience is the vertical wind tunnel. Inside, you'll feel a powerful upward airflow, simulating the sensation of freefalling.
Once inside the wind tunnel, you'll float in the air, experiencing the thrill of skydiving.
A maximum of 10 people can participate in this activity at a time.
---
---
Where to book tickets
The Las Vegas Indoor Skydiving tickets can be purchased online or at the attraction.
To save time and money, we suggest buying your tickets online. Online tickets are cheaper than the ones you buy at the attraction's ticket counter.
You can avoid long lines at the attraction's ticket booth when you book online.
Also, booking online prevents last-minute disappointment and delays.
How do online tickets work?
Visit the Las Vegas Indoor Skydiving booking website, choose the date, time slot, and the number of tickets, and buy them immediately.
You will receive tickets via email after making the payment.
There is no need to bring printouts.
Show the ticket on your smartphone and enter the venue.
Cost of Indoor Skydiving Las Vegas tickets
The Indoor Skydiving Las Vegas tickets are priced at US$149.
There are some limitations to Las Vegas Indoor Skydiving. You must weigh less than 275 pounds (125 kgs) and be at least 48 inches (128 cm) tall.
Those who fail to conform to those limitations will not be given refunds.
Indoor Skydiving in Las Vegas tickets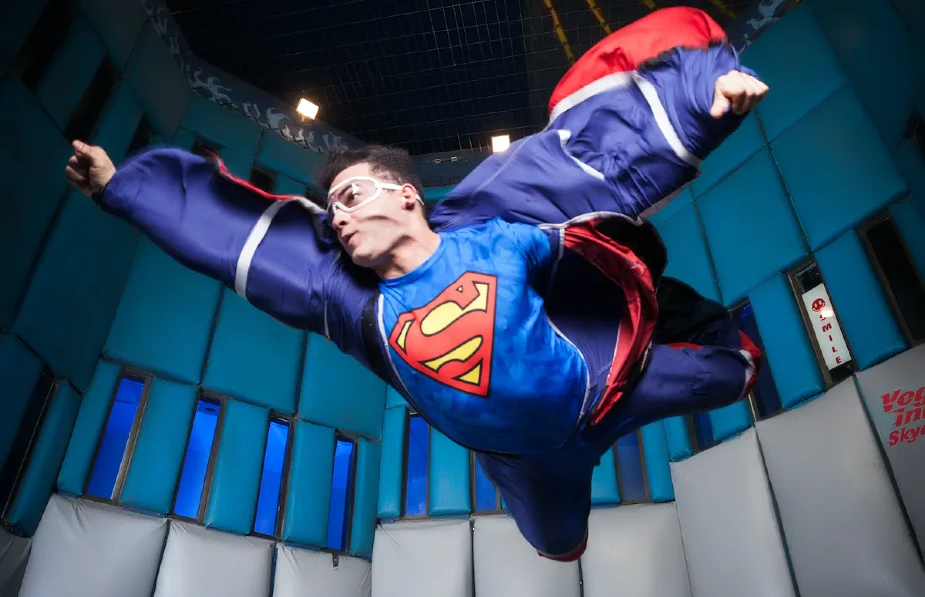 Indoor skydiving offers the excitement of skydiving in a controlled environment.
This iconic attraction allows participants to experience the sensation of flight in a vertical wind tunnel, where a powerful updraft of air creates a weightless environment.
In addition, it's a terrific way to have fun and a thrilling experience.
Indoor Skydiving Las Vegas typically provides designated viewing areas for spectators. Your friends and family can watch and cheer you on as you soar through the air.
Ticket Price
Adult ticket (4+ years): US$149.
Visitors who are under the age of 18 must have a parent or guardian with them at all times.
Save time & money! With this Las Vegas Pass, you can save money on 35+ attractions and experiences in Las Vegas. Get discounted admission to discover 35+ Las Vegas attractions for 2 to 5 consecutive days.

Aside from checking out world-class exhibits, you may also go to top-rated concerts, ride an open-top bus, or go on a Grand Canyon excursion.
---
---
How to reach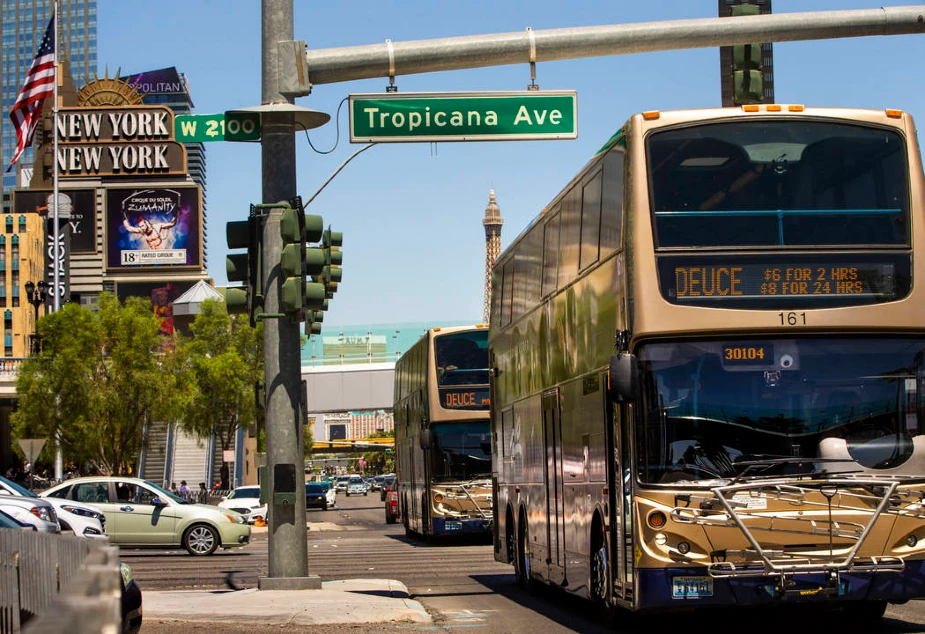 Indoor Skydiving is located in Las Vegas, United States.
Address: 200 Convention Center Dr, Las Vegas, NV 89109, USA. Get Directions.
By Bus
The Indoor Skydiving Las Vegas is only six minutes from SB Las Vegas before Resorts World.
Bus: DEUCE
The Las Vegas Indoor Skydiving is 20 minutes from the EB Stewart after the 4th.
Buses: 207, DEUCE
By Car
If you're traveling by car, turn on your Google Maps and get started.
There is a vast parking space, which is free for everyone, so you may not need to look for other parking garages.
Timings
The Vegas Indoor Skydiving stays open from 9.45 am to 7 pm from Monday to Sunday.
The sessions commence every 30 minutes.
How long does the tour take
The flying part of Indoor Skydiving lasts up to three minutes unless you opt for other packages.
The complete experience may take 30 minutes to an hour due to safety briefings and preparation.
Best time to visit
The ideal time to visit Indoor Skydiving Las Vegas is at 10 am, as soon as it opens.
You might consider going early in the day when the visitors are minimum.
Those who are constantly busy can schedule a visit to Las Vegas Indoor Skydiving on holiday, as it will be open on public holidays too.
If you prefer a less crowded experience, avoid major holidays and weekends.
FAQs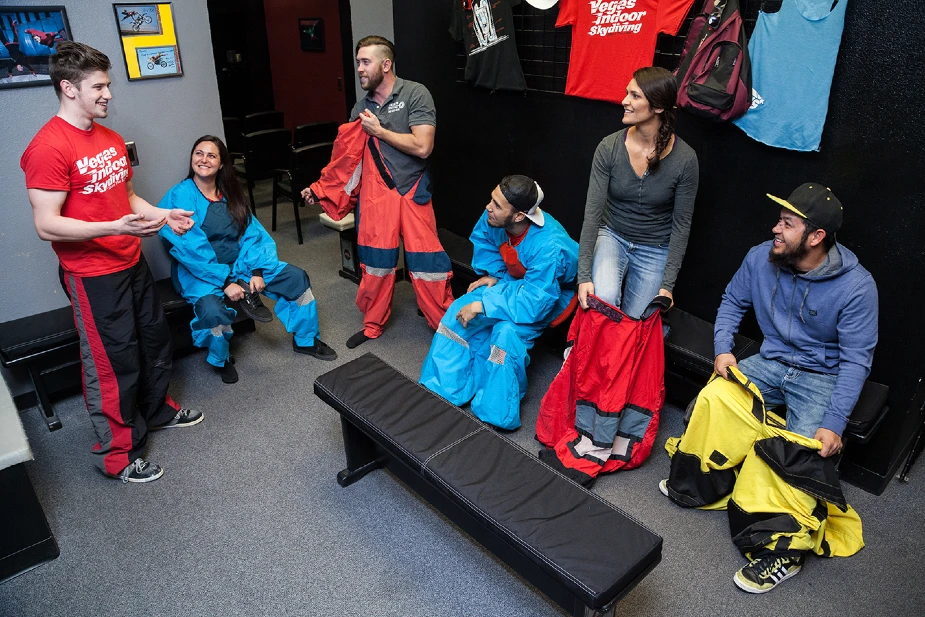 Here are some of the most frequent questions regarding Indoor Skydiving in Las Vegas.
What exactly is Las Vegas Indoor Skydiving?
Indoor Skydiving is a recreational activity that replicates freefalling through the air. 

It occurs in a vertical wind tunnel, where people float mid-air due to a forceful upward airflow.
Can I record or take pictures of my indoor skydiving experience?
The indoor skydiving facility allows participants to take pictures or films of their flight experience. 

The venue allows participants to bring their cameras or engage a designated photographer or filmmaker. 
Does Vegas Indoor Skydiving require reservations in advance?
We advise making reservations for Vegas Indoor Skydiving trips ahead of time.

For a complete refund, you must cancel at least 24 hours before the start of your trip.
Is Indoor Skydiving a frightening experience?
Indoor Skydiving isn't scary. You only float on an airstream.

Nothing that could lead to motion sickness or a sense of falling exists.
Can spectators watch indoor skydiving activities?
Yes, the Indoor Skydiving facility has set apart observation areas where people can observe the flights. 

Friends and family members may find seeing individuals float in the wind tunnel thrilling.

Some facilities even include observation decks or video screens for a better perspective.
What should I wear for Indoor Skydiving?
It is recommended to dress comfortably. Go with a T-shirt, shorts, and trainers. 

Avoid loose-fitting clothing, jewelry, and other items that could cause a problem during the journey to a minimum. 

The facility will give you a jumpsuit by the facility to put over your clothes to ensure safety and improve flight control.
Can someone with medical issues participate in Indoor Skydiving?
Indoor skydiving may be problematic if you have certain medical issues or physical restrictions.
 
If you are worried about a particular medical issue, speaking with your doctor or the facility's staff is best.

Based on the details of your situation, they can provide you with expert advice.
Is Indoor Skydiving safe?
Indoor Skydiving in Las Vegas is regarded as safe and secure. 

Participants are provided with safety equipment such as a jumpsuit, helmet, and goggles and instruction from trained instructors. 

Following the instructor's instructions is essential to ensuring a safe experience.
What is the minimum age requirement for indoor skydiving in Las Vegas?
Vegas Indoor Skydiving allows participants as young as four years old to fly. 
Do I need any prior experience or training to try Indoor Skydiving?
Indoor skydiving requires no prior experience or instruction. 

Before the flight, you will be briefed by a trained instructor who will advise you on the proper body positions and safety procedures.

During your flight, the instructor will be present to assist and assure your safety.