A VIP desert safari in Dubai is a unique and exciting experience that allows visitors to explore the vast desert landscape and experience the region's culture in style and luxury.
With so many desert safaris in Dubai, choosing the right one for you and your family or friends gets challenging.
Since a desert safari is one of the best ways to experience Emirati culture, cutting corners does not make sense.
When it comes to desert safaris starting from Dubai, you get what you pay for.
If you can afford it, booking a VIP desert safari in Dubai is better – something that costs more than the average but offers a memorable experience.
These premium desert safaris come in many forms, and you need to consider factors such as start time, duration, included activities, cost, etc., before booking the experience.
This article lists the five types of VIP desert safaris in Dubai.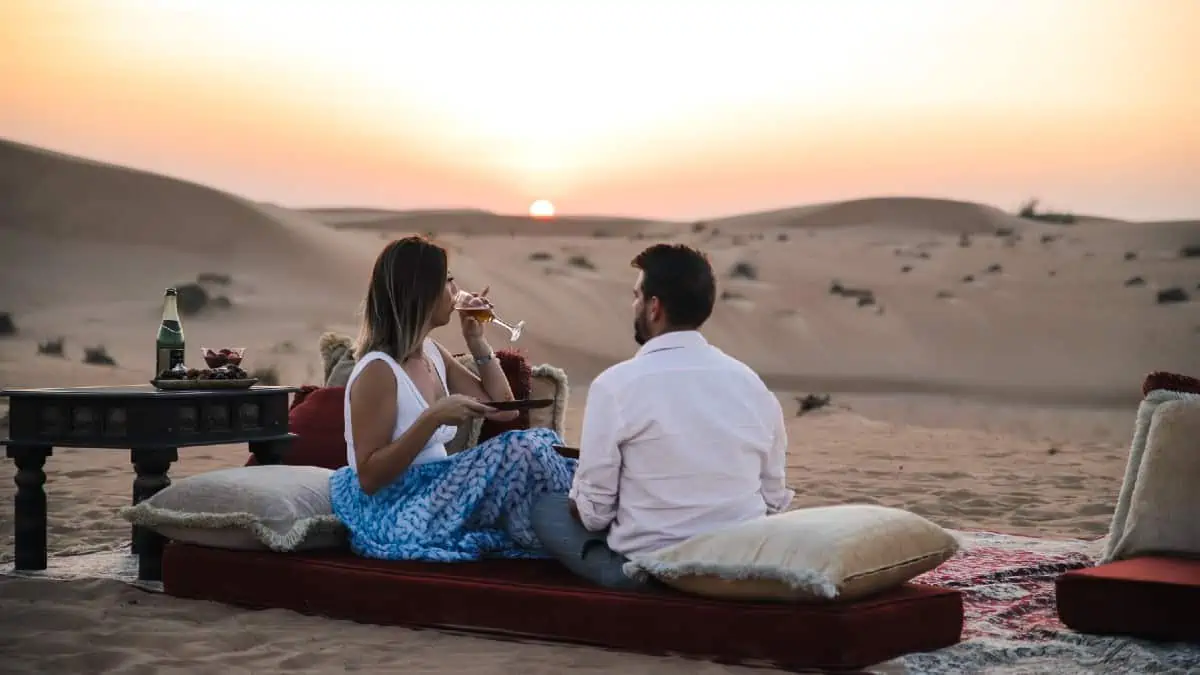 Premium Red Dunes Safari at Al Khayma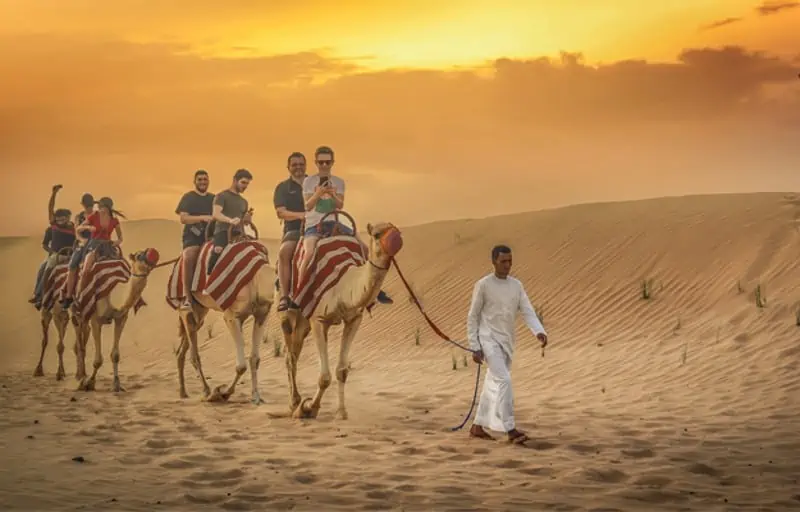 Rating: 4.9/5
Duration: Seven hours
Starting time: 11.30 am, 3 pm, and 4 pm
Pick up: Available from all hotels or apartments in Dubai, Sharjah, and Ajman, as well as the cruise port (Port Rashid).
Type of tour: Small Group
Tour Operator: OceanAir Travels
This is the cheapest among the VIP desert safaris in Dubai, making it the most popular experience.
A 4×4 Land Cruiser picks you up and drives you to the desert, after which you enjoy the adrenalin rush of a quad bike ride and dune bashing.
You can also try sandboarding for an extra adrenalin kick during this magnificent desert safari.
This excellent desert safari continues to the Al Khayma Camp, where you will be welcomed with Arabic coffee, sweets, and dates.
You can go on a camel ride, smoke Shisha, paint Henna, meet the resident falcon expert, etc.
The buffet barbecue dinner begins at sunset, and you can eat while enjoying traditional dances.
After dinner, you relax and board your vehicle for a drop back at your hotel.
Cost of VIP safari
AED 1603 ($437 for a group of 6 people)
---
---
VIP Quad Bike Safaris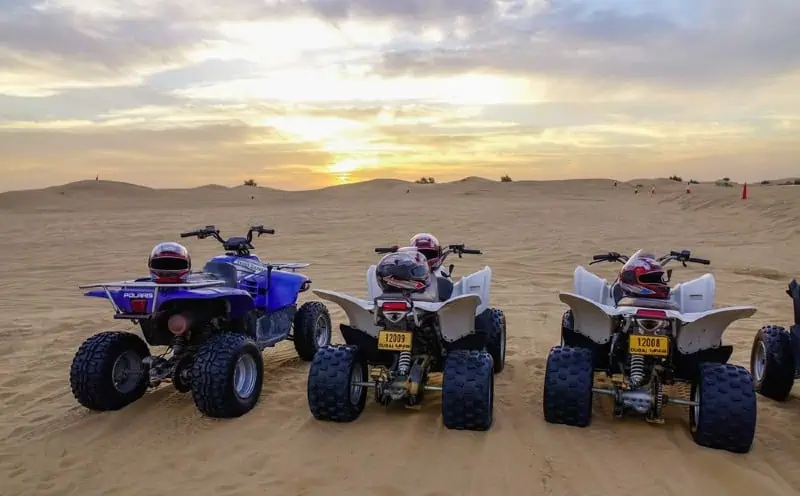 Quad biking safaris are premium experiences in the deserts of Dubai.
They are four-wheeled vehicles specially designed for off-road driving experiences and are guaranteed to provide a fantastic adrenalin rush.
Once geared up, your group will hop on the quad bike and kick-start your 1-hour bike ride.
You will feel the thrill and adrenaline rush as you race through the sand surmounting the red dunes.
During VIP quad biking safaris in Dubai, you can also try dune bashing, camel riding, sandboarding, etc.
---
---
Premium Overnight Safari camp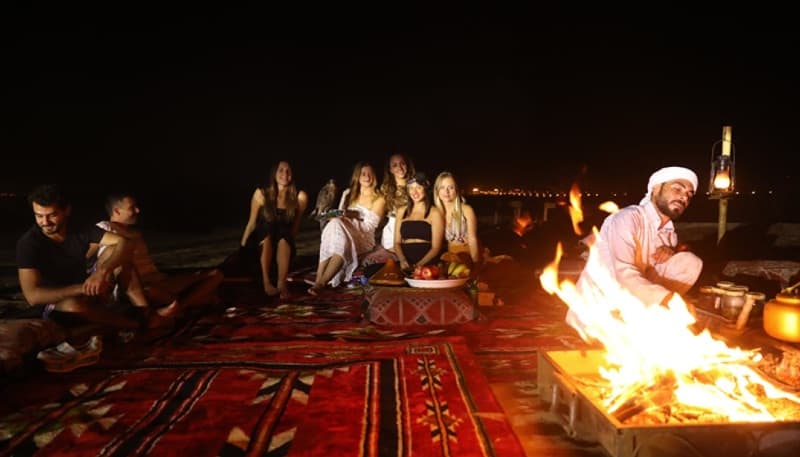 The overnight desert safari in Dubai is a superior experience suitable for those who want to 'live' the real desert life.
This experience starts at 2.30 pm, and you get picked up in an SUV and driven to the Lahbab desert, which is 60 minutes from Dubai.
You experience desert delights like dune bashing, camel riding, a barbecue dinner & dance shows, and above all, stay overnight in a Bedouin tent at Al Khayma camp.
Your tent will have a Nawar bed (Bedouin style bed), pillows, blankets, a restroom, and a shower.
You go on a sunrise camel trek and have an Arabian breakfast the following day before getting dropped back at your hotel.
Cost of VIP overnight safari
Adult ticket (12+ years): AED 609 ($166)
Child ticket (3 to 11 years): AED 518 ($142)
---
---
VIP Dune Buggy Desert Safari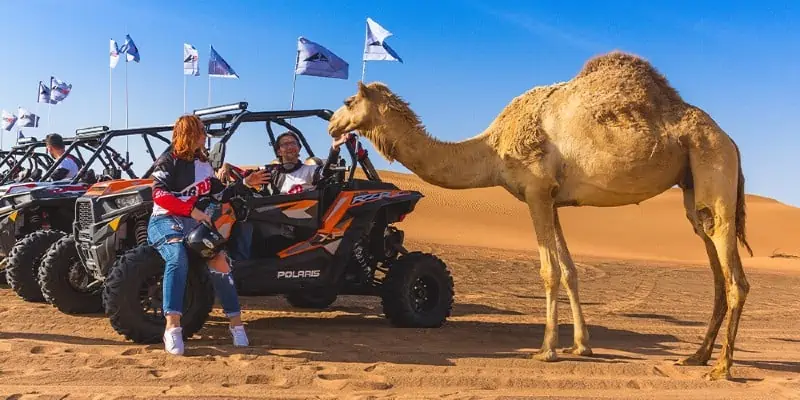 Tourists who want a prime desert safari experience in Dubai opt for the Dune Buggy Safari.
It offers a new dimension to off-road exploring because you ride a twin-seater dune buggy over the region's majestic dunes.
Your English-speaking guide shows you the best routes to take and ensures you ride at a comfortable pace.
Each dune buggy has a full roll cage, bucket seats, and a safety harness for comfort and safety.
This superior desert experience can be enjoyed as a solo passenger or a couple sharing the buggy for an hour.
Once the 1-hour buggy adventure ends, a 4×4 vehicle takes you to a Bedouin camp in the desert for some live entertainment and a BBQ Buffet dinner.
The dune buddy desert safaris listed below are rated 4.9 out of 5.
---
---
Desert Safari with Hot Air Balloon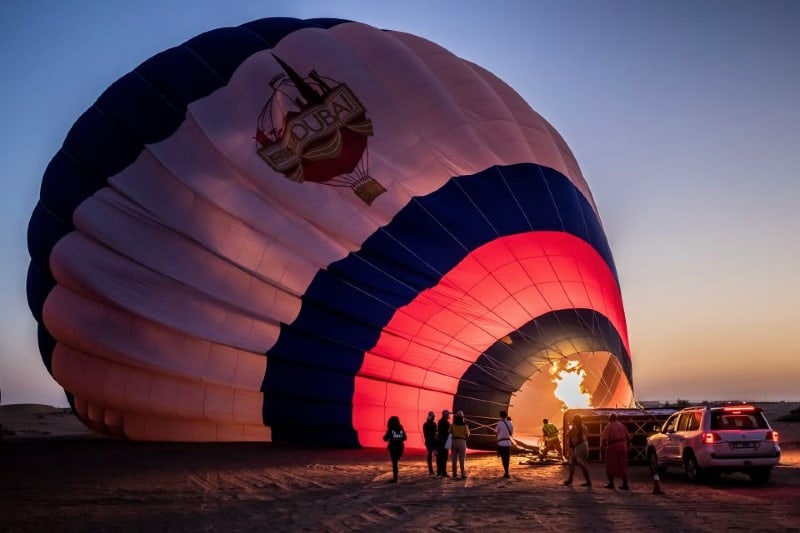 This 5-hour-long experience is an exceptional Dubai desert safari and includes a ride in a hot air balloon, dune bashing, quad biking, and a sumptuous Arabian breakfast.
You will get picked up at 4.30 am from your hotel and taken to Margham Desert for refreshments and briefing from the pilot.
You will then drive to your takeoff location in the Dubai desert to watch your hot air balloon inflate.
When ready, you will float above the Arabian desert and enjoy the sunrise from 4000 feet above the ground, taking in breathtaking views.
Once you are back on the ground, you drive back to Margham Desert and indulge in Falconry.
Next are the adrenalin-pumping activities suitable for VIPs – quad biking, dune bashing, sandboarding, etc.
Before being dropped back at your hotel, you will enjoy an authentic Arabic-style breakfast.
Cost of premium safari
Adult ticket (12+ years): AED 1506 ($410)
Child ticket (3 to 11 years): AED 1506 ($410)
---
---
Private Falconry Safari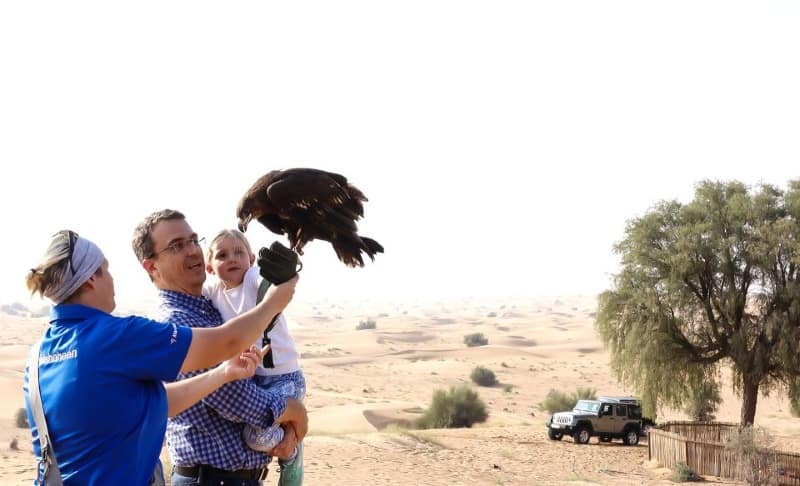 This 5-hour private Falconry Safari in Dubai starts at 5 am with a pick-up from your hotel.
You will drive to the Dubai Desert Conservation in a 4WD vehicle, and on the way, see Houbara Bustard, Arabian Oryx, Sand Gazelle, etc.
Once you reach the Emirati Falcon Hunting Camp, your falconry experience begins as you help to train a Greater Spotted Eagle, Desert Eagle Owl, and Harris' Hawk.
All these birds will land on your gloved fist and make for fantastic photo opportunities.
You can also fly a Peregrine Falcon, the planet's fastest animal, to a drone.
As an optional add-on, you can enjoy a luxury breakfast at the Al Maha Desert Resort and Spa.
Cost of safari
Adult ticket (12+ years): AED 1245 ($339)
Child ticket (10 to 11 years): AED 687 ($188)
Children aged 9 and younger do not require a ticket.
---
---
VIP Desert Safari in a Range Rover
On this VIP desert safari, you will head to the most exclusive dinner venue in the Dubai desert at a royal family retreat.
You will get picked up at 2.30 pm in a Range Rover, the off-road vehicle of choice for royalty, the rich, and the famous.
Your expert safari guide will take you on a fascinating journey through the Dubai Desert Conservation Reserve in search of exotic native wildlife.
The first item on the agenda is the falconry demonstration, after which you will see the beautiful desert sunset.
Then you board a camel and reach your secluded private dinner venue, nestled in the dunes.
Cost of royal safari
Adult ticket (12+ years): AED 1781 ($485)
Child ticket (5 to 11 years): AED 1524 ($415)
Children 4 and younger are not permitted.
Recommended Reading
# Best Desert Safaris in Dubai
# Desert Safari from Sharjah
# Desert Safari in Abu Dhabi
# Desert Safari in Ras Al Khaimah
# Price of desert safari in Dubai
# VIP Desert Safaris in Dubai
# Morning desert safaris in Dubai
# Dubai Safari with BBQ dinner
# Dubai Safari with Quad Bike
# Dune Buggy Safari in Dubai
# Overnight desert safari in Dubai
# Safari in Dubai with belly dance
# Safari without dune bashing
# Falconry safari in Dubai
Popular attractions in Dubai