Your holiday in Dubai will be incomplete without a desert safari, including a BBQ dinner.
These meticulously designed desert safari tours in Dubai offer thrilling off-road adventures and delicious local and international cuisine.
Visiting a Bedouin-style campsite, indulging in activities like smoking from a shisha pipe, getting a henna tattoo, and finally trying Arabic cuisine make for a memorable day.
This article lists the best desert safari in Dubai with a barbecue dinner.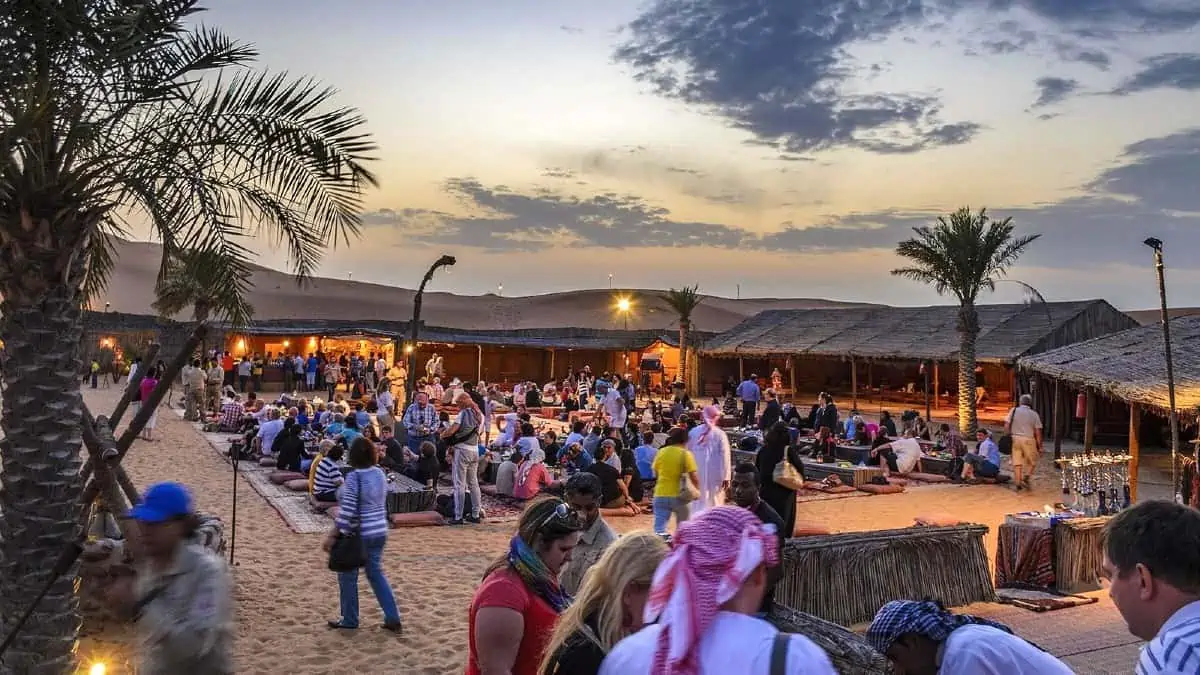 What to expect at the BBQ dinner
Everybody gets comfortable low table sitting around the stage in the center of the Bedouin-style camp.
The dinner with BBQ has vegetarian and non-vegetarian options, and it is a buffet service.
If you have any specific needs, the chefs at the venue also cater to them.
Unlimited soft drinks, coffee, and tea are available throughout your stay at the campsite.
The barbecue dinner is paired with live cultural entertainment such as belly dance, Tanura dance, and the Fire Show.
Guests particularly love the romantic experience of dining under the stars.
---
---
Cost of safaris with BBQ dinner
The cheapest BBQ dinner safari costs AED 200 ($54), while the most popular safari is priced at AED 297 ($81) for all guests 12 years and above. 
The overnight safari with dinner and breakfast, a VIP experience, costs AED 609 ($166) for all guests 12 years and above. 
When it comes to desert safaris, you get what you pay for, so it is not a good idea to try and save money.
---
---
Menu of BBQ dinner
When you book a desert safari in Dubai with a barbecue dinner, you get a lavish spread with Continental, Arabic, and Indian dishes.
The spread includes warm appetizers such as Spring Rolls, Falafel, and Chicken Shawarma and cold appetizers such as Tabbouleh, Fattoush, Baba Ganoush, Mutabbal, etc. 
The main course has many options, such as lentil soup (dal), pasta, macaroni, noodles, steamed rice, fried rice, baked potatoes, chicken sausages, curries, etc. 
From the grill, you get items such as lamb kabab, chicken drum stick, chicken tikka, chicken wings, shish taouk, fish grilled, etc.
The BBQ dinner includes traditional Arabic Bread, Lebanese bread, and Indian Rotis.
The dessert menu includes cut fruits, muffins, cakes, puddings, and local sweets. 
---
---
Bar at the safari
The desert safari's campsite bar is fully equipped and offers all famous international brands for the patrons.
During the holy month of Ramadan, the bar doesn't serve alcoholic beverages.
However, guests can still enjoy the barbecue dinner and non-alcoholic drinks when the bar closes during Ramadan.
During such dry days, as per the guidelines of DTCM, even belly dance and music entertainment get paused.
---
---
Inclusions of BBQ desert safari
Morning desert safaris are customized for extreme adventure and usually last only four hours.
Evening desert safaris last six to eight hours and include a BBQ dinner, so evening safaris are costlier than morning safaris. 
Depending on the Dubai barbecue dinner safari you book, you will experience some or all of the below activities –
Dune Bashing
Quad Biking
Sand Boarding
Camel Riding
Watching Sunrise
Watching Sunset
Photos wearing Arabic costume
Photos with Falcon
Henna Painting
Shisha Smoking
Belly Dance
Tanoura Dance
---
---
Best safaris with BBQ dinner
Many desert safaris from Dubai offer an elaborate barbecue dinner, making it difficult for tourists to decide.
We have selected four of the most highly rated BBQ dinner safaris below. 
Each tour is designed to give you the best Arabian desert experience and make your Dubai holiday memorable.
Desert Safari with BBQ at Al Khayma Camp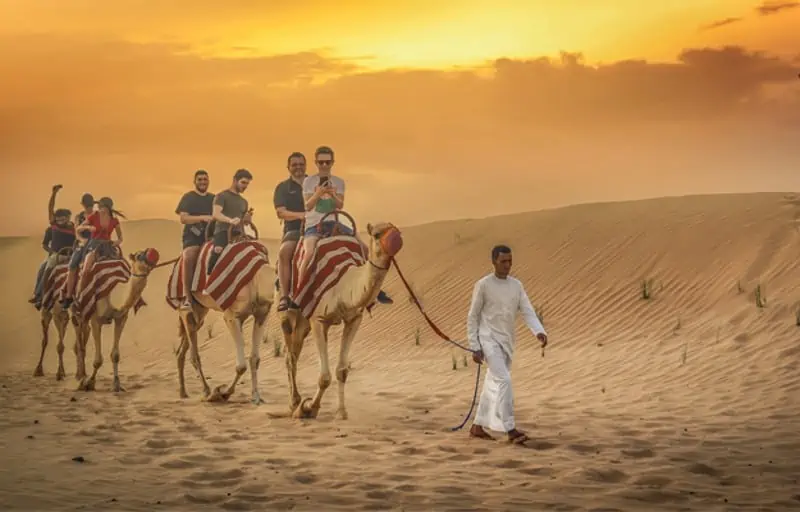 Rating: 4.9/5
Duration: Seven hours
Starting time: 2 pm
Pick up: Available from all hotels or apartments in Dubai, Sharjah, and Ajman, as well as the cruise port (Port Rashid).
Type of tour: Small Group
Tour Operator: OceanAir Travel
A 4×4 Land Cruiser picks you up and drives you to the desert, after which you enjoy the adrenalin rush of a quad bike ride and dune bashing.
For an extra kick of adrenaline, you can also try out sandboarding.
You then visit Al Khayma Camp and have some Arabic coffee, sweets, and dates as part of the traditional welcome.
At the camp, you go on a camel ride, smoke Shisha, do a Henna painting, meet the resident falcon expert, etc. 
The buffet barbecue dinner begins at sunset, and you can eat while enjoying traditional dances. 
After dinner, you relax and board your vehicle for a drop back at your hotel. 
Cost of desert safari
Adult ticket (12+ years): AED 525 ($143)
Child ticket (3 to 11 years): AED 473 ($129)
---
---
Premium Dune Safari, Camel Riding, BBQ
Rating: 4.9/5
Duration: Seven hours
Starting time: 2.30 pm
Pick up: Available from all hotels or locations within Dubai, Sharjah, Ajman, and the Port Rashid Cruise Terminal.
Type of tour: Small Group
Tour Operator: Ammar Tours
This tour is an opportunity to explore the Dubai desert in the best ways possible.
You will experience dune bashing, sandboarding, camel riding, etc., and then enjoy the brilliant desert sunset.
You can also enjoy the traditional Bedouin camp experience with a BBQ dinner, a classic Tanura show, and a belly dancing performance. 
You will savor the rich flavors of local food at a BBQ dinner with Arabic coffee, fresh dates, falafel, and shawarma.
Cost of safari: AED 210 ($57)
---
---
Red Dune Safari, Camel Ride, Barbecue dinner
Rating: 4.8/5
Duration: Seven hours
Starting time: 3.30 pm
Pick up: Available from all hotels or locations within Dubai city and Port Rashid cruise terminal
Type of tour: Small Group
Tour Operator: Dream Journey Tourism
This outstanding desert safari in Dubai starts at 3.30 pm.
You drive to the unforgiving Lahbab desert for dune bashing and then try sandboarding.
All the guests then witness the splendid Dubai sunset from the highest dune.
At the Bedouin-style camp, you get closer to the locals by riding a camel, smoking a Shisha pipe, trying the Henna tattoo, dressing up in Arabic costumes, etc., followed by a belly dance, Tanoura show, and a barbecue dinner.
Desert Safari price: AED 200 ($54)
---
---
Overnight safari camp with dinner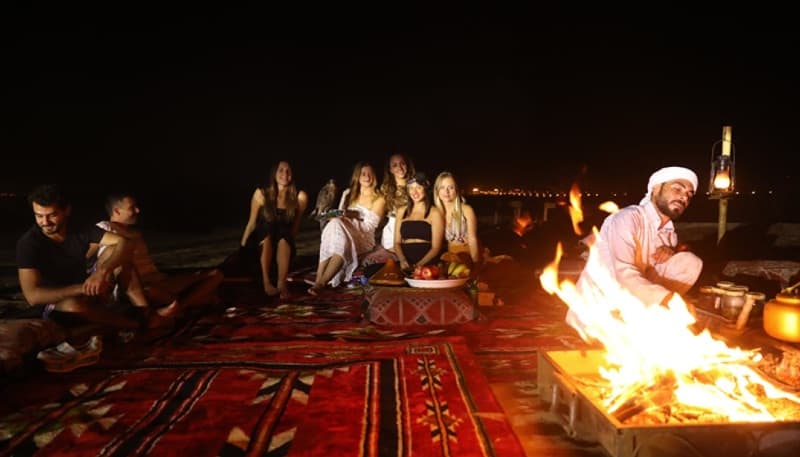 The overnight desert safari in Dubai is a superior experience and a great way to enjoy the sights and sounds of the Arabian Desert at night.
The experience starts at 2.30 pm when you get picked up in an SUV and driven to the Lahbab desert, 60 minutes from Dubai.
You experience desert delights like dune bashing, camel riding, a barbecue dinner & dance shows, and above all, stay overnight in a Bedouin tent at Al Khayma camp. 
After dinner, everybody can sit together and chat and share stories. 
Your tent will have a Nawar bed (Bedouin style bed), pillows, blankets, a restroom, and a shower.
You go on a sunrise camel trek and have an Arabian breakfast the following day before getting dropped back at your hotel.
Cost of VIP overnight safari
Adult ticket (12+ years): AED 609 ($166)
Child ticket (3 to 11 years): AED 518 ($142)
Recommended Reading
# Best Desert Safaris in Dubai
# Desert Safari from Sharjah
# Desert Safari in Abu Dhabi
# Desert Safari in Ras Al Khaimah
# Price of desert safari in Dubai
# VIP Desert Safaris in Dubai
# Morning desert safaris in Dubai
# Dubai Safari with BBQ dinner
# Dubai Safari with Quad Bike
# Dune Buggy Safari in Dubai
# Overnight desert safari in Dubai
# Safari in Dubai with belly dance
# Safari without dune bashing
# Falconry safari in Dubai
Popular attractions in Dubai