For most tourists, a significant part of a Dubai desert safari is dune bashing, where you get packed into a 4×4 car and get driven over and around the dunes almost recklessly.
While dune bashing is a fun experience, it is not for everybody.
There are many circumstances under which tourists request desert safaris without dune bashing.
Dune bashing isn't for you if you answer yes to any of the below –
You don't love roller-coaster
You have back or neck problems
You get motion sickness
You are traveling with an infant (less than three years)
You are traveling with elders
If you answered yes to any of the above, dune bashing isn't for you.
This article shares everything you must know before booking your Dubai desert safari without dune bashing.
If not dune bashing, then what?
The massive Dubai desert has so much more to offer than dune bashing.
Guests who opt out of dune bashing can enjoy the expansive and rich subculture, exotic wildlife, and breathtaking scenery of the desert.
Besides, when you skip dune bashing, you also, in a way, help the sensitive desert ecosystem.
More than 90 percent of the desert wildlife lives under the desert, so when you drive fast across dunes, the car damages all the wildlife and vegetation in its path.
This is why dune bashing is limited to certain areas – to restrict the damage.
If you have decided to go for a desert safari in Dubai without dune bashing, you have plenty of options.
You can book safaris that take you through the Dubai Desert Conservation Reserve and show you the desert wildlife.
Or you can book a tour with a quad bike or a dune buggy ride.
Both of these are much more in your control than dune bashing because you ride the vehicle.
You can also opt for the safari, which includes many cultural activities such as wearing an Arabic costume, Henna Painting, Shisha Smoking, Belly Dancing, Tanoura Dance, Falconry, etc.
We list some of the best Dubai desert safaris with no dune bashing in a 4×4 SUV.
---
---
Land Rover desert safari with traditional dinner
Start time: 2.30 pm
Tour operator: Platinum Heritage
During this seven-hour desert safari without dune bashing, you will travel by vintage Land Rover.
Your driver and guide will help you spot local wildlife as you board an open-top Land Rover and go around the Dubai Desert Conservation Reserve.
You will see a Falconry display and move to the plush Bedouin-style camp within a royal residence.
You will experience Emirati culture at the camp by participating in traditional activities.
After enjoying a delicious dinner, live music, and dance performances, you will get dropped back home.
Children under five years are not permitted on this safari.
Cost of the safari
Adult ticket (12+ years): AED 625 ($170)
Child ticket (5 to 11 years): AED 520 ($142)
---
---
Safari with cultural activities & dinner
Start time: 2.30 pm
Tour operator: Platinum Heritage
This safari starts when you get picked up from Dubai in an air-conditioned minivan.
When you meet a camel train, you transfer to the ship of the desert and head to the royal desert retreat.
As the sun sets, you will enjoy a falconry display, watch an Arabic bread-making demonstration, get a henna tattoo, and indulge in numerous other local activities.
Finish with a 4-course dinner under the stars accompanied by Arabian dancing and music.
Children under five years are not permitted on this safari, and the weight of the guests can't exceed 150 Kgs (330 Pounds).
Cost of the safari
Adult ticket (12+ years): AED 625 ($170)
Child ticket (5 to 11 years): AED 520 ($142)
---
---
Desert Quad Bike Safari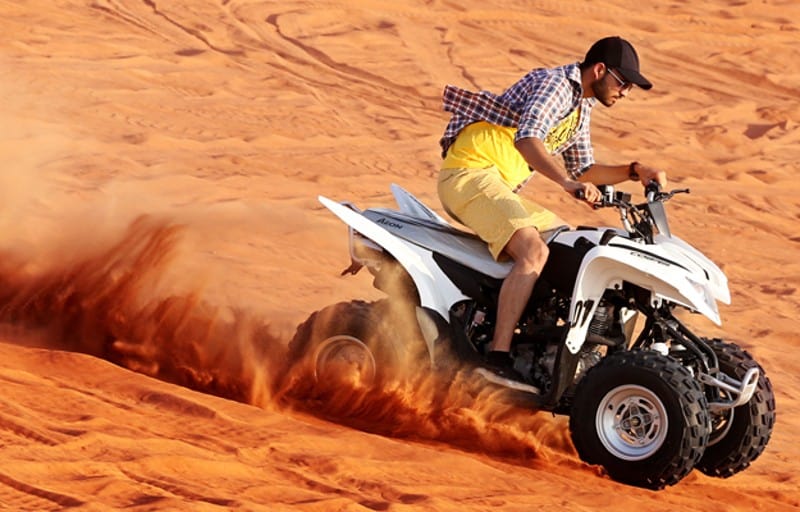 Start time: 2.30 pm
Tour operator: OceanAir Travel
Some of the quad biking safaris don't include dune bashing.
Quad Bikes are motorcycles with four large tires, and it is ridden astride like a dirt bike.
These four-wheeled vehicles are specially designed for off-road driving experiences and are guaranteed to provide a fantastic adrenalin rush.
You will explore the magnificent Lahbab Desert on this safari and indulge in sandboarding, a camel ride, shisha smoking, a Khaliji dance show, Tanoura show, belly dance performance, etc.
Before you head home, you will enjoy a fantastic BBQ dinner.
Cost of experience
Shared quad bike: AED 335 ($91)
You get one bike for two people. It is perfect for couples.
Single quad bike: AED 460 ($125)
---
---
Evening Dune Buggy and Desert Adventure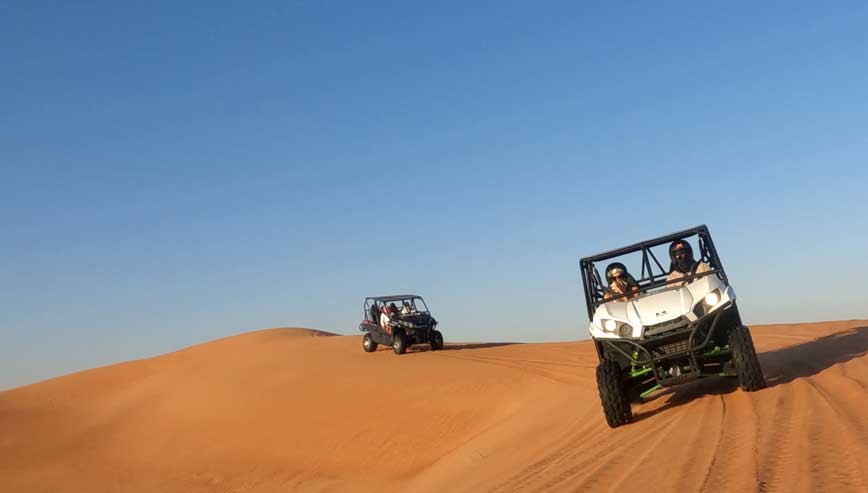 Starting time: 7 am, 8 am, 9 am, 10 am, 2 pm, and 3.15 pm
Tour Operator: Excursion Point Tourism
Desert Dune Buggies are two-seater, off-road vehicles ideal for an adrenalin rush.
Four-seater Dune Buggy tours are also available, which are perfect for families.
Dune Buggy Safari is a more premium experience than the Quad Bike Safari and doesn't include sand dune bashing.
Your English-speaking guide shows you the best routes to take, and you ride your Dune Buggy at a comfortable pace.
This superior desert experience can be enjoyed as a solo guest or a couple sharing the buggy for an hour.
If you don't want to drive, you can share a Buggy with someone who wants to be behind the steering wheel.
If you opt for an elaborate Dubai desert safari, a 4×4 vehicle takes you to a Bedouin camp for cultural activities, and BBQ dinner after the buggy adventure is over.
Cost of the experience
Only Dune Buggy Safari: AED 550 ($150) per person
Buggy Safari + BBQ Dinner: AED 600 ($163) per person
Recommended Reading
# Best Desert Safaris in Dubai
# Desert Safari from Sharjah
# Desert Safari in Abu Dhabi
# Desert Safari in Ras Al Khaimah
# Price of desert safari in Dubai
# VIP Desert Safaris in Dubai
# Morning desert safaris in Dubai
# Dubai Safari with BBQ dinner
# Dubai Safari with Quad Bike
# Dune Buggy Safari in Dubai
# Overnight desert safari in Dubai
# Safari in Dubai with belly dance
# Safari without dune bashing
# Falconry safari in Dubai
Popular attractions in Dubai