Overnight desert safari in Dubai is for those who want to 'live' the real desert.
Besides the regular desert activities such as dune bashing, quad biking, sandboarding, camel riding, etc., guests enjoy a barbecue dinner and stay overnight in a typical Bedouin tent.
The next day, they get up early to see the desert sunrise, have an Arabian breakfast, and then get dropped off at their hotel.
The overnight Dubai safari is an extension of the evening desert safari and commences once the guests of the evening safari have left the campsite.
Overnight desert safari in Dubai is an entirely different experience from a day safari.
When you stay in the desert after dark, you enjoy the breezy wind and the cool climate under a blanket of stars.
This article shares everything you must know before booking your overnight desert safari in Dubai.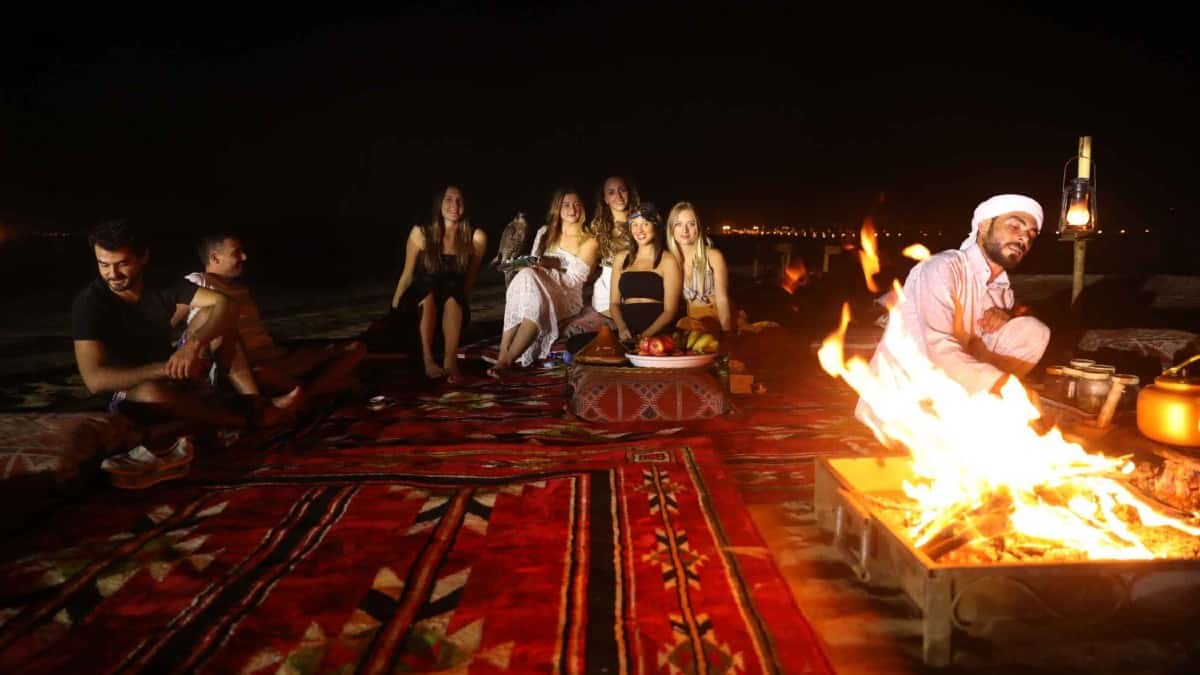 Duration of overnight desert safaris
Most overnight desert safaris in Dubai start at around 2.30 pm and last approximately 18 hours.
After spending the night in the desert and seeing the next day's sunrise, guests return to their hotels by 8.30 am.
If you prefer a longer safari, check out the 20-hour overnight safari Platinum Heritage Luxury Tours offers.
---
---
Price of overnight desert safaris
The overnight safaris, which involves sleeping in a Bedouin tent followed by a sunrise camel trek & breakfast, are priced at AED 609 ($166) for adults.
Kids aged 3 to 11 years get an AED 91 discount and pay only AED 518 ($142).
Despite the relatively higher cost, tourists love it because it helps them experience real desert life.
---
---
What to expect on an overnight safari camp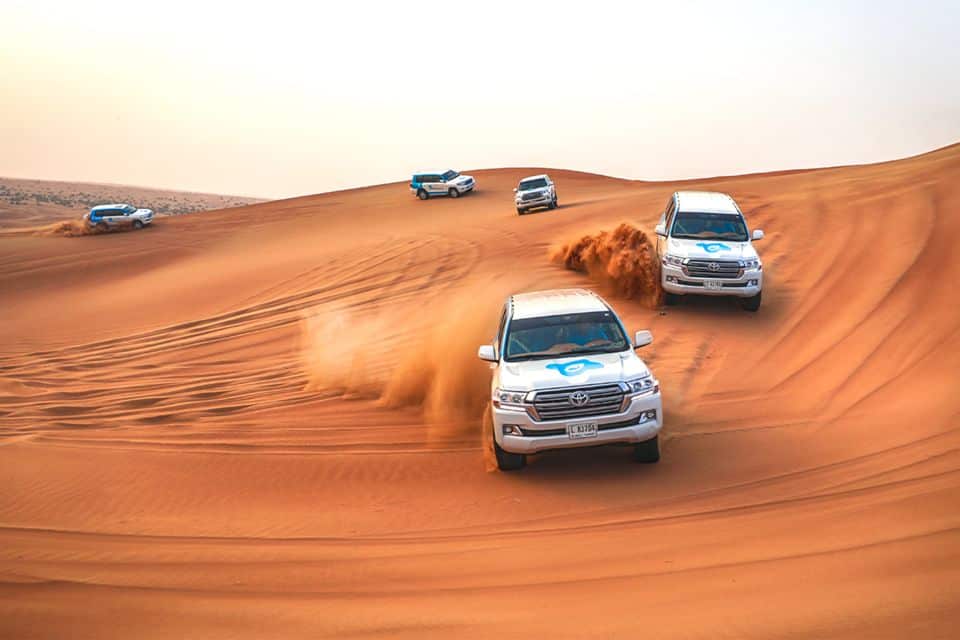 The overnight desert safari in Dubai is a superior experience and a great way to enjoy the sights and sounds of the Arabian Desert at night in the company of mesmerizing stars.
The experience starts at 2.30 pm when you get picked up in an SUV and driven to the Lahbab desert, 60 minutes from Dubai.
You experience desert delights like dune bashing, camel riding, a barbecue dinner & dance shows and, above all, stay overnight in a Bedouin tent at Al Khayma camp. 
After dinner, everybody can sit together and chat and share stories. 
You can split whenever you want and head to the coziness of your bed and tent, which are included with the safari tickets. 
Your tent will have a Nawar bed (Bedouin style bed), pillows, blankets, a restroom, and a shower.
You go on a sunrise camel trek and have an Arabian breakfast the following day before getting dropped back at your hotel.
Safari inclusions –
Pick-up and drop
Dune Bashing
Camel Riding
Quad Biking
Sand Boarding
Watching Sunset
BBQ Dinner
Photos wearing Arabic costume
Photos with Falcon
Henna Painting
Shisha Smoking
Belly Dance
Tanoura Dance
Watching Sunrise
Arabian Breakfast
Cost of VIP overnight safari
Adult ticket (12+ years): AED 609 ($166)
Child ticket (3 to 11 years): AED 518 ($142)
Platinum Heritage Luxury Tours offers a 20-hour overnight safari followed by a gourmet breakfast. It costs AED 1120 ($305) per person.
Orient Tours offers a 17-hour overnight safari, which is best suitable for large groups. It costs AED 1885 ($513) for four guests.
---
---
What to wear for an overnight desert safari
During your desert safari, you must be comfortable, so you must wear light clothes made of linen or cotton. 
Light colors don't absorb the heat so much, thus keeping you cool even during high temperatures.
Since your safari starts at 2.30 pm, it is still better to wear long sleeve top and full-length trousers so that your skin is not exposed.
If you wear shorts, you will accumulate sand in uncomfortable places.
Flip flops or sandals work better than shoes because sand gets into closed footwear, making walking uncomfortable.
You will need the shades till the sun loses its bite just before it goes down the horizon.
Carry warm wear like sweaters, cardigans, etc., to manage the temperature drop as the sun goes down.
Nighttime temperatures in the desert can drop to 5 °C (41 °F); the coldest time is usually 3 am to 5 am. 
---
---
Tips for overnight Dubai safari
Here are a few tips to make your nighttime safari in Dubai memorable –
If you have a camera, get a tripod because the night sky and the sunrise make for beautiful photographs
Carry a small bag with towels and basic toiletries
Except for your mobile, leave all the electronics at your hotel as there are no electrical points at the camp
Pack your prescription medicine, if you have any
Sources
# Desertsafaridubai.com
# Tripadvisor.com
# Platinum-heritage.com
# Raynatours.com

The travel specialists at TheBetterVacation.com use only high-quality sources while researching & writing their articles. We make every attempt to keep our content current, reliable and trustworthy.
Recommended Reading
# Best Desert Safaris in Dubai
# Desert Safari from Sharjah
# Desert Safari in Abu Dhabi
# Desert Safari in Ras Al Khaimah
# Price of desert safari in Dubai
# VIP Desert Safaris in Dubai
# Morning desert safaris in Dubai
# Dubai Safari with BBQ dinner
# Dubai Safari with Quad Bike
# Dune Buggy Safari in Dubai
# Overnight desert safari in Dubai
# Safari in Dubai with belly dance
# Safari without dune bashing
# Falconry safari in Dubai
Popular attractions in Dubai