Ski Dubai is Middle East's first indoor ski slope and attracts more than a million visitors annually.
Tourists visit Ski Dubai to ski, snowboard, and play many other winter games.
The Gentoo and King Penguins are also a major draw at this attraction located inside the Dubai Mall of the Emirates.
In this article, we share everything you must know before buying Ski Dubai tickets.
What to expect at Ski Dubai
Since Ski Dubai is not a regular run-of-the-mill tourist attraction, visitors want to know what to expect before planning their visit.
What confuses them further is the numerous names the locals have given the attraction.
We list some of them here – Snow Park Dubai, Indoor Skiing Park, Dubai Ski Resort, Dubai Mall Ski, Snow World Dubai, Ski World Dubai, etc.
We can sum up your Ski Dubai experience in three stages –
The Entry
Once you buy your Ski Dubai tickets online (using the links below), here is what will happen –
1. Since you will already have your tickets, you can avoid the queue at the ticket counter and head for the 'Online Admission Counter.'
2. At the Counter, you will collect your Ski Dubai Pass and Key card (for the locker)
Getting dressed
Ski Dubai is covered in snow, and the temperature gets maintained at around minus 1°C.
3. You will next go to the rental area to pick up your snow boots and clothes
4. After renting out the clothes and boots of your size, you will head for the changing rooms. There are separate rooms for men and women
5. After changing into your Ski Dubai attire, you will store your personal belongings in the Ski Dubai locker
Experiencing the snow
Now that you are all ready for some snow, you head towards the Snow Fun Entrance.
And once you are inside –
Visitors who have booked skiing sessions on the slope will proceed to the snowy slopes.
Tourists who have booked Snow Park tickets will go to the Snow Park.
And guests who have booked the Penguin Encounter must be at the Penguin Meeting Point next to the Snow Fun entrance 10 minutes before their allotted session.
---
---
Ski Dubai timings
From Sunday to Thursday, Ski Dubai opens at 10 am, and on Friday and Saturday, it opens early at 9 am to cater to the weekend crowd.
On Thursdays and Fridays, Dubai's Snow Park is open till midnight, and on the other days, it closes early at 11 pm.
The last entry is always 90 minutes before closure.
| | | |
| --- | --- | --- |
| Day | Timings | Last ticket sold |
| Monday | 10 am to 11 pm | 9.30 pm |
| Tuesday | 10 am to 11 pm | 9.30 pm |
| Wednesday | 10 am to 11 pm | 9.30 pm |
| Thursday | 10 am to midnight | 10.30 pm |
| Friday | 9 am to midnight | 10.30 pm |
| Saturday | 9 am to midnight | 9.30 pm |
| Sunday | 10 am to 11 pm | 9.30 pm |
Penguin march, a significant attraction of Ski Dubai, happens four times daily – at 2 pm, 4 pm, 6 pm, and 8 pm.
---
---
How to reach Ski Dubai
You can reach Sky Dubai by the Metro or if you have a car, you can drive down.
Ski Dubai's Address: Mall of the Emirates, Sheikh Zayed Rd, Dubai, United Arab Emirates.
To Ski Dubai by Metro
If you plan to take Dubai Metro to Ski Dubai, you must board the Red Line, which starts from Rashidiya station (near Dubai International Airport).
The Metro goes to UAE Exchange station (earlier called Jebel Ali station), but you must get down at the Mall of the Emirates Station, the 19th station on the Red Line.
If Green Line is closest to you, you can transfer to the Red Line at either Union Metro Station or BurJuman Metro Station (earlier called Khalid Bin Al Waleed).
Driving to Ski Dubai
Use Google directions and start driving.
If you are visiting Ski Dubai by car, it is best to head straight to The Mall of the Emirates parking.
Depending on where you are driving from, you will enter the parking from different gates –
From Abu Dhabi: Access 3, from near Sheraton
From Sharjah: Mall Entrance / 1, 2, and 3 floors over the bridge
From Al Barsha: Entrance from Lulu side First Floor, or the entrance from Al Barsha Area Ground Floor
If you follow Google Maps, you will be directed to the nearest Mall of the Emirates entrance.
Parking fee
On Friday, Saturday, and Public Holidays, parking in The Mall of the Emirates is free.
During the weekdays, the Mall's parking is free for the first four hours only.
If you plan to visit Ski Dubai, you can validate the parking ticket to get free access.
---
---
Ski Dubai tickets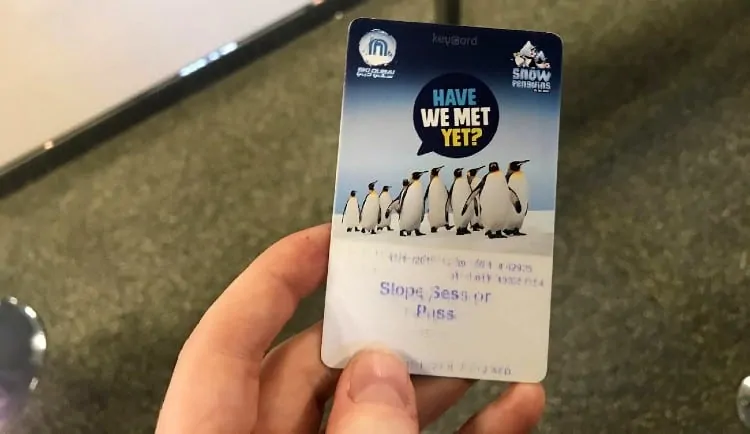 You can book three types of experiences at Ski Dubai, and we explain all of them below.
But before that –
How online tickets work
The moment you purchase the Sky Dubai tickets, they get emailed to you.
On the day of your visit, show Sky Dubai tickets in your email, on your smartphone, and walk-in. No need to take printouts!
If you buy this ticket online, you get to skip the line at the attraction's ticket counter and walk in through the skip-the-line lane.
Ski Dubai price
At Ski Dubai, you can either ski down the slope, have fun in the Snow Park or have a memorable encounter with the Penguins.
In this section, we share Ski Dubai ticket prices in Dirhams for all these activities.
To ski down the slope at this attraction, both adults and kids must buy the Ski Slope ticket, which costs 220 AED per person.
If you don't want to ski but prefer to play numerous games in Ski Dubai's Snow park, you must buy the Snow Park ticket worth 190 AED. However, if you purchase the tickets for two visitors, it will cost you only 263 AED.
This ticket also costs the same for both kids and adults.
The Penguin Encounter tickets are costlier at 240 AED, and everybody above three years of age pays the same price.
Ski Dubai ticket discounts
Everybody visiting Ski Dubai must buy tickets – even kids don't walk in for free.
Both kids and adults pay the same price for all Ski Dubai tickets, ruling out any child discount.
However, when you buy Ski Dubai tickets online, you get a 10 AED discount on the counter ticket price.
Fast Track Ski Slope tickets
This ticket is a two-hour pass to ski or snowboard in Middle East's first indoor ski resort.
This Ski Dubai ticket lets you access all the five different runs of varying difficulty, height, gradient, and length.
All equipment, including ski, ski poles, ski boots, snowboards, and snowboard boots, come along for free with this ticket.
Ski Dubai ticket price: 210 AED / person
Snow Park Dubai tickets
This ticket gets you to access to all the activities at the massive Snow Park in Ski Dubai.
You get unlimited access to all the Snow Park rides such as Tobogganing, Chairlift, Mountain Thriller, Bobsled runs, Snow Plough Playground, Ice Cave, Climbing Wall, Snow Bumpers, Tubing run, Sliding Hill, and the Zorb Ball (Giant Ball).
This ticket is perfect for a family with kids, especially if you don't want to ski or snowboard.
It is valid for one whole day, which means you can be inside Ski World Dubai for as long as you want.
Snow Park Dubai ticket price: 190 AED / person
Penguin Encounter at Ski Dubai
This ticket gets you a 40-minute encounter with the Snow Penguins at Ski Dubai.
Since this is a timed activity, you must reach Ski Dubai at least an hour before the scheduled encounter with the Penguins.
Coming in early will give you enough time for the security checks, clothing rental, and other preparation.
Families with kids love this Penguin package because it is both fun and an educational experience.
Ski Dubai Penguin ticket price: 230 AED / person
---
---
What to do at Ski Dubai
Ski Dubai is a highly-rated tourist draw (4.5 out of 5 on Tripadvisor) in Dubai with four major attractions, where visitors can do many activities.
Ski Dubai's Snow Slope
Visitors who book skiing tickets spend their time on Ski Dubai's slope.
Experienced skiers and snowboarders with a skill level of Intermediate Level 2* can step onto the slope.
If you aren't an experienced skier, you will undergo a bit of training before you are allowed on the snow slope.
Ski Dubai's slope is designed to look like the picturesque Georgian mountains and is perfect for full-on winter sports action.
This Ski slope has five different runs of varying difficulty, height, gradient, and length.
The longest run is 400 meters (1310 feet) and has a drop of more than 60 meters (197 feet).
Important: To be considered 'Intermediate Level 2,' as a skier, you must keep your skis parallel while skiing, and as a snowboarder, you must be able to make curved turns.
Restrictions at the Ski slope
a) Kids under two years of age can't enter Ski Dubai Slope
b) Kids aged 2 to 8 years can only enter with adult supervision
c) Children aged 9 to 12 years can enter if the guardian is present within Mall of the Emirates premises
d) Visitors below 21 years of age must get a waiver form signed by their guardian before they can enter the Ski slope
Snow Park Dubai
Snow World at Ski Dubai is the perfect destination for visitors who don't want to ski or snowboard but want to indulge in other winter games.
To access the Snow Park, you need to buy the Snow Park Dubai tickets.
Since the games at Snow World aren't as risky as skiing or snowboarding, there is only one restriction: Kids aged 14 and less be under the supervision of visitors 16 years or more.
Here are some of the most popular games and activities in the Dubai Snow Park –
1. Bobsled runs
This run is an adrenalin rush like no other because you get on to a gravity-powered bobsled and hurtle down a narrow, twisting, banked, iced track.
It's a perfect winter sports experience.
2. Chairlift
Ski Dubai chairlift is a state-of-the-art experience where you go up and get stunning views of the Snow Park, the Ski Dubai slope, and all the other visitors busy having fun.
3. March of the Penguins
The ever-popular March of the Penguins at Ski Dubai happens in the Snow Park.
Scheduled four times daily – at 2 pm, 4 pm, 6 pm, and 8 pm, the beautiful colony of King and Gentoo Penguins are a delight to watch.
4. Zorb Ball (Giant Ball)
If you can manage confined spaces, this is an excellent activity to try at Ski Dubai.
You can get inside a massive ball, and then roll down the Ski Dubai's slope at a fast yet controlled pace.
Both kids and adults love the Zorb Ball.
5. Mountain Thriller
If you love speed, this is perfect for you.
You will get into a custom-built ride, strap yourself and let go for a quick adrenalin-filled ride down a 185m (607 feet) high slope at speeds of up to 45kph (28 Miles per hour).
6. Tubing Run
This run is the old-fashioned winter sport played in all snow-clad areas.
You can sit on a tube alone or with someone else and hurtle down the snow mountain even as you enjoy the views on the side.
7. Snow Bullet
The Snow Bullet is a 150 meter (492 feet) long indoor zip line, the first in UAE.
To go up on this 16 meter (52.5 feet) high Zip line needs some courage but is worth a try.
8. Snow Bumpers
Even though they are named 'Snow Bumpers', they are the regular bumper cars that you may have experienced elsewhere.
But why complain when you can join the Snow Bumper Car mayhem and fight off the challenge from your friends and family.
9. Snow Plough Playground
This timber structure is a new attraction at Snow Park Dubai.
Kids love the crawl tubes, slides, slackline, climbing wall, and the driver's seat of this attraction, which is designed like a Piston Bully.
Once in the driver's seat, the kids can experience steering and hear life-like noises.
10. Climbing Wall
This climbing wall at Ski Dubai resembles a rocky mountain and is perfect for kids.
The smooth and quick climb to the top keeps the kids asking for more.
11. Sliding Hill
The kids also get to slide down the snowy smaller slopes at Ski Dubai.
Kids of all age groups love it, and laughter is all that one can hear at Sliding Hill.
Ski Dubai's Penguins
Ski Dubai hosts a colony of Gentoo Penguins and King Penguins.
Visitors in Snow Park can see them march four times during the day – at 2 pm, 4 pm, 6 pm, and 8 pm.
Encounter with Penguins
However, if you want an even closer encounter with the Penguins, you must book the Snow Penguin package.
It is a fun and educational experience where one learns fun facts about the penguins and how to protect them in the wild.
Penguin encounters begin at noon and run every half hour till 9 pm.
Restrictions
– Kids aged 14 years or less must be with an adult aged 16 or above.
– Visitors are not allowed to bring in mobiles and cameras inside the Penguin encounter Area
Ski School
The Ski School at Ski Dubai has professional coaches who teach skiing and snowboarding to people at all skill levels.
The minimum age for ski lessons is three years, and for snowboarding lessons, it is eight years.
---
---
Clothing and equipment
Visitors to Ski Dubai aren't expected to carry their winter wear and skiing equipment.
Ski Dubai gives all ticket holders everything they may need to enjoy the Skiing Slope and Snow Park.
You can rent the below-listed items (in your required sizes) for free.
– Jackets and trousers (sizes S to 4XL are available)
– Snow boots
– Disposable pair of socks
– Helmets*
– Skis
– Snowboards
– One pair of fleece gloves
– Standard locker to keep your things
*Children under 13 years of age must always wear helmets
Beanies and scarfs aren't available for rent, but you can buy them from the Snow Pro shop.
If you want to jump the clothes rental queue or if you wish for premium outfits, ask for premium outfit rentals at the entrance, which are chargeable.
---
---
Dining at Ski Dubai
There are three dining options at Ski Dubai.
North 28
North 28 restaurant offers excellent meals and beverages for breakfast, lunch, and dinner.
This restaurant offers a spectacular view of Snow Park even as visitors re-energize themselves for the next session on snow.
Avalanche Cafe
Avalanche Café is at the slope mid-station, mid-way up the chairlift's route.
It offers sweeping views over the snowy slopes, so you can watch the skiers and snowboarders in action even as you dine.
Ice Cafe
Ice Café is in the Snow Park Area near the Snow Plough and is just perfect for a quick break in between your Snow Park activities.
Don't miss out on the sweet and savory treats and the mug of hot chocolate that's on the menu.
Popular attractions in Dubai