Sheikh Zayed Mosque is one of the largest mosques globally and can hold more than 40,000 worshippers and visitors at the same time.
The Grand Mosque's designers were British, Italian, and Emirati, and they used design elements from Turkey, Morocco, Pakistan, and Egypt, among other Islamic countries. The finished product is a stunning, sparkling architectural masterpiece.
Sheikh Zayed Mosque is also known as the 'Pearl of the Gulf' and is in Abu Dhabi, 129 km (80 miles) from Dubai.
This article explains everything you need to know before you visit the Sheikh Zayed Mosque.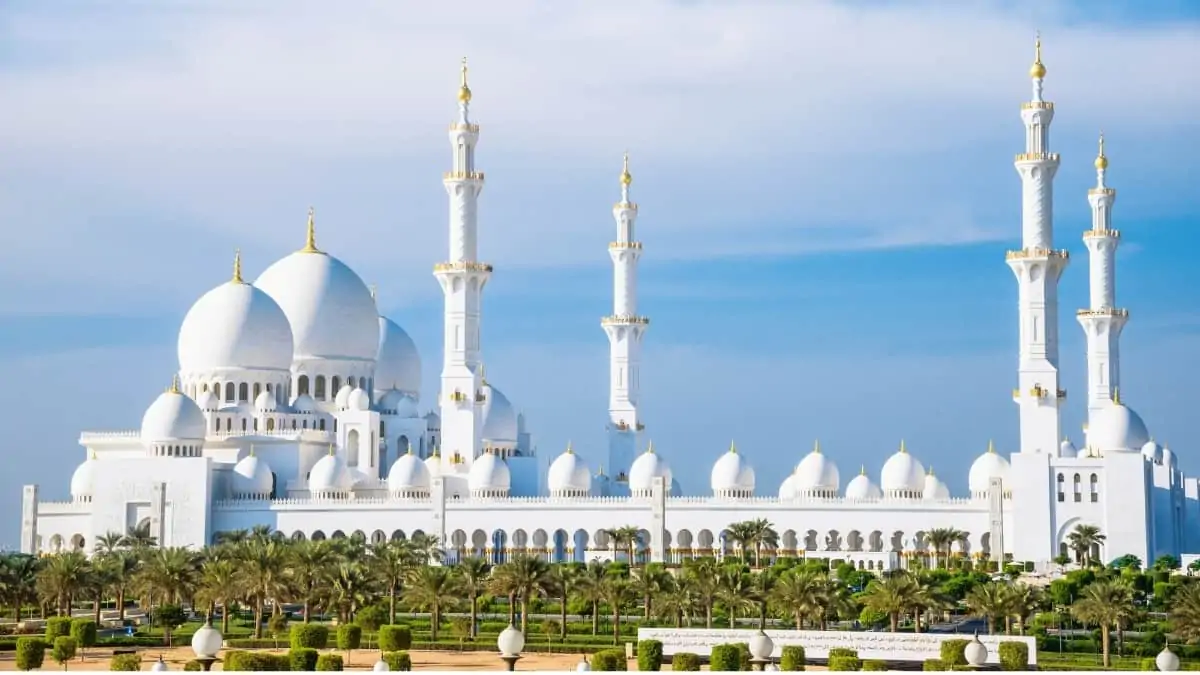 What to expect at Sheikh Zayed Mosque
The Sheikh Zayed Grand Mosque was constructed as a symbol of tolerance and respect, allowing people of many cultures to better appreciate one another and have a better understanding of Islam.
If you are staying in Dubai, you can opt for the full-day Abu Dhabi city tour from Dubai, which includes a visit to the Grand Mosque.
If you are staying in Abu Dhabi, check out the half-day guided tour of the city, which includes a visit to the mosque.
---
---
Cost of Sheikh Zayed Mosque tickets
The Sheikh Zayed Mosque, often known as the white beauty of the Gulf, is free for all visitors.
Both tourists and locals don't need to buy any tickets to enter.
However, if you book a half-day guided tour, it will cost you 176 AED (48 USD), and a full-day guided tour from Dubai costs 400 AED (109 USD) per person.
Exploring the Mosque along with a guide can lead to a memorable tour because it is a beautifully constructed building, and each wall has a story, and each design an anecdote.
---
---
Sheikh Zayed Mosque guided tours
We have hand-picked two of the best guided tours to the Sheikh Zayed Mosque.
All of the tour tickets come with 24 hours cancellation policy. You can cancel 24 hours before your visit and get a full refund.
Kids three years and below can join for free on all these tours.
Abu Dhabi city tour from Dubai
This small group experience is a perfect tour of Sheikh Zayed Mosque if you stay in Dubai because you don't have to worry about transportation.
You will travel down the Persian Gulf coast to Abu Dhabi after being picked up from your hotel in Dubai while listening to stories about one of the World's wealthiest cities.
Visit the magnificent Sheikh Zayed Grand Mosque, one of Abu Dhabi's most well-known attractions.
Admire the Mosque's 82 domes, chandeliers, and flower-patterned patterns, all made of white marble.
Then, take a drive around the Abu Dhabi Corniche for a stunning perspective of the Persian Gulf.
Continue to the luxurious Emirates Palace, the official hotel of Abu Dhabi's ruling government, and see the clear water of the bay.
The next destination will be the Marina Mall, where you can stop for lunch (at your own expense) and dine at one of the mall's restaurants or choose from the food court alternatives.
After that, go to the majestic Qasr Al Watan palace, part of the UAE presidential palace compound.
See the palace's architectural elements, relics, and other historical treasures.
After that, relax and enjoy the ride back to Dubai, where you'll be dropped off.
Ticket Prices
Adult ticket (12+ years): 400 AED (109 USD)
Child ticket (4 to 11 years): 320 AED (87 USD)
If you want privacy during your vacation and the ability to customize the trip, opt for the private full-day tour of the Grand Mosque in Abu Dhabi. It will cost you US$ 685 for a group of four people.
Half-day guided tour of Abu Dhabi
If you are staying in Abu Dhabi or can manage your transport from Dubai to Abu Dhabi, this 4-hour tour is just perfect.
After being picked up from your Abu Dhabi hotel, your guide will drive you to the magnificent Sheikh Zayed Grand Mosque.
The inner courtyard and minaret, design themes of Naskhi, Thuluth, and Kufic calligraphy, and thin columns mirrored in the lake are just a few of the highlights inside and out.
The drive then returns you to the Persian Gulf, where you may marvel at the magnificent developments along the Abu Dhabi Corniche.
Some of the World's most ultra-modern, stunning skyscrapers and luxurious hotels, such as Emirates Palace, which faces the pristine coastline, will wow you.
Visit Port Zayed's historic vegetable, date, and fish markets in the city's northeast.
Port Zayed has been essential in increasing Abu Dhabi's international trade due to its strategic location in the city's center.
The journey concludes with a photo opportunity at Heritage Settlement, a desert village that has been recreated.
Ticket Prices
Adult ticket (11+ years): 176 AED (48 USD)
Children ticket (3 to 10 years): 142 AED (38 USD)
Sheikh Zayed Mosque + Etihad Towers
This is a small group tour in which you get picked up from your hotel in Dubai and get driven to the Grand Mosque in style.
Later you see scenic views of the Arabian Gulf while strolling at Abu Dhabi Corniche. You then explore the old Emirati village at the Heritage Village.
A visit to the Marina mall is followed by a lunch break, after which you visit the observation deck of Etihad Towers (on the 74th floor!).
After you have had your fill of the Abu Dhabi skyline, you get back to Dubai.
Ticket Prices
Adult ticket (12+ years): 440 AED (120 USD)
Child ticket (4 to 11 years): 350 AED (96 USD)
Grand Mosque + Louvre Museum
This tour starts from Dubai in an air-conditioned vehicle, and you get to see two of the country's crowning attractions – the Louvre Museum & the Grand Mosque in Abu Dhabi.
First, you see the Sheikh Zayed Grand Mosque and then drive to Louvre Museum located in Saadiyat Island.
At Louvre, you admire both classic and modern works of cultural and sociological significance from all over the world for two hours before driving back to Dubai.
An English-speaking guide is with you all through the 9-hour long guided tour.
Ticket Prices
Adult ticket (12+ years): 400 AED (109 USD)
Youth ticket (3 to 11 years): 250 AED (69 USD)
Sheikh Zayed Mosque + Ferrari World
In a way, this tour can even be called the 'Highlights of Abu Dhabi' tour.
After getting picked up from Dubai, you first explore the Mosque, Emirates Palace, and the Heritage Village.
After a quick lunch break, you start your second part of the day at the largest indoor theme park in the world – the Ferrari World.
Once you have had your share of adrenalin rush inside the World of Ferrari, you head back to Dubai.
Ticket Prices
Adult ticket (11+ years): 822 AED (224 USD)
Children ticket (3 to 9 years): 750 AED (199 USD)
---
---
How to reach Sheikh Zayed Mosque
If you are staying in Abu Dhabi, we suggest taking a taxi to reach the Grand Mosque.
The Mosque is 15 km (9.3 miles) from Abu Dhabi city, and a quick 12-minute taxi ride can get you there. Get Directions
Sheikh Zayed Mosque from Dubai
Although the Sheikh Zayed Mosque is located 129 Kms (80 Miles) from Dubai, most tourists visiting Dubai add it to their itinerary because of the excellent connectivity.
To go from Dubai to Sheikh Zayed Mosque, you can take a bus, taxi or a guided tour.
By bus
Buses bound for Abu Dhabi leave the Al Ghubaiba bus station in Bur Dubai every thirty minutes.
These modern and air-conditioned buses take about two hours to reach the Sheikh Zayed Mosque.
By taxi
If you are not on a budget holiday, it is better to take a taxi to the Sheikh Zayed Mosque in Abu Dhabi.
A taxi covers the distance in around 90 minutes, so you save a half-hour of your precious time.
However, it is a pricey option and will cost you 45 to 50 USD (165 AED to 185 AED) each way.
If you don't want the hassle of arranging your transport, you can book a half-day tour or a full-day tour of the Mosque, which would include transportation.
Follow the link for more details on how to go from Dubai to Grand Mosque.
---
---
Sheikh Zayed Mosque timings
From Saturday to Thursday, Sheikh Zayed Mosque is open from 9 am to 10 pm.
On Friday, the Mosque stays closed during the morning hours and opens after 4:30 pm.
During Ramadan, Sheikh Zayed Mosque begins at 9 am and closes at 2 pm.
When Ramadan is going on, the Mosque stays closed on Fridays.
---
---
Best time to visit Sheikh Zayed Mosque
The best time to visit Sheikh Zayed Mosque is as soon as they open at 9 am, or later in the evening during sunset.
Morning or evening visits help you avoid the heat, which can be extreme, especially during the summer months of May to November.
During sunset, the Abu Dabhi Mosque looks stunning.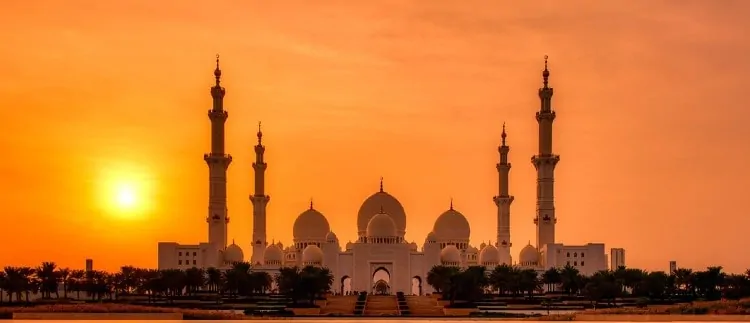 Like any popular tourist attraction, weekends are slightly more crowded than weekdays.
Best time for photography
If you want to take lots of photographs of Sheikh Zayed Mosque, plan your visit at sunset or just before sunset.
The Mosque looks fantastic during the golden hour, as the sun shines off the building.
---
---
How long does Sheikh Zayed Mosque take
Most visitors take 90 minutes to two hours to explore Sheikh Zayed Grand Mosque.
Guided tours of the Mosque last 60 minutes, after which you can hang around for another 30 to 60 minutes exploring the intricate designs and details.
Due to long queues, you may need half an hour more on weekends and other crowded days.
Sheikh Zayed Mosque is massive, covering more than 12 hectares (30 acres), so plan accordingly.
---
---
Sheikh Zayed Mosque at night
The 'Pearl of Gulf' is magical both during sunset and after it gets dark.
Sheikh Zayed Mosque is open till 10 pm, and hence attracts a lot of visitors after dark.
The domes and pillars of the Mosque get lit in magical colors depicting the lunar cycle.
The Mosque is enveloped in cold white light on the full moon evenings and is washed with a blue light on no-moon evenings.
One can notice seven subtle shifts in color every second evening, moving from deep blue on no moon night to clean white on full moon night.
Visitors who don't have the time to enter and explore Grand Mosque at night decide to drive by and enjoy its beauty.
---
---
Dress code for Sheikh Zayed Mosque
Apart from being a tourist attraction, the Sheikh Zayed Mosque is an active religious place where people worship.
All visitors must follow the Mosque's conservative dress code regardless of faith.
Men must not reveal any flesh above their knees and cover their shoulders.
While visiting the Mosque, women must not wear pants, shorts, or skirts that end above the ankle.
Female visitors must cover their heads and hair with a headscarf.
Don't worry if you land up at the Mosque without adhering to the dress code.
The organizers provide 'Abayas' free of cost to its female visitors.
However, no clothes are supplied to the men.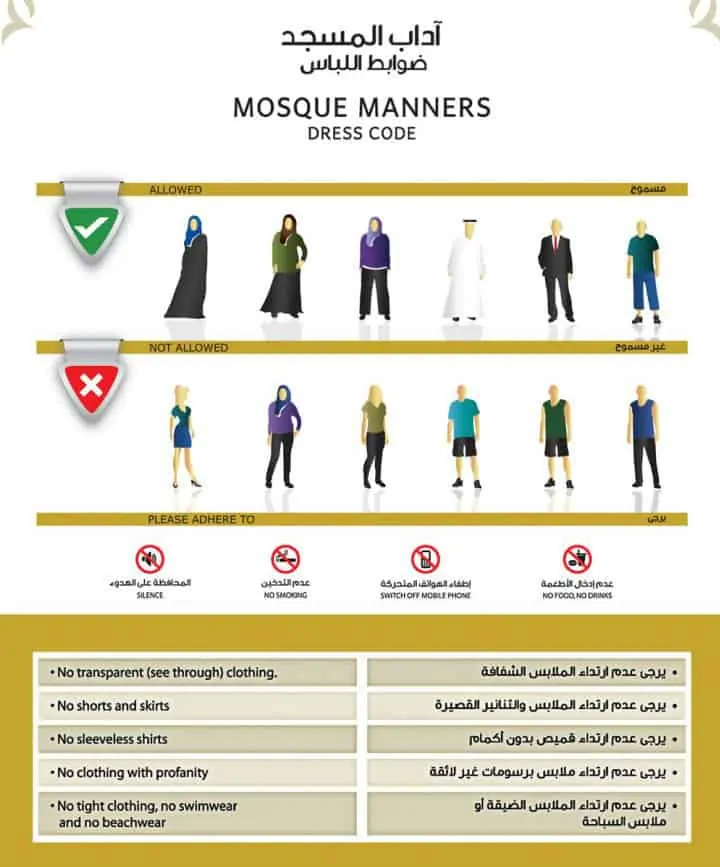 All visitors are requested to remove their shoes before entering the Mosque.
---
---
What to see at Sheikh Zayed Mosque
Although the fairy-tale structure catches your eye the moment you step in, there are certain must-sees you can't miss.
Sheikh Zayed Mausoleum
The Mosque is named after Sheikh Zayed bin Sultan Al Nahyan who was well known for uniting the Emirates and forming what is now known as the United Arab Emirates.
Known as the pushing force behind the changing landscape of the Gulf, Sheikh Zayed died in 2004. Three years later, Grand Mosque got completed.
He lays buried in a Mausoleum on the Northside of the Mosque.
The Central Courtyard
The Grand Mosque's dominating feature is its central courtyard.
The gleaming white courtyard lined by the reflecting pools was inspired by Pakistan's Badshahi Mosque and Morocco's Hassan II Mosque.
Standing in the middle of the courtyard, you can view the architectural marvels of the Mosque borrowed from different countries and cultures.
The courtyard alone can hold 30,000 believers and is guarded by four 107 Meters (351 feet) high minarets inspired by three different civilizations Egyptian, North Africa, and Turkian.
The Foyer
While entering the Foyer, one must adhere to the Mosque's dress code.
The Foyer has an onion top dome with a verse of Koran calligraphed around it.
Each letter of the verse is painted with a gold leaf and is written in a popular style called An-Naskh.
Apart from the gold calligraphy, the Foyer is also jeweled with one of the seven giant chandeliers.
The chandelier is held overhead by steel cables and complements the beauty of the Foyer.
Main Prayer Hall
The main prayer hall of the Mosque is a hangar-sized room divided into two for separate genders. It can hold 10,000 worshipers.
Ninty six columns adorned with semi-precious stones support the roof.
The room is fully air-conditioned, with the area around every column being conditioned by an AC the size of a mini-bus.
Chandeliers
Sheikh Zayed Mosque has a total of seven grand chandeliers, each weighing eight to 12 metric tonnes.
Steel cables that can hold up to 36 tonnes of weight support each chandelier.
Together, the seven chandeliers in the Grand Mosque hold almost 40 million Swarovski crystals.
The grand chandelier in the Main Prayer Hall of Sheikh Zayed Mosque is 10 meters (32 feet) in diameter and 15 meters (49 feet) tall.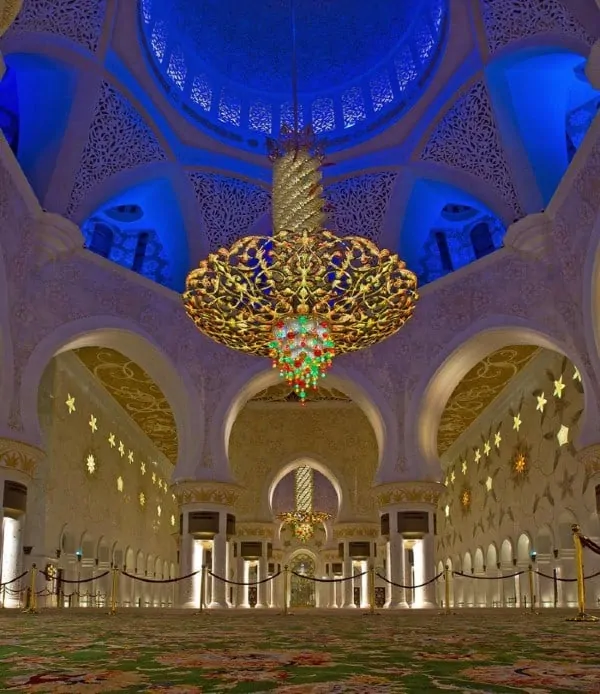 At a weight of 9 tonnes, it is one of the heaviest Chandeliers in the World.
This chandelier is inspired by the date palm tree, which is a standard feature of the region.
The chandelier in Main Prayer Hall is made out of stainless steel and brass, bathed with 40 Kg of 24-carat gold.
World's largest carpet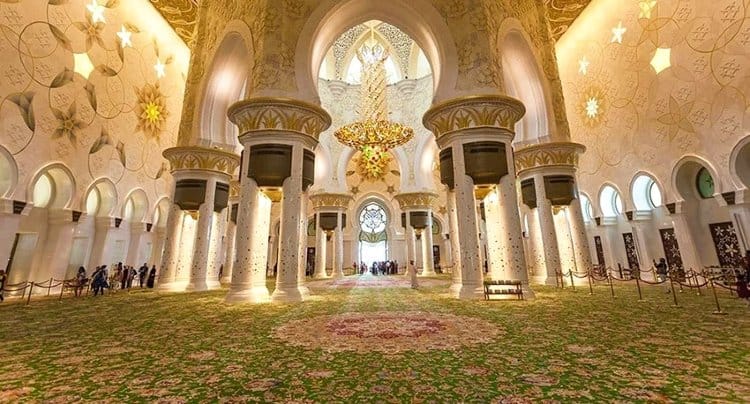 The largest carpet in the world lines Sheikh Zayed Mosque's Prayer Hall.
It is made primarily by the wool imported from New Zealand and took 16 months to weave.
The carpet, made by a third-generation carpet master from Iran, was delivered in nine pieces in two jumbo jets.
One thousand two hundred artisans worked on the hand-knotted carpet, which, when unrolled, covers 5,700 sqm.
Wall of Allah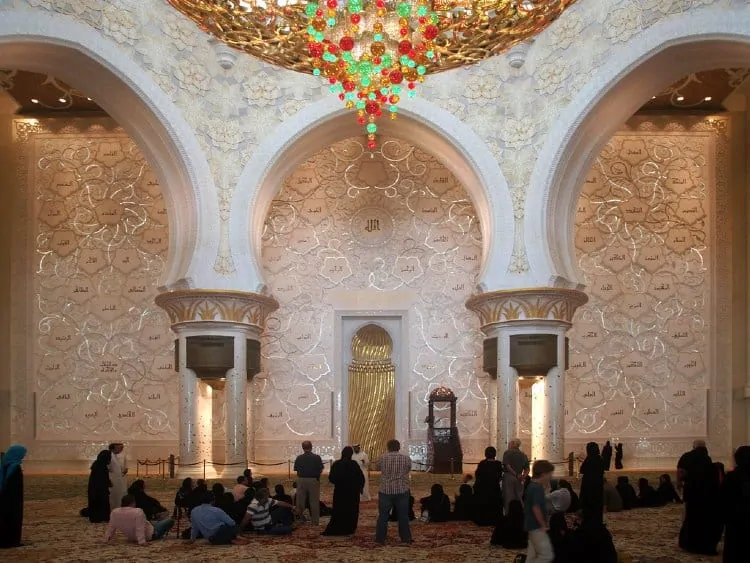 The Qibla wall facing Mecca is engraved with 99 names that Muslims attribute to God in Arabic calligraphy.
The engravings are highlighted by subtle fiber-optic lighting.
The semi-circular niche is adorned with 24-carat gold and complements the beauty of the Grand Mosque.
Reflective Pools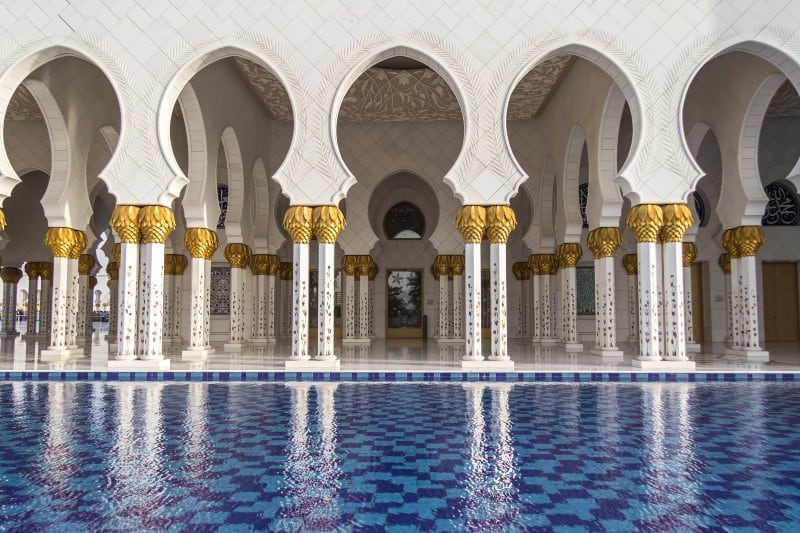 Around the Sheikh Zayed Mosque, there are many pools lined with reflecting tiles.
These pools get lit at night with a magical floodlight which further enhances the beauty of the Mosque.
The pools are photographed by thousands of visitors every year to win the Spaces of Light photo competition.
The calm waters of these pools match perfectly with the peaceful environment of the Mosque itself.
Sources
# Wikipedia.org
# Visitabudhabi.ae
# Abudhabiculture.ae
# Tripadvisor.com

The travel specialists at TheBetterVacation.com use only high-quality sources while researching & writing their articles. We make every attempt to keep our content current, reliable and trustworthy.
Popular attractions in Dubai