The majestic Sheikh Zayed Mosque is the third-largest mosque globally and is a must-visit attraction in the Middle East.
Built by Sheikh Zayed bin Sultan Al Nahyan, the Founder of the UAE, it aims to capture the unique interactions between Islam and other world cultures.
Also known as the Grand Mosque, it has beautiful flower-patterned walls, gold-plated chandeliers, and the world's largest loomed carpet and can seat more than 50,000 worshippers.
This article tells you how you can visit Sheikh Zayed Mosque from Dubai.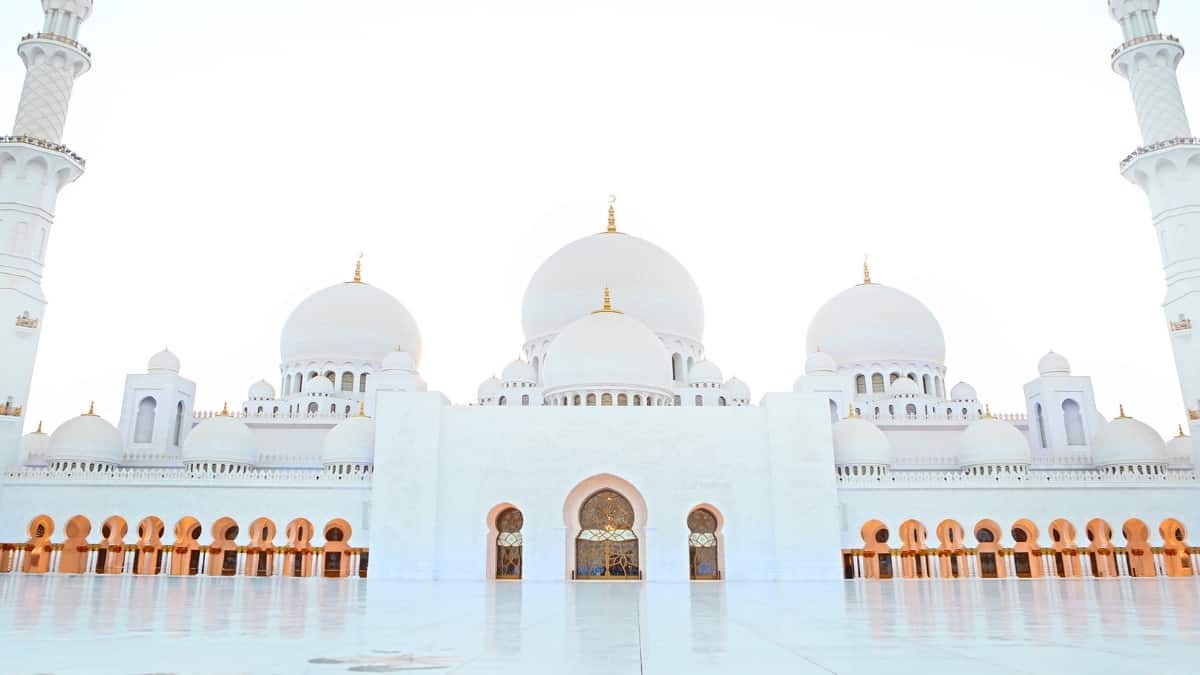 Sheikh Zayed Mosque in Dubai
Since Sheikh Zayed Grand Mosque is on the itinerary of every Dubai holiday, tourists think the mosque is in Dubai.
But the Grand Mosque is located in Abu Dhabi, the capital city of the United Arab Emirates.
The attraction's address is Sheikh Rashid Bin Saeed Street, 5th St, Abu Dhabi, United Arab Emirates. Get Directions
---
---
How far is Sheikh Zayed Mosque from Dubai
Sheikh Zayed Mosque is located in Abu Dhabi – 129 km (80 miles) from Dubai.
However, most tourists visiting Dubai add it to their itinerary because of the excellent connectivity between the two cities.
If you stay in Dubai, you can take a bus or taxi to Sheikh Zayed Mosque.
If you don't want the hassle of managing the travel yourself, you can opt for the full-day tour of the Grand Mosque from Dubai.
---
---
Taxi from Dubai to Sheikh Zayed Mosque
If you are not on a budget holiday, it is better to take a taxi to the Sheikh Zayed Mosque in Abu Dhabi.
A taxi covers the distance of approximately 129 km (80 Miles) in around 90 minutes.
Since the buses take two hours, taking a taxi helps you save half-hour of your precious time.
However, it is a pricey option and will cost you approximately 185 AED each way, making it 370 AED ($100) in total.
Taxi drivers don't mind waiting till you explore the Mosque and then ferry you back to your hotel in Dubai.
If you want to squeeze more out of your visit at a much lower cost, opt for the full-day tour of Abu Dhabi from Dubai, which costs only 320 AED ($87) per person.
---
---
Dubai to Sheikh Zayed Mosque by bus
Regular buses are available from Dubai to Sheikh Zayed Grand mosque, and they run throughout the day.
Buses bound for Abu Dhabi leave the Al Ghubaiba bus station in Bur Dubai every thirty minutes.
These modern and air-conditioned buses take about two hours to reach the Sheikh Zayed Mosque, which is half an hour more than what a taxi would take.
You don't need to go up to Abu Dhabi city because the Mosque is 15 km (9.3 miles) before the city center.
Once you get down at the Mosque's bus station, a quick 10-minute walk will get you to its entrance.
If you are short on time or want to maximize your touring time, opt for a taxi or a sightseeing tour.
---
---
Sheikh Zayed Grand Mosque tour from Dubai
Visitors who aren't on a budget holiday or those who don't want the hassle of handling the transport options opt for a guided tour of the Grand Mosque from Dubai.
This guided 9-hour tour starts with a pick up from your hotel, after which you travel down the Persian Gulf coast to Abu Dhabi.
You will visit the magnificent Sheikh Zayed Grand Mosque and admire its white marble structure that consists of 82 domes, chandeliers, and flower-patterned designs.
Then, take a drive around the Abu Dhabi Corniche for a stunning perspective of the Persian Gulf.
You will then continue to the luxurious Emirates Palace, the main hotel of Abu Dhabi's ruling government, and see the clear water of the bay.
The next destination will be the Marina Mall, where you can stop for lunch (at your own expense) and dine at one of the mall's restaurants or choose from the food court alternatives.
After that, go to the majestic Qasr Al Watan palace, part of the UAE presidential palace compound.
As the tour winds to a halt, your guide drops you back at your hotel.
---
---
Abu Dhabi to Sheikh Zayed Mosque
If you are staying in Abu Dhabi, you can take a taxi to reach the Grand Mosque.
The Mosque is 15 km (9.3 miles) from Abu Dhabi city, and a quick 12-minute taxi ride can get you there.
Or you can opt for the half-day tour of Abu Dhabi, where you also get to explore the Grand Mosque.
During this five-hour tour, you will discover the highlights of Abu Dhabi, including Sheikh Zayed Grand Mosque, the Heritage Village, the dates market, the fishing harbor, Yas Island, etc.
An English-speaking tour guide and hotel pick up and drop come with this tour that costs approximately AED 176 ($48) per person.
Popular attractions in Dubai