The Dubai Fountain Show is a spectacular water and light show in Downtown Dubai's heart.
It is located on the 30-acre manmade Burj Khalifa Lake, the world's largest choreographed fountain system.
At 152 meters (500 feet), Dubai Fountains are the tallest performing fountains in the world.
Yes, the water gets shot up almost to the height of 50 floors during Dubai Fountain's musical show.
The Fountains are 275 meters (900 feet) long and combine water, light, and music to bring beautiful illuminations to life.
The water dances to various popular songs worldwide, making it a mesmerizing experience for visitors.
The show is a must-see attraction for tourists visiting Dubai and has become one of the city's most iconic landmarks, attracting millions of visitors every year.
In this article, we explain everything you need to know before you buy Dubai Fountains show tickets.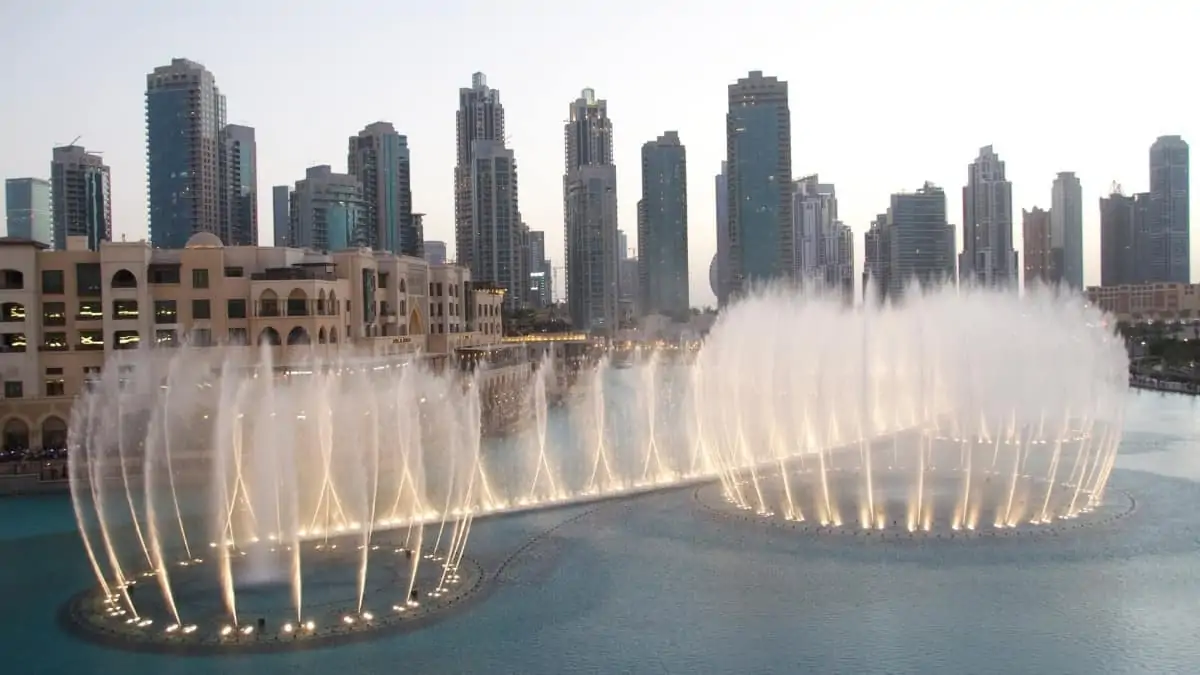 What to expect at Dubai Fountain Show
---
---
Dubai Fountain show tickets
There are three ways to enjoy the marvelous Dubai Fountains –
Tickets for seeing Dubai Fountain show from a boat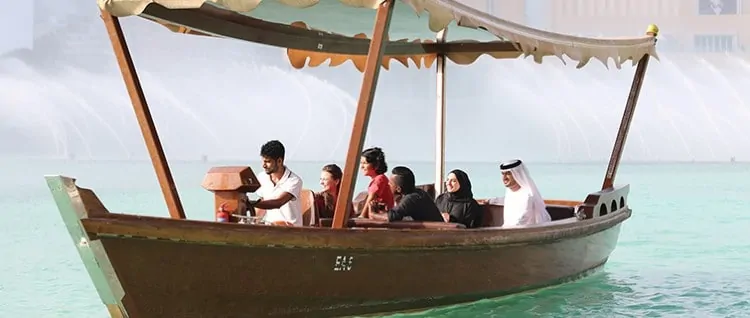 The ticket allows you to experience the fabulous illuminations of the Dubai Fountain on board a wooden boat on Burj Lake.
During the 30-minute cruise on a traditional "Abra" water taxi, you also get to see stunning sights of Burj Khalifa from Burj Lake.
Please make sure to reach on time as the boat departs 15 minutes before each show.
Ticket Prices
Adult ticket (3+ years): AED 73 (20 USD)
Dubai Fountain tickets with Canal Cruise
With this ticket, you can get on board a five-star dhow, a unique wooden boat used in the Arabian region.
As you cruise along the Dubai waters, you will see the city's attractions, including the Dubai Fountain Show.
As you enjoy the sights, you will also enjoy a five-star international buffet.
Ticket Prices
Adult ticket (12+ years): AED 200 (55 USD)
Child Ticket (4 to 11 years): AED 160 (44 USD)
Children under 4 years old can enter for free.
Dubai Fountain show with a Night tour of Dubai
This ticket helps you explore Dubai at night with the help of an expert guide.
This four-hour private tour is available in multiple languages – English, Spanish, Italian, French, Portuguese or German.
During this night tour of Dubai, you will see the illuminated skyscrapers, visit Souk Madinat Jumeirah, and relish the luxury yachts of Dubai Marina.
To add variety to the tour, you will also drive along the spectacular Sheikh Zayed Road.
Dubai Musical Fountains show is also part of this popular Dubai tour.
Ticket Prices (per group of up to 6 tourists)
Tour in English: AED 1,322 (360 USD)
Tour in other languages: AED 1,377 (375 USD)
---
---
Is Dubai Fountain free?
The Dubai Fountain shows are free, and visitors can witness them from many locations around downtown Dubai.
However, the best way to see and enjoy the Dubai Fountain show is from a boat on the lake itself, and this experience isn't free.
Find out more about the Fountain show and Burj Lake ride by traditional boat.
---
---
Best places to see Dubai Fountain
One of the most popular spots to see the Dubai Fountain show is the Waterfront Promenade outside the Dubai Mall.
The area gets exceptionally crowded before the performance starts since most people come out of the mall to see the Dubai Fountains.
Therefore, if you want to ensure a front-row experience, you should arrive a little early to secure your spot.
The walkway around Souk Al Bahar is another place where you can enjoy stunning views of Dubai Fountains.
This location is less crowded and allows for a much more relaxed viewing of the Fountain show.
If you are looking to avoid the crowd at the Dubai Mall exit and the Souk Al Bahar Bridge, you must start from the Dubai Mall 15 minutes before the performance begins.
The best way to enjoy Dubai Fountain's light and sound show is by booking a table at a restaurant with outdoor seating overlooking the Fountains.
While the incredible Fountain shows are free for viewing from the land, it is a much more enriching experience to see the Fountains up close while on a boat ride at Burj Lake. Find out more about the boat ride ticket.
Some lucky ones end up seeing the Dubai Fountain show while visiting Burj Khalifa.
---
---
Ground floor is better to see Dubai Fountains
It is better to see the fountains from the ground level because you can hear the sound.
After all, the magic is created only when light, water, and sound come together in this attraction.
That's why even Burj Khalifa isn't a good location to view Dubai Fountain Show.
---
---
Dubai Fountain boardwalk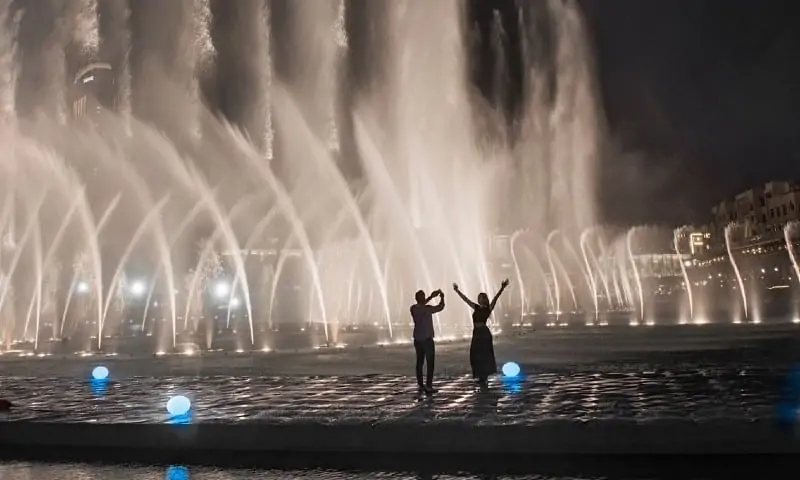 The Dubai Fountain Boardwalk is a brand new floating platform known as the Dubai Fountain Walk bridge.
It is yet another vantage point from where you can see Dubai Fountains.
The Boardwalk allows you to get closer to the Dubai Fountain than ever before.
Stroll down the 272 meters (892 feet) Boardwalk, with the closest point putting you a mere 9 meters (30 feet) away from the fountains.
Tourists who have been on this Boardwalk didn't find it worth the effort and money.
However, if you are interested, you can book this experience here.
---
---
Location of Dubai Fountain
The Dubai Fountain is on the Burj Khalifa Lake in Downtown Dubai.
It is situated between the Dubai Mall, Souk Al Bahar, and the towering Burj Khalifa.
The Burj lake is artificial and measures around 121,400 square meters.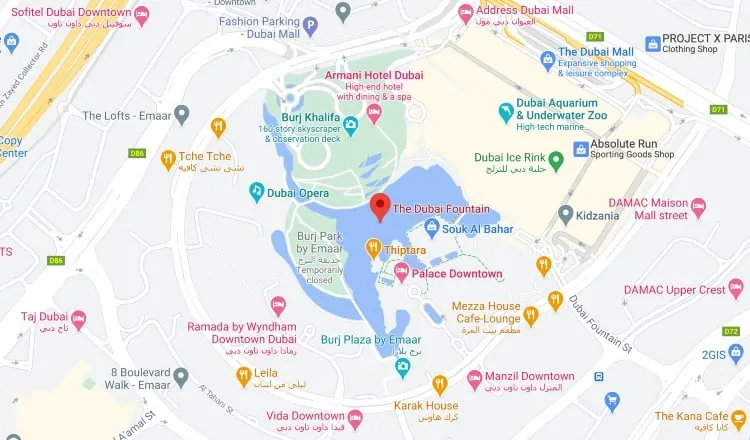 Dubai Fountain Show timings
A Dubai fountain show is held every day of the week at different times.
The afternoon Dubai Fountain show happens at 1 pm and 1.30 pm.
On Friday, it happens at 1.30 pm and 2 pm.
The evening fountain show happens every 30 minutes daily, from 6 pm to 11 pm.
Each show lasts for five minutes.
Ramadan timing
During the holy month of Ramadan, afternoon shows at Dubai Fountains get canceled, and the evening show timings change.
From Sunday to Wednesday it happens every 30 minutes from 7.30 pm to 11 pm, and from Thursday to Saturday, from 7.30 pm to 11.30 pm.
---
---
Dubai Fountain at night or day?
If you want to experience the Dubai Fountains fully, it is best to go at night, after it opens at 6 pm.
While visiting Dubai Fountain at night, you will find less crowd than during the daytime.
That said, the lake and the fountains look much beautiful at night – when all the colours come together for a mesmerising show.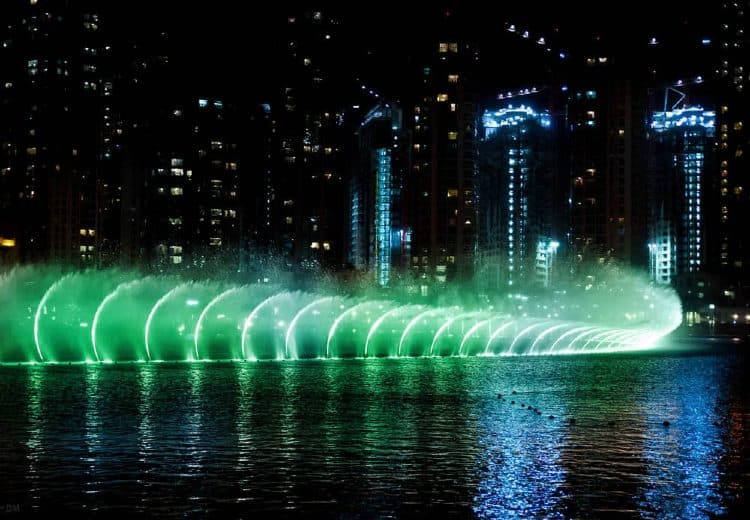 The daytime Dubai Fountains show is also a good choice since you can explore the surrounding market after the show ends.
---
---
Dubai Fountain Show Songs
Dubai musical Fountains perform on an impressive list of songs.
These carefully selected songs range from contemporary to classical, including international as well as Arabic melodies.
Here are some of the most iconic songs performed at the Dubai Fountain Show –
1. I Will Always Love You by Whitney Houston
2. All Night Long by Lionel Ritchie
3. Thriller by Michael Jackson
4. Time to Say Goodbye by Andrea Bocelli and Sarah Brightman
5. The Magnificent Seven by Elmer Bernstein
6. Baba Yetu by Christopher Tim
7. Power by EXO
The Fountains have also featured Indian musicians Vishal and Shekhar's song "Dhoom Tana"
The National Anthem of UAE is also played every day.
The songs are carefully chosen with sincerity to complement the city as well as the fountain.
With these iconic songs and the dancing water, the intricate play of light creates an overarching and imposing effect that roots people to their spot.
---
---
Restaurants overlooking Dubai Fountain
The Dubai Mall and Souk Al Bahar have restaurants overlooking the Burj Khalifa lake, where the Dubai Fountains display their magic.
Restaurants at the Dubai Mall
Some of the restaurants in Dubai Mall which offer a good view of Dubai Fountains are the Lebanese Restaurants Wafi Gourmet and Burj Al Hamam, the Italian Restaurant Carluccio's, the French Restaurant Madeleine, TGI Fridays, and Joe's Café.
Restaurants at Souk Al Bahar
There are many restaurants at Souk Al Bahar as well that offer spectacular views of the Fountains.
These include the Italian restaurant Bice Mare and Urbano, which offer a side view of the fountain.
The other good restaurants at Souk Al Bahar, where you can have your lunch or dinner even as you watch the Dubai Fountains are the French restaurant Margaux Restaurant, Thai restaurant Mango Tree, and the Rivington Grill.
If you want light eats, your options can be Dean and Deluca Café and Baker and Spice.
Sources
# Burjkhalifa.ae
# Visitdubai.com
# Wikipedia.org
# Tripadvisor.com

The travel specialists at TheBetterVacation.com use only high-quality sources while researching & writing their articles. We make every attempt to keep our content current, reliable and trustworthy.
Popular attractions in Dubai