Dubai's Atlantis Aquaventure is the world's largest waterpark.
Both tourists and locals love getting their adrenalin racing at Atlantis Aquaventure's 105 record-breaking slides, attractions, and experiences.
The waterpark also has a 1 km (two-thirds of a mile) long private beach.
With its waterslides, unique rides, relaxing beaches, immersive aquarium tours, and fantastic food options, Aquaventure Waterpark offers one of Dubai's best family day outings.
This article shares everything you must know before buying your Atlantis Aquaventure tickets.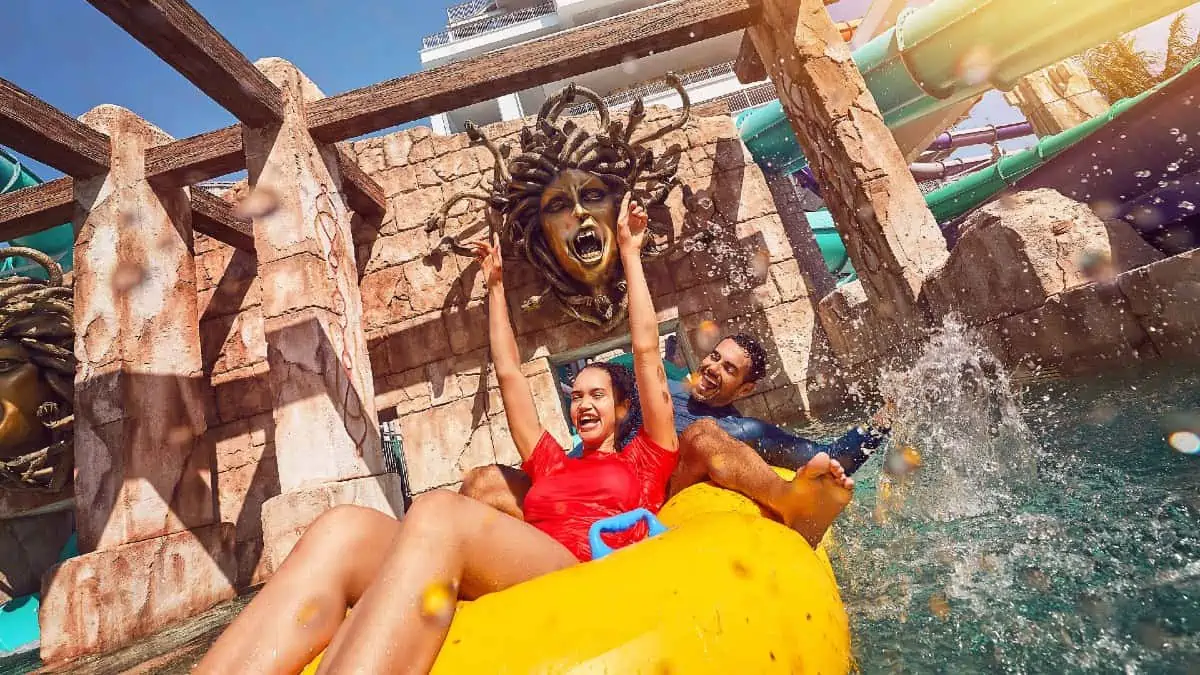 What to expect at Atlantis Aquaventure
You will enjoy loads of thrills and spills at the numerous attractions and waterslides.
At the water park, fight the King of the Sea in the Tower of Poseidon, ride through the Aquaconda water tunnel, go tubing down a tidal river's rapids, plunge more than 27 meters down the Leap of Faith, a near-vertical free-fall waterslide, or test your nerves on the exciting Ziggurat.
Some tourists wonder if travelers not staying at the all-inclusive Atlantis resorts can also visit the Aquaventure waterpark. Yes, they can. All they need is an Aquaventure waterpark ticket.
---
---
Atlantis Aquaventure Waterpark tickets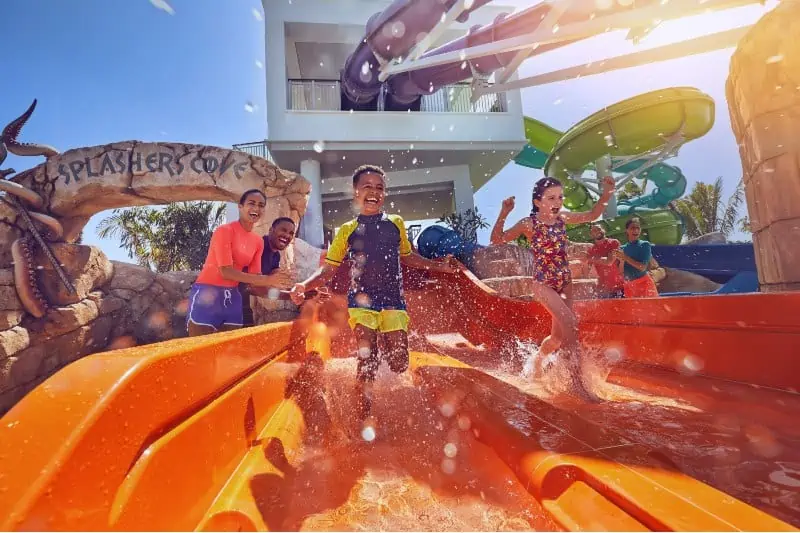 This Atlantis Aquaventure ticket gives you access to all rides and slides at the waterpark and the beach.
Towel rental and locker rental are not part of the ticket.
When you book these Skip The Line tickets online, they get emailed to you.
On the day of your visit, you can walk past the ticket counter line, show the ticket on your mobile at the entrance and walk in.
You can cancel this ticket up to 24 hours in advance to receive a full refund.
Kids aged two years and younger do not require a ticket.
Cost of tickets
Adult ticket (7+ years): AED 269
Child ticket ( 3 to 6 years): AED 225
It is forbidden to bring food or drinks into the Aquaventure Water Park.
---
---
Aquaventure + Lost Chambers Aquarium
The Atlantis Hotel is home to both Aquaventure Waterpark and Lost Chambers Aquarium, so most tourists plan them both on the same day.
At the Lost Chambers Aquarium in Dubai, you will discover the lost city of Atlantis, explore 21 unique marine exhibits, and see 65,000 marine animals.
It is the largest aquarium in the Middle East and Africa.
When you buy the combo ticket, you save money on individual admissions with unlimited access to 2 of Dubai's best water-based attractions.
Kids two years and below do not require a ticket.
Cost of tickets
Adult ticket (7+ years): AED 289
Children ticket (3 to 6 years): 235
---
---
Dolphin Encounter at Aquaventure
A dolphin encounter at Dubai's Aquaventure Waterpark at Atlantis the Palm allows you to get up close and personal with playful dolphins in shallow water.
First, you will meet a marine mammal specialist for a fifteen-minute safety briefing and orientation session at Dolphin Bay at Atlantis The Palm.
Then, you will wade into the water up to your waist to engage with a dolphin.
In groups of ten people per animal, enjoy a thirty-minute in-water interaction where you can pet and touch the dolphins.
The entire experience should take roughly one and a half hours, including check-in and time to change into the provided wetsuits.
This experience is perfect for all age groups and suitable for non-swimmers.
Cost of tickets
Adult ticket (8+ years): AED 825
Child ticket (3 to 7 years): AED 745
---
---
Dolphin Swim at Aquaventure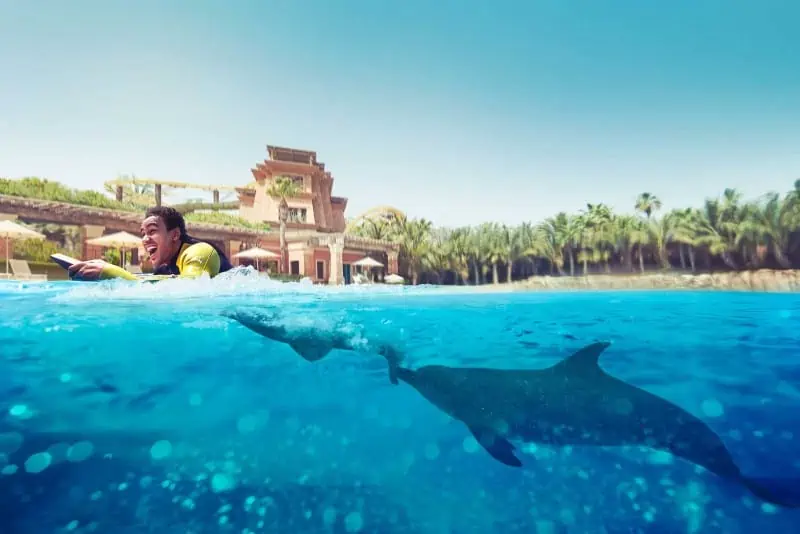 This ninety-minute session is for experienced swimmers who wish to swim with dolphins in deep water.
After checking in, you will change into a wetsuit and listen to a 15-minute orientation and safety briefing.
When you are ready to meet the dolphins and interact with them with the help of the trainers, you step into the water.
Spend forty minutes in 3-meter deep water with these gorgeous creatures at Dolphin Bay, the world's largest coastal dolphin habitat.
Interact with them while doing aquatic maneuvers such as the Hug and Dance and the Foot Press, in which a dolphin will push your foot while you ride a boogie board.
Only visitors eight years and above can participate in Aquaventure's Dolphin Swim.
Cost of tickets (8+ years): AED 975
Visual Story: 13 must-know tips before visiting Aquaventure Waterpark
---
---
Age and height restrictions
To ensure the safety of the visitors, a few of the rides at the Aquaventure Waterpark have height restrictions, and only those over 1.2 meters can ride them.
All guests over 1.2 meters (3.9 feet) must purchase an adult ticket.
If unaccompanied by an adult, children must be at least 13 years old to enter Aquaventure.
---
---
What to wear at Aquaventure Waterpark
Only visitors who wear appropriate swimwear can use the slides, rides, and other facilities of Aquaventure and the beach.
Swim shorts, bikinis, swimsuits, burkinis, or rashguards are acceptable in the water.
Thongs, transparent bathing suits, undergarments, denim, and very loose clothing, such as an abaya, dish dash, or similar, are not permitted in the water.
Headscarves are only allowed provided they are firmly tied and do not contain any loosely flowing material.
Visitors aren't allowed to carry mobile phones, laptops, notepads, selfie sticks, etc., on Aquaventure rides.
---
---
How to reach Aquaventure Dubai
Aquaventure Waterpark is located in The Avenues at Atlantis, The Palm. Get Directions
The closest public transport option is Atlantis Aquaventure station, which you can reach by taking the monorail.
It is 1 km (two-thirds of a mile) from the waterpark.
If you arrive by car, please park your vehicle at Aquaventure Waterpark parking (turn right at the first roundabout after exiting the tunnel leading to Atlantis, The Palm).
A complimentary shuttle bus service will take you to the entrance.
If you arrive by taxi, use the Avenues entrance, located after the Atlantis hotel lobby entrance. Most local taxi drivers know where to drop you.
Atlantis Aquaventure's timings
Atlantis Aquaventure Waterpark opens at 9.45 am and closes at 6 pm, all through the week.
It is open on public holidays as well.
Sources
# Tripadvisor.com
# Visitdubai.com
# Raynatours.com
# Hellotickets.com

The travel specialists at TheBetterVacation.com use only high-quality sources while researching & writing their articles. We make every attempt to keep our content current, reliable and trustworthy.
Popular attractions in Dubai