Desert safari is a must-do during your holiday in the United Arab Emirates.
Besides Ras Al Khaimah, these desert tours are available from Dubai, Sharjah, Abu Dhabi, Ajman, Hatta, etc.  
On a desert safari from Ras Al Khaimah, you will indulge in adventurous activities such as dune bashing, quad biking, sandboarding, etc., and see majestic sunsets. 
You will also experience the vast dunes, stunning views, rich Arabic culture, and the traditional cuisine of the Middle East.
This article explains everything you must know before booking your desert safari in Ras Al Khaimah.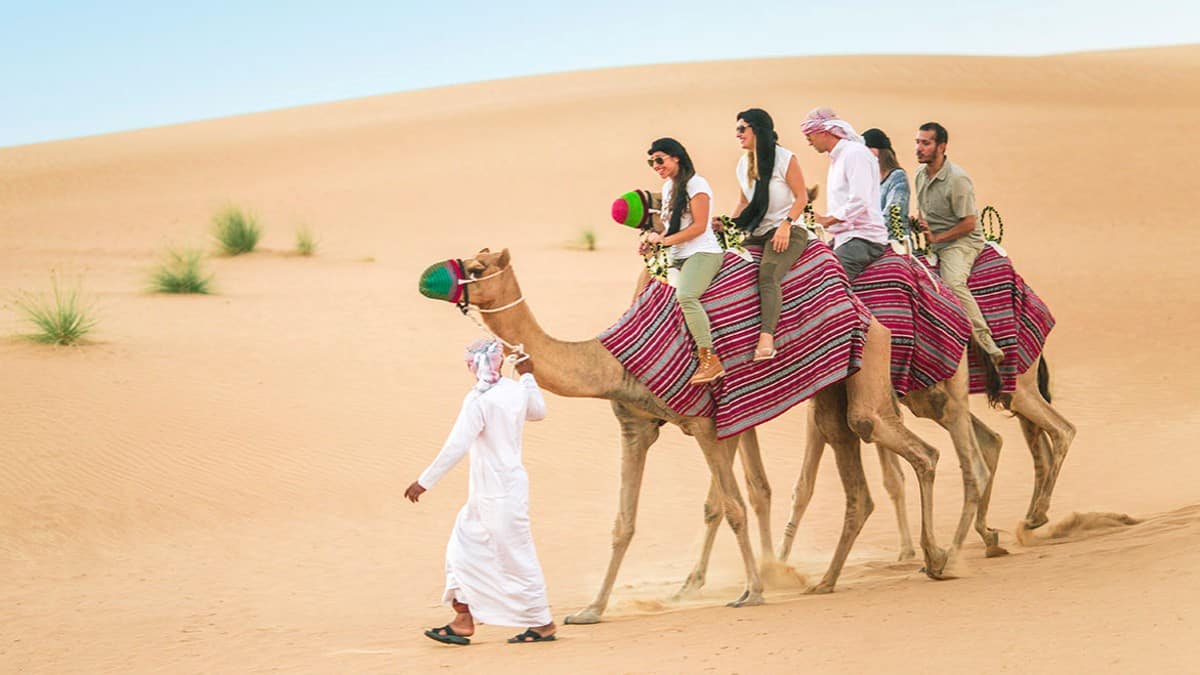 Afternoon Desert Safari and BBQ Dinner
This six-hour evening desert safari starts with a 3 pm pick-up from your hotel in Ras Al Khaimah.
Your driver for the day picks you up in an air-conditioned off-road vehicle and drives you to the desert dunes surrounding the city.
You will stop at a traditional camel farm to see and learn about the different species in the desert around Ras Al Khaimah. 
The next adventure on the agenda is the adrenalin-pumping dune bashing, after which you also try your hand at sandboarding. 
Then you reach a campsite and taste the Arabic coffee and dates offered as part of the traditional welcome.
After climbing on a camel for an optional guided tour around the camp, you can try out various cultural activities such as the henna tattoo, Arabic dressing, shisha smoking (Arabic water pipe), etc.
As it gets dark, you will enjoy the traditional Tanourah folk dance and feast on a delicious barbecue dinner. 
After dinner, you watch a live belly-dance performance.
The last activity of the day is when the camp lights switch off, and you sit back and admire the star-lit sky. 
After a peaceful contemplation, you return to the bright city lights of Ras Al Khaimah.
Cost of Safari
Adult ticket (12+ years): AED 253 ($69)
Child ticket (4 to 11 years): AED 220 ($60)
*Alcoholic drinks are not included in this price and will cost extra.
---
---
What to wear for Ras Al Khaimah desert safari
During your desert safari just outside of Ras Al Khaimah, you must wear light clothes made of linen or cotton. 
Light colors don't absorb the heat so much, thus keeping you cool even during high temperatures.
It is better to wear long sleeve top and full-length trousers so that your skin is not exposed.
If you wear shorts, you will accumulate sand in uncomfortable places.
Please bring lots of sunscreens and apply them to your exposed skin throughout the trip.
Flip flops or sandals work better than shoes because sand gets into closed footwear, making walking uncomfortable.
Shades are an absolute must.
Get a wide-brimmed hat if you want to keep the sun at bay.
If you are booked for an evening or overnight desert safari, carry warm wear like sweaters, cardigans, etc., to manage the temperature drop as the sun goes down.
---
---
Desert Safari FAQs
Here are some of the most frequently asked questions by tourists planning a desert safari in Ras Al Khaimah.
How long does the Ras Al Khaimah desert safari take?

The most popular desert safari in Ras Al Khaimah starts at 3 pm, and you are dropped back at your hotel around 10 pm.

Are children allowed on desert safaris?

Children are allowed on desert safaris starting from Ras Al Khaimah. Most safaris have child-friendly activities such as camel riding, sandboarding, holding the falcon, dances, local performances, etc. However, you must book a private car if you have a child under four years.

Will I get water during the desert safari?

Many tour companies include bottled water and soft drinks in the package. However, it is always better to carry a water bottle with you.

Is vegetarian food available on desert safaris?

Most desert safari companies cater to a diverse international audience, providing vegetarian and non-vegetarian food. If you have special dietary requirements, you can always inform them after booking your tour.
---
---
Overnight Premium Chalet Camping
If you are holidaying in Ras Al Khaimah and want to spend a night in the desert, this camping trip is perfect. 
Bedouin Oasis Camp is a 5-star chalet made of natural and traditional materials and offers a memorable overnight stay.
As part of the experience, you will participate in adventure activities, witness the desert sunset, eat a delicious BBQ dinner, and enjoy a bonfire.
You will then go to sleep, wake up to the beautiful sounds of the desert birds and watch the magnificent sunrise.
Before you get dropped off at your hotel in Ras Al Khaimah, you will have a light breakfast at the camp.
Cost of an overnight stay
Adult ticket (12+ years): AED 500 ($136)
Child ticket (4 to 11 years): AED 150 ($41)
Recommended Reading
# Best Desert Safaris in Dubai
# Desert Safari from Sharjah
# Desert Safari in Abu Dhabi
# Desert Safari in Ras Al Khaimah
# Price of desert safari in Dubai
# VIP Desert Safaris in Dubai
# Morning desert safaris in Dubai
# Dubai Safari with BBQ dinner
# Dubai Safari with Quad Bike
# Dune Buggy Safari in Dubai
# Overnight desert safari in Dubai
# Safari in Dubai with belly dance
# Safari without dune bashing
# Falconry safari in Dubai
Popular attractions in Dubai