Desert safari is a must-do during your holiday in the United Arab Emirates.
Many of these tours start from Dubai, but tourists staying in Sharjah don't need to worry because some highly-rated desert safaris also start from Sharjah.
On a desert safari from Sharjah, you will indulge in adventurous activities such as dune bashing, quad biking, sandboarding, etc., and see majestic sunrises and sunsets.
A safari is the best way to explore the vast dunes, stunning views, rich Arabic culture, and traditional cuisine of the Middle East.
This article explains everything you must know before booking your desert safari in Sharjah.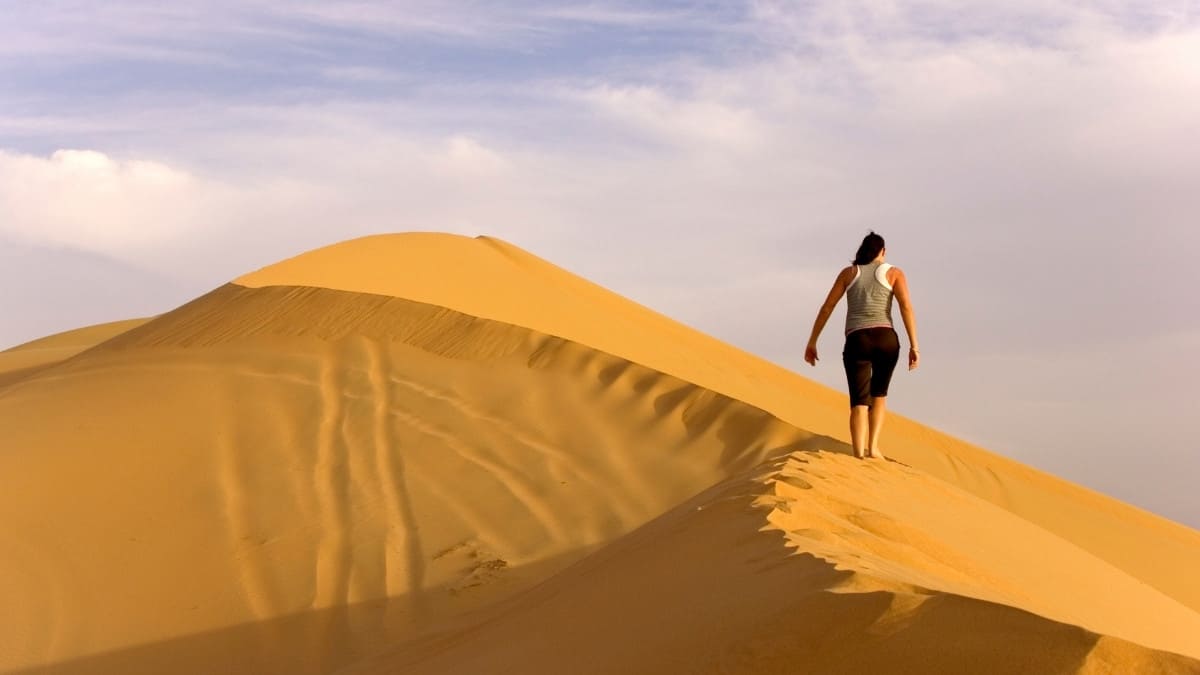 What to expect on a desert safari from Sharjah
During the desert safari, you will follow the traditions of the nomadic Bedouins through the desert sands near Sharjah city.
All desert safaris include transportation from your hotel in Sharjah to the desert and back in a 4×4 car.
There are many kinds of desert safaris, and you must select the one that fits your requirement.
Depending on the desert safari you book, you will experience some or all of the below activities –
Watching Sunrise
Dune Bashing
Camel Riding
Quad Biking
Sand Boarding
Watching Sunset
BBQ Dinner
Photos wearing Arabic costume
Photos with Falcon
Henna Painting
Shisha Smoking
Belly Dance
Tanoura Dance
These desert safaris from Sharjah are available as both shared and private tours.
---
---
Best desert safaris from Sharjah
While many desert safaris start from the city of Sharjah, some are more popular than others.
We list the top three below –
Premium Red Dunes, Camel Safari, & BBQ at Al Khayma
During this desert safari, you will experience the thrill of driving through red dunes and feel the hospitality of a Bedouin desert camp.
Then strap in for a dune-bashing ride across the stunning red dunes of the Lehbab Desert, and for some more adrenaline rush, try out sandboarding.
Before you leave, you participate in interactive cultural activities and feast on a delicious BBQ buffet at the Al Khayma Desert Camp.
Cost of shared safari
Adult ticket (12+ years): AED 297 ($81)
Child ticket (3 to 11 years): AED 252 ($69)
Cost of private safari: AED 3153 ($859 for a group of up to six people)
---
---
Desert Dune Bashing, Camel Riding, Sandboarding & BBQ
This safari helps you explore the Dubai desert in the best ways possible – dune bashing in a Land Cruiser, on camelback, sandboarding, and enjoying a traditional Bedouin camp experience with a BBQ dinner and shows.
You can also enjoy the brilliant desert sunset with your group at a Bedouin camp.
This Sharjah safari is available both in the morning and evening and as a 4-hour long and 7-hour experience.
Cost of shared 4-hour safari
Adult ticket (11+ years): AED 115 ($31)
Child ticket (4 to 10 years): AED ($31)
Cost of shared 7-hour safari
Adult ticket (11+ years): AED 210 ($57)
Child ticket (4 to 10 years): AED 203 ($55)
---
---
Desert Safari, Quad Bike, Camel Ride & Al Khayma Camp
Even though you will start from Sharjah, you will discover the desert outside Dubai on this guided dune-bashing safari.
After your dune bashing session with trained drivers, there are many optional activities, including a quad bike ride, camel ride, dinner, entertainment, etc.
The desert safari ends with a delicious BBQ dinner at the camp, after which you are dropped back at your hotel.
You can book this desert safari with 35 minutes of or without a quad biking experience.
You also get a BBQ dinner when you opt for the 7-hour safari.
Cost of shared 4-hour safari
Adult ticket (11+ years): AED 279 ($76)
Child ticket (4 to 10 years): AED 267 ($73)
Cost of shared 7-hour safari
Adult ticket (11+ years): AED 452 ($124)
Child ticket (4 to 10 years): AED 384 ($105)
---
---
Morning desert safaris
You can book a morning safari from Sharjah as an early bird.
Most of these safaris start as early as 7.30 am. Some morning safaris also start later – by 10 am.
If you want to watch the sunrise, book the Sunrise Safari with Wildlife Experience, which starts at 5 am.
Morning desert safaris usually last four hours, after which you return to your hotel because it gets too hot to be in the desert.
When you book your Morning Desert safaris from Sharjah, factor in the pick-up time, which is usually 45 minutes before the time your safari starts.
---
---
Evening desert safari
Evening desert safaris from Sharjah usually start between 2 pm and 3 pm and last seven to eight hours.
Evening safaris are longer because you can indulge in local customs and culture by trying out henna painting, shisha smoking, camel rides, etc.
You can also try traditional Arabian costumes, take pictures with a Falcon, and watch captivating Tanoura dancing and belly dancing performances.
All evening desert safaris also include a barbecue dinner.
| Evening Safari | Cost |
| --- | --- |
| Premium Red Dunes, Camel Safari, & BBQ at Al Khayma | AED 297 ($81) |
| Red Dune Safari, Camel Riding, Sandboarding & BBQ | AED 210 ($57) |
| Desert Safari, Quad Bike, Camel Ride & Al Khayma Camp | AED 452 ($124) |
| Desert Safari with 35-mins quad bike ride | AED 800 ($218) |
| Desert Quad Bike Safari, Sand Surf, Barbeque | AED 350 ($95) |
| Evening Desert Quad Bike Tour with BBQ Dinner | AED 282 ($77) |
| Desert Safari Photography Session, Camel Ride, & BBQ | AED 602 ($164) |
---
---
Overnight desert safari
Overnight desert safari in Sharjah is different from a day safari.
When you stay in the desert after dark, you enjoy the breezy wind and the cool climate under a blanket of stars.
During the overnight desert safari, which starts at 2.30 pm and continues till the next day, you get real exposure to desert life.
Tourists love to try local music, tea, Arabic coffee, sheesha in different flavors, henna painting, and costume.
Interested visitors can board 4×4 SUVs and indulge in extreme dune bashing. Or try out camel riding and farm experience.
Later in the day, a barbecue dinner is served, catering to an international audience.
After dinner, everybody can sit together and chat and share stories.
You can split whenever you want and head to the coziness of your sleeping bags and tents, which are included with the safari tickets.
In the morning, you wake up and see a stunning desert sunrise, have a sumptuous breakfast, and then head home.
Cost of safari
Adult ticket (12+ years): AED 609 ($166)
Child ticket (3 to 11 years): AED 518 ($142)
---
---
What to wear for Sharjah desert safari
During your desert safari, you must be comfortable, so you must wear light clothes made of linen or cotton.
Light colors don't absorb the heat so much, thus keeping you cool even during high temperatures.
It is better to wear long sleeve top and full-length trousers so that your skin is not exposed.
If you wear shorts, you will accumulate sand in uncomfortable places.
Please bring lots of sunscreens and apply them to your exposed skin throughout the trip.
Flip flops or sandals work better than shoes because sand gets into closed footwear, making walking uncomfortable.
Shades are an absolute must.
Get a wide-brimmed hat if you want to keep the sun at bay.
If you are booked for an evening or overnight desert safari, carry warm wear like sweaters, cardigans, etc., to manage the temperature drop as the sun goes down.
---
---
Desert Safari FAQs
Here are some of the most frequently asked questions by tourists planning a desert safari in Sharjah.
How long does the desert safari take?

Desert safaris in Sharjah come in many flavors – morning safaris last four hours, evening safaris are seven hours long, and overnight safaris last around 18 hours.

Are children allowed on desert safaris?

Yes, children are allowed on desert safaris starting from Sharjah. Most safaris have child-friendly activities such as camel riding, sand boarding, holding the falcon, dances, local performances, etc.

Will I get water during the desert safari?

Many tour companies include bottled water and soft drinks in the package. However, it is always better to carry a water bottle with you.

What to wear for the Sharjah desert safari?

Because the deserts around Sharjah can be sweltering, you should wear breathable, loose clothing. However, if you are booked for the evening or overnight safari, it is better to bring heavier clothing because the desert temperature decreases at night.

Is vegetarian food available on desert safaris?

Most desert safari companies cater to a diverse international audience, providing vegetarian and non-vegetarian food. If you have special dietary requirements, you can always inform them after booking your tour.
Recommended Reading
# Best Desert Safaris in Dubai
# Desert Safari from Sharjah
# Desert Safari in Abu Dhabi
# Desert Safari in Ras Al Khaimah
# Price of desert safari in Dubai
# VIP Desert Safaris in Dubai
# Morning desert safaris in Dubai
# Dubai Safari with BBQ dinner
# Dubai Safari with Quad Bike
# Dune Buggy Safari in Dubai
# Overnight desert safari in Dubai
# Safari in Dubai with belly dance
# Safari without dune bashing
# Falconry safari in Dubai
Popular attractions in Dubai