Desert safari is a must-do activity during your holiday in Abu Dhabi.
After all, it is the best way to explore the vast dunes, rich culture, stunning vistas, and traditional cuisine of the Middle East.
On a desert safari in Abu Dhabi, you will indulge in adventurous activities such as dune bashing, quad biking, sandboarding, etc., and see glorious sunrises and sunsets.
This article explains everything you must know before booking your Abu Dhabi desert safari.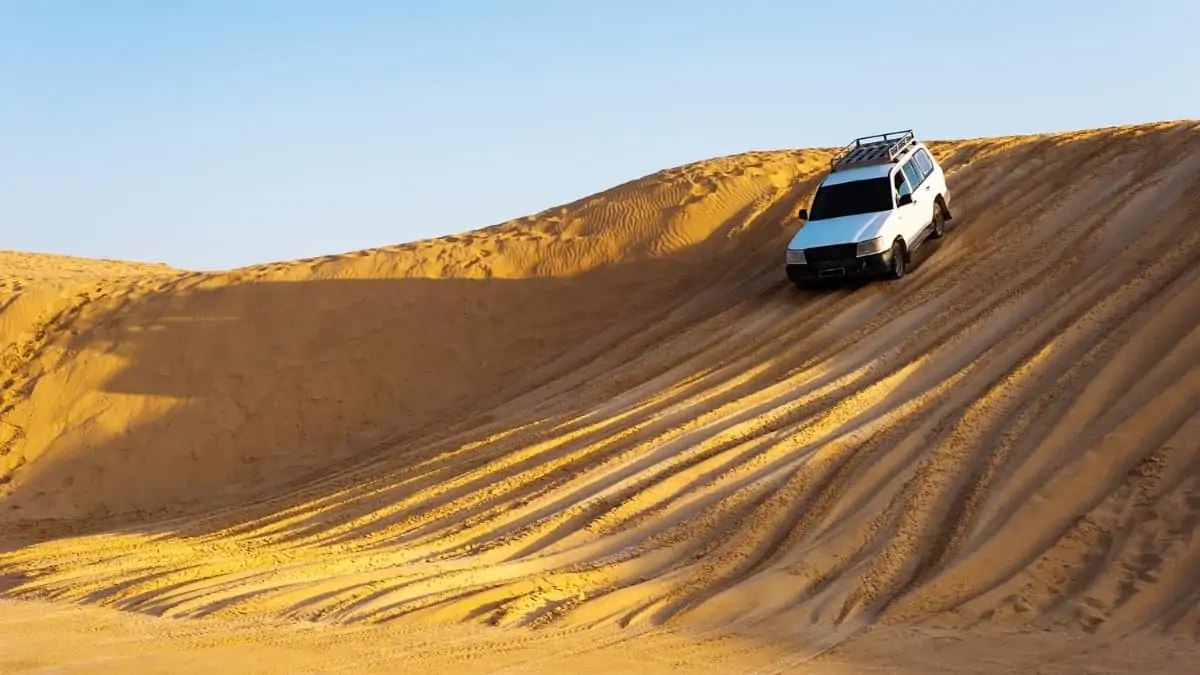 What to expect on an Abu Dhabi desert safari
During the desert safari, you will follow the traditions of the nomadic Bedouins through the Abu Dhabi desert sands.
Of course, with all your comforts in place.
All desert safaris include transportation from Abu Dhabi city to the desert and back in a 4×4 car.
Abu Dhabi has many kinds of desert safaris, and you must select the one that fits your requirement.
Depending on the desert safari you book, you will experience some or all of the below activities –
Watching Sunrise
Dune Bashing
Camel Riding
Quad Biking
Sand Boarding
Watching Sunset
BBQ Dinner
Photos wearing Arabic costume
Photos with Falcon
Henna Painting
Shisha Smoking
Belly Dance
Tanoura Dance
Note: If you have booked a desert safari that includes dune bashing, please do not eat 2-3 hours before the trip to avoid motion sickness.
---
---
Evening desert safari
In Abu Dhabi, evening desert safaris are the most popular activity.
During the evening desert safari, visitors witness the remarkable phenomenon of a desert sunset.
Desert Safari with BBQ, Camel Ride & Sand boarding
This is the most popular desert safari in Abu Dhabi, and it starts at 2.45 pm with a pick-up from your hotel in a 4WD vehicle.
Once in the desert, you will visit a camel farm.
Then you take part in an exhilarating dune bashing experience for half an hour and try sandboarding by sliding down the dunes on a board.
At the Bedouin desert camp, you get a warm welcome of traditional Arabic coffee and dates.
Before the sun sets on the horizon, you will walk up a dune to take pictures as the desert changes color and gets dramatic.
Once back at the camp, you will indulge in local customs and culture by trying out henna painting, shisha smoking, camel rides, etc.
You can also try on traditional Arabian costumes and take pictures with a Falcon.
Watch captivating Tanoura dancing and belly dancing performances before enjoying a barbecue dinner.
The last activity of the day is when the camp lights switch off, and you sit back and admire the star-lit sky.
After a peaceful moment of contemplation, you return to the bright city lights of Abu Dhabi.
Cost of a shared safari
Adult ticket (12 to 75 years): AED 296 ($81)
Child ticket (3 to 11 years): AED 242 ($66)
Cost of private safari: AED 1652 ($450 for a group of up to six people)
Dune Bashing Desert Safari
After picking you up from your hotel, your guide for the day drives you straight to the desert camp in Al Khathim.
During the thrilling dune bashing session, you will enjoy moving up and down the dunes in a 4WD vehicle and feel the adrenaline rush.
Once the dune bashing is done, try out sandboarding, another thrilling desert sport, after which you head to the desert camp to soak in the Arabian culture.
You will be welcomed with Gahwa (Arabic coffee) and dates at the camp.
After refreshing yourself, it is time to leave the camp and ride a quad bike.
After experiencing self-driving in the desert, you will go for a short camel ride and then catch the sunset from the top dunes.
You will see fascinating sunset views, which can be experienced only during a desert safari in Abu Dhabi.
After dark, you participate in traditional Arabian activities such as an Arabian makeover, shisha smoking, henna tattooing, posing with a falcon, etc., before enjoying a delicious BBQ dinner.
Before heading home after six hours of desert safari, you will enjoy an entertaining Tanoura and a breathtaking belly dance performance.
Cost of a shared morning safari
Adult ticket (11+ years): AED 364 ($99)
Child ticket (4 to 10 years): AED 327 ($89)
Cost of a shared evening safari
Adult ticket (11+ years): AED 273 ($74)
Child ticket (up to 10 years): AED 179 ($49)
Cost of private safari: AED 1392 ($380 for a family of four people)
Note: This Abu Dhabi desert safari is also suitable for tourists arriving from the following cruises – AIDAstella, Azamara Journey, Celebrity Constellation, Costa Fortuna, Costa neoRiviera, Crystal Esprit, NCL Norwegian Star, Oceana Nautica, Royal Caribbean Vision of the Seas, Seabourn Encore, Silversea Silver Cloud, and Mein Schiff 3 TUI Cruises.
---
---
Morning desert safari
A morning desert safari in Abu Dhabi is perfect for an early start.
You will escape the city and go on a desert expedition with lots of sand, camels, falcons, locals, and sometimes an enticing Arabian Breakfast.
Morning desert safaris in Abu Dhabi usually last four hours and don't include cultural experiences.
4-Hour Morning Desert Safari with Camel Ride
You will get picked up at 7.30 am from your hotel and then take a 45-minute drive towards the heart of the desert outside Abu Dhabi.
After 30 to 40 minutes of bashing the massive dunes in a 4×4 Land Cruiser, you will try sandboarding.
The friendly driver will be available with the best tips to take photographs and enjoy the experience.
This memorable morning safari concludes with a short camel ride before the transfer back to the pick-up point.
Cost of a shared safari
Adult ticket (12+ years):AED 202 ($55)
Child ticket (3 to 11 years): AED 180 ($49)
Cost of private safari: AED 1212 ($330 for a group of up to six people)
---
---
Overnight desert safari
Overnight desert safari in Abu Dhabi is different from a day safari.
When you stay in the desert after dark, you enjoy the breezy wind and the cool climate under a blanket of stars.
One day and night in the desert
During an overnight desert safari, which starts at 3 pm and continues till the next day, you get real exposure to desert life.
The campsite is attractively and artistically designed with an Arabian concept and feel.
Tourists love to try local music, tea, Arabic coffee, sheesha in different flavors, henna painting, and costume.
Interested visitors can board 4×4 SUVs and indulge in extreme dune bashing. Or try out camel riding and farm experience.
Later in the day, a barbecue dinner is served, catering to an international audience.
After dinner, everybody can sit together and chat and share stories.
You can split whenever you want and head to the coziness of your sleeping bags and tents, which are included with the safari tickets.
In the morning, you wake up and see a stunning desert sunrise, have a sumptuous breakfast, and then head home.
Cost of safari
Adult ticket (14+ years): AED 373 ($102)
Child ticket (up to 13 years): AED 287 ($78)
---
---
City Tour and Desert Safari Package
We highly recommend the Abu Dhabi city tour plus desert safari combo if you are on a short holiday.
This tour starts at 8.50 am and includes a 4-hour morning guided city tour and a 6-hour evening desert safari experience.
During the city tour, you will visit Sheikh Zayed Grand Mosque, the Heritage Village (a reconstructed Emirati village), Saadiyat Island, and Yas Island.
You will also drive through the Corniche to admire the scenic beauty of the Arabian Sea and then stop for a photo in front of Abu Dhabi's iconic Emirates Palace.
After a stroll through a dates market, your morning guided tour ends.
In the afternoon, you will get picked up from your hotel – this time for the desert safari.
You board a 4-wheel drive vehicle and get an adrenalin rush during the extreme dune bashing, after which you try sandboarding.
The young ones will love the camel farm, where you get to feed the animals.
Then you head to the Bedouin desert camp, where you get exposed to the local culture and customs such as camel riding, henna painting, shisha, falcon taming, etc.
After watching Tanoura dance and a breathtaking belly dance performance, you will finish your BBQ dinner and return to your hotel.
Cost of this combo
Adult ticket (11+ years): AED 468 ($127)
Child ticket (4 to 10 years): AED 438 ($119)
---
---
Private Desert Safari in Abu Dhabi
If the cost doesn't matter, but you prefer privacy, comfort, and freedom to customize the tour, opting for a private desert safari in Abu Dhabi is better.
Private desert safaris are perfect for an indulgent holiday experience with your family and friends.
Like shared desert safaris, private ones include extreme dune bashing, sandboarding, 5-star buffet dinners, cultural activities, desert camp visits, etc.
Our favorite private desert safaris
---
---
What to wear for Abu Dhabi desert safari
During your desert safari, you must be comfortable, so you must stick to lightweight clothing made of linen or cotton.
Light colors don't absorb the heat so much, thus keeping you cool even during sweltering temperatures.
It is better to wear long sleeve top and full-length trousers so that your skin is not exposed.
And for the part of the skin exposed to the elements, you must bring lots of sunscreens.
Flip flops or sandals work better than shoes because sand gets into closed footwear, making it an annoying experience.
If you are booked for an evening or overnight desert safari, carry warm wear like sweaters, cardigans, etc., to manage the temperature drop as the sun goes down.
Shades are an absolute must.
Get a wide-brimmed hat if you want to keep the sun at bay.
---
---
Desert Safari FAQs
Here are some of the most frequently asked questions by tourists planning a desert safari in Abu Dhabi.
Where in Abu Dhabi does Desert Safari happen?

There are many desert locations near Abu Dhabi where your desert safari can happen. The most popular desert safari locations are Rub Al Khali (also known as 'the empty quarter'), Al Khatim, Al Ain, Al Khaznah, etc.

How long does the desert safari take?

Desert safaris in Abu Dhabi come in many flavors – morning safaris last 4 hours, evening safaris are 6 hours long, and overnight safaris last around 18 hours.

Are children allowed on desert safaris?

Yes, children are allowed on desert safaris in Abu Dhabi. Most safaris have child-friendly activities such as camel riding, sandboarding, holding the falcon, dances, local performances, etc.

Will I get water during the desert safari?

Many tour companies in Abu Dhabi include bottled water and soft drinks as part of the package. However, it is always better to carry a water bottle with you.

What to wear for Abu Dhabi desert safari?

Because the Abu Dhabi desert can be sweltering, you should wear breathable, loose clothing. However, if you are booked for the evening or overnight safari, it is better to bring heavier clothing because the desert temperature decreases at night.

Is vegetarian food available on desert safaris?

Most desert safari companies cater to a diverse international audience, providing vegetarian and non-vegetarian food. You can always inform them in advance if you have special dietary requirements.
Recommended Reading
# Best Desert Safaris in Dubai
# Desert Safari from Sharjah
# Desert Safari in Abu Dhabi
# Desert Safari in Ras Al Khaimah
# Price of desert safari in Dubai
# VIP Desert Safaris in Dubai
# Morning desert safaris in Dubai
# Dubai Safari with BBQ dinner
# Dubai Safari with Quad Bike
# Dune Buggy Safari in Dubai
# Overnight desert safari in Dubai
# Safari in Dubai with belly dance
# Safari without dune bashing
# Falconry safari in Dubai
Popular attractions in Dubai