Royal Yacht Britannia used to be Queen Elizabeth's Palace on Water and is now the most popular tourist attraction in Scotland.
Known by many names such as Her Majesty's Yacht Britannia, Queen Elizabeth's Yacht, HMY Britannia, etc., this Yacht was in the Queen's service for 44 years and sailed more than a million miles around the world.
It is a perfect opportunity to see how the British Queen lived when traveling with other Kings and Queens, World leaders, and celebrities.
In this article, we share everything you must know before booking your Royal Yacht Britannia tour.
Top Royal Yacht Britannia Tickets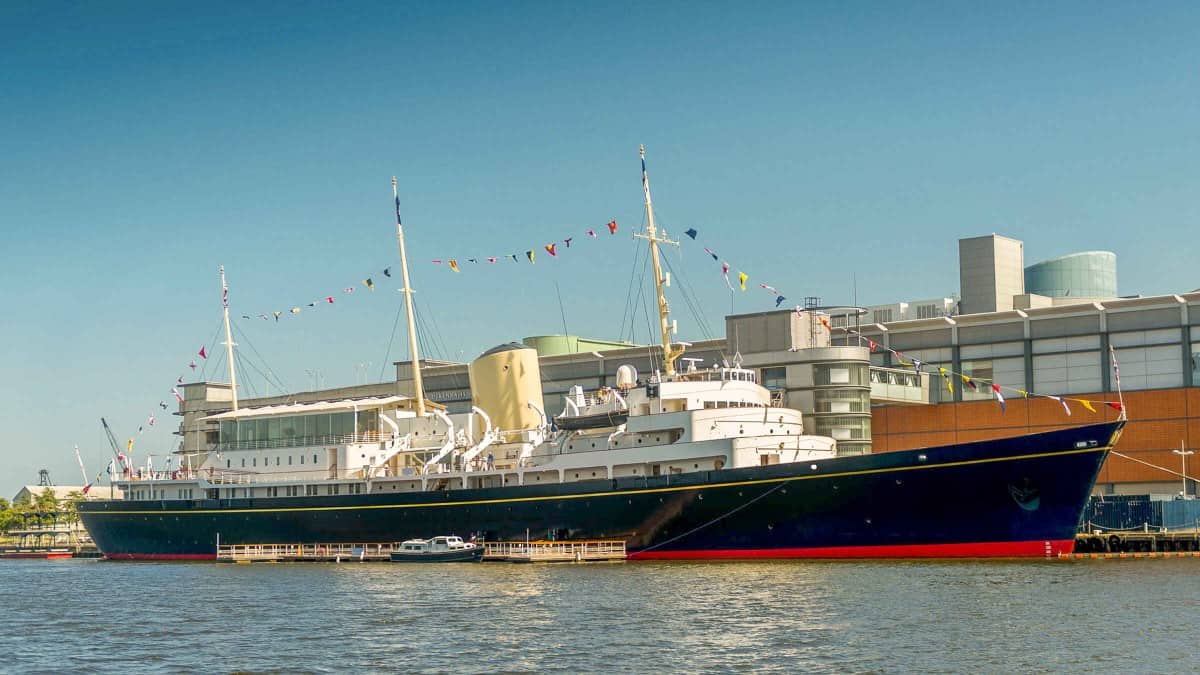 What to expect at Yacht Britannia
Here is a quick video on what visitors can expect inside Her Majesty's Yacht Britannia.
Your Royal Britannia tour starts from the Visitor Centre, on the second floor of Ocean Terminal, where you get the historical background about the Royal Family and Yachtsmen.
You then pick up the audio guide, which is part of the entry ticket, and board Queen Elizabeth's Yacht and explore five fascinating decks.
Highlights on the Yacht's Royal side are the Sun Lounge, the State Dining Room, and The Queen's Bedroom.
On the ship's operational side, you get to see the Crew's Quarters, the Engine Room, the laundry, etc.
More than 95% of the exhibits you will see during your tour are original and are taken on loan from The Royal Collection.
If you prefer, you can also visit the Royal Deck Tea Room.
---
---
Royal Yacht Britannia tickets
This entry ticket gets you complete access to the Royal ship that's now berthed in Edinburgh's historic Port of Leith.
Visitors can explore all five decks at a leisurely pace even as they take in the public and private lives of the British Royal Family.
This ticket also includes the complimentary audio guide.
Royal Yacht Britannia prices
Adult ticket (18 to 59 years): 17 pounds
Seniors ticket (60+ years): 15 Pounds
Student ticket (with valid ID): 15 Pounds
Child ticket (5 to 17 years): 8.75 Pounds
Infant ticket (up to 4 years): Free entry
---
---
Royal Edinburgh ticket
This combo is known as the 48-hour Royal Edinburgh Ticket and is a real money saver.
If you are visiting Edinburgh for the first time, we highly recommend this Royal attractions combo.
This ticket gets you to access three of the best attractions in the city:
Royal Yacht Britannia
Edinburgh Castle
Palace of Holyroodhouse
And to top it all, you also get unlimited travel for 48 hours on three of Edinburgh's hop-on-hop-off bus tours.
---
---
Where is the Royal Yacht Britannia
Address: Ocean Terminal, Leith, Edinburgh EH6 6JJ, United Kingdom. Get Directions
The Royal Yacht Britannia is berthed in Leith, Edinburgh, just 2 miles from the City Centre.
Britannia's Visitor Centre is on the second floor of Ocean Terminal, just 15 minutes' drive from Edinburgh City Centre.
Ocean Terminal is soon going to be re-branded as Porta.
There are many ways to get to the Royal Yacht.
By Train
If you are coming by train, you must get down at Edinburgh Waverley.
From outside the station, you can take a taxi to cover the 3.7 kms (2.3 miles) to Ocean Terminal.
From the Waverly station, you can also take bus No. 22 and 34.
You must board the buses at Princess Street (Stop PN), and after 24 minutes and 27 stops, get down at Ocean Terminal (Stop OF).
There is a bus from the Station, every 15 minutes.
By Bus
Lothian Bus services run three buses – Bus No. 11, 22, and 35 – from Edinburgh City Centre to Ocean Terminal.
You can purchase tickets on the bus by presenting the correct change or from the Lothian Buses app.
A single journey on a Lothian Bus costs 1.70 Pounds.
By Car
If you use Satnav, use the postcode EH6 6JJ.
Else, open Google Maps to get directions to Ocean Terminal.
If you prefer a taxi, we recommend Uber, Central Taxis, or City Cabs.
Car Parking
Royal Yacht Britannia offers free parking at Ocean Terminal.
Blue Car Park on Level E is closest to the tourist attraction's Visitor Centre.
This part of the Park also has spaces for Blue Badge holders.
---
---
Royal Yacht Britannia entrance
If you reach by foot, taxi, or bus, access to Royal Britannia is from the Ocean Terminal Shopping Center's main entrance on the ground floor.
You must take a lift to the 2nd floor of Ocean Terminal and walk towards the building's East end.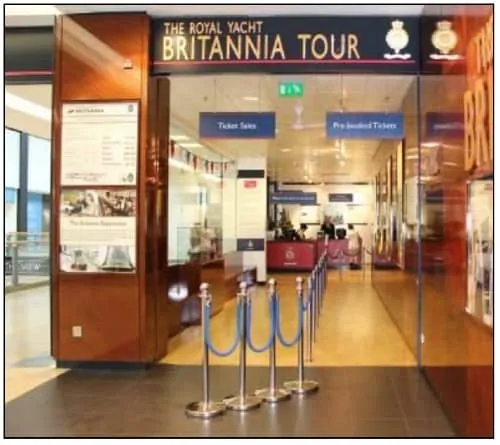 You will first spot Debenhams and then HMY Britannia's Visitor Center entrance.

Even though you can book tickets at the venue (the ticket desk is to the left of the visitor center entrance), it is better to buy them online, much in advance, to avoid last-minute disappointment.
---
---
Royal Yacht Britannia opening times
During the peak months of April to October, Royal Yacht Britannia opens at 9.30 am, and the last entry is at 4.30 pm.
The rest of the year, the Royal Yacht opens at 10 am, and the last entry is allowed till 3.30 pm.
The last admission on 24 December is at 2.30 pm, and on 31 December it is at 3 pm.
Royal Yacht Britannia is closed on 25 December and 1 January.
---
---
Royal Yacht Britannia tour
The Royal Yacht Britannia tours are a perfect way to feel like a celebrity for a few hours.
In this section, we share a few things you must know before you book your tour of the Royal ship.
Are the Britannia tours timed?
No, tours of HMY Britannia don't start at a stipulated time.
When you book your tickets, you only select the 'date.'
On the day of your visit, reach the Royal ship between their opening hours to start exploring.
Are the Royal Britannia tours guided?
Her Majesty's Yacht doesn't offer guided tours.
However, every ticket comes with an audio guide to walk around and tour the ship yourself.
Kids get their own version of the audio guide.
How long does a tour of Britannia Yacht take?
You need at least two hours to explore Royal Yacht Britannia to satisfaction.
However, if you plan to visit the Royal Deck Tea Room, you must factor in another 30 to 60 minutes.
Visits during July and August tend to take longer because of the crowd.
Royal Britannia discounts
Kids up to four years get the maximum discounts at Britannia, Edinburgh – they get in for free.
On the adult ticket price of 17 Pounds, children aged 5 to 17 years get almost 50% discount and pay only 8.75 Pounds.
Seniors who are 60+ and students with valid educational ID cards get a 2 Pound reduction on the full ticket.
People in the Armed Forces (with valid ID) can also claim the reduced price of 8.75 Pounds.
However, this Armed Forces discount is available only at the Britannia ticket office.
---
---
Royal Yacht Britannia audio guide
Every Britannia Yacht entry ticket comes with a complimentary audio guide.
While receiving the audio guides at the Handset Desk, you can ask for straps to wear the audio guides around the neck. Headphones are also available.
Kids can opt for the children's version of the audio guide.
The audio tour is available in 30 languages; English, French, German, Italian, Spanish, Portuguese, Swedish, Danish, Norwegian, Dutch, Finnish, Greek, Russian, Czech, Polish, Hungarian, Korean, Japanese, Urdu, Mandarin, Hindi, Arabic, Thai, Turkish, Cantonese, Punjabi, Portuguese-Brazilian, Welsh, Romanian and Gaelic.
Besides the audio guide, visitor guides are also available through the tour route to help if you have questions.
---
---
Royal Yacht Britannia afternoon tea
The Royal Deck Tea Room is on board Britannia and tables are allocated on a first-come, first-served basis.
It is a perfect restaurant to enjoy freshly prepared food and stunning views of the harbor.
The menu includes specialty coffees, cocktails, tasty soups, sandwiches, cakes, scones, etc. Download Menu
The Royal Deck Tea Room has 35 tables and can seat 133 people.
Royal Deck tea room timings
During the peak months of April to October, the Royal Deck Team Room opens at 11 am, and the last admission is at 3.30 pm.
January to March: Opens at 11 am, last admission at 3.30 pm
November to December: Opens at 10.30 pm, last admission at 3.45 pm
---
---
Royal Yacht Britannia interiors
Many tourists wonder what's inside the Royal Yacht before they book their tickets.
Some out of curiosity and some to know if a visit to Royal Yacht Britannia is worth it.
We list below some of the highlights of this Palace on water.
State Apartments
The State Apartments are the collection of rooms where the Royals lived or entertained their guests.
1. The State Drawing Room
The Royal family relaxed in the State Drawing Room whenever they traveled together.
It also acted as a reception room for up to 250 guests.
2. The Verandah Deck
The Verandah Deck was a private space for the Royals, where they could sunbathe or enjoy quoits or deck hockey.
This area of the ship also had a collapsible swimming pool for the Royal Family to splash around if they wanted.
3. The Sun Lounge
The Sun Lounge was one of the Queen's favorite rooms onboard HMY Brittania.
The beautiful teak-lined room was a designated family room and offered a lot of privacy from the rest of the ship.
4. The State Dining Room
This massive dining room onboard Britannia has played host to the world's most influential people, such as Nelson Mandela, Sir Winston Churchill, Ronald Reagan, Margaret Thatcher, etc.
With its white paneled walls adorned with gifts received during State visits, this room represents ultimate luxury.
The Engine Room
The Engine Room is a testament to British marine engineering skills because, until the ship got decommissioned in 1997, everything was working fine.
This room is full of gleaming brass, chrome, and white enamel with the 'heavy stuff' under the hood pumping 12,000 horsepower, which would help Britannia and her four-bladed propellers to a maximum of 22.5 knots.
Eight men operated the Engine Room, Boiler Room, and associated machinery rooms.
The Laundry
The 240 Officers and Yachtsmen on board Her Majesty's Yacht Britannia sometimes had to change their uniforms up to six times a day.
This is why it was the only ship in the Royal Navy to have a laundry service permanently on board.
The laundry machines, dryers, and steam presses on the ship worked non-stop, and sometimes the temperature even went up to 48 degrees Celcius (118 degrees Fahrenheit)
Admiral's Cabin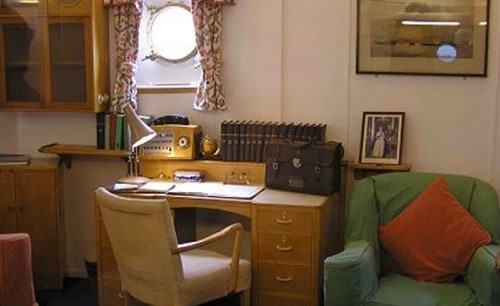 The Admiral was responsible for Royal Yacht Britannia's safe functioning and commanded the 19 officers and 220 Yachtsmen who operated the ship.
He worked, entertained, and often ate (he couldn't join the other officers in their mess unless invited) in the Admiral's Cabin. Image: Royalyachtbritannia.co.uk
The Bridge
The Bridge was HMY Britannia's center of command and control on all her journeys.
From here, the officers reporting into the Admiral navigated, passed orders, recorded the logbooks, etc.
The NAAFI
Back then, all Royal Navy ships had a Navy, Army, and Air Force Institute shop, known as the NAAFI.
The crew members and the officers would shop for their daily needs, such as toothpaste, shaving creams, magazines, etc. in this shop.
Sources
# Royalyachtbritannia.co.uk
# Architecturaldigest.com
# Wikipedia.org
# Tripadvisor.com

The travel specialists at TheBetterVacation.com use only high-quality sources while researching & writing their articles. We make every attempt to keep our content current, reliable and trustworthy.
Popular attractions in Edinburgh
# Edinburgh Castle
# Edinburgh Zoo
# Holyrood Palace
# Mary King's Close
# Edinburgh Vaults
# Camera Obscura