Holyrood Distillery is a renowned distillery located in the heart of Edinburgh, Scotland.
Established in 2018, it is a relatively new addition to the vibrant Scottish distilling scene.
This distillery specializes in crafting exceptional spirits, including gin and single-malt Scotch whisky, while exploring unique and experimental offerings.
Visitors at this attraction have the opportunity to embark on engaging tours, where they can discover the art and science behind the distillation process.
With its prime location in the historic capital city, Holyrood Distillery offers a delightful experience for spirit enthusiasts and curious visitors alike.
Whether you want to expand your knowledge of distilling traditions, enjoy the flavors of handcrafted spirits in the captivating world of Scottish distillery culture.
This article covers everything you should know before booking tickets for Holyrood Distillery Edinburgh – tickets, prices, timings, directions, and much more!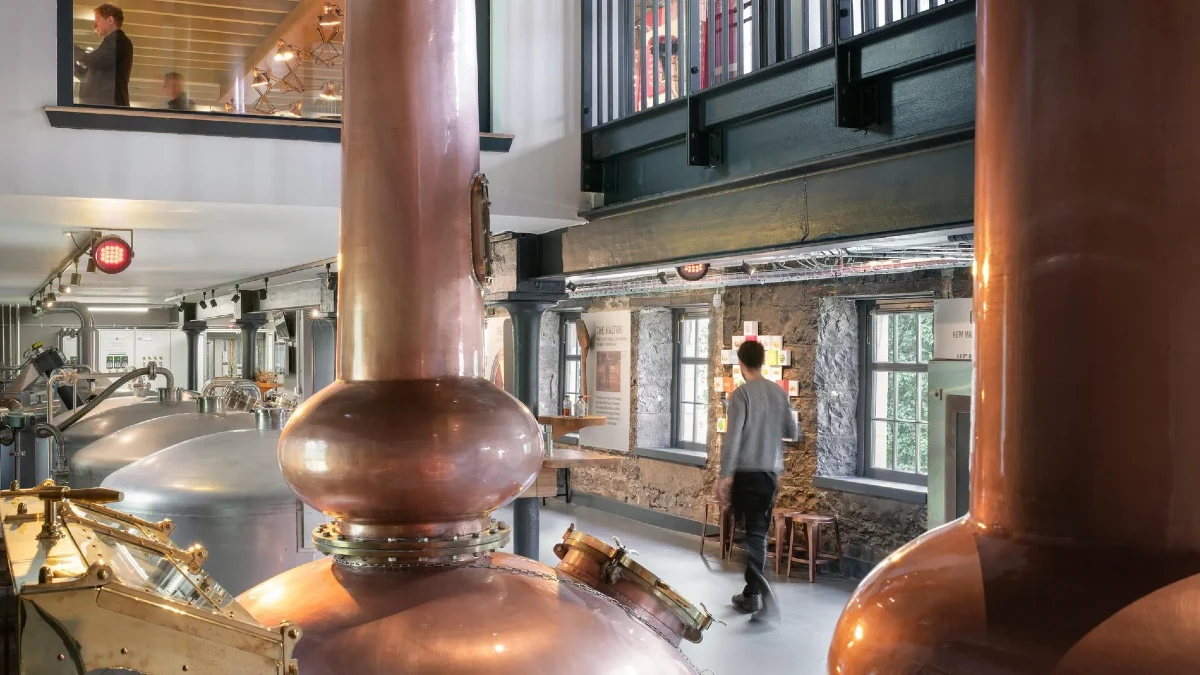 What to expect
The Holyrood Distillery is situated in the heart of Edinburgh.
The building itself is architecturally stunning, blending modern design with traditional elements.
When visiting The Holyrood Distillery, you can expect a guided experiential tour, a gin distillery, a whisky distillery, a tasting bar, and a shop.
The attraction offers tours behind the scenes of their distilling process.
The guides will walk you through the production areas, explaining the techniques and traditions of creating their spirits.
The tastings allow you to appreciate the distinct flavors, aromas, and craftsmanship that make their spirits special.
The attraction has an on-site shop to browse and purchase their spirits. It's an excellent chance to take home some of their high-quality gin or whisky.
For a more immersive experience, this distillery offers distilling experiences and workshops.
The staff is friendly, passionate, and eager to share their knowledge and love for spirits.
Whether you're a novice or a connoisseur, they are there to make your visit enjoyable and informative.
---
---
Where to book tickets
The Holyrood Distillery tickets can be purchased online or at the attraction.
To save time and money, we suggest buying your tickets online.
Online ticket prices tend to be cheaper than tickets at the venue.
When you buy online, you can avoid the long queues at the attraction's ticket counters.
Because some attractions sell a limited number of tickets, booking early helps avoid last-minute disappointment.
When you book early, you also get your preferred time slot.
How do online tickets work
Visit the Holyrood Distillery booking page, select the number of tickets, preferred date, and time slot, and buy the tickets immediately.
After the purchase, you will receive the tickets in your email.
There is no requirement to bring any printouts.
You can walk in and show the ticket on your smartphone.
Holyrood Distillery ticket prices
Tickets for Edinburgh: Holyrood Distillery Whisky and Gin Guided Tour costs €24 for visitors aged 18 and above.
For visitors of age 17 and younger, the tickets cost €18.
Tickets for Edinburgh: Holyrood Distillery Whisky Tour and Tasting costs €30 per person.
Holyrood Distillery tickets – Whisky and Gin Guided Tour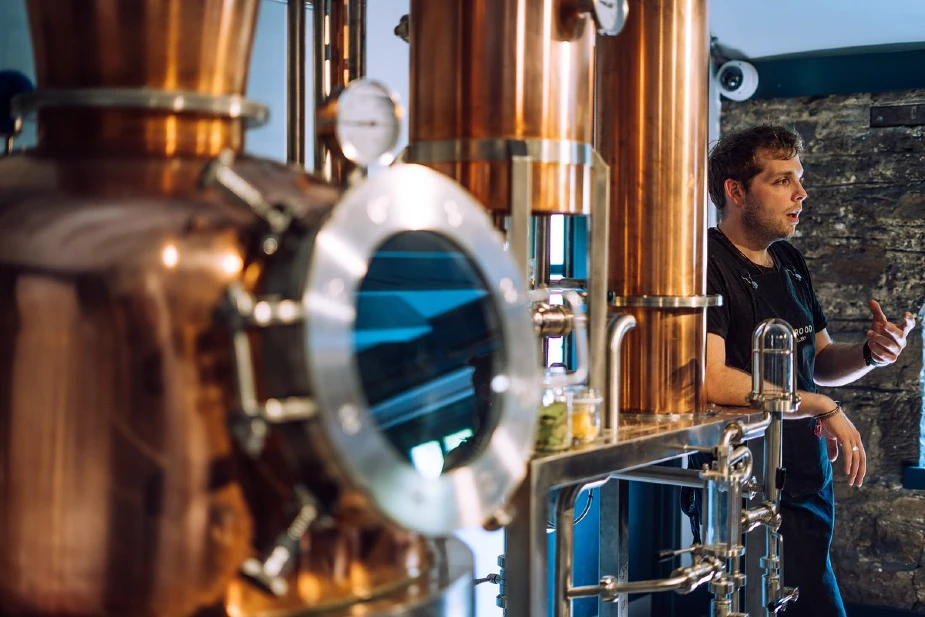 Located in the captivating city of Edinburgh, Holyrood Distillery is a modern distillery that pays tribute to its historic surroundings.
A guided tour will show you how gin and whisky are made and the traditions and inventive new processes used in artisan distillation.
This tour is a hands-on sensory experience that includes stints of the gin and whisky distilleries and opportunities for tasting and nosing.
After the tour, you can purchase additional spirits to taste at your leisure, with an in-depth duration from a member of the distillery's allocated staff.
Ticket Prices
Adult Ticket (18+ years): €24
Child Ticket (up to 17 years): €18
Holyrood Distillery tickets – Whisky Tour and Tasting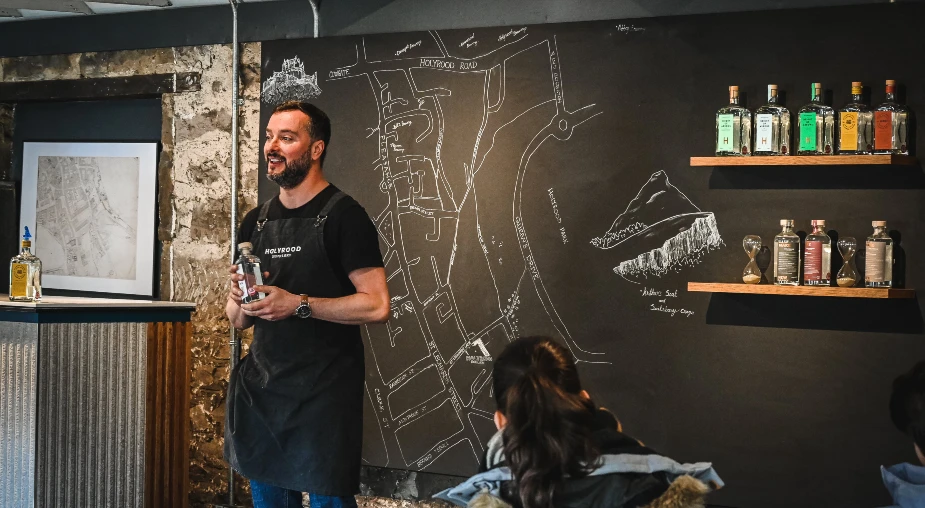 Explore the Holyrood Whisky Distillery with a guide to learn about Scotland's rich scotch whisky legacy.
Enjoy a sample of four new spirits and learn how the distillery develops its distinct flavors.
Holyrood Distillery, a modern distillery in the heart of old Edinburgh, is inspired by its environment, is never hesitant to innovate, and is dedicated to defining tomorrow's spirit.
On this distillery tour, you'll learn about Scottish history and heritage.
Ticket Price: €30
Combo ticket
With combo tickets for The Holyrood Distillery and other attractions, you can avail of exclusive discounts of up to 5% of the original price.
You can get some of the most amazing experiences by booking this must-see combination.
The Scotch Whisky Experience + Holyrood Distillery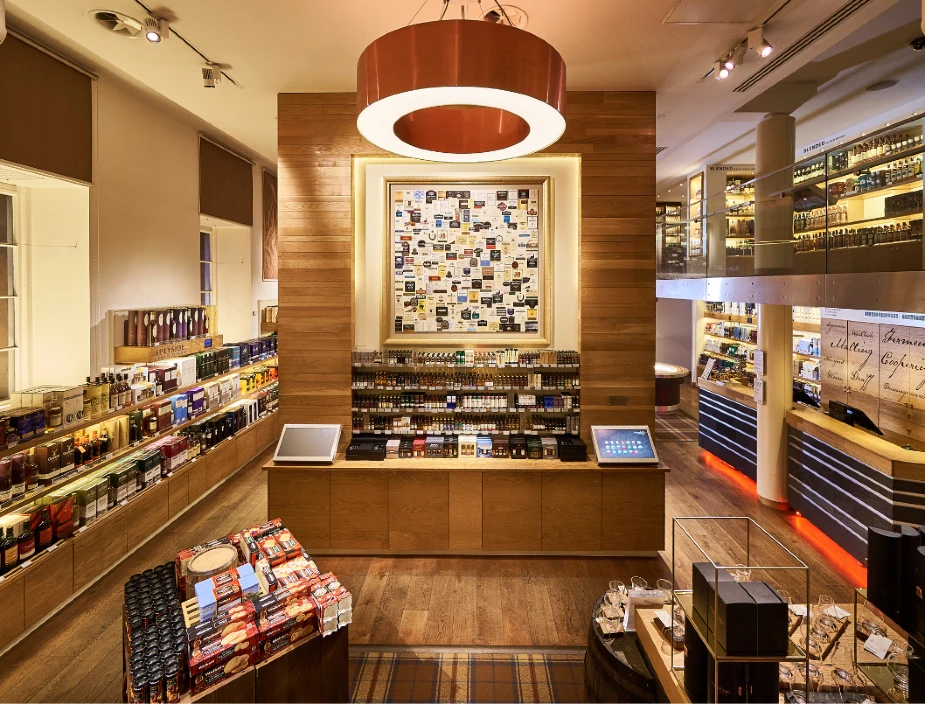 Distance: 2 kilometers (1.3 miles)
Time Taken: 10 minutes by car
The Scotch Whisky Experience is the world's only visitor attraction that takes you on a grand whisky tour through Scotland's five whisky-producing regions, revealing the complete Scotch tale.
These tours are interactive, instructive, and enjoyable for whisky novices and enthusiasts alike!
Amazing guides will help you explore each region's distinctive whisky scents and flavors, from the floral and fruity malts of Speyside to the smoky and peaty whiskies of Islay.
Discover your ideal dram whisky specialists leading you through Scotland's rich distilling tradition, revealing the history, mystery, and romance of the country's most famous export.
Ticket Price: €45
Save time and money! The Edinburgh Pass will provide you with the city's best offers, from Edinburgh Castle to the hot taste of whisky in your throat! Aside from three amazing attractions in one convenient package, you'll also receive a personal discount code for a 10% discount for other activities in Edinburgh.
---
---
How to reach
Holyrood Distillery is located in the heart of Edinburgh, a short walk from the Royal Mile.
Address: 19 St Leonard's Ln, Edinburgh EH8 9SH, United Kingdom. Get Directions.
By Bus
The Holyrood Distillery is only two minutes from the Rankeillor Street bus stop (Bus: 14)
It is only two minutes from the Parkside Street bus stop (Bus: 14).
By Car
If you're traveling by car, turn on Google Maps and begin your journey.
Click here to learn more about the parking garages nearby The Holyrood Distillery.
Holyrood Distillery timings
The Holyrood Distillery is open from 11.30 am to 7 pm from Sunday to Thursday.
The distillery stays open from 11.30 am to 8 pm on Friday and Saturday.
Best time to visit
Consider visiting during off-peak hours, such as early morning at 11.30 am, usually when the venue opens, or late evening at 6 pm, to avoid crowds and have a more intimate experience.
Visiting on weekdays may be a good choice if you prefer a quieter and less crowded experience.
We highly recommend scheduling your visit during the optimal time for the best experience.
How long does the tour take
The duration of the Holyrood Distillery tour is typically around an hour.
Note that the tour length is subject to change based on factors such as group size, type, and level of interaction desired.
FAQs about Holyrood Distillery tour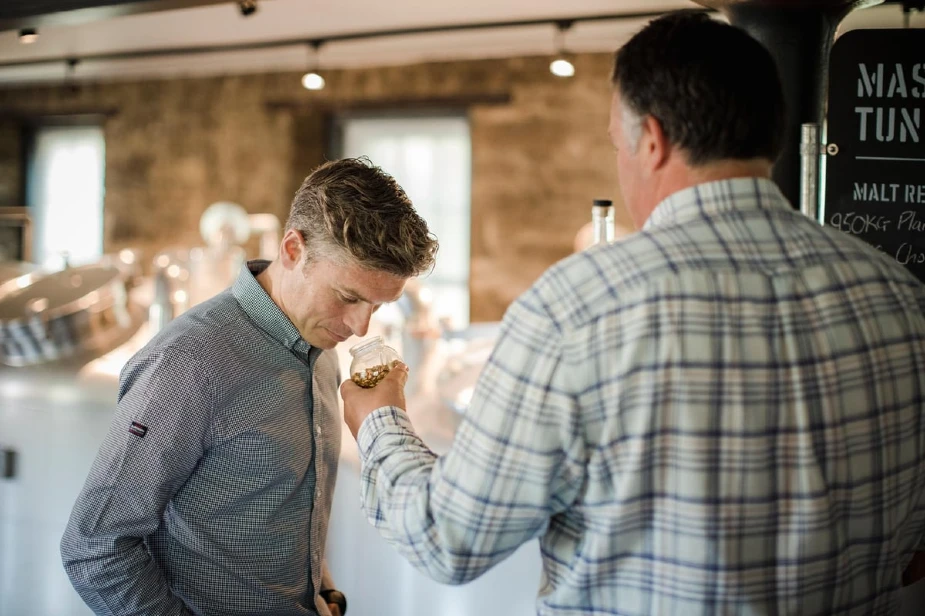 Here are some frequently asked questions about Holyrood Distillery.
Where is Holyrood Distillery located?
Holyrood Distillery is located in the heart of Edinburgh, Scotland. Its address is 19 St Leonard's Lane, Edinburgh, United Kingdom.
When was Holyrood Distillery established?
Holyrood Distillery was established in 2018. It is a relatively new distillery compared to some of the more established ones in Scotland.
What kind of spirits does Holyrood Distillery produce?
Holyrood Distillery produces a range of spirits, including gin and single-malt Scotch whisky. 

They also experiment with other spirits and have produced limited editions and collaborations.
Can visitors take tours of Holyrood Distillery?
Holyrood Distillery offers tours to visitors. 

The tours provide an opportunity to learn about the distilling process and the distillery's history and to sample their spirits.
How long is a typical tour at Holyrood Distillery?
The duration of a tour at Holyrood Distillery is usually around an hour. 
Is there an age restriction for the tours or tastings?
Visitors must be at least 18 years old to participate in the tours and tastings at Holyrood Distillery. 

This rule is under the legal drinking age in Scotland.
Can visitors purchase spirits at Holyrood Distillery?
Visitors can purchase spirits directly from Holyrood Distillery. 

They have an on-site shop where you can buy their products, including gin and whisky. 

It's a great opportunity to take home some of their unique spirits.
Does Holyrood Distillery offer distilling experiences or workshops?
Holyrood Distillery offers distilling experiences and workshops where participants can get hands-on experience creating their spirits. 

These experiences are typically more in-depth and require advanced booking.
Can Holyrood Distillery accommodate private events or group bookings?
Holyrood Distillery can accommodate private events and group bookings. 

Whether it's a corporate event, a celebration, or a special gathering, they can provide tailored experiences. 

It's recommended to contact the distillery directly for more information and to discuss your specific requirements.
Sources
# holyrooddistillery.co.uk
# visitscotland.com
# Tripadvisor.com

The travel specialists at TheBetterVacation.com use only high-quality sources while researching & writing their articles. We make every attempt to keep our content current, reliable and trustworthy.
Popular attractions in Edinburgh