Enjoy the world of delectable tasty treats in the heart of Edinburgh with a visit to Chocolatarium Edinburgh.
It offers a one-of-its-kind immersive experience for chocolate lovers of all ages.
Embark on an exciting journey taking you through the fascinating world of chocolate-making.
Learn about the history, culture, and science behind everyone's favorite sweet treat.
Indulge your senses at the Chocolatarium Edinburgh, where all things chocolate are waiting for you to be explored.
Read on to learn all you need to know before booking tickets for the Chocolatarium Edinburgh.
Top Chocolatarium Tickets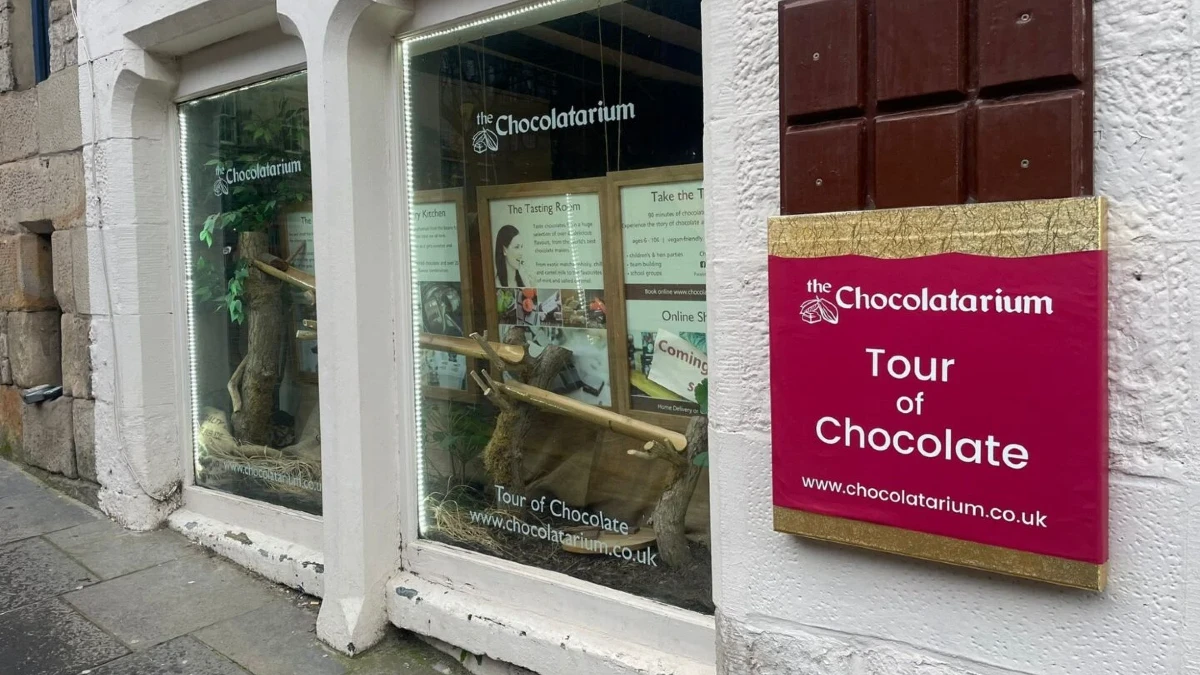 What to expect at the Chocolatarium
Explore the journey of chocolate-making from tree to bar with a fully-guided 90-minute tour at The Chocolatarium, located in Edinburgh's historic old town.
A trip to the Chocolatarium is a tour, tasting, and workshop, all molded together into a delicious experience.
Expect a unique and immersive adventure that takes you on a journey through the world of chocolate.
Dive into the chocolate-making process as you smell the aroma of roasting cacao and witness its transformation from bitter beans to smooth chocolate.
The Chocolatarium Edinburgh is a must-visit destination whether you are a beginner or a chocolate enthusiast.
---
---
Where to book tickets
Tickets for the Chocolatarium Edinburgh can be purchased either at the attraction or online in advance.
Online ticket prices tend to be cheaper than tickets at the venue.
When you buy online, you can avoid the long queues at the attraction's ticket counters.
Because some attractions sell a limited number of tickets, booking early helps avoid last-minute disappointment.
When you book early, you also get your preferred time slot.
How do online tickets work
Visit the Chocolatorium Edinburgh ticket booking page, choose your desired date and time and the number of tickets.
Once you've made your purchase, your tickets will be sent to your email.
On the day of your visit, simply present your ticket at the gate and walk in.
Chocolatarium Edinburgh Ticket price
Tickets for the Chocolatarium Edinburgh are available for £22 for adults above 16.
Chocolatarium Edinburgh tickets can be purchased at a discount price of £15 for children between the ages of six to 15.
Infants aged five and younger are not allowed at Chocolatarium Edinburgh.
Chocolatarium Edinburgh tickets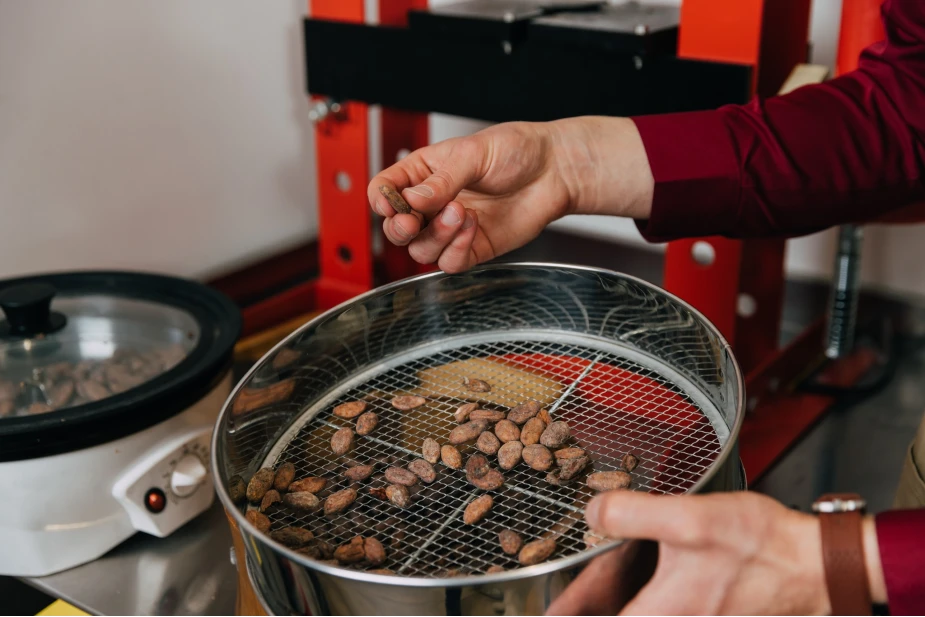 Embark on an interactive tour of a chocolate factory in Edinburgh and feast on a plethora of flavors.
Learn how cacao from a South American cacao tree is transformed into a delightful Scottish chocolate bar.
In the Chocolate Kitchen, try your hand at creating your own personalized chocolate bar by choosing your preferred flavors and bar design.
The knowledgeable staff at the Chocolatarium is happy to assist you with any questions, guiding you through each step of the process.
Discover the world of Scottish chocolate makers, indulge in the delicious flavor of high-quality single-origin chocolate, and relax with a warm cup of cacao tea.
Taste delicious flavors of over 40 exquisite chocolates from Scotland and various countries across the globe at the Tasting Room.
Ticket Prices
Adult Ticket (16+ years): £22
Child Ticket (6 to 15 years): £15
Save time and money! Experience the best of Edinburgh, from the majestic Edinburgh Castle to the delightful taste of whisky, with the Edinburgh Pass. This convenient pass includes three amazing attractions and a personal discount code that allows you to save 10% on other activities in the city.
---
---
How to reach
The Chocolatarium Edinburgh is just off the Royal Mile, five minutes from the Waverley Station.
Address: 3-5 Cranston St, Edinburgh EH8 8BE, UK. Get Directions
You can reach the Edinburgh Chocolatarium by public transport or car.
By Bus
Board bus 35 and get down at the New Street stop to reach the Edinburgh Chocolatarium.
By Train
Get down at the Edinburgh Waverley station to reach the Chocolatarium.
By Car
If you want to drive to the attraction, turn on Google Maps and get started!
There are plenty of parking options around the attraction, including the Edinburgh Airport Parking.
Timings
The Edinburgh Chocolatarium opens at 10 am on all days of the week.
It stays open till 5 pm throughout the week.
The Gift Shop is open daily and is accessible after each tour.
Best time to visit
The best time to visit Edinburgh Chocolatarium is in the mornings on weekdays as soon as it opens if you want to have the place to yourself as much as possible.
The earlier you arrive at the Edinburgh Chocolatarium, the less crowded your experience will be.
Weekends and public holidays are the most crowded at the attraction.
How long does the tour take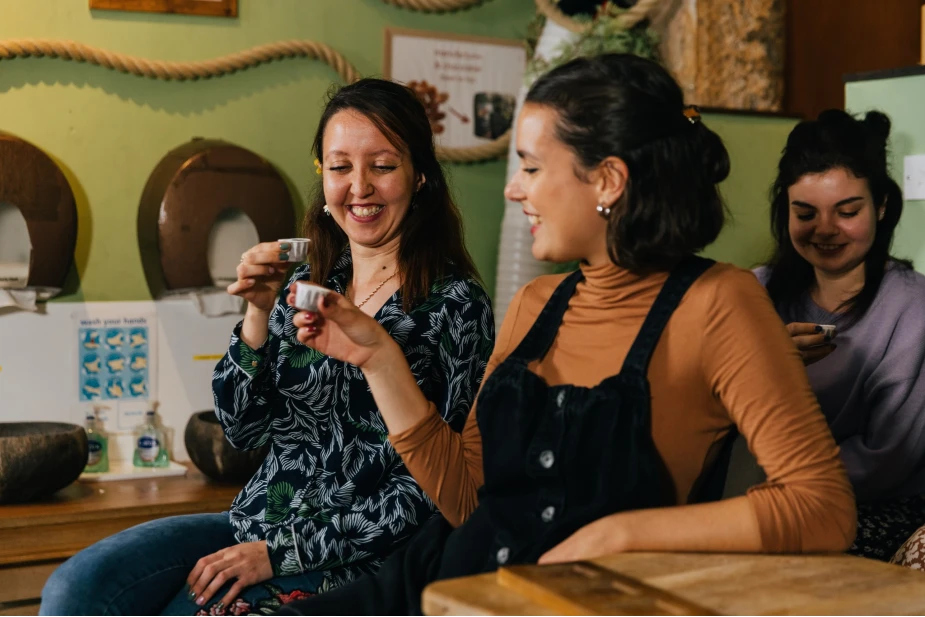 The tour of the Edinburgh Chocolatarium takes approximately 90 minutes to complete.
Visitors can also stop at the Gift Shop to shop for souvenirs.
Chocolatarium Edinburgh reviews
Here are some reviews for the Chocolatarium Edinburgh to make your trip easier.
A sweet experience!
This was an excellent experience! As a chocolate lover, I thoroughly enjoyed learning about the chocolate process and tasting chocolate from all around the world. Rafa was an AMAZING guide with so much enthusiasm and really kept us engaged from start to finish. We loved being able to make our own chocolate bar too! So cool! I cannot recommend this experience enough.
Calling all chocolate lovers…a must!
Such a fun time! Kids loved it! Learned a lot and also tasted a lot! Overall, it was a great experience and I highly recommend it!
Yummy chocolates
We had lots of fun making the chocolate and learning about it. Then we got to taste lots of different types and flavors. Thoroughly recommend this experience.
A chocoholic dream come true
What a fantastic afternoon! Our tour guide was Rafa and she was really wonderful! We learned about the history of chocolate and its changes from a drink for elites into what's now a hugely popular treat. Of course making our own bars was gloriously fun, everyone seemed to be having a great time. If you like chocolate it's a fun afternoon and if you love it and want to try different flavorings, it's a must-do.
---
---
FAQs about Chocolatarium Edinburgh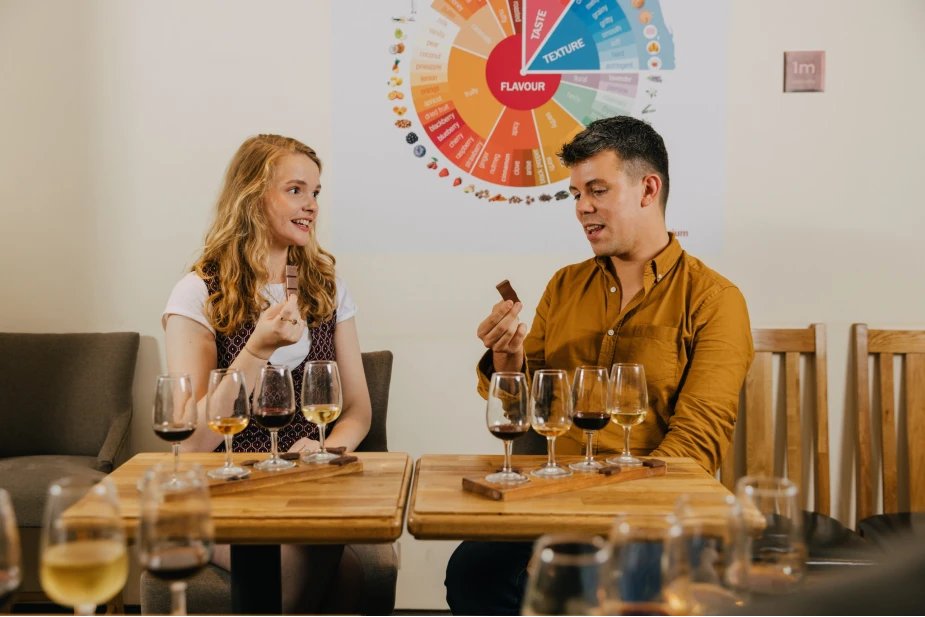 Here are some questions visitors usually ask before visiting Chocolatarium Edinburgh.
What can I expect to see at the Edinburgh Chocolatarium?
Visitors can see a range of exhibits and interactive displays that showcase the fascinating history of chocolate. 
They can also watch expert chocolatiers at work as they create mouth-watering chocolate treats and even try to make their own delicious chocolate creations.
How long does a visit to the Edinburgh Chocolatarium take?
A visit to the Edinburgh Chocolatarium takes around 90 minutes on average.

Visitors can easily spend longer exploring all the exhibits and trying out the chocolate-making activities.
Can I click pictures while at the Chocolatarium Edinburgh?
The attraction reserves the right to restrict the taking of photos during the tour.
Is the Edinburgh Chocolatarium wheelchair accessible?
Unfortunately, the Chocolatarium is not accessible to wheelchairs currently.
Is on-site parking available at the Edinburgh Chocolatarium?
There is no on-site parking at the Chocolatarium. 

However, there are plenty of parking options around the attraction.
Can I bring a baby to the Edinburgh Chocolatarium?
Infants who are not yet crawling are welcome as long as they are held by their parent/guardian or are in a baby carrier. 

If they become restless and disrupt the tour, visitors need to take them to the waiting area.
Sources
# Chocolatarium.co.uk
# Visitacity.com
# Tripadvisor.com

The travel specialists at TheBetterVacation.com use only high-quality sources while researching & writing their articles. We make every attempt to keep our content current, reliable and trustworthy.
Popular attractions in Edinburgh