Edinburgh Vaults are the most extensive underground caverns in the city and offer the most popular ghost tours.
Known by many names such as South Bridge Vaults, Blair Street Vaults, Edinburgh Underground Vaults, etc., this city under city offers a fascinating peep into the poor man's life in 18th century Edinburgh.
Many believe Edinburgh Vaults to be a hotbed of paranormal activity.
In this article, we share everything you must know before booking your tour of the Edinburgh Vaults.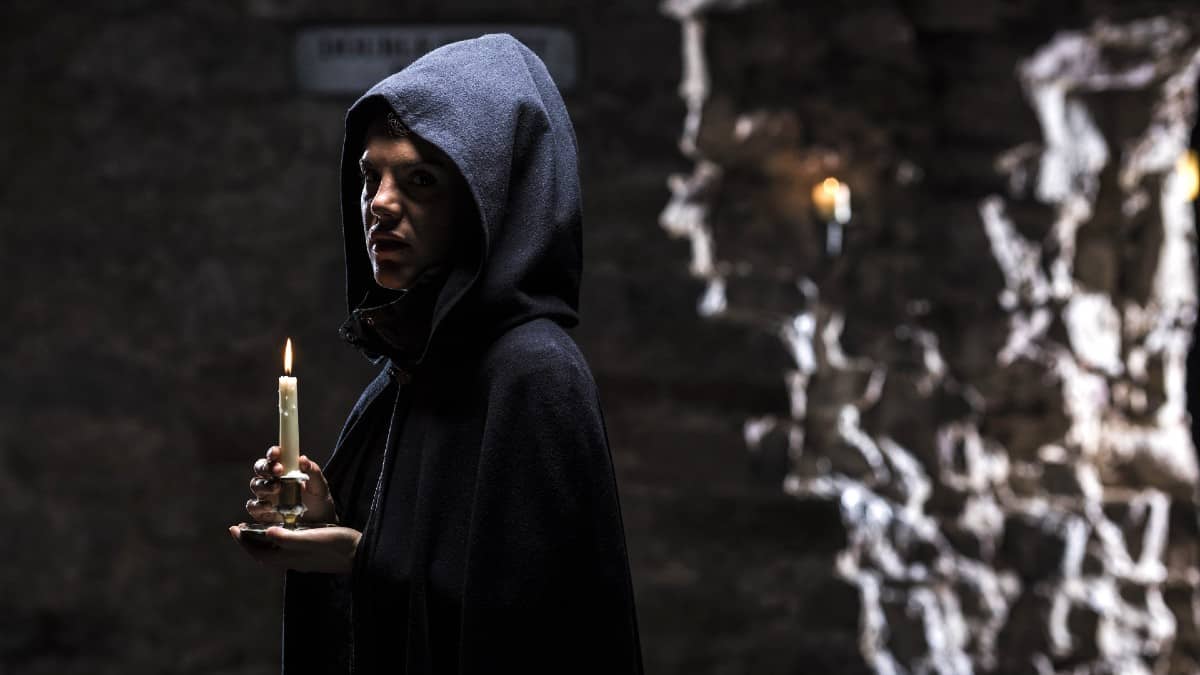 Edinburgh Vaults hours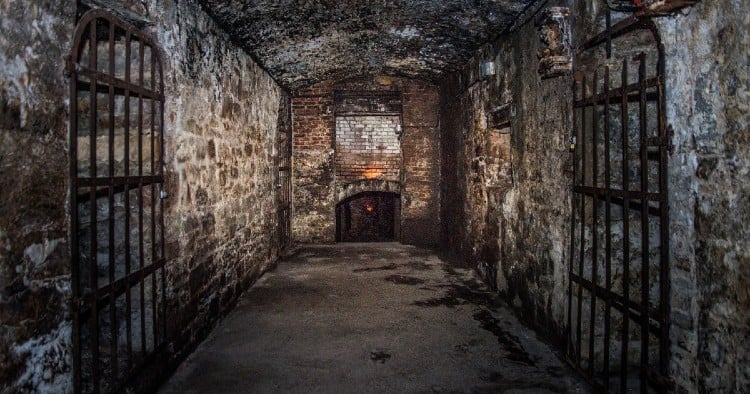 Edinburgh Vaults are open all through the week.
Only Mercat Tours has exclusive rights to allow visitors inside Edinburgh Vaults for exploration, and their first tour starts at 10 am, and the last tour of the day starts rolling at 9.30 pm.
When are Edinburgh Vaults closed
Edinburgh Vaults are open all through the year, except for three days during Christmas.
On Christmas Eve (24 Dec), Christmas Day (25 Dec), and Boxing Day (26 Dec), the staff and tour guides at Mercat Tours take a break.
On New Year's Eve, the Blair Street Underground Vaults tours finish early – by 5 pm.
Mercat tours office timings
Mercat Tours office is open from 9 am to 6 pm on weekdays and from 10 am to 6 pm on weekends.
But if you book your Edinburgh Vaults tickets online, you don't need to visit their office.
---
---
Edinburgh Vaults tours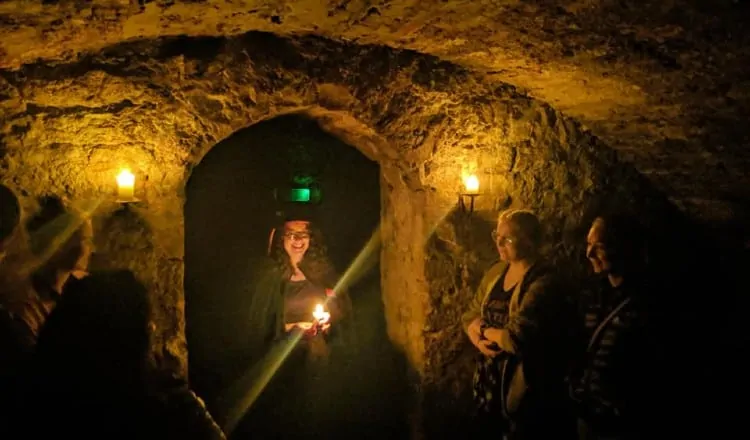 Edinburgh Underground Vaults tours do not have any manufactured frights or jump scares.
Instead, during these tours, visitors are taken to the perfect 'atmosphere' (vaults and graveyards) where the costumed guide narrates historical facts with the refined art of storytelling.
For health and safety reasons, children under five years aren't allowed in any Edinburgh Vaults ghost tours.
Since these are walking tours, it is better to wear appropriate footwear. And because you will be both outdoors and indoors, you must dress up according to the weather.
Unless you have booked a private tour of Edinburgh Underground Vaults, you will be exploring as a group, and that's why it is crucial to reach Mercat Cross on The Royal Mile 15 minutes before the start of your tour.
Arriving early gives you enough time to check in with Mercat Tour's representative at the meeting point.
Edinburgh Vaults ticket prices
The cheapest (and the most popular) Edinburgh Vaults experience costs 14 Pounds for all adults aged 16 to 59 years.
Seniors aged 60+ years and students with valid ID cards pay the entrance fee of 12 Pounds.
Kids five to 15 years old only pay 9 Pounds for their Edinburgh South Bridge Vaults experience.
Edinburgh Vaults discount
The most significant Edinburgh Underground tour discount is reserved for kids five to 15 years – on the adult ticket priced at 14 Pounds, they get a 36% discount and thus pay only 9 Pounds.
The seniors who are 60+ years and students who can display their valid student ID card get a 2 Pound discount on the regular ticket price.
There are four kinds of Edinburgh Underground Vaults tours you can opt for, and we explain all of them below –
Best Edinburgh Vaults tour
Ghostly Underground Tour is the most popular daytime walking tour of Edinburgh's most haunted vaults.
You meet your Mercat Tours guide at Mercat Cross and get a walking tour of the streets of Edinburgh's Old Town.
Then you get down into the depths of the city – the underground Edinburgh Vaults – and hear horror stories of torture, murder, hangings, body snatchers, etc.
Starting Point: Mercat Cross
Tour ends at: Discovery Room, Blair Street, off Hunter's Square
Tour starting time: 3 pm, 5 pm
Duration: 75 minutes
Cancellation: 24 hours before tour date for a full refund
Ticket price
Adult ticket (16 to 59 years): 14 Pounds
Senior ticket (60+ years): 12 Pounds
Student ticket (with valid ID): 12 Pounds
Child ticket (5 to 15 years): 9 Pounds
Edinburgh Vaults + Canongate Graveyard
The tour where you explore the Edinburgh Vaults and Canongate Graveyard is called the Doomed, Dead, and Buried tour.
There are three parts to this tour.
After meeting your guide at Mercat Cross, you indulge in a walking tour of Edinburgh's darker closes and wynds before journeying into the haunted Blair Street Underground Vaults.
Once the ghosts below the surface get handled, the group walks the dark streets of Canongate Graveyard.
Even as you see the graves of famous Scots, you also get to hear many tales of dastardly deeds and ghostly sightings.
Starting Point: Mercat Cross
Tour ends at: Canongate Graveyard
Tour starting time: 7.30 pm
Duration: 1 hour 45 minutes
Cancellation: 24 hours before tour date for a full refund
Ticket price
Adult ticket (16 to 59 years): 18 Pounds
Senior ticket (60+ years): 16 Pounds
Student ticket (with valid ID): 16 Pounds
If you want to combine your Edinburgh Vaults visit with Greyfriars Kirkyard graveyard instead, check out this tour.
Underground Vaults Ghost Tour with Whisky
This customized vaults tour where you also get to sip on some of the finest Whisky has two names – Edinburgh underground tour and the Evening of Ghosts and Ghouls.
The tour starts with a leisurely walk along Edinburgh Old Town's cobbled streets, even as the guide warms you up for what's to come.
You then step into Blair Street's Underground Vaults for your share of Edinburgh's ghost experience.
The tour ends in a candlelit cellar with a Scottish whiskey in your hand and many scary stories.
If you don't prefer a whiskey, there is always a glass of lager or soft drink.
Starting Point: Mercat Cross
Tour ends at: Megget's Cellar, Blair Street, off Hunter's Square
Tour starting time: 7 pm, 8 pm, 9 pm
Duration: 2 hours
Cancellation: 24 hours before tour date for a full refund
Ticket price
Adult ticket (16 to 59 years): 19 Pounds
Senior ticket (60+ years): 17 Pounds
Student ticket (with valid ID): 17 Pounds
Child ticket (5 to 15 years): 12 Pounds
Edinburgh Vaults night tour
This Edinburgh Vaults ghost tour is so chilling that only visitors 18 years and above can join in.
Stories of sinister misdeeds and terrible consequences start above the ground even as you explore the Old Town.
But soon enough, you are in the Edinburgh South Bridge Vaults and hear of bloody plots that led to treason, torture, horrific deaths, and tormented souls.
Starting Point: Mercat Cross
Tour ends at: Blair Street Underground Vaults, Blair Street, off Hunter's Square
Tour starting time: 9.30 pm
Duration: 1 hour
Cancellation: 24 hours before tour date for a full refund
Ticket price
Adult ticket (18 to 59 years): 15 Pounds
Senior ticket (60+ years): 13 Pounds
If you prefer an Edinburgh Ghost tour that starts even later, check out this Extreme Paranormal Underground tour that begins at 10.15 pm
---
---
How to reach Edinburgh Vaults
There are many ways to get to Edinburgh Vaults, and we explain everything in detail below.
Where are the Edinburgh Vaults
Since Edinburgh Vaults are under Blair Street, they are also known as the Blair Street Vaults.
And since these Vaults are also part of South Bridge, they also get referred to as South Bridge vaults.
Edinburgh Vaults' entrance is through the Mercat Tours office at 28 Blair Street, Edinburgh, EH1 1QR, Scotland. Get Directions
Mercat Tours has exclusive access to the Edinburgh Underground Vaults.
Tours start from Mercat Cross
All Edinburgh Underground tours start with a quick walking tour through the streets of Edinburgh's Old Town.
That's why all tours start from Mercat Cross, which is .3 km (.2 miles) from the Mercat Tours office.
If you book your tickets online, much in advance, you can head straight to Mercat Cross and meet the guides.
You can also buy last-minute Edinburgh Ghost tour tickets at Mercat Cross, but we won't recommend it because these tours sell out much in advance.
Mercat Tours' staff are available at Mercat Cross from 10 am to 12.15 pm, 1.15 pm to 6.15 pm, and 6.45 pm to 10.15 pm to welcome the guests.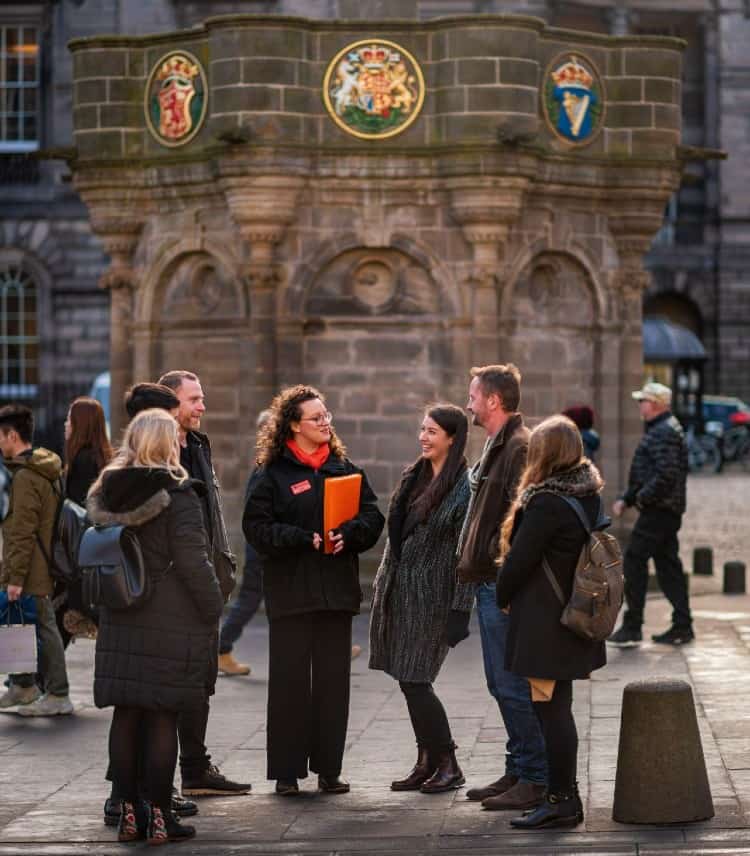 By Train
Edinburgh Waverly is the closest railway station to Mercat Cross.
Once you get down from the train, walk the .3 Kms (.2 Miles) to Mercat Cross or take a taxi from outside the station on Market Street and Waverly Bridge.
By Bus
Many buses can take you to Mercat Cross.
Board bus numbers 3, 5, 7, 8, 14, 30, 31, 33, 35, 37, 45, 47, or 49 and get down at North Bridge.
There are many bus stops on North Bridge, but the good part is that all of them are approximately 5 minutes walk from Mercat Cross.
You can also get onto bus numbers 23, 27, 41, or 42 and get down at George IV Bridge.
George IV Bridge is also five minutes walk from Mercat Cross.
For more on bus routes and timings, check out Lothian Buses.
By Tram
The tram stop closest to Mercat Cross is St Andrew's Square.
This tram stop is also where people get down to go to the Waverly Station.
By Car
Car parking options are limited in Edinburgh Old Town.
There is 'Pay and Park' on-street car parking on Blair Street, Cowgate, Blackfriars, and Chambers Street.
A ticket machine is available just five meters from Mercat Tours.
Blair Street is closest to the Mercat Tours office, but there are only about ten parking slots available, which can get used during peak times.
There are no assigned disabled parking slots on Blair Street. However, Blue Badge holders can park in the available spaces without a time limit or charge.
Vehicle access to Mercat Cross is via George IV Bridge. There is no vehicular access from North Bridge.
That's why if you prefer a car, it is best to use Uber, Central Taxis, or City Cabs.
---
---
Edinburgh Vaults tour reviews
Mercat Tours to the Edinburgh Vaults are highly-rated on Tripadvisor.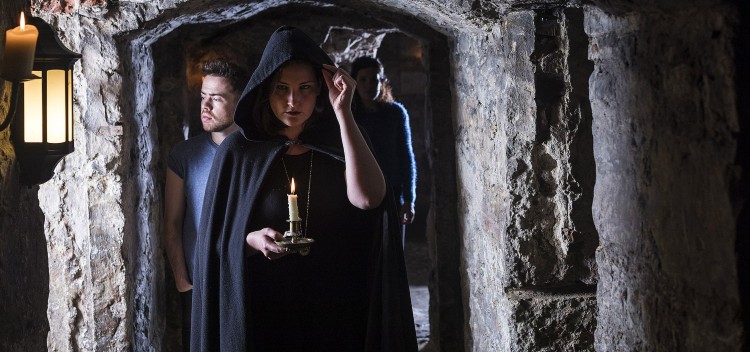 We share two of Edinburgh Vaults Tripadvisor reviews, which give you an idea of what to expect.
Most Interesting Tour
I have to admit that I was not interested, but my wife was all for it, so off we went. How wrong my original thoughts were. It is A FASCINATING AND INTERESTING TOUR with loads of history stories of doom and gloom and how the people lived and endured squalor in those ancient times. Take this tour. It is fantastic and made even better by the most interesting and knowledgeable guide Nicky. Well worth it. – Nick, Penarth, UK
Doomed, Dead & Buried
We had a fabulous guide called Helena. She gave a lot of information and made it fun. The Vaults were cool and the Graveyard too. You felt all included, and it was interactive but not too much. I would highly recommend it, make sure you are prepared to walk a little, not massively far but still walking. – Anna P, Sheen, UK
---
---
Edinburgh Vaults history – story of underground ghosts
To understand the Edinburgh Vaults or South Bridge Vaults, we must first understand the history of the city.
Impact of Flodden Wall on the city
The English kept on invading the Scots at regular intervals, the biggest battle between the two was called the battle of Flodden in 1513.
After this battle, the city of Edinburgh decided to build the Flodden Wall.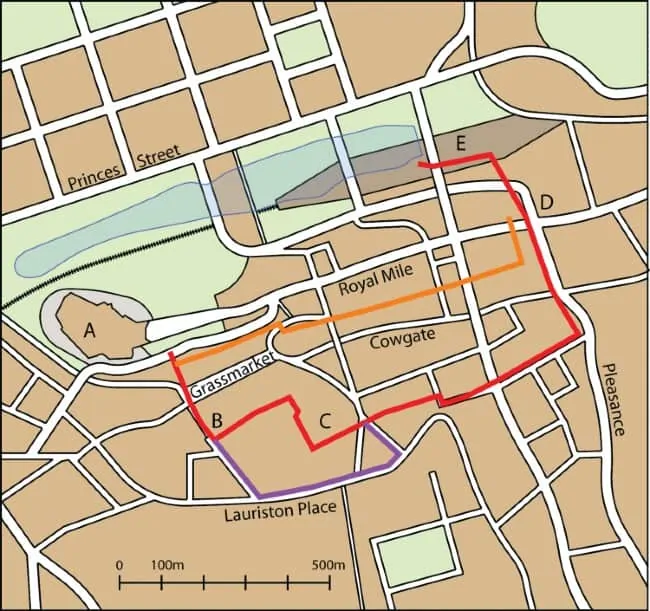 Key to the map above:
A: Edinburgh Castle
B: Flodden Tower
C: Greyfriars Kirkyard
D: Netherbow Port
E: Waverley station
Orange line: King's Wall (1450-1475)
Red line: Flodden Wall (1514-1560)
Purple line: Telfer Wall (1620)
Blue overlap: Approximate spread of the former Nor Loch
With the Nor Loch swamp forming one line of defense, the Edinburgh Castle forming the next, the city decided to build a wall (the red line in the map above) to protect them from surprise attacks.
While the Flodden Wall and the region's natural geography helped protect the city from English attacks, they didn't allow the city to expand with time.
As a result, the residents started living on top of one another.
In a way, the birth of modern skyscrapers can be attributed to Edinburgh.
Edinburgh's lay out
The city of Edinburgh is built amongst seven major hills, out of which only two are visible today – the Castle Hill (Edinburgh Castle is on this hill) and the Calton Hill.
The other five hills of this fortified city are now masked by five bridges, which even out the metropolitan (well, almost) and cover up the valleys.
Under these bridges built around the Old Town, over centuries, lie eight of Edinburgh's hidden tunnels and vaults.
South Bridge Vaults
Gilmerton Cove
Waverley Vaults
Scotland Street Tunnel
The Crawley Tunnel
Innocent Railway Tunnel
Of these eight, South Bridge Vaults and Mary King's Close are most popular from a tourism perspective.
South Bridge Vaults
South Bridge got built to cover the Cowgate gorge and link the Old Town's High Street with the University buildings in the South of Edinburgh.
The Bridge got proposed in 1775, but work didn't start till 1785.
Three Closes – Marlin's Wynd, Peebles Wynd, and Niddry's Wynd – were demolished in the city's Cowgate area to make way for the Bridge.
Back in the days, these Closes were the poorest neighborhoods of the city.
Once the construction began in August 1785, it was quick, and the Bridge was ready for the public in 1788.
The South Bridge consists of 19 arches spanning around 305 meters (1000 feet), out of which only one arch was visible – the Cowgate arch.

At its highest point, the Bridge stands 9.5 meters (31 feet) above the ground, and in some places, the foundations are up to 6.7 meters (22 feet) into the ground.
South Bridge gets jinxed
One of the elderly residents of the city was to inaugurate the South Bridge when its construction was finally over in 1788.
She was the wife of a well-known and respected Judge, so everyone was excited.
But as fate would have it, a few days before the grand opening, the lady passed away.
Edinburgh's superstitious people saw this as a bad sign, but they didn't know that it would worsen.
The city authorities decided to continue with the plan – and instead of the elderly lady walking across the Bridge, her coffin 'crossed' the South Bridge.
Most of the city people believed the South Bridge was cursed and refused to use it for many years.
The South Bridge gets popular
With time, Edinburgh's South Bridge started to see traffic, and now merchants wanted to build shops along the top of the Bridge to capitalize on the crowd.
To accommodate these shop fronts, they built tenement houses on both sides of 18 of the 19 arches of the South Bridge.
To create more space for rent or personal use, they also used up the hollow in the Bridge's arches, constructing dark, airless, vaulted chambers.
Initially, these underground vaults got used for workshops, storage, warehousing, etc. but with time, the poverty-stricken moved in.
There is enough proof that these vaults got used for criminal activities such as gambling, illegal whiskey distilling as well.
Even serial killers Burke and Hare got linked to South Bridge Vaults, but there is no proof that they used the vaults to store the bodies of people they killed.
Within just 30 years of being inaugurated, the South Bridge Underground Vaults became unusable.
The lack of light, ventilation, heat, plumbing, sanitation, and seepage of water made it an unlivable space even for the poorest of the poor.
By 1820 the City of Edinburgh had decided that nobody should live in these underground spaces and closed it.
However, South Bridge is still in use – 230 years after it got inaugurated.
Discovery of Edinburgh's underground vaults
The Edinburgh Vaults got rediscovered more than 150 years after they had been closed by the city council.
In the 1980s, former Scottish rugby internationalist Norrie Rowan found a tunnel leading to the vaults.
Soon enough, Des Brogan, a history teacher, joined hands with three other history teachers and started offering ghost tours.
The first tour of South Bridge's Edinburgh Vaults took place on 1 July 1985.
Des Brogan would go on to found Mercat Tours, the company which today holds the exclusive rights to organize Edinburgh Vaults tours.
Sources
# Visitscotland.com
# Mercattours.com
# Wikipedia.org
# Historic-uk.com

The travel specialists at TheBetterVacation.com use only high-quality sources while researching & writing their articles. We make every attempt to keep our content current, reliable and trustworthy.
Popular attractions in Edinburgh