The historic city of Edinburgh is world-renowned for its stunning architecture, folklore, and exquisite liquor.
Tucked away amidst its cobblestone streets and medieval alleys lie two distinct gin distilleries, each offering a unique and immersive experience for gin enthusiasts and curious travelers alike.
Based on an old family recipe and some daring enterprise, Pickering's Gin Jolly Distillery has quickly become one of Edinburgh's most recognizable exports due to its meticulous craftsmanship and hand-bottled commitment to traditional distillation methods.
Situated at the edge of the historic Holyrood Park, the Holyrood Distillery is a contemporary addition to Edinburgh's gin scene.
This state-of-the-art distillery takes pride in combining traditional distillation techniques with a commitment to sustainability, creating a harmonious balance between tradition and innovation.
These two Gin Distillery Tours offer a delightful journey through the fascinating world of gin production.
From the distillation process to tasting exquisite flavors, the Distillery Tasting Tour promises an unforgettable adventure for gin enthusiasts.
Read on to learn everything you should know before booking tickets for the Edinburgh Gin Distillery Tour.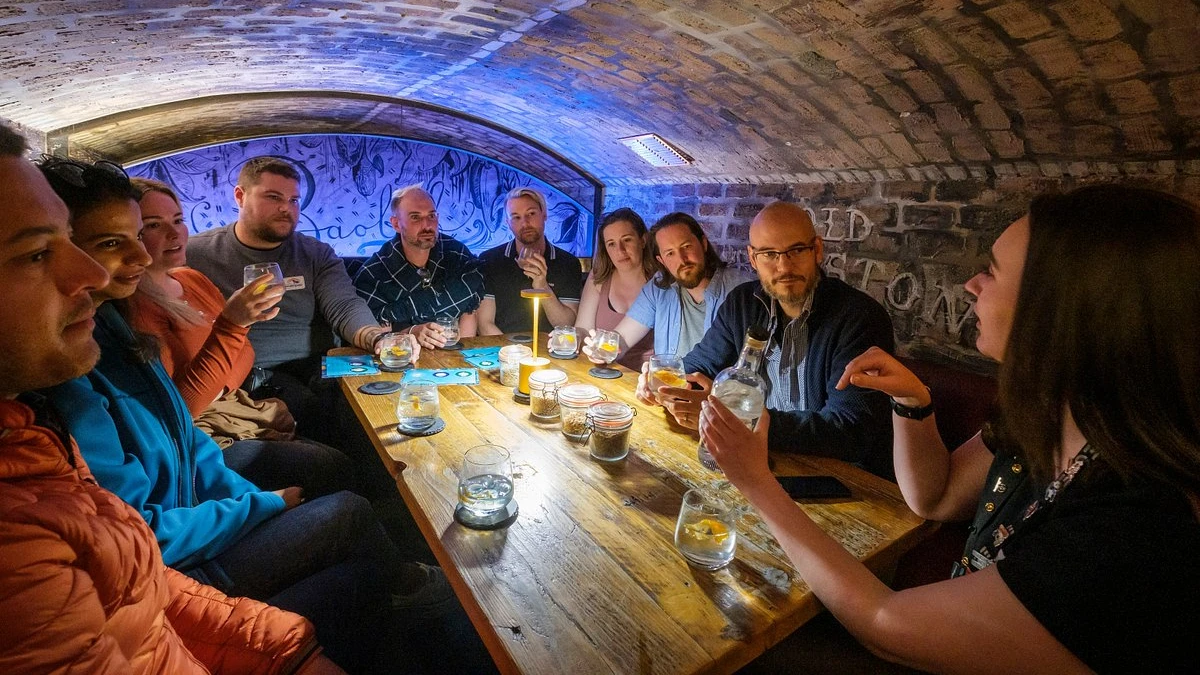 What to expect at Gin Distillery Tour
Meet your guide at the Royal Dick Bar at the Gin Distillery reception, where a delicious gin and tonic will be poured for you.
Step into the distillery and be greeted by the unmistakable aromas of botanicals and the bustling energy of the production floor.
Take a tour through various distillery spaces and witness firsthand the meticulous process of gin-making.
From the maceration and distillation stages to the final bottling process, every step is explained in detail, providing a comprehensive understanding of the craftsmanship involved in creating Pickering's Gin. Feel free to ask your questions!
Soak in an engaging educational experience about the history and heritage of gin, and prepare to show yourself off as a connoisseur to your friends!
Through interactive displays and informative presentations, you will learn about the origins of gin, the evolution of distillation techniques, and the role of botanicals such as Juniper in flavor profiles.
The tour's highlight remains the opportunity to sample four exquisite gin flavors.
From classic London Dry to zesty citrus or floral infusions, the tasting session will take you on a sensory journey through the diverse flavor profiles.
Gain insights into the different ingredients, methods, and techniques used to create these exceptional gins, further enhancing their appreciation for the craft.
Round your trip up in style with a complimentary miniature bottle of your favorite sample that you will seal-wax yourself before the tasting.
---
---
Where to book tickets
Tickets for the Pickering's Gin Jolly Distillery Tasting Tour are available online,
Online booking allows you to pick a date in advance for your travel and get a good guide assigned for an enhanced experience.
Online ticket prices tend to be cheaper as they offer amazing deals and discounts.
The tour is very popular, and there are limited slots each week. Booking early helps avoid last-minute disappointment.
When you book early, you also get your preferred time slot.
How do online tickets work?
Visit the booking page of the Gin Distillery Tasting Tour, and select the date, time slot, and number of tickets.
Once the process is complete, the details will be mailed to you.
You do not need to carry a printout for entry.
Show your ticket on your smartphone and enjoy the tour.
Cost of Gin Distillery Tours
Tickets for Pickering'sGin Jolly Distillery Tasting Tour are available for all age groups at £25.
However, this distillery tour is not suitable for ages under 18.
A maximum of eight participants can be booked into a single guided tour time slot.
Tickets for Holyrood Distillery Whisky and Gin Guided Tour are available for adults aged 18 to 99 at £20.
Tickets for children who are 17 and younger are available for £15.
All visitors must carry valid IDs.
Edinburgh Gin Distillery Tour tickets
A ticket to the Edinburgh Gin Jolly Distillery Tasting Tour will give you a hands-on and immersive experience of exploring the intricacies of gin production and indulging in a sensory adventure through the diverse flavors.
In a city legendary for its exquisite distilled spirits, this tour captivates both novices and seasoned gin connoisseurs alike.
Edinburgh Pickering's Gin Jolly Distillery Tasting Tour tickets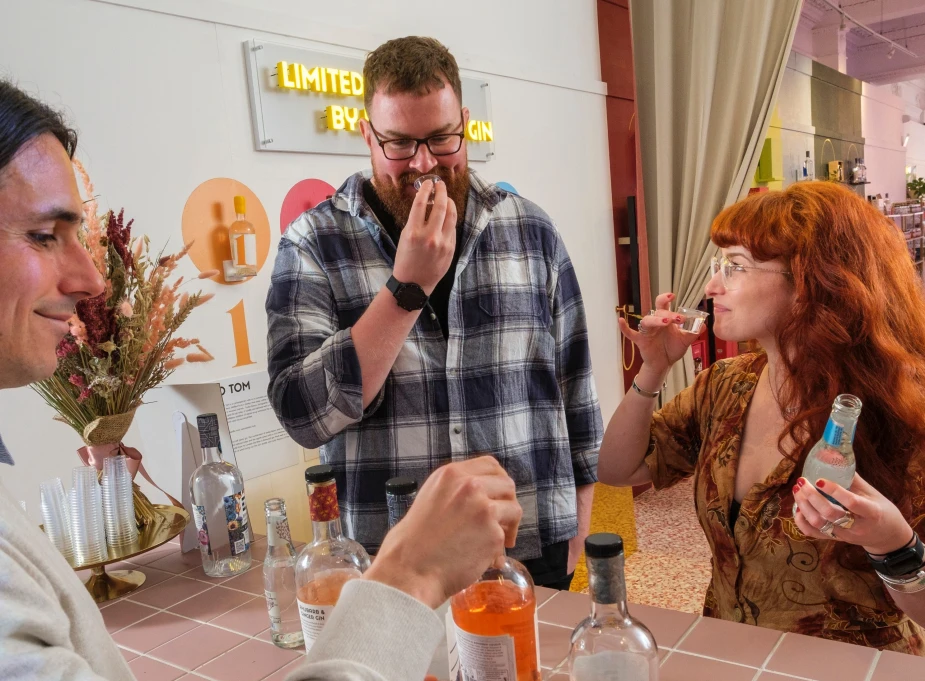 Once the powerful scent of juniper berries and the welcoming atmosphere invite you, knowledgeable guides will take you through the distillation process and reveal the precise technique of making Pickerings' trademark gin.
The tour highlights the carefully chosen botanicals, which give the gin its distinctive flavor and range from tangy citrus peels to delicate floral essences
You will see the glittering copper stills that produce the spirit as the tour progresses and finish with a tasting session of four award-winning gins.
Take a complimentary sample bottle of your preferred flavor home, which you will wax yourself before the tasting.
Ticket Cost: £25
Holyrood Distillery Whisky and Gin Guided Tour tickets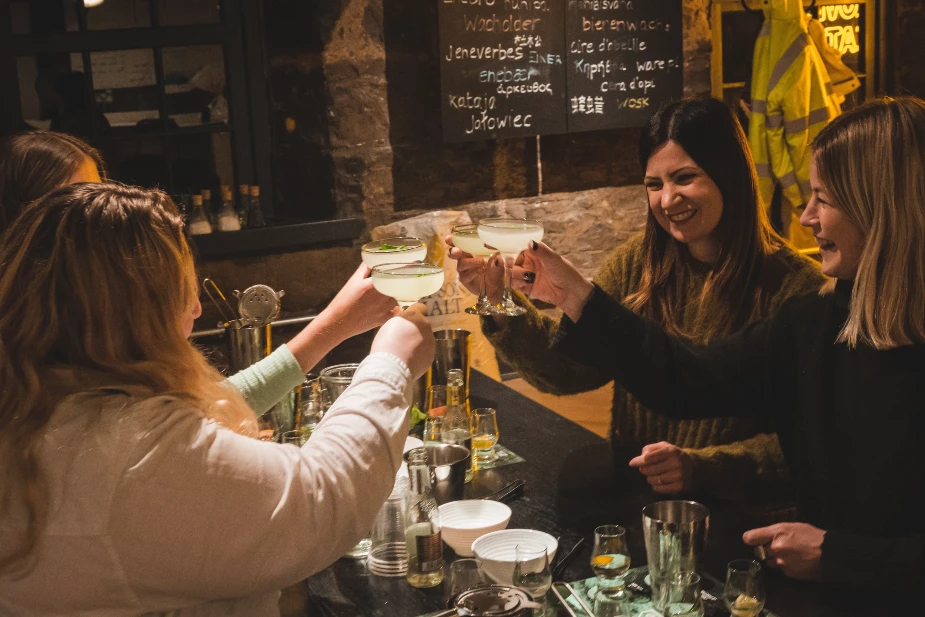 With this tour, you will learn about the traditions and cutting-edge modern techniques in craft distilling, as well as how gin and whisky are made, through a guided tour of Holyrood Distillery.
This sensory journey through the gin and whisky distillery will stop along the way for sampling and nosing sessions!
You can buy more spirits to sip at your leisure with a thorough introduction from your guide at the distillery.
Ticket Prices
Adult Ticket (18+ years): £20
Child Ticket (up to 17 years): £15
Save time and money! The Edinburgh Pass will provide you with the city's best offers, from Edinburgh Castle to the hot taste of whisky in your throat! Aside from three amazing attractions in one convenient package, you'll also receive a personal discount code for a 10% discount for selected activities in Edinburgh!
---
---
Meeting Point
The meeting point of Edinburgh Gin Distillery Tour varies according to the ticket you choose to buy.
So you must check your tickets to confirm the same.
Timings
The timings of Edinburgh Gin Distillery Tour varies from tour to tour.
The slot availability lies strictly at the discretion of the gin distillery.
The plan for all upcoming days and all available time slots can be found on the ticket booking pages.
Best time to go on distillery tour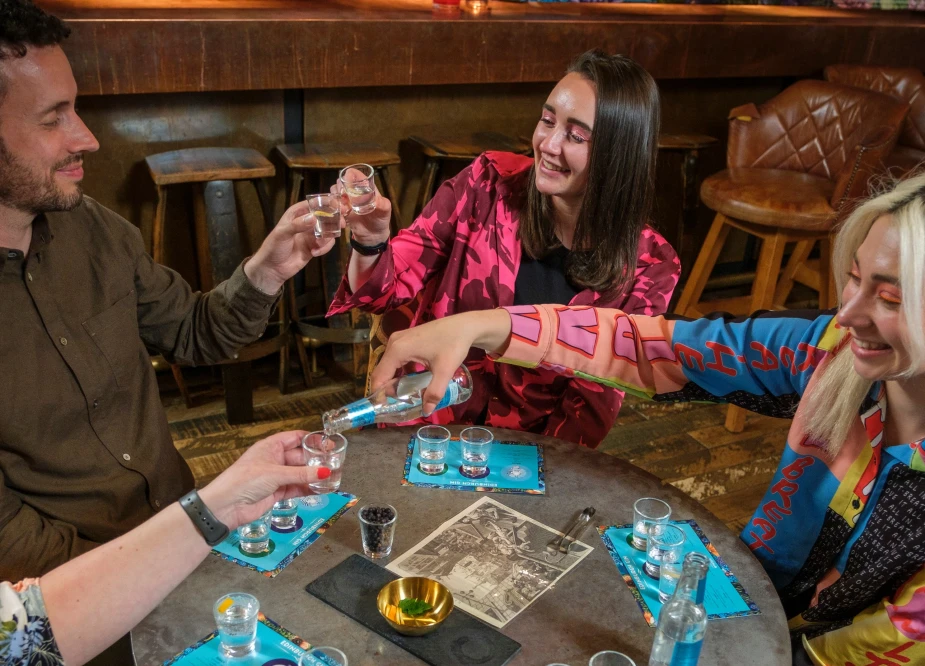 If you plan to end your trip with a few rounds of drinks, the best time to visit the distillery would be early evening.
The best season to visit the Gin Distilleries of Edinburgh is August, at the height of the Edinburgh Fringe Festival, when the gin distilleries curate special tours and events for its visitors!
The distillery is indoors with a controlled atmosphere so you can also visit anytime during the day, depending on your preference.
How long does the tour take
The Edinburgh Gin Distillery tour takes about 90 minutes.
The Holyrood Gin distillery tour takes about 60 minutes.
You can sample the drinks, look at the artifacts, and witness the gin-making process live during this time!
---
---
FAQs about Edinburgh Gin Distillery tour
Here are some frequently asked questions about Edinburgh Gin Distillery tours.
Is the Edinburgh Gin Distillery tour suitable for all ages?
The distillery advises against the presence of minors under 18 as the tour involves sampling alcoholic beverages.
Where will my guide meet me for the Tour of the Gin Distillery in Edinburgh?
Your guide will meet you at the Royal Dick Bar outside the Gin Distillery!
Is the Pickering Gin Distillery disability-friendly?
Yes, the Gin distillery in Edinburgh provides wheelchair access.
Can I purchase the gin?
Yes, there is an option to buy the drink and other merchandise at Edinburgh's Gin Distillery.
Sources
# Edinburghgin.com
# Visitacity.com
# Tripadvisor.com

The travel specialists at TheBetterVacation.com use only high-quality sources while researching & writing their articles. We make every attempt to keep our content current, reliable and trustworthy.
Popular attractions in Edinburgh