With more than 2 million visitors annually, Edinburgh Castle is Scotland's most visited tourist attraction.
Resting on Castle Rock, the historic fortress has dominated Edinburgh's skyline for the last 900 years.
The castle has a rich history dating back to the 12th century and has played a crucial role in Scotland's history. It has been the residence of kings and queens, a military garrison, a prison, and a military hospital.
The Scottish National War Memorial is also located within the castle and is dedicated to Scottish soldiers who died in various conflicts throughout history.
Edinburgh Castle had been the site of constant conflict between England and Scotland for hundreds of years, so it was almost always under siege.
In this article, we explain everything you must know before you book your Edinburgh Castle tickets.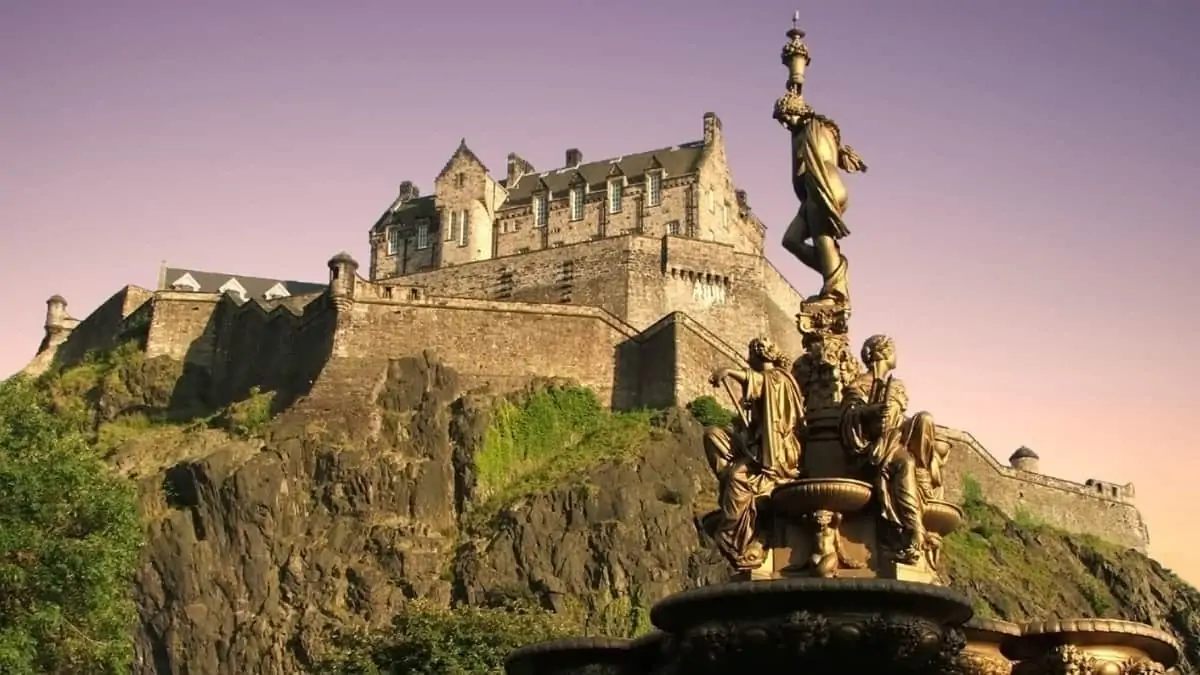 Is Edinburgh Castle free?
For most tourists, entry to Edinburgh Castle is not free.
But visitors qualifying for the below conditions can enter the Castle without buying a ticket. They –
Are four years and less and are being accompanied by a ticket-purchasing adult
Are accompanied by a Historic Scotland life member
Are still serving (or served) in the British Army
Hold the Historic Scotland Explorer Pass
Have the Royal Edinburgh Ticket, which is a great way to save money
---
---
Edinburgh Castle ticket prices
Edinburgh Castle guided tour tickets cost £33 for all adults aged 16 to 59 years.
Kids aged 5 to 15 years get a £7 discount and pay a reduced price of £26 for entry, while the younger kids enter for free.
Seniors aged 65 years and above also get discounts on their Edinburgh Castle tickets and pay only £30 for entry.
Edinburgh Castle tickets discount
The most significant Edinburgh Castle discount is reserved for kids four years and below – they don't need tickets to enter.
The next best reductions are reserved for kids aged 5 to 15 years, who get a 35% discount and pay only £26 to enter .
Seniors 65+ years get a £3 reduction on ticket prices.
---
---
Edinburgh Castle tickets
Here are a few things you must know about Edinburgh Castle tickets before you book them.
Edinburgh Castle tickets are timed
Tickets at Edinburgh Castle are timed, so you must opt for a time slot while booking the ticket.
To gain entry, you must be at the Castle's entrance within 30 minutes of the time mentioned on your ticket.
When you book your tickets online and in advance, you can get your preferred time slot better.
Smartphone tickets are accepted
You don't need to worry about carrying a printout of the ticket.
You can show your tickets in your email or mobile and walk into the Castle.
Booking in advance helps
Edinburgh Castle gets more than two million visitors every year, and that's an average of 5500 tourists every day.
During peak season and weekends, this number goes up drastically.
That's why purchasing Edinburgh Castle tickets at least one to two weeks in advance is better.
There are many ways to explore Edinburgh Castle, and we explain all of them below –
Edinburgh Castle entry tickets at the gates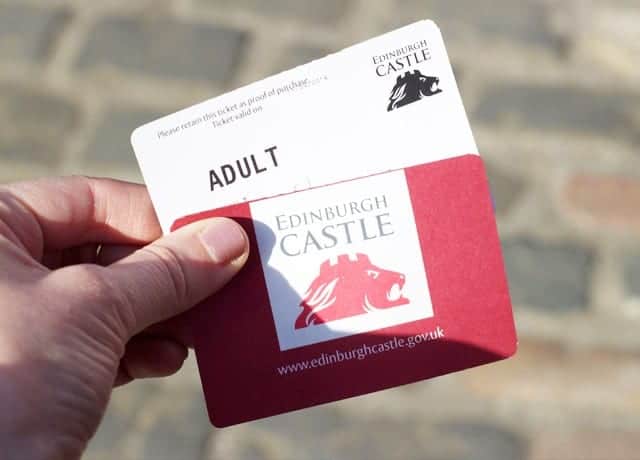 The cheapest way to enter Edinburgh Castle is by getting the tickets at the gates.
The tickets get you access to all attractions within Edinburgh Castle, including the National War Museum, Stone of Destiny, Crown Jewels, One O'Clock Gun, etc.
With this ticket, you also qualify for the 30-minute free guided tour (in English), which gets offered on a first-come, first-serve basis.
Ticket price
| Type of Ticket | Gate Price |
| --- | --- |
| Adult (16 to 64 yrs) | £21.00 |
| Concession (65+ years and unemployed) | £17.00 |
| Child (5 to 15 years) | £12.50 |
| Family (1 adult, 2 children) | £41.50 |
| Family (2 adults, 2 children) | £60.50 |
| Family (2 adults, 3 children) | £72.00 |
However, we don't recommend this because tickets often sell out far in advance – at least a week in advance, especially during the summer months.
Once tickets are sold out, no additional tickets will be available at the castle.
During the peak months, you may also have to wait in long queues (up to an hour!) to buy these tickets.
This is why we recommend the guided tour of Edinburgh Castle.
Edinburgh Castle guided tour
During this Edinburgh Castle tour, a local history expert helps you skip the long lines and takes you around the attraction.
The guide narrates stories of the kings, queens, lovers, and soldiers that lived behind the fortress walls during this 90 minutes tour.
It would be best if you chose between 10.30 am and 2 pm time-slot.
After the guided tour, you can continue exploring the insides of the Castle.
Ticket price
Adult ticket (16+ years): £42
Child ticket (5 to 15 years): £32
Infant ticket (up to 4 years): Free entry
Check out this guided tour if you want a 10 am start or want the guide to speak in Spanish or German.
If you prefer an elaborate private tour of Edinburgh Castle of 8 hours, check this out.
Three Royal attractions + bus tour
This combo is the 48-hour Royal Edinburgh Ticket and is a real money saver.
If you are visiting Edinburgh for the first time, we highly recommend this Royal attractions combo.
This ticket gets you to access three of the best attractions in the city:
Edinburgh Castle
Royal Yacht Britannia
Palace of Holyroodhouse
And to top it all, you also get unlimited travel for 48 hours on three of Edinburgh's hop-on-hop-off bus tours.
Bonus: If you don't want to step into Edinburgh Castle but want an excellent tour of the historical, cultural, and architectural aspects of the city, check out this guided walking tour.
---
---
Best time to visit Edinburgh Castle
The best time to visit Edinburgh Castle is when they open at 9.30 am.
When you start early, you avoid the long entry lines and the crowd at the exhibits inside and use pleasant weather.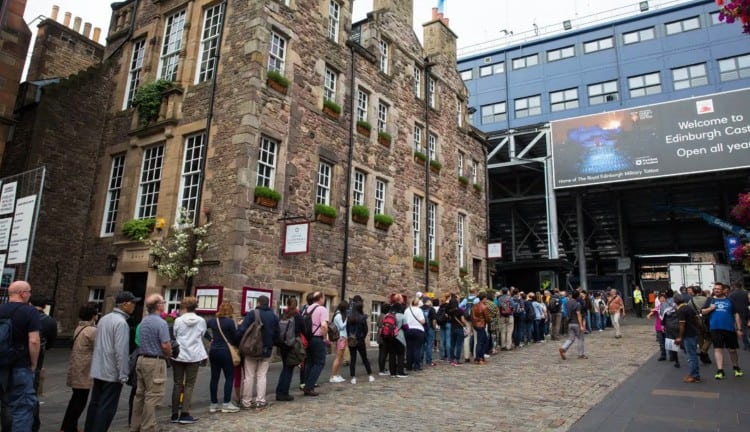 Starting early helps you explore the Castle for three hours (with a cafe stop thrown in) and reach the One o'clock Gun's place 15 minutes in advance to get a vantage position.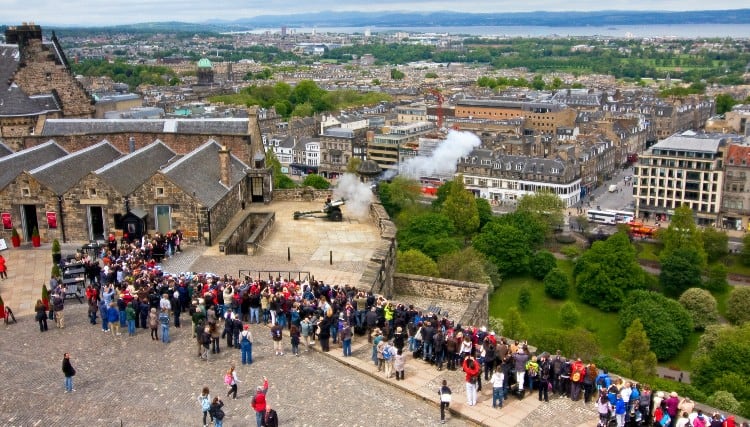 There are three types of Edinburg Castle tickets you can buy –
*Access Edinburgh Castle, the Royal Britannia and Holyrood Palace with one ticket
Second best time to visit Edinburgh Castle
If you can't make it in the morning, the next best time to visit Edinburgh Castle is after 2.30 pm.
By late afternoon, the massive crowd that had stayed on for the booming gun had left.
And even the large tour groups, most active between 10 am and 3 pm, have already left or are just going.
This recommendation works perfectly during summer because the Castle closes at 6 pm.
However, during winter, you may get only two and a half hours to explore the Castle because it closes at 5 pm.
Worst time to visit Edinburgh Castle
One of Edinburgh Castle's highlights is the One o'clock gun, fired at 1 pm every day except Sunday.
Many tourists want to experience this, and that's why this time of day sees the biggest crowds, especially on a Saturday.
---
---
How long does Edinburgh Castle take
If you buy your tickets in advance and don't waste time standing at the ticketing counter, you can explore Edinburgh Castle in two hours.
Visitors who love their own pace are known to start early, take up to 3 hours to walk around the Castle, and then witness the One o'clock gun at 1 pm to finish their tour with a bang.
Buying Edinburgh Castle tickets online, saves you up to an hour of waiting in the ticket counter lines. Since there is a lot of walking inside the Castle, buying tickets in advance helps you preserve energy.
---
---
Free guided tours at Edinburgh Castle
All Edinburgh Castle ticket holders qualify for the free guided tour of the Castle, offered by the resident guides throughout the year.
During summer, the tours set off every 30 minutes and every hour during winter.
From April to September, the first tour starts at 9.45 am, and the last set off at 4 pm.
During the winter months of October to March, the first free tour starts at 10 am, and the last one is scheduled for 3.10 pm.
These tours last 30 minutes, after which you can continue exploring the Castle independently.
Go to the meeting point, through the Portcullis Gate, past the audio booth, where a clock on the right tells the next guided tour.
Find out what's inside Edinburgh Castle before your visit.
---
---
Edinburgh Castle audio guide
Edinburgh Castle now has a brand new audio guide with stalwarts such as Saoirse Ronan, Bill Paterson, and Andrew Gowar, taking you on a fascinating journey to learn about the Castle and its people, and events.
You can hire the audio guide in the language of your choice from the audio booth. The prices are –
Adults: £3.5
Discounted ticket holders: £2.5
Kids: £1.5
The guides are available in English, Brazilian, Portuguese, French, Korean, Polish, Russian, German, Italian, Japanese, Simplified Chinese, and Spanish.
---
---
Edinburgh Castle entrance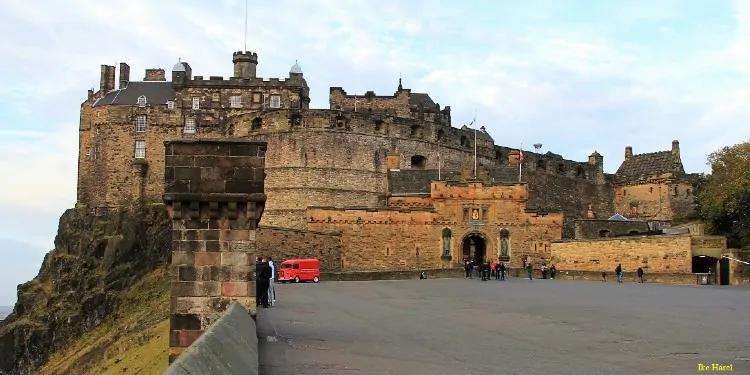 Edinburgh Castle's Esplanade
Right in front of the main entrance of Edinburgh Castle is the Castle's Esplanade, an ample open space at the end of the Royal Mile.
From this Esplanade, around 300 'witches' got burnt in the 15th and 18th centuries.
Just outside the Edinburgh Castle entrance, you can spot a small cast-iron fountain called the Witches' Well, which stands testament to one of Edinburgh's darkest periods.
Today, this Esplanade gets used for the Edinburgh Military Tattoo, which takes place every summer.
To go beyond the Castle's main gate, you need tickets.
Once inside the main entrance, you will also pass through Portcullis Gate, the principal entrance to Edinburgh Castle.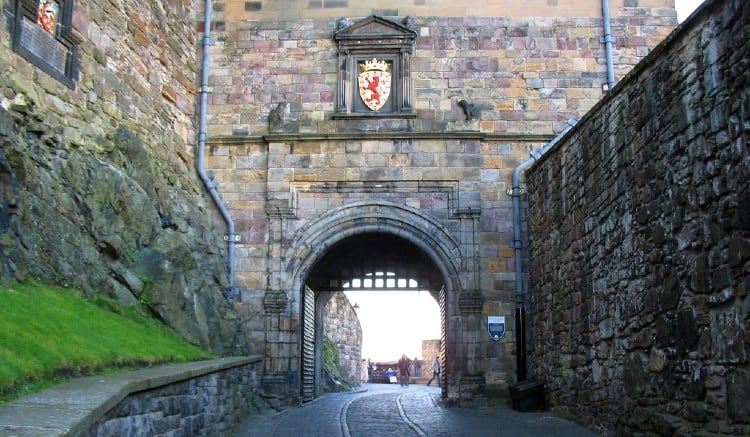 Notice the Lion Rampant crest above the entrance.
---
---
Edinburgh Castle hours
During the summer months (1 Apr to 30 Sep), Edinburgh Castle opens at 9.30 am and closes at 6 pm.
In winter (1 Oct to 31 Mar), the Castle continues to open at 9.30 am but closes early at 5 pm.
The last entry is always one hour before closure.
Cafe timings
Redcoat Cafe opens at 9.30 am every day of the year and closes at 4 pm.
The Tea Rooms open at 10.30 am and close at 4 pm daily.
When is Edinburgh Castle closed?
The Castle is closed on 25 Dec (Christmas) and 26 Dec (Boxing Day).
On 1 Jan, the Castle opens late – at 11 am and closes at 5 pm.
---
---
Edinburgh Castle map
Edinburgh Castle is massive – at 35,737 square meters, it is one of the world's top ten largest Castles.
If you have booked an Edinburgh Castle guided tour, there is no need to worry because your guide will know their way around.
However, if you have booked the Hop-on-Hop-off Bus Tour, we recommend taking a printout of the map below or at least bookmarking this page for future use.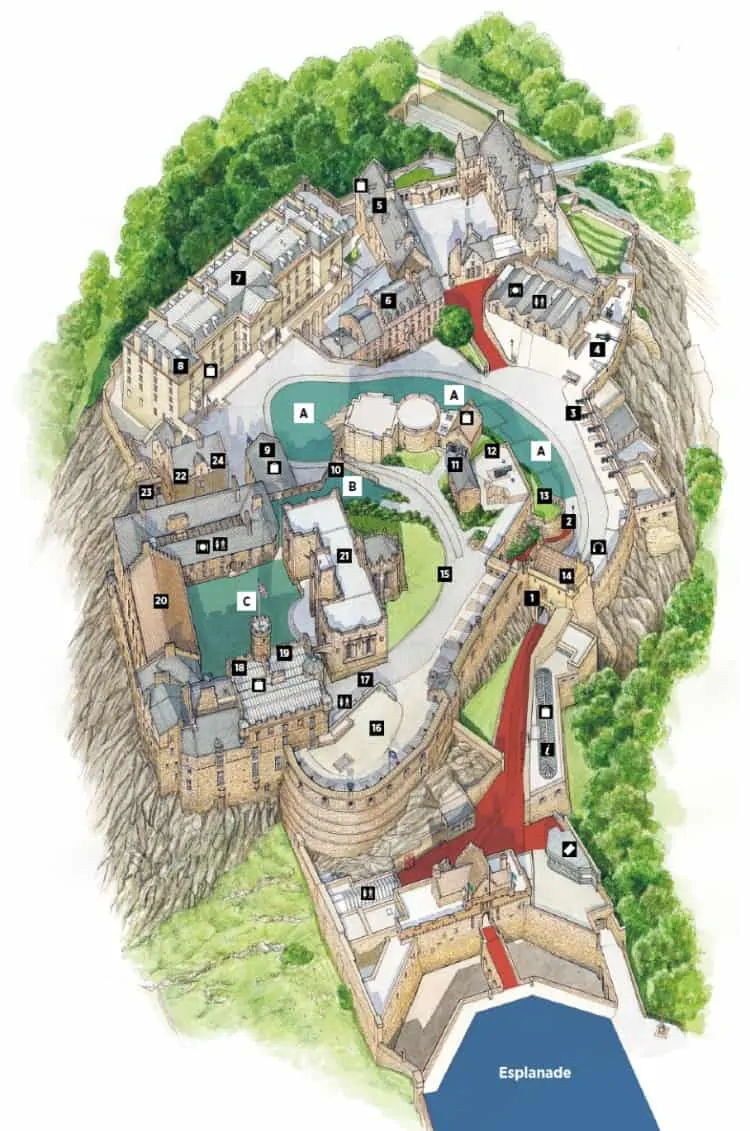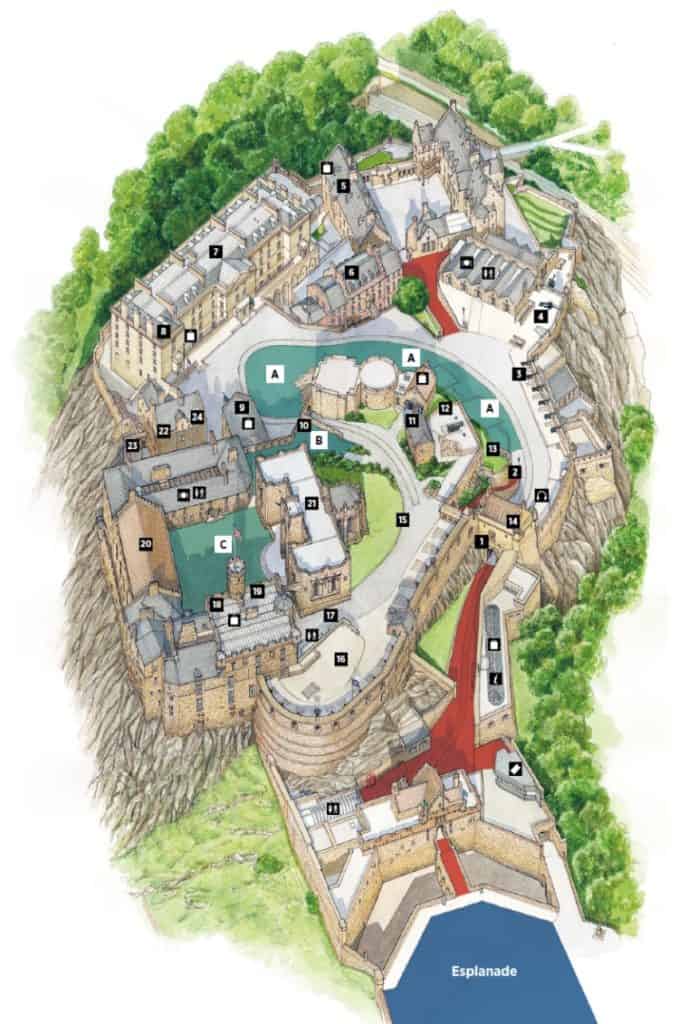 KEY to Edinburgh Castle's plan shown above:
Portcullis Gate
Lang Stairs
Argyle Battery
One O'Clock Gun
National War Museum
Governor's House
New Barracks
The Royal Scots Dragoon Guards Museum
Museum of the Royal Scots and Royal Regiment
Foog's Gate
St Margaret's Chapel
Mons Meg
Dog Cemetery
Argyle Tower
Forewall Battery
Half Moon Battery
David's Tower
Royal Palace
The Crown Jewels
Great Hall
Scottish National War Museum
Prisons of War Exhibition
Dury's Battery
Military Prison
---
---
Tripadvisor reviews
Edinburgh Castle is one of the United Kingdom's top five attractions.
Tripadvisor users have consistently ranked this highly rated (4.5 out of 5) Castle as the best landmark outside London.
The three attractions ahead of Edinburgh Castle are the Tower of London, Tower Bridge, and Big Ben – all in London.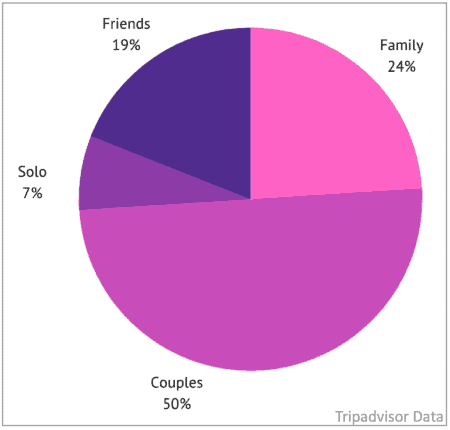 Fifty percent of the tourists who visit Edinburgh Castle are couples.

This world famous icon of Scotland is also popular with families and groups of friends.
Edinburgh Castle reviews
We have selected two Tripadvisor reviews to give you a sense of what the visitors loved during their visit to Edinburgh Castle.
It is beautiful
You have to visit Edinburgh Castle. It is amazing. We purchased our tickets in advance and got there right when it opened to avoid the crowds. We spent about 4 hours there. So much history, beautiful views… it is simply amazing. Wear comfortable walking shoes, it is physically challenging, but we just took our time and had no issues. It is a must-do in Edinburgh. Mslowin, Florida
Historic must see!
Edinburgh Castle is a must while in Edinburgh. Plan on spending the entire day. Please take the time to enjoy all the fabulous views and museums at this location. Be sure and catch one of the guided tours to take in all the history. The site does a good job posting guides in areas to ask questions. Afternoon tea was also a significant part of our visit. The food and service were outstanding. – Gennyvandorn, Oklahoma
---
---
How to reach Edinburgh Castle
Address: Edinburgh Castle, Castle hill, Edinburgh, EH1 2NG. Get Directions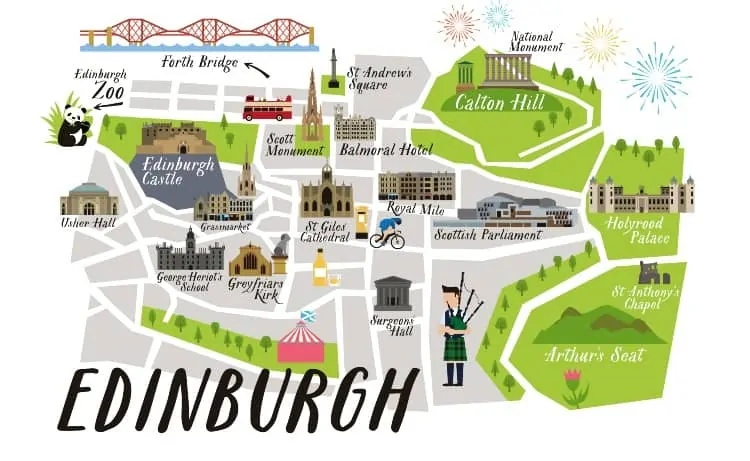 By Train
Edinburgh has two main stations – Waverley and Haymarket.
Edinburgh Castle is 10 minute uphill walk from Waverly, the closest train station. The elevation gained is 50 meters (160 feet).
Haymarket Station is west of Princes Street and is 1.6 Km (1 mile) from the Castle. A brisk 20-minute walk gets you to the attraction.
We suggest you travel to these stations on Scotrail's trains.
By Bus
Lothian and First are the two most popular companies which run Edinburgh's public bus transport.
Both share the same bus stops, but the bus numbers differ, and each company has a ticket.
The day buses start at 6 am and run till midnight.
You will need change to buy tickets from the small vending machines on the buses.
To get to Edinburgh Castle, you must board a bus with either The Mound or George IV Bridge on its route.
From The Mound (Stop MD), the Edinburgh Castle is a seven minutes walk, and from the George IV Bridge stop, it is a six-minute walk.
Both the popular hop-on, hop-off bus tours in the city – the Edinburgh Bus Tour and City Sightseeing Bus Tour – stop at Edinburgh Castle.
Airport to Edinburgh Castle
If you plan to travel from Edinburgh Airport to the Castle, you can take the Airlink 100 express bus, which offers frequent departures, comfortable seating, and free WiFi.
The bus takes 25 minutes to reach Waverley Bridge, five minutes from Edinburgh Castle.
The Airlink 100 express bus operates from 4.30 am to 11.55 pm.
One-way ticket costs £4.50 and round trip ticket cost £7.50.
Booking your Edinburgh Airport to Edinburgh Castle bus ticket in advance is better. Book Now
Edinburgh Castle parking
Edinburgh Castle doesn't have any space where visitors can park their cars.
The nearest on-street parking is available at NCP Castle Terrace car park, which offers a discounted rate for tourists visiting the Castle.
If you validate your parking token at the Castle's audio booth, you get a reduced price of £10 for 5 hours.
Click here to know more about the nearest parking lots.
---
---
Edinburgh Castle FAQs
Tourists visiting Edinburgh Castle have a lot of questions, and we try to answer some of them.
When was Edinburgh Castle built?

Castle Rock, the volcanic plug in the middle of Edinburgh upon which Edinburgh Castle sits, had been a military base for many centuries. 

However, in the 12th century, David I, son of Saint Margaret of Scotland, built the first Royal settlement, which many believe was the first version of Edinburgh Castle.

On what is Edinburgh Castle built?

Edinburgh Castle rests on Castle Rock, formed 350 million years ago. It is 130 meters (430 ft) above sea level, with rocky cliffs to the South, West, and North and accessible routes on the East.

Who owns Edinburgh Castle?

The Scottish Government owns Edinburgh Castle, and Historic Environment Scotland (HES) controls it.

HES is an organization responsible for investigating, caring for, and promoting Scotland's historic environment and, as a result, managing all the country's monuments.

Who built Edinburgh Castle?

David I, son of Saint Margaret of Scotland, built the first Royal settlement, Edinburgh Castle.

How old is Edinburgh Castle?

Edinburgh Castle was built on Castle Rock in 1103, making it more than a 900-year-old Castle.
Popular attractions in Edinburgh