The Real Mary King's Close is one of the best underground tours in Edinburgh.
Hidden beneath the Royal Mile, Mary King's Close is a collection of streets, homes, and passageways offering a glimpse of life in the city of Edinburgh in the 17th century.
Guided tours at this highly-rated attraction help visitors learn about the myths and mysteries surrounding the people who lived, worked, and died here.
In this article, we explain everything you must know before booking your Mary King's Close tickets.
A 'Close' is a residential street without through access. It is a Scottish term to refer to ancient narrow streets that lie beneath Edinburgh's High Street and Royal Mile.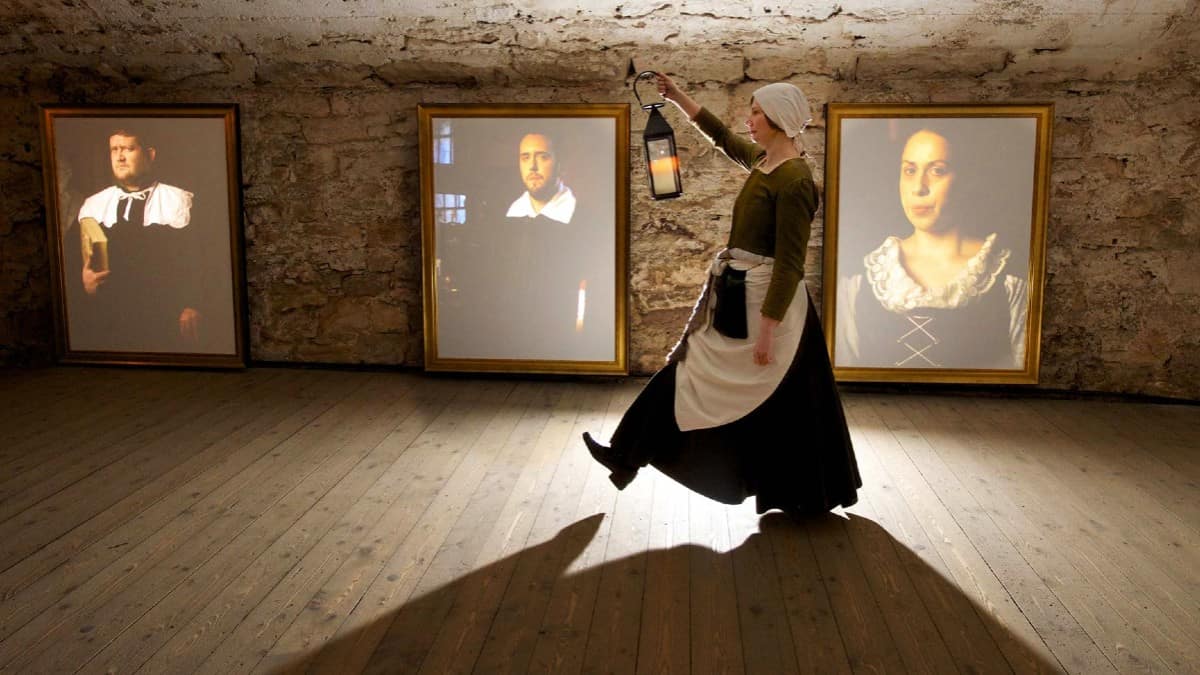 What to expect at Mary King's Close
Mary King's Close is not a regular tourist attraction. Watch the video below to know what to expect.
---
---
Mary King's Close tickets
To guarantee entry on the date and at the time of your choice, you must buy your Mary King's Close tickets online in advance.
Within two minutes of purchase, the ticket gets emailed to you, and on the day of your visit, just show it on your mobile and walk in.
No need to take printouts.
For a full refund, you can cancel these Mary King's Close tickets 24 hours before your scheduled tour.
Mary King's Close tickets come in two flavors – you can book only the tour, or the underground tour, and an afternoon tea at their classic Coffee House.
Ticket discounts
On Mary King's Close adult ticket, which costs 17.95 Pounds, senior visitors (60+ years) and students (with valid ID cards) get a 2 Pound discount per person.
Kids aged 5 to 17 get a massive discount of 6.7 Pounds on their tickets – they pay only 11.25 Pounds.
Ticket price
Adult ticket (18 to 59 years): 17.95 Pounds
Senior ticket (60+ years): 15.95 Pounds
Student ticket (with ID): 15.95 Pounds
Child ticket (5 to 17 years): 11.25 Pounds
Cost of Mary King's Close tour + afternoon tea
Adult ticket (up to 59 years): 29 Pounds
Senior ticket (60+ years): 26.75 Pounds
---
---
How to reach Real Mary King's Close
Real Mary King's Close is on the Royal Mile, almost opposite St Giles' Cathedral.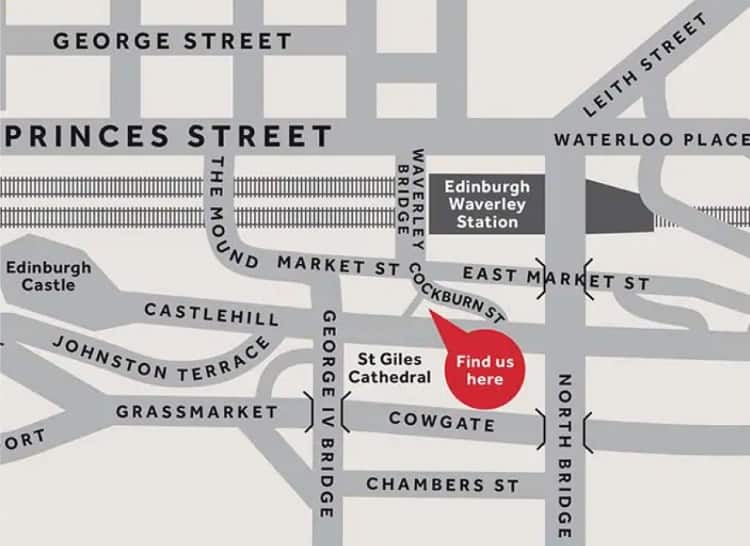 Address: The Real Mary King's Close, High Street, 2 Warriston's Close, Edinburgh, EH1 1PG. Get Directions
By Bus
You can take Lothian Bus No 31 (East Craigs – Bonnyrigg) or Bus No 37 (Silverknowes – Deanburn or Ladywood) and get down at High Street.
A five-minute walk from the High Street bus stop takes you to Real Mary King's Close.
If you board Bus No 22, get down at Waverly Steps and walk eight minutes to reach Mary King's Close.
Airport to Mary King's Close
From Edinburgh airport you must board 100 Airlink bus, which is also known as the City Center Express.
After ten stops and 23 minutes, the bus reaches its destination – Waverley Bridge.
From the Bridge, a four minutes walk gets you to Real Mary King's Close, Edinburgh.
By Train
Edinburgh Waverley Station is the primary station serving Edinburgh and is just 300 meters (.2 miles) from Mary King's Close.
For train timings and prices, check Scotrail.
By Car
If you want to reach this Royal Mile attraction by car, it is best to use Uber, Central Taxis, or City Cabs.
Car parking options are limited in Edinburgh Old Town.
If you still insist on bringing along your car, check out Edinburgh Council's website for parking slots.
---
---
Real Mary King's Close entrance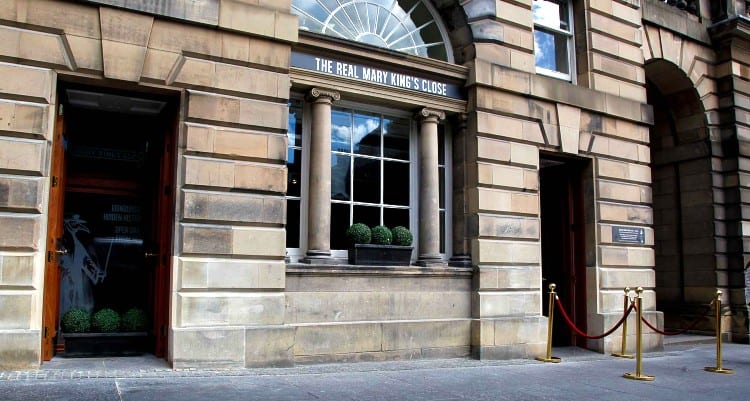 Real Mary King's Close is almost opposite St Giles' Cathedral, on the Royal Mile.
Look out for the above entrance.
The Royal Mile is sloped but is relatively level at the main door of the attraction.
---
---
Real Mary King's Close opening hours
The Real Mary King's Close is open on all days of the week, but the timings vary according to the season.
During the peak months (1 Apr to 31 Oct), the first tour at Real Mary King's Close starts at 10 am, and the last tour begins at 9 pm.
During the lean months (1 Nov to 31 Mar), the attraction continues to schedule its first tour at 10 am, but the timing for the last tour of the day varies during the week.
From Sunday to Thursday, the last tour of the day is at 5 pm, and on Friday and Saturday, the day's final tour starts at 9 pm.
Real Mary King's Close is closed on Christmas Day.
---
---
How long does Mary King's Close take
Visitors usually spend 90 minutes at Mary King's Close.
It would be best if you reached the attraction at least 15 minutes before the allocated tour time.
While waiting for your tour to start, you can explore the exhibition and learn about life in Real Mary King's Close.
The fully guided underground tour takes 60 minutes, after which you get back upstairs.
You need an additional half-hour if you step inside Royal Exchange Coffee House, the Cafe at Mary King's Close.
If you plan to visit the Coffee House, it is better to book the combo ticket, which includes the afternoon tea and access to the attraction.
---
---
Mary King's Close tour in Edinburgh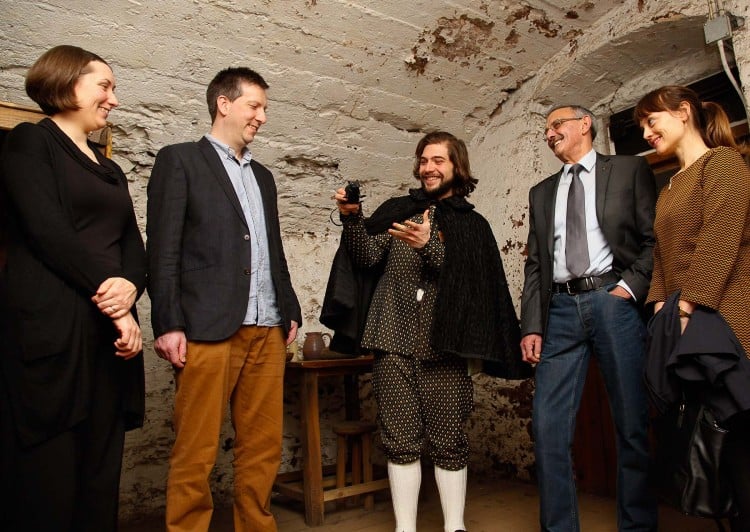 Here is everything you must know about Mary King's Close tours before you book your tickets.
1. These tours are not suitable for children under five years of age. There is talk of ghosts and haunted space, and that's why younger kids aren't allowed to join in.
2. As part of the Mary King's Close tour, you must climb up 58 steps and climb down 38 steps. Since this is an underground tour, there are no lifts.
3. The walking surface is often uneven, and there are steep inclines in some places, and that's why we recommend comfortable and sturdy shoes.
4. Many areas of the underground alleys are dimly lit to re-create the dramatic effect of life in Mary King's Close, in the 17th century. As a result, some visitors are known to experience disorientation and claustrophobia.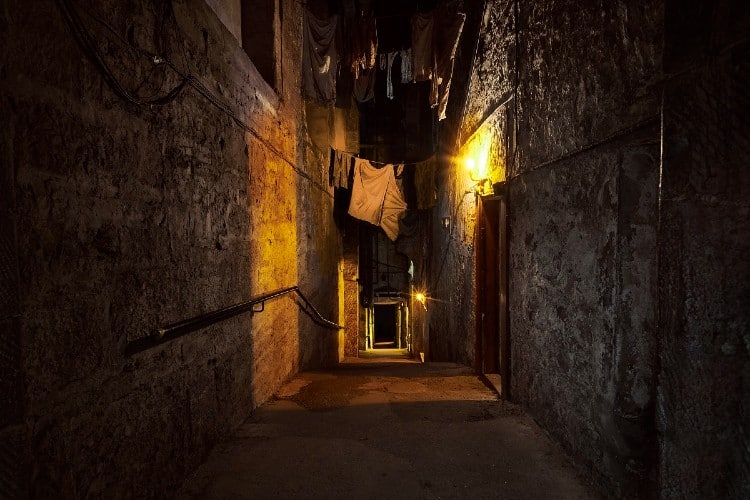 5. But you needn't worry because the guide walking you through the tour will have two-way radios and can call in another member to assist you back to the reception.
6. Mary King's Close guided tour is narrated through the eyes of four characters – Agnes Chambers (the maid), Robert Fergusson (the poet), Walter King (the plague cleaner), and John (the plague Doctor). We write about the Mary King's Close characters in detail below.
7. The Real Mary King's Close is unsuitable for wheelchair access. For more on accessibility, click here.
8. Since the Real Mary King's Close is an underground attraction, visitors with asthma must bring along their medication/inhalers.
9. Tourists under the influence of alcohol are not allowed to join the tour, even if they hold valid tickets.
10. Visitors can't take photographs during the underground tour.
---
---
Real Mary King's Close audio guide
If you understand English, you wouldn't need an audio guide while visiting Mary King's Close because a 'character' guide is always with you.
However, if you prefer tour guidance in another language, you can opt for an audio guide in – French, Mandarin, Spanish, Italian, Polish, Portuguese, Hungarian, Dutch, or German.
The audio provides an overview of the tour but is not an exact character guide interpretation of the experience.
To reserve an audio guide, you must email the attraction in advance. Get in touch with contact@realmarykingsclose.com.
---
---
Characters at Mary King's Close
The Mary King's Close tour is brought to life by actors, portraying four characters from different professions, that lived in the Close during different times.
Agnes Chambers, the maid
Agnes is a maid in the household of prominent merchant burgess Alexander Cant.
Her story unravels in 1534 when murder gets committed in Craig's Close, and too many things happen too fast.
Robert Fergusson, the poet
Robert is a well-known poet living in Mary King's Close and the literary inspiration to Robert Burns.
His story unravels in 1771, just before he joined the infamous Cape Club.
Three years later, he would sustain a brain injury because of a fall down a flight of stairs, get admitted to a 'hospital,' and pass away when just 24 years old.
Walter King, the foul clenger
A Foul Clenger can also be referred to as the 'Plague Cleaner', for they were responsible for cleaning the plague victim's home following an outbreak.
Walter's story unravels in 1645 during the deadly plague epidemic.
His efforts of keeping the Mary King's Close clean hardly got any appreciation.
His only safety precaution – the Cross of St Andrew on his uniform.
Joannes Paulitius, the Doctor
Joannes was a pioneer of emerging medical sciences in Edinburgh.
Edinburgh City Council recruited him to treat the plague infected for a handsome salary of £8o Scots per month.
Unfortunately, he caught the Plague himself and died soon after.
---
---
What is Mary King's Close – the full story
The Real Mary King's Close is a cluster of underground streets, housing people of all classes since the 17th century.
It got its name because of Mary King, a rich merchant woman who was the most prominent citizen living in these streets from 1635 onwards.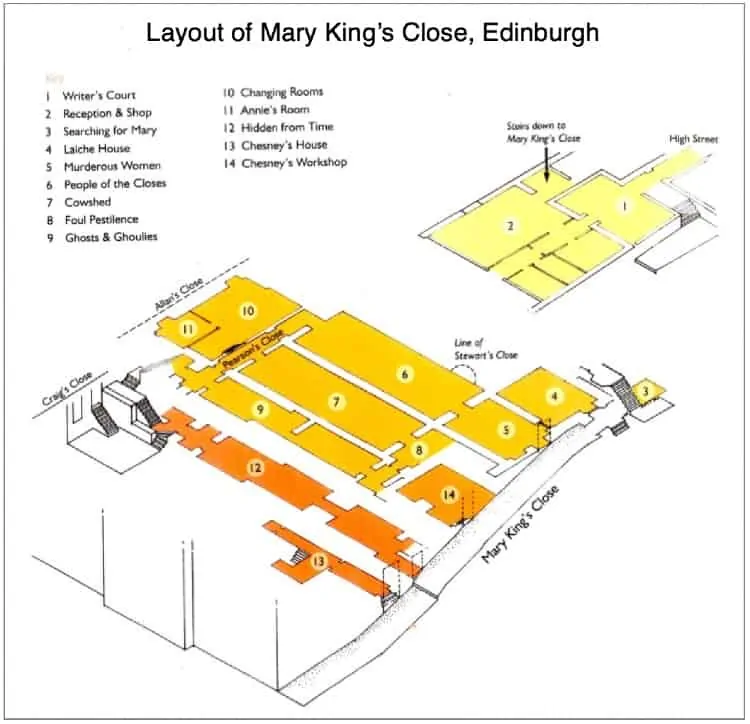 Many believe Mary King's Close was one of the first sky scapers in the World.
Back then, cleanliness wasn't a priority, and the situation was even worse in Closes, where the poor lived.
Unsanitary living conditions resulted in an influx of flea-infested rodents, and by 1645 the city of Edinburgh witnessed the dreaded bubonic plague.
Many, including those living in Mary King's Close, died.
Those infected by the plague had swollen glands, bulbous puss-filled boils on the groin area, and under the arm and severe bouts of vomiting.
Precautions got taken to avoid the spread. For instance, infected people weren't allowed to step out of their homes.
White rags hung outside the houses of plague victims to indicate that they needed food supplies.
John Paulitious was the first plague doctor of Edinburgh, but he died in June 1645 after contracting the disease.
Dr. George Rae was a medical pioneer and Edinburgh's second official plague doctor, who rose to the occasion and saved many patients from certain death.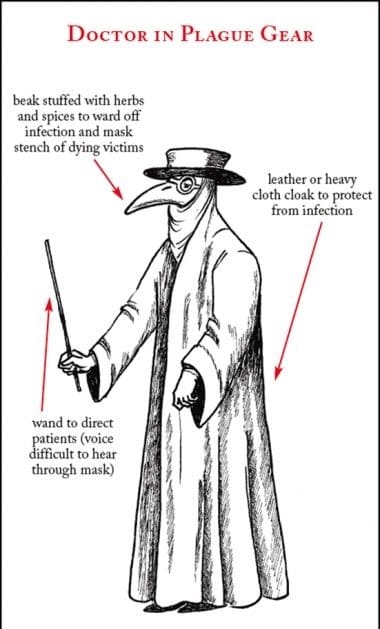 Since he knew that it was easy to get infected, he decided to clothe himself in a scary-looking thick leather coat to prevent the fleas from biting him.
He also wore a bird-like mask, which had sweet-smelling herbs in the front, to protect himself from the foul smell and germs.
Although the Edinburgh plague was mostly airborne, the leather protected Dr. George Rae from rat and flea bites. Image: Plaguedoctors.tumblr.com
For the risk he took and the effort he put in during the bubonic plague, he was to receive a lot of money from the city council.
The Edinburgh town council never intended to pay the money promised to Dr. Rae because they didn't expect him to survive the plague.
But he did survive and also saved a lot of the city people.
Some say the Doctor never got the money.
Others believe that he fought a case against the Council, and after a decade or so, got what was due to him.
Life continued like this for another 100 years, and by 1750 Mary King's Close was unbelievably dirty, overcrowded, and in a state of decay.
Around this time, the Old City authorities were worried about losing trade to Edinburgh's New Town, so they agreed to build a Royal Exchange right opposite St Giles Cathedral.
This spot was exactly where Mary King's Close with its streets and houses stood.
The builders didn't knock down the houses. Instead, they took the top floors off and used the lower levels as the Royal Exchange's foundations.
The other end of Mary King's Close got demolished in 1853 to build Cockburn Street.
Since the ground slopes in that region, the houses closer to the Royal Mile got destroyed, but those further away got buried intact.
Even though it was buried under the Royal Exchange, people didn't abandon Mary King's Close completely.
Some residents continued to live and run their businesses out of the houses in this half-buried Close.
The Chesney family, who made saws for a living, were the last to vacate the Close.
In 1902, they got forced out as the Royal Exchange building – now the City Chambers – was extended.
Everything got forgotten for exactly a century, but then in 2003, Mary King's Close welcomed visitors for the first time to step down and explore Edinburgh's past.
Today, tourists can book their Mary King's Close tickets and tour these underground streets of Edinburgh.
---
---
Annie and her Doll
Annie, the little girl, is Mary King's Close most famous ghost.
In the 90s, the Japanese psychic, Aiko Gibo, visited The Real Mary King's Close while making a film about Britain's haunted places.
When she tried to step into a room that belonged to Mary King's Close and was very close to Allan's Close, she felt a lot of pain and unhappiness.
She just couldn't step in.
She could feel a small child tugging at her trousers — a girl who had been separated from her family and now wanted to be reunited with them.
Finally, with a lot of effort, Aiko Gibo could step in.
Once inside the room, the world-renowned psychic could communicate with the young girl's spirit.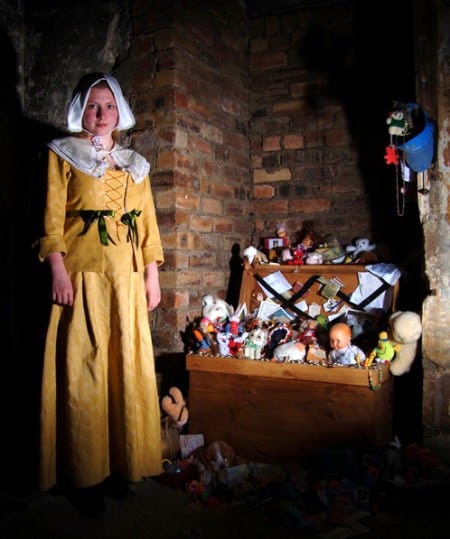 Aiko said, "Her name is Annie, and she has lost her favorite doll. She is very sad."
The very next day, the Japanese psychic bought a doll from the local Royal Mile shop and returned to Annie.
After receiving the doll, Annie is supposed to have told Aiko that her spirit won't disturb Mary King's Close as long as the doll was with her.
Once visitors came to know Annie's sad story, they started bringing in dolls and other toys.
Now the room, named after her, is full of gifts left for Annie.
Many visitors report temperature changes and feeling a strange presence in her room.
Some attribute it to the 10-year-old girl named Annie, while many others say it is just a story that got them pumped up.
---
---
How haunted is Real Mary King's Close
The Real Mary King's Close is considered by many as one of the most haunted places in Scotland.
Tales of ghost sightings have dated back to 1685.
Some blame the Mary King's Close ghost sightings on Nor Loch, a stagnant and highly polluted marsh nearby.
They say the biogas escaping into the Close ends up creating eerie lights and sounds, making people believe in spirit sightings.
Many also believed that the gas escaping into the Closes nearby was known to cause hallucinations.
Watch this documentary below to find out bone-chilling stories about Mary King's Close –
Popular attractions in Edinburgh