Edinburgh is renowned for its rich history, spooky stories, and atmospheric graveyards.
Visiting Edinburgh's graveyards is a fascinating and eerie experience.
As you wander the narrow lanes, peering into centuries-old mausoleums, imagine how all these silent spaces could hold dark secrets.
The Edinburgh graveyard tours offer a unique glimpse into the past and some spooky tales whispered by the dearly departed.
Walking through the quiet graveyards, filled with headstones dating back to the 1700s, is eerie enough. But hearing stories from the living about the people who are buried here takes it up a notch.
Whether it's about murders or suicides, there's always something intriguing to learn when visiting a graveyard.
If you plan on visiting the city soon and want to add a bit of fear to your trip, graveyard tours in Edinburgh are worth checking out.
This article shares everything you need to know before booking tickets for Edinburgh graveyard tour – prices, timings, what to expect, how to reach, FAQs and more.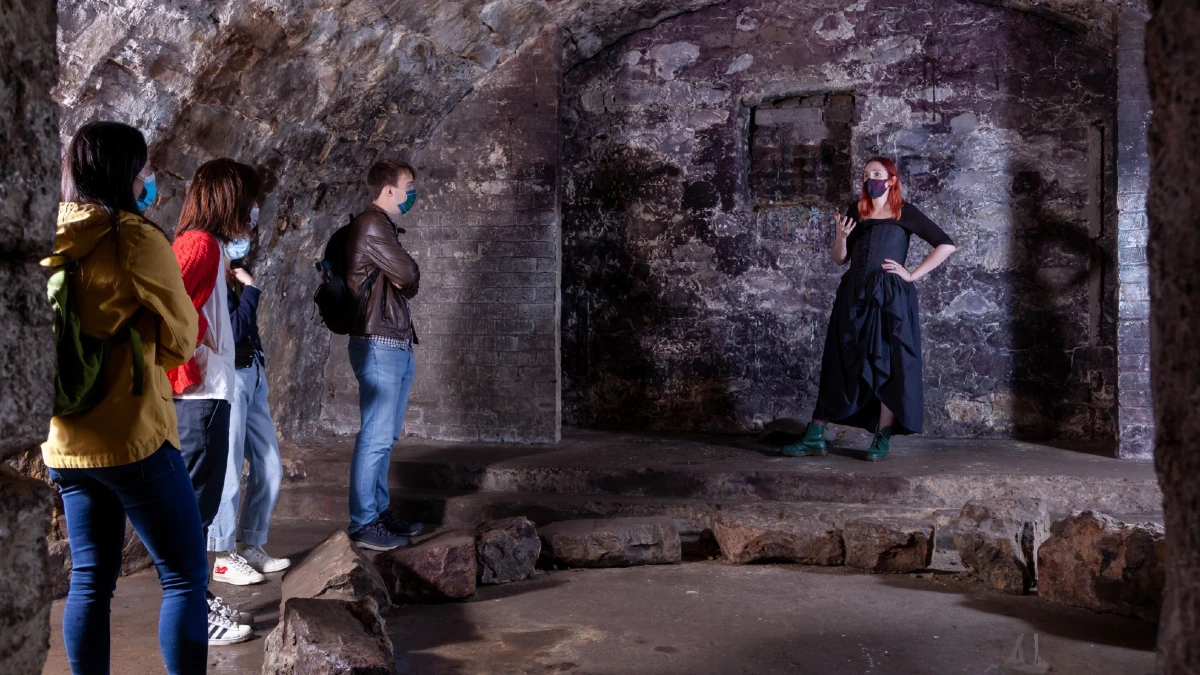 What to expect
Explore the city's old cemeteries with Edinburgh graveyard tours for a unique and intriguing experience.
Here's what you can expect on the tour:
Historical and cultural insights: Knowledgeable tour guides tell tales of the renowned people buried in the graveyards, their role in Scottish history, and the overall value of these sites.
Haunting atmosphere: Old tombstones, crypts, and mausoleums can be found as you wander the grounds, adding to the atmosphere of mystery and intrigue.
Tales of the supernatural: Given Edinburgh's extensive and legendary past, graveyard tours include discussions of ghost stories and supernatural tales. The eerie aspect of the encounter gets enhanced by the guides' sharing of spooky tales and stories surrounding the cemeteries.
Architectural wonders: Edinburgh's cemeteries aren't merely places for the dead to rest; they also display amazing architectural designs. Expect to see intricate grave markers, complex sculptures, and stunning memorials, some of which have aesthetic or historical value.
Scenic views and surroundings: Beautiful surroundings and city views may be found in many of Edinburgh's cemeteries, giving great views of the city or neighboring attractions.
---
---
Where to book tickets for Graveyard Tours, Edinburgh
Tickets for Edinburgh Graveyard Tours are available online in advance or at the attraction.
To ensure a hassle-free experience, we suggest booking your tickets online in advance.
Online ticket prices tend to be cheaper than tickets at the venue.
When you buy online, you can avoid the long queues at the attraction's ticket counters.
Because some attractions sell a limited number of tickets, booking early helps avoid last-minute disappointment.
When you book early, you also get your preferred time slot.
How do online tickets work
Go to the Edinburgh Graveyard Tours ticket booking page, and select your preferred date, time slot, and number of tickets to buy.
You will receive the ticket confirmation in your email after the booking.
Ticket printouts are not required.
You can join the tour by redeeming your smartphone ticket and passing a security check on the day of your visit.
The tour is not suitable for children under five years, people with mobility impairments, and wheelchair users.
Anyone under the influence of alcohol or drugs will be turned away.
Cost of Edinburgh Graveyard Tours ticket
The ticket cost for Haunted Underground Vaults and Graveyard Tour in Edinburgh is £20 for all visitors above five.
For the Dark Side Walking Tour, visitors above 14 will pay £20, whereas children between five to 13 years get a discount of £2 and pay only £18 for the tour.
Students with valid IDs will also pay a discounted price of £18.
Infants under four can take the tour for free.
Edinburgh Graveyard Tours tickets
There are various graveyard tours available in the city with online booking services.
You can visit the ticket booking website and book your tickets.
Some tours may be limited, especially during peak seasons, so booking in advance is advisable.
Once the booking is made, remember to check the specific tour details, including meeting points, duration, and any additional guidelines or requirements provided.
Here are some of the best Edinburgh graveyard tours.
Haunted Underground Vaults and Graveyard Tour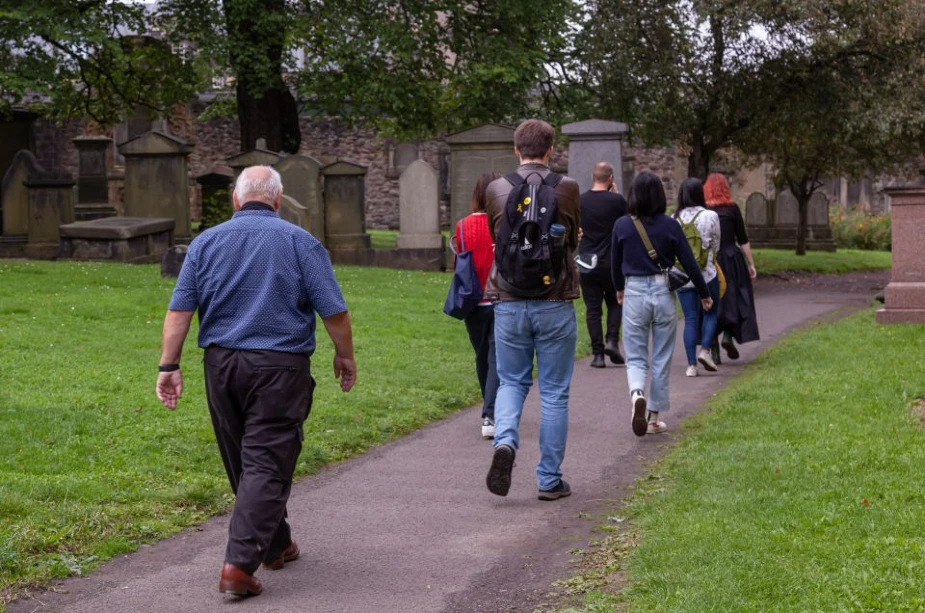 Take a tour of Edinburgh's spooky locations, stop by the Greyfriars Kirkyard, explore the Edinburgh Vaults, and be prepared to experience chills.
On this tour, learn the legend of Greyfriars Bobby at the Greyfriars Kirkyard and hear stories about notorious criminals, such as Burke and Hare.
Visit the Gothic mausoleums and learn about notable burials as you explore the grim history of the cemetery.
At Edinburgh Vaults, listen about regular paranormal occurrences and how some of the characters from history have never really left.
The tour is not suitable for children under five, people with mobility issues, and wheelchair users.
Video and audio recording is not allowed during the tour.
Ticket Price (5+ years): £20
The Dark Side Walking Tour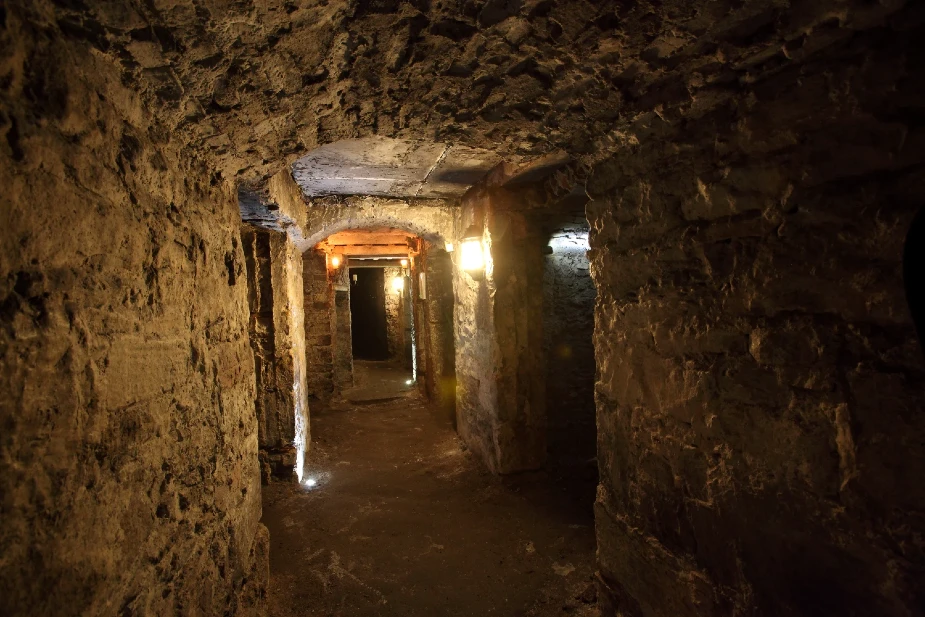 On a walking tour through the medieval city center of Edinburgh, learn about the city's darker side, experience the hair on the back of your neck standing on edge as you pass by grisly cemeteries, and learn about the mysteries lurking in the small lanes.
During the tour, learn more about the notorious Burke and Hare and listen to the chilling tales of witch trials and burnings.
Meet your local guide on the Royal Mile, where mass graves, funeral pyres, and looted tombs from ancient times are hidden.
Be prepared to be terrified by spine-chilling tales of real-life cannibals and vampires as the true history of Edinburgh is reproduced before your eyes.
The tour is not suitable for people with mobility issues and wheelchair users.
Ticket Prices
Adult Ticket (14+ years): £20
Child Ticket (5 to 13 years): £18
Student Ticket (with ID): £18
Infant Ticket (up to 4 years): Free
Evening Underground Ghost Tour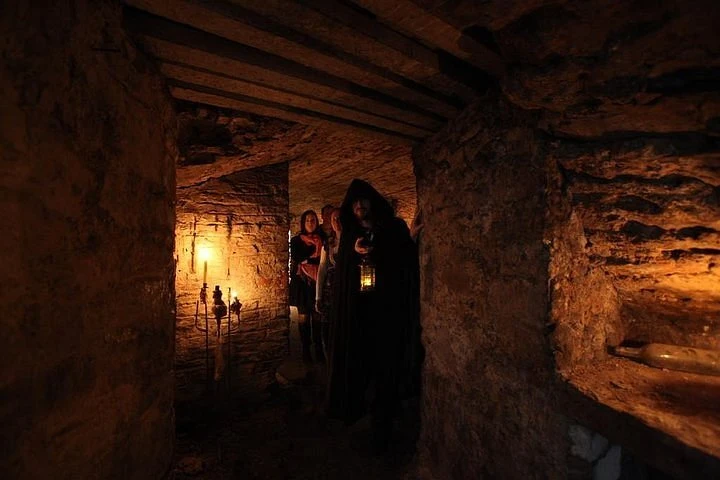 On this evening's underground ghost tour, explore the chambers beneath Edinburgh's streets at the Edinburgh Vaults.
Take a creepy ghost tour of Old Town to learn about real cases of murder and witchcraft.
Explore the world's most haunted graveyard, "Greyfriars Kirkyard," and the little lanes off the Royal Mile.
During the tour, learn about the stories of some of the city's most notorious characters, experience weird sensations, and hear strange noises in the dark!
The tour is not suitable for children under five years, people with mobility impairments, and wheelchair users.
Ticket Prices
Adult Ticket (16 to 64 years): £16
Child Ticket (5 to 15 years): £10
Student Ticket (16 + years with ID): £15
Senior Ticket (65+ years): £15
Extreme Paranormal Underground Ghost Tour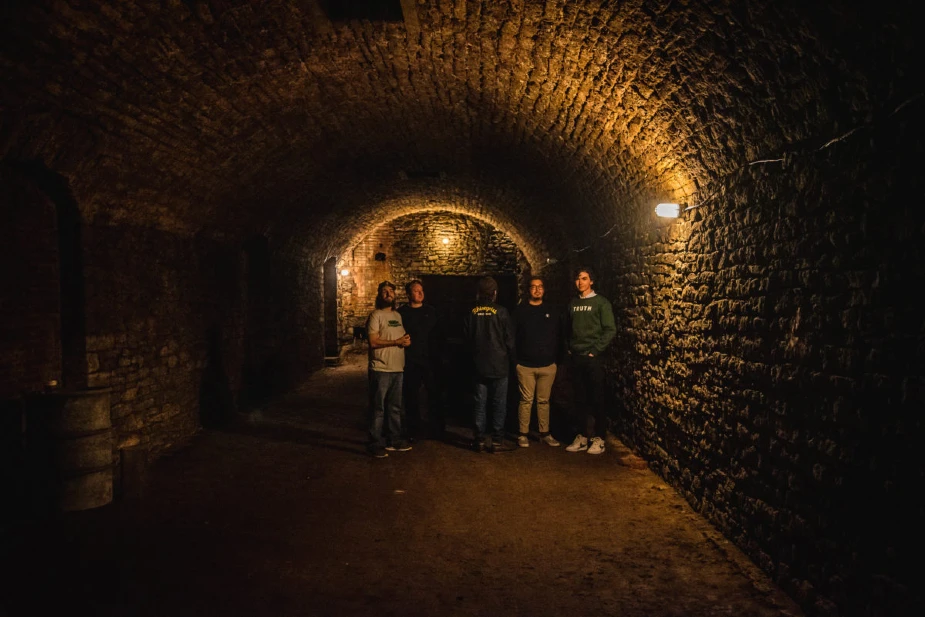 Be prepared to experience the most terrifying night of your life when you take a nighttime stroll through Scotland's capital.
Visit Edinburgh's most eerie cemetery and proceed with your frightfully attired guide into the Underground Vaults, where odd things occur at night.
Hear stories that will keep you awake at night.
This adults-only tour is not for the faint-hearted and is ideal for hardened ghost hunters – or non-believers.
Uncover true and terrifying tales of hangings, torture, murders, witches, and cannibals.
The tour is not suitable for children under 18 years, people with mobility impairments, and wheelchair users.
Ticket Prices
Adult Ticket (16+ years): £20
Student Ticket (16 + years with ID): £19
Senior Ticket (65+ years): £19
Save time and money! Experience a classic tour of the Scottish capital with Edinburgh Pass, which provides convenient access to three of Edinburgh's best activities and attractions, including a visit to Edinburgh Castle and the Royal Yacht Britannia.
---
---
Meeting point
For Edinburgh Graveyard Tours, the meeting point depends on the tour you select, and remember, it is subject to change.
So, you should always check the booking page to know the exact meeting location before arriving.
By Car
You can rent a cab or drive to the meeting point.
Turn on Google Maps on your phone and put in the meeting point details, and get started.
Edinburgh Graveyard Tour timings
Edinburgh graveyard tours operate at different times.
The usual start time is 5.30 pm.
You can refer to the table below to learn about the exact tour timings.
Best time to go on tour
The best time to take an Edinburgh graveyard tour depends on your preferences and the specific tour you are interested in.
However, if you are specifically interested in a more eerie and spooky ambiance, nighttime tours can add more mystery to your experience.
Book your tickets in advance to get your preferred time slot.
Reach the meeting point well in time so you don't miss out on anything.
How long does the tour take
The tour duration depends on the ticket and tour you book.
The average tour duration is anywhere from 75 minutes to two hours.
Multiple tour options are available, and you can choose the one that suits you best.
FAQs about Edinburgh Graveyard tours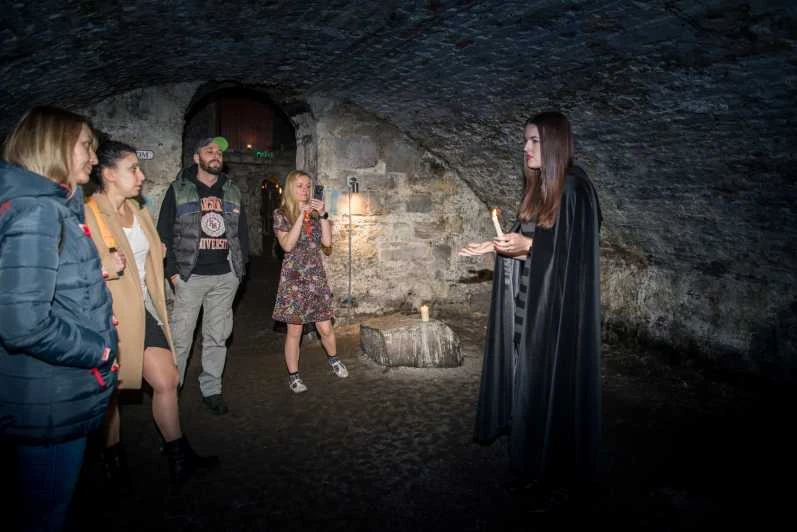 Here are some questions that visitors usually inquire about before taking graveyard tours in Edinburgh.
What are Edinburgh graveyard tours?
Edinburgh graveyard tours are guided tours that take you through some of the historic cemeteries in the city, providing insights into the rich history, architecture, and stories associated with the graves and tombstones. 

These tours offer a unique and often eerie perspective on Edinburgh's past.
Are Edinburgh graveyard tours suitable for all ages?
Most graveyard tours in Edinburgh are not suitable for children under five. 

It's important to note that these tours often touch on dark and macabre topics, including discussions of death, folklore, and historical events. 

Parents or guardians should use discretion when considering the appropriateness for younger children. 

You can book a Kid's Underground Tour.
What can I expect to see or learn during the Edinburgh graveyard tour?
During the tour, you can expect to see old grave markers, mausoleums, and memorials while learning about the lives and stories of notable individuals buried in the graveyards. 

Guides often share intriguing historical anecdotes, tales of famous figures, and folklore associated with the graveyards and their inhabitants.
Are the tours accessible for people with mobility issues?
The graveyard tours are not suitable for people with mobility issues and wheelchair users due to uneven terrain.
Do I need to book the Edinburgh graveyard tours in advance?
We recommend booking Edinburgh graveyard tours in advance, especially during peak tourist seasons or if you have a specific date and time. 

Popular tours can fill up quickly, so reserving your spot beforehand ensures availability.
What should I wear or bring for the graveyard tour?
It's advisable to wear comfortable shoes and dress appropriately for the weather, as graveyard tours typically involve walking outdoors. 

Depending on the time of year, bringing an umbrella, a light jacket, or sun protection may be useful.
Are photography and video recording allowed during the Edinburgh graveyard tours?
Photography and videography are not permitted during most of the Edinburgh graveyard tours. 

However, it's important to respect the rules and guidelines the tour operator sets and ask your guide or check with the tour company before photographing or recording videos.
Are there any additional safety considerations to be followed during the tour?
While Edinburgh graveyard tours are generally safe, it's important to follow the instructions of your tour guide and stay with the group. 

Some graveyards can be dimly lit or have uneven terrain, so be mindful of your surroundings and watch your step. 

If you have any specific concerns or questions about safety, feel free to ask the tour operator or check with the guide.
Which graveyards are included in the Edinburgh graveyard tours?
Several graveyards in Edinburgh are commonly included in the tours. 

Greyfriars Kirkyard, Canongate Kirkyard, and Edinburgh Vaults are the most famous. 

However, the specific graveyards covered may vary depending on the tour you book.
How long do the tours typically last?
The duration of the tours can vary, but most Edinburgh graveyard tours last between one to two hours.
Sources
# Visitacity.com
# Visitscotland.com
# Wanderingcrystal.com
# Tripadvisor.com

The travel specialists at TheBetterVacation.com use only high-quality sources while researching & writing their articles. We make every attempt to keep our content current, reliable and trustworthy.
Popular attractions in Edinburgh