Holyrood Palace is the British Queen's official residence in Scotland.
More than 1.5 million tourists visit this Scottish attraction every year to explore 14 stunning State Apartments, the ruins of 12th-century Holyrood Abbey, the Royal Gardens, and the ongoing exhibitions in the Queen's Gallery.
It is known by many names, such as the Palace of Holyroodhouse, Holyrood Castle, Holyrood House, Holyrood Palace Edinburgh, etc.
In this article, we share everything you must know before you book your tour of Holyroodhouse Palace.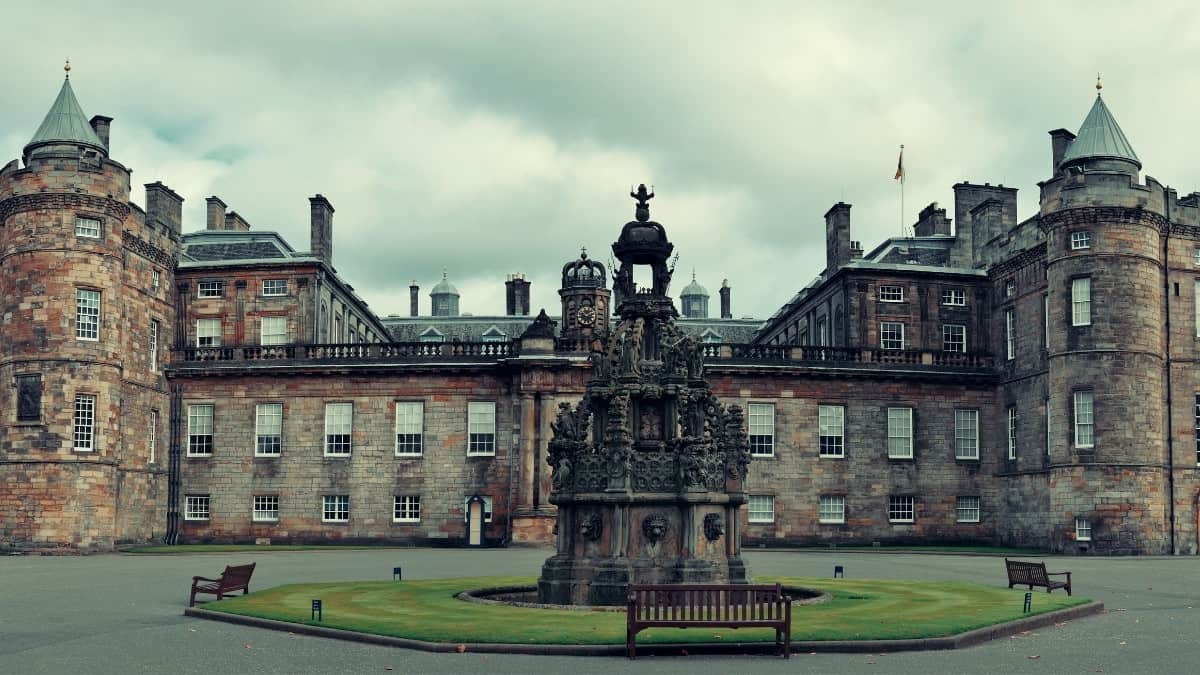 Holyrood Palace's opening times
During the peak months (1 Apr to 31 Oct), the Palace of Holyroodhouse opens at 9.30 am and closes at 6 pm. The last admission is at 4.30 pm.
During the lean months (1 Nov to 31 Mar), the Holyrood Palace hours are from 9.30 am to 4.30 pm, and the last admission is at 3.15 pm.
Since the Holyroodhouse is a working Royal Palace, sometimes closures are announced at short notice.
The Palace is closed for visitors during Christmas and when Queen Elizabeth II is visiting Scotland.
---
---
How long does Holyrood Palace take
Visitors explore the beautiful State Apartments at Holyrood Palace and the ruins of 12th-century Holyrood Abbey in two to three hours.
The complimentary Holyrood Palace audio guide lasts around an hour.
If you plan to see the exhibitions in the Queen's Gallery, you will need an additional hour, and to explore the Royal Gardens, you will need yet another hour.
---
---
Holyrood Palace tickets
Before you book your Palace of Holyroodhouse tickets, here are a few things you must know –
Why online tickets are better
In the peak season (summers), the attraction can get crowded, and the lines at the ticket counter can be half an hour long.
Lots of coach tours also land up at the Palace in the first half of the day.
When you purchase your entry tickets online, you get to avoid this crowd.
This is why online Holyrood Palace tickets are better than the tickets at the entrance.
Ticket prices & discounts
All adults (17 to 59 years) must pay the full price of 16.50 Pounds.
Seniors (60+ years) and students (with valid IDs) get a 1.6 Pounds discount on an adult ticket's cost and thus end up paying only 14.90 Pounds.
Holyrood Palace ticket for kids between 5 to 16 years cost only 9.50 Pounds.
There are many ways to experience the Palace of Holyroodhouse, and we explain all of them below –
Holyrood Abbey tickets
Many visitors wonder if they must buy entry tickets to Holyrood Abbey as well.
There are no separate tickets for Holyrood Abbey – Holyroodhouse tickets get you access to both the Palace and the Abbey.
Palace of Holyroodhouse ticket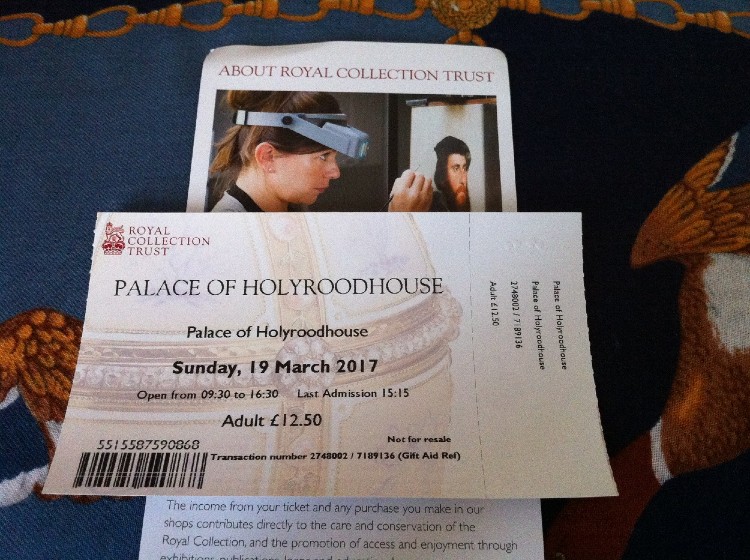 This online ticket offers the cheapest Holyrood Palace tour.
The ticket gets you access to everything in Edinburgh's Holyroodhouse complex, including the State Apartments, Mary Queen of Scots' historic chambers, the Throne Room, Holyrood Abbey, the Royal Gardens, etc.
You also get a complimentary 1-hour audio guide along with this Holyroodhouse ticket.
Note: If you wish to visit the exhibitions at the Queen's Gallery, you must buy an additional ticket.
Ticket price
Adult ticket (17 to 59 years): 16.50 Pounds
Senior ticket (60+ years): 14.90 Pounds
Student ticket (with ID): 14.90 Pounds
Child ticket (5 to 16 years): 9.50 Pounds
Infant ticket (up to 4 years): Free entry
Queen's Gallery entrance ticket
This ticket gets you to access the Queen's Gallery at Edinburgh's Holyroodhouse.
Here, you get to see themed Exhibitions from the Royal Collection, featuring paintings, rare furniture, decorative arts, and images from the massive photograph collection.
Most travelers buy both the Palace entrance ticket (described above) and the Queen's Gallery ticket and make it a half-day outing.
Queen's Gallery ticket price
Adult ticket (17 to 59 years): 7.80 Pounds
Senior ticket (60+ years): 7 Pounds
Child ticket (5 to 16 years): 3.90 Pounds
Student ticket (with ID): 6.40 Pounds
Infant ticket (up to 4 years): Free entry
Holyroodhouse + Old Town walking tour
This tour starts at 1 pm from The Mercat Cross (opposite the City Chambers), where you meet your local guide.
With the guide in the lead, you walk the 'Route of Royals' to explore the picturesque Canongate before stepping into the Palace of Holyroodhouse.
Since there is a considerable amount of walking, it is better to wear comfortable shoes.
Children under five years of age can't join this tour.
This two hours and thirty minutes tour is available only on Saturdays and Sundays.
Adult ticket (16 to 59 years): 32 Pounds
Senior ticket (60+ years): 28 Pounds
Student ticket (with ID): 28 Pounds
Child ticket (5 to 15 years): 20 Pounds
Three Royal attractions + bus tour
This combo is known as the 48-hour Royal Edinburgh Ticket and is a real money saver.
If you are visiting Edinburgh for the first time, we highly recommend this Royal attractions combo.
This ticket gets you to access three of the best attractions in the city:
Edinburgh Castle
Royal Yacht Britannia
Palace of Holyroodhouse
And to top it all, you also get unlimited travel for 48 hours on three of Edinburgh's hop-on-hop-off bus tours.
---
---
What to see at Holyrood Palace?
Holyrood Palace's interior and exterior are masterclass in Baroque decoration.
And it is only natural to want to know what lies inside the Palace of Holyroodhouse before booking your tickets.
State Apartments
The State Apartments at Holyroodhouse are famous for their beautiful plasterwork on the ceilings and French and Flemish tapestries hanging from the walls.
The King's Bedchamber
Only the most important guests were allowed in the King's Bed Chamber, dominated by a State Bed.
The bed has been in the room since 1684.
In the 1970s, the bed was refurbished, and the original material still exists on the headboard, cornice, and canopy.
A few things to look out for in the King's Bed Chamber are the Chinese porcelain bowl (made between 1680 and 1700), the painting of The Infant Hercules Strangling Serpents, and the 17th century Case Clock.
Royal Dining Room
This dining room gets used even today when Her Majesty and members of the Royal family visit Scotland.
King George V and Queen Mary got the silver on display on the dining table as a present in 1935.
Early 17th-century Scottish examples inspired their design.
Throne Room
The Throne Room gets used for receptions and other State occasions presided over by the Royals.
Don't miss out on the two thrones commissioned for Holyroodhouse by King George V in 1911.
When The Queen is visiting Scotland, she hosts lunch in the Throne Room for the Knights and Ladies of the Order of the Thistle.
Privy Chamber
The Privy Chamber is a room designed in the 1600s and still used by the Queen for private audiences when she is visiting.
Visitors can't afford to miss Dutchman Jan van Santvoort's mark on the intricate panel carvings all around the room.
Don't miss out on the painting Bathing Scene by a River and the French tapestries, which tell Diana's story, the hunting Goddess.
The tapestries are more than 350 years old – they were bought for Charles II in 1668 and have hung in the Privy Chamber since 1796.
Mary, Queen of Scots' Chambers
Even though she lived here for a brief while (1561-1567), Holyrood Palace's Mary Queen of Scots is the most famous person associated with the Palace.
Her time at the Palace was full of intrigue, tragedy, and murder, and you can feel it all when you reach the section of Holyrood Castle, where she lived, via the narrow, steep, and winding staircase.
Bedchamber
Mary, Queen of Scots' Bedchamber is perhaps the 'most famous room in Scotland.'
Watch out for the low doorway of the Bedchamber when you enter. It is kind of funny because Mary was six feet tall.
Don't miss out on the decorative oak ceiling and the painted frieze.
Supper Room
The Supper Room of Holyrood House was witness to the gruesome murder of Queen Mary's private Secretary.
On 9 Mar 1566, when Mary was dining with a few of her lady friends and her Secretary David Rizzio, her jealous husband Lord Darnley barged in with a group of Scottish Lords.
In front of the Queen, who was then six months pregnant, her Secretary was stabbed 56 times and killed.
During your visit, you can try and spot the bloodstains from Rizzio's body in the Outer Chamber.
Outer Chamber
Queen Mary received guests in the Outer Chamber.
In this room, the Roman Catholic Queen has engaged in many debates with John Knox, the Scottish Protestant cleric.
Check out her oak-paneled Oratory, St Andrew's cross in the ceiling, and the Darnley Jewel.
Bonnie Prince Charlie
Bonnie Prince Charlie's real name was Prince Charles Edward Stuart.
He stayed at the Palace of Holyroodhouse for about six weeks in 1745.
Charles had come to Scotland to win back Great Britain's throne for his father, James Francis Edward Stuart, who was in exile.
He was welcomed with open arms by the locals.
During his stay at the Palace, the public was allowed to watch him even as he dined in ante-chamber.
Great Gallery
Great Gallery is 44 meters (144 feet) long, making it the largest room in the Palace of Holyroodhouse.
It showcases paintings of 95 Kings and one Queen.
The portraits depict the long line of the Stuart dynasty, starting with Fergus I, the founder of Scotland.
Mary, Queen of Scots, is the only Queen to adorn the walls of the Great Gallery.
Nowadays, the British Queen uses the Great Gallery for hosting State Banquets, dinners, and receptions during her visit to Scotland.
Holyrood Abbey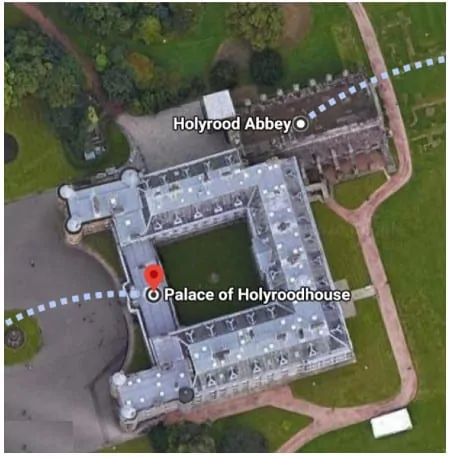 Before it became the ruins that it is today, Holyrood Abbey was once one of Scotland's most beautiful medieval abbeys.
While you appreciate the beauty of the ancient building, don't miss out the following –
Wander through the Abbey's roofless nave
Check out the East processional doorway, the only part David I built in 1128 that's still surviving
Spend time looking at the West front, which has Gothic facades and windows
See the royal vault, the resting place of many Scottish greats
Free Holyrood Abbey tours
Every hour, Palace Wardens run a free guided tour of Holyrood Abbey, and Holyroodhouse ticket holders can join in.
The tours start inside the Abbey ruins, and the guide narrates the history, stories, myths, and legends about the place.
Palace Gardens
The beautiful 4-hectare manicured enclosure at the Palace of Holyroodhouse is also known as the Palace Gardens.
The Gardens sit within the much larger Holyrood Park.
During your visit, check out Queen Mary's sundial, which got made for Charles I's Scottish coronation in 1633.
Access to the Palace Gardens is part of the Holyroodhouse entrance ticket. However, they aren't open all through the year.
Timings: Holyroodhouse Palace Gardens are open every day from 1 Apr to 31 Oct, and from 1 Nov to 31 Mar, visitors are only allowed on the weekend.
---
---
Holyrood Palace audio guide
The Palace of Holyroodhouse's complimentary multimedia tour lasts approximately one hour.
The audio guide, which you can collect at the entrance, is available in English, Gaelic, French, German, Spanish, Italian, Japanese, Brazilian Portuguese, Russian, Mandarin, and British Sign Language.
If you prefer, you can also collect a printed version of the tour transcript instead of the audio guide.
Holyrood Palace also offers an audio guide that's customized for children aged 7 to 11.
This 'family audio guide' is available only in English.
Warden Short Talks
At regular intervals, the wardens at Holyrood Castle offer Short Talks, narrating quick stories about the Palace life.
Look out for Short Talk signs on the visitor route, or you can ask one of the wardens for more details.
---
---
Food at Holyrood Palace
Eating and drinking are not allowed inside the Palace of Holyroodhouse.
If you are carrying food and drinks, the guards will ask you to pack them in closed bags before entering the Palace.
In case you want to reenergize yourself during or after your tour, visit the Café at the Palace in the Mews Courtyard.
The restaurant serves a selection of soups, main courses, delicious salads, sandwiches, home-baked cakes, etc.
Holyrood Palace afternoon tea
If you fancy an afternoon tea at Holyrood Palace, Cafe at the Palace is the perfect place.
From 1 Apr to 31 Oct, afternoon tea is served daily between 12 noon to 4 pm, and from 1 Nov to 31 Mar, tea is served from 12 noon to 3 pm.
When you book an afternoon tea, along with your choice of loose-leaf tea, you also enjoy home-made cakes, pastries, sandwiches, etc.
Price of afternoon tea
Afternoon Tea: 21 Pounds/person
Champagne Afternoon Tea: 30 Pounds/person
Gin Cocktail Afternoon Tea: 30 Pounds/person
---
---
How to reach Holyrood Palace
Address: Palace of Holyroodhouse, Canongate, The Royal Mile, Edinburgh, EH8 8DX
The Palace of Holyroodhouse stands at the end of Edinburgh's Royal Mile.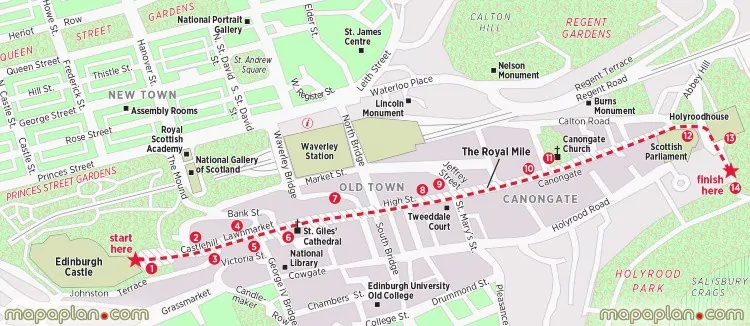 Key of the Royal Mile map above:
Edinburgh Castle
Ramsay Garden
Castle Hill
Gladstone's Land
Bordie's Close
St. Giles Cathedral
Cockburn Street
The Storytelling Cafe
John Knox House
Canongate Tolbooth
Canongate Church
Parliament Building
Palace & Abbey of Holyroodhouse
Holyrood Park
By Bus
To get to Holyroodhouse Palace, you must board bus number 35 (of the Lothian bus service).
The bus must be on its way from Sighthill to Ocean Terminal.
You can get down at Abbeyhill Crescent bus stop or the Scottish Parliament bus stop.
Both are within a three-minute walk from Holyrood Castle.
Both the popular hop-on, hop-off bus tours in the city – the Edinburgh Bus Tour and City Sightseeing's Bus Tour stop at the Palace of Holyroodhouse.
By Tram
Trams are an efficient but slow means to get to Holyrood House.
The latest times and fares are available on the official website of Edinburgh Trams.
It would be best if you got down at York Place Tram Stop, which is almost 1.5 km (a mile) from Holyrood House.
From York Place, a brisk 20-minute walk can get you to your destination.
By Train
Edinburgh Waverley is the closest train station to Holyrood Palace.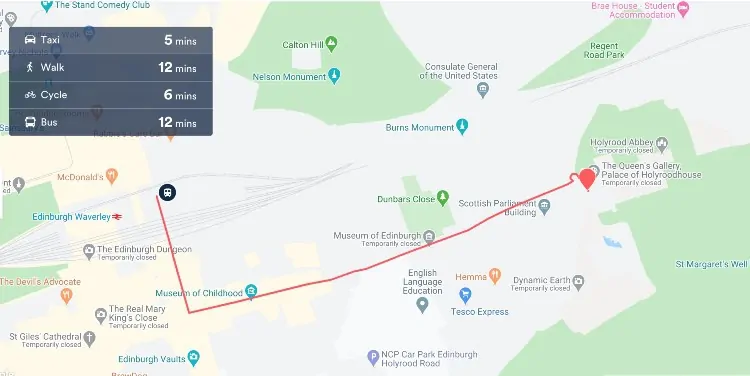 You can get the latest times and ticket prices from National Rail Enquiries.
Holyrood Palace parking
Parking is available at Broad Pavement, St Margaret's Loch, Dunsapie Loch, and Duddingston Loch car parks.
Broad Pavement parking is closest to Holyrood Palace and has 140 slots.
On weekdays the cost of parking is 1 Pound an hour, and it is free on weekends and holidays such as Good Friday, Easter Monday, Christmas, Boxing Day, and New Year.
The parking charges apply from 8.30 am to 5.30 pm.
Accessible parking
A small number of accessible public parking spaces are available on Horse Wynd.
All Blue Badge holders can use these parking bays, managed by the City of Edinburgh Council.
---
---
Visiting Holyrood Palace with children
Holyrood Palace Edinburgh is a kid-friendly Scottish attraction.
We list a few of the ways the Palace tries to make the kids feel welcome –
Audio Guide for kids
The free interactive multimedia tour designed for families lets kids and adults learn about the Palace and its residents.
The whole family can together look for unusual furniture, sparkling jewels, etc.
Parents who have used the family audio guide believe it got their kids interested in the history and detail of the Palace and helped them absorb more information.
The Family Room
This room is a dedicated space for families to relax and reenergize.
You and your kids can engage in fun stories, games, period costumes, creative activities, etc.
Don't miss out on the arts and crafts sessions.
Family Garden Trail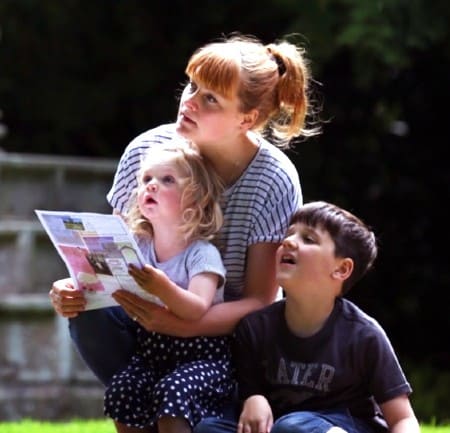 There are lots of things about the Palace Gardens that can amuse a curious child.
You and your child can follow the Family Garden Trail to explore woodland paths and giant lawns.
And try to figure out where and why a lion lived in the Garden Palace grounds. Image: Rct.uk
Family Abbey Trail
With the Holyrood Abbey Family Trail, you get to explore the 900 years old building with your child.
You get to find out how it got its name, about the Monks who lived in the building, and many of the famous events that happened.
You can download the Family Garden Trail and Family Abbey Trail worksheets from here, or pick them up from the Family Room (at the end of the Palace tour) before you step out to the Gardens and the Abbey ruins.
---
---
Queen's Gallery
The Queen's Gallery at Palace of Holyroodhouse hosts themed exhibitions, which are continuously changing.
Exhibits such as paintings, rare furniture, decorative arts, photographs, etc. get picked from the Royal Collection and put together for the visitors.
These also get referred to as Holyrood Palace exhibitions, and to visit them, one needs to buy the Queen's Gallery ticket.
Tourists can experience these exhibitions with the help of a complimentary audio tour available in English.
Some of the exhibition themes in recent times have been –
Eastern Encounters: Paintings and manuscripts from Indian sub-continent
George IV: Art & Spectacle
George Washington Wilson: Queen Victoria's photographer in Scotland
Queen's Gallery with kids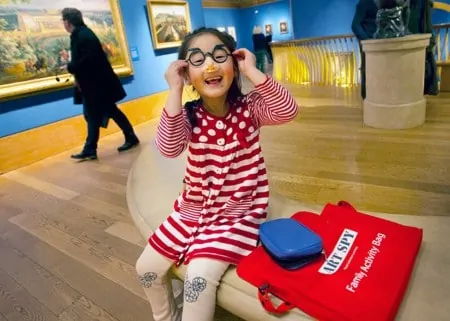 To appeal to families with children aged 5 to 11, the Queen's Gallery offers an Art Spy Family Activity Bag.
The Family Activity Bag is free with the Queen's Gallery Exhibition ticket, and you can pick them up at the Exhibition entrance. Image: Rct.uk
---
---
Holyrood Park
At 650 acres, Holyrood Park is the most abundant green space in Edinburgh.
The Palace of Holyroodhouse and the Palace Gardens are in one corner of Holyrood Park.
Holyrood, which is also a royal park, started as a twelfth-century royal hunting estate.
Holyrood Park sees an equal number of tourists and locals.
Some tourists prefer to explore Holyrood Park after seeing the Palace while others prefer to make it a separate activity.
We list out a few things you can see and do at Holyrood Park –
Climb one of the hills
There are a few peaks to conquer in the Park, and Arthur's Seat is the most popular of them all.
At 251 meters (820 feet), Arthur's Seat is Edinburgh's highest point.
Sportier tourists tend to climb the Aurthr's seat to take in the views of the city.
Locals believe that the other hills in the Park, especially Salisbury Crags, offer better views.
But since they aren't as tall as Arthur's Seat, they don't get the attention.
Things to see
There are lots of attractions to see in the massive Holywood Park.
St Margaret's Loch: Queen Victoria's husband Albert built this loch to improve the Park during her reign.
St Anthony's Chapel: Dedicated to St Anthony of Egypt, this Chapel got built in the early 1400s.
Hunter's Bog: John Huntar was the Treasurer of the Canongate and Keeper of the Holyrood Park from 1566-67. Back then, it used to be called Grundles Myre. Mary, Queen of Scots, requested him to drain the King's Meadow and, in return, gave him a 19 years lease on the area that would go on to be called Holyrood Park.
Piper's path: In 1778, some soldiers mutinied over rumors that the King was sending them abroad. As a means of protest, they went up Arthur's Seat, and it was during this time, a piper played his pipe to keep up their spirit. The path he walked is still called Piper's path.
Iron Age hill fort: The fort and an old field boundary stand out in this snowy view looking West across the Park.
Cultivation terraces: Crow Hill has a well-preserved series of cultivation terraces. The terraces in Holyrood Park got created in the early medieval period.
Sources
# Rct.uk
# Visitscotland.com
# Wikipedia.org
# Townandcountrymag.com

The travel specialists at TheBetterVacation.com use only high-quality sources while researching & writing their articles. We make every attempt to keep our content current, reliable and trustworthy.
Popular attractions in Edinburgh