Camera Obscura and World of Illusions is perhaps Edinburgh's oldest visitor attraction, entertaining visitors since 1853.
This fun attraction has two parts – five floors of 'illusions' and a 360° panoramic view of Edinburgh provided by the Camera Obscura on the sixth floor.
In this article, we explain everything you must know before booking your Camera Obscura tickets.
Top Camera Obscura Edinburgh Tickets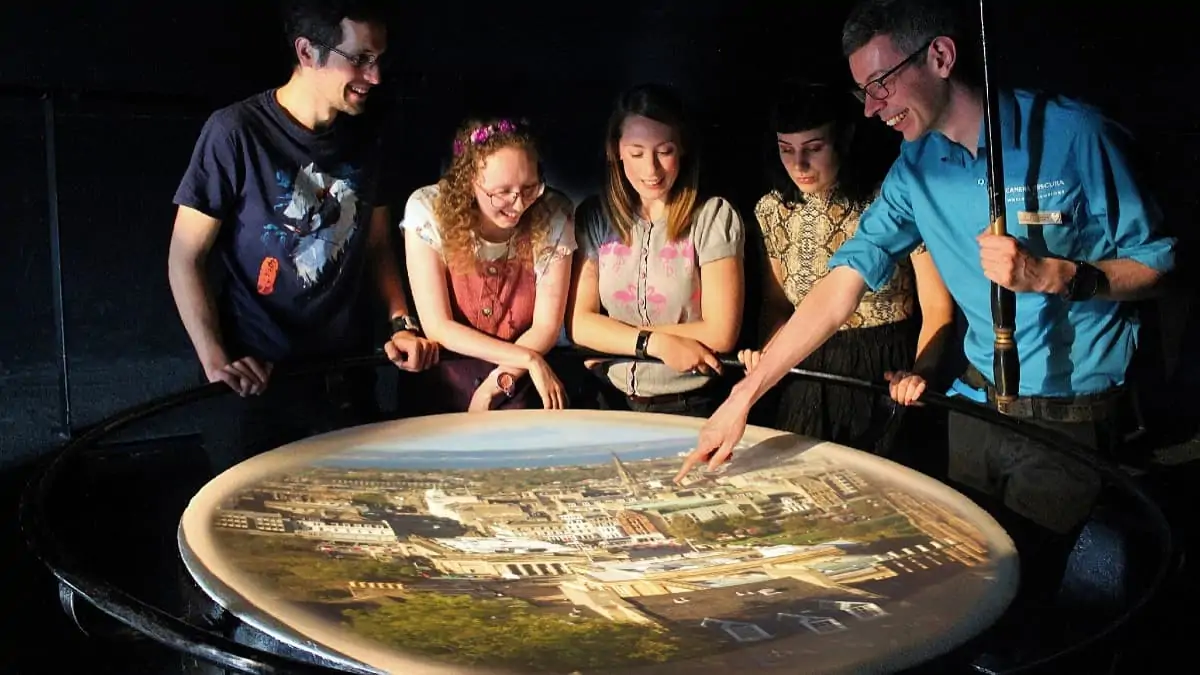 How to reach Camera Obscura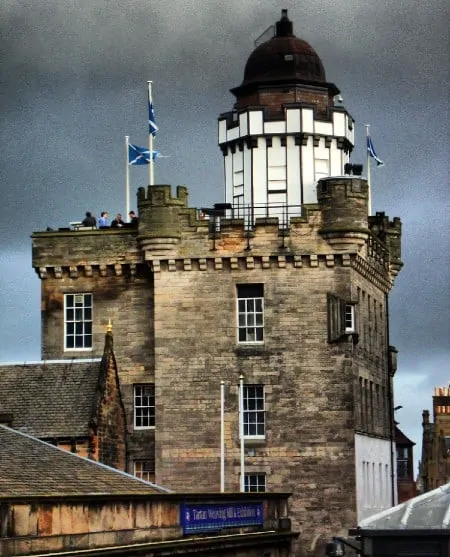 Camera Obscura and World of Illusions is in Outlook Tower, at the top of the Royal Mile on Castlehill.
The attraction is on the right-hand side, just before Edinburgh Castle. Get Directions
Visitors also spend time enjoying the Outlook Tower from outside.
The lower part of the structure was built in the 17th century, and the upper stories were added in 1853.

Image: Paul Murray
By train
If you are coming by train, you must get down at Edinburgh Waverley Station.
The Outlook Tower is .65 Kms (.4 Mile) from the Waverly Station, and a brisk 10-minute walk can get you to the tourist attraction.
By Bus
If you plan to take a bus, hop on to bus numbers 23, 27, 41, 42, and 67 offered by Lothian Bus Services, and get down at George IV Bridge.
From the George IV Bridge, Outlook Tower is 3 minutes of walking.
If you board a bus that stops at North Bridge or Nicolson Street, you must walk approximately ten minutes to reach your destination.
By Tram
A tram is an excellent way to explore the city even as you try and reach Camera Obscura.
It would be best if you got down at Princes Street stop, which is seven minutes walk from Outlook Tower.
For tram times, prices and routes check out the Edinburgh Tram's official website.
By Car
Getting to Camera Obscura by car isn't a good idea because Royal Mile doesn't have any car parking space.
The nearest on-street parking is available at NCP Castle Terrace car park, a ten-minute walk from the attraction.
The regular cost for five hours of parking is 19.50 Pounds, but visitors to Camera Obscura get a discount of 9.5 Pounds and thus pay only 10 Pounds.
On arrival, you must request the Camera Obscura team for the parking discount ticket.
It is far more convenient to book an Uber, Central Taxis, or City Cabs and get dropped at the door.
---
---
Camera Obscura opening times
Camera Obscura Edinburgh's timings change many times throughout the year, but if you visit them between 9.30 am and 7 pm, you can explore all the exhibits.
Most of the days, they close by 9 pm, and since you need at least two hours to explore this House of Illusions, you need to reach before 7 pm.
Camera Obscura show times
The 15-minute long Camera Obscura Show doesn't have a fixed time.
You can finish exploring the 'World of Illusions' (the first five floors) and reach the sixth floor for your turn to see Camera Obscura in action.
Or you can see the Camera Obscura show first and then check out the other floors.
Since sunlight is needed to conduct the show, it doesn't happen after sunset.
---
---
What is the Camera Obscura show?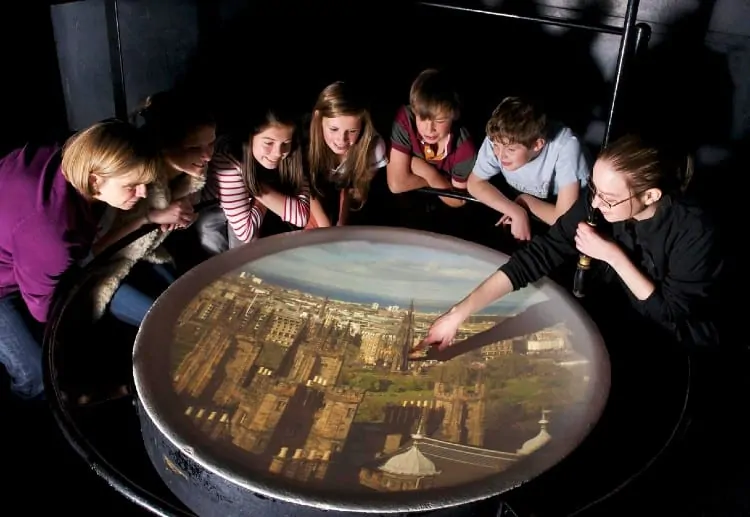 The Camera Obscura show happens on the topmost floor in an exclusive rooftop chamber and is included in the regular entry ticket.
The guide helps you see the whole city from the rooftop tower and entertain you with stories from Edinburgh's fascinating past.
During the show, you witness Victorian technology that brought moving pictures to the people of Edinburgh long before cinema got invented.
Live moving images of the city, its vehicles, and people get projected onto a viewing table through a giant periscope (no projectors!)
One can argue that this was the World's first virtual reality show, Victorian style.
Since the Camera Obscura show is weather dependent, it can't be guaranteed during bad visibility.
Duration of Camera Obscura show
The Show at Camera Obscura lasts approximately 15 minutes.
After or before the Show, you can enjoy the stunning rooftop views of Edinburgh from the terrace.
Does Camera Obscura show have a separate ticket?
No, visitors needn't buy a separate ticket for the 15-minute long Camera Obscura show.
The show is included in the regular Camera Obscura ticket.
Best time for Camera Obscura show
The Camera Obscura show has limited capacity, and slots get allocated on a first-come-first-served basis.
It is better to arrive early in the day to avoid last-minute disappointment.
Last Camera Obscura show
The last show of the day is 30 minutes before sunset.
This is why when you book your Camera Obscura ticket, you must opt for the 'All day ticket' and not the 'Evening ticket.'
The 'Evening ticket' allows entry only after 6 pm.
However, if you reach the attraction after dark, the friendly guides at Camera Obscura and World of Illusions demonstrate how the technology works during the day.
---
---
Best time to visit Camera Obscura
The best time to visit Camera Obscura and World of Illusions is as soon as they open in the morning.
When you start early, you avoid the crowd and see the 'World of Illusions' exhibits peacefully and have a better experience on Edinburgh's rooftop with stunning views.
If you can't make it in the morning, the next best time is the evening – you can watch the sun go down or see the city lit up after dark.
---
---
How long does Camera Obscura take
You will need at least two hours to explore Camera Obscura and the World of Illusions in Edinburgh.
This includes the 15 minutes for the Camera Obscura show.
If you visit the attraction with kids aged 5 to 12 years, you may need half an hour more since they tend to spend more time per exhibit at this fun attraction.
If you purchase your Camera Obscura tickets in advance, you can avoid wasting time at the ticket counter.
---
---
Visiting Camera Obscura with kids
Camera obscura and World of Illusions is perfect for all age groups – from toddlers to teenagers to grandparents.
Young babies love the sights and sounds of World of Illusions.
Teenagers are known to highlight their visit to Camera Obscura as the most fun thing they did on their Edinburgh holiday.
Camera Obscura is not pushchair-friendly, but you can borrow a baby carrier from the reception.
---
---
Stairs at Camera Obscura
Camera Obscura's Outlook Tower is a 17th-century building on which modifications aren't allowed.
As a result, it continues to remain a stairs-only attraction.
There are 20 steps between each floor, and you need to climb nearly 100 steps to reach the terrace for the Camera Obscura show.
However, there is a place to sit and rest at every level of the building.
The friendly people at this Scottish attraction also offer baby carriers and walking stick chairs.
---
---
Camera Obscura ticket discount
Kids up to four years get the maximum discounts at Camera Obscura Edinburgh – they get in for free.
On the adult ticket price of 16.50 Pounds, children aged 5 to 15 years get almost 25% discount and pay only 12.50 Pounds.
Seniors who are 60+ and students with valid educational IDs get a 2 Pound reduction on the full ticket.
People with British Military ID can claim a 10% reduction on the ticket price.
However, this Armed Forces discount is available only at the ticket office.
---
---
Camera Obscura Edinburgh tickets
With this ticket, you first head to the sixth-floor terrace for the show and then walk down one floor at a time to enjoy the 100+ clever illusions and interactive displays.
This is a smartphone ticket, which means you don't need to take printouts.
On the day of your visit, show the ticket in your email, on your mobile, and enter.
You can cancel this ticket 24 hours before the date of the visit for a full refund.
While booking, you must choose between the 'All-day' ticket and the 'Evening' ticket.
The 'All-day' Camera Obscura ticket gets you access to both the 'World of Illusions' and the 'Camera Obscura show.'
And with the 'All-day' ticket, you can also step out for lunch or coffee and get back to the Museum of Optical Illusions to see the rest of the exhibits.
With the 'Evening' ticket, you can only see the 'World of Illusions' because no shows are possible after dark.
'All-day' ticket prices
Adult ticket (16 to 64 years): 16.50 Pounds
Seniors ticket (65+ years): 14.50 Pounds
Student ticket (with valid ID): 14.50 Pounds
Child ticket (5 to 15 years): 12.50 Pounds
Infant ticket (up to 4 years): Free entry
'Evening' ticket prices
Adult ticket (16 to 64 years): 14.85 Pounds
Seniors ticket (65+ years): 13.05 Pounds
Student ticket (with valid ID): 13.05 Pounds
Child ticket (5 to 15 years): 11.25 Pounds
Infant ticket (up to 4 years): Free entry
---
---
What to see at Camera Obscura and World of Illusions
This fascinating Edinburgh experience is spread over six floors.
All through, you get to see hands-on interactive exhibits, which are sure to entertain all age groups.
Since this is a 166-year-old Optical Illusion Museum, you may have seen some of the exhibits elsewhere, but the whole experience is outstanding.
It isn't without reason that it is rated 4.5 out of 5 on Tripadvisor, and travelers rate it as the sixth-best attraction in the city.
We explain what visitors can expect on all the floors –
Ground Floor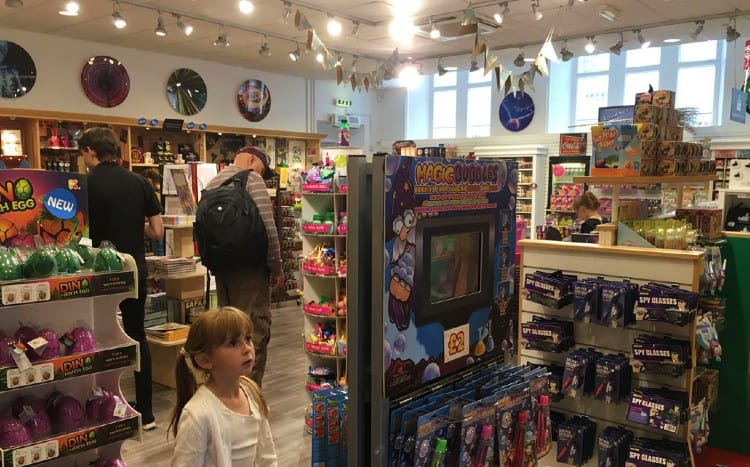 From the street, you step into the Ground Floor of Outlook Tower.
On this floor, you have the reception, the ticket office, and the Gift Shop.
First Floor: Toilets
Both Men's and Women's washrooms are on the first floor of the building.
Baby changing facilities are available in both the toilets.
Second floor: Bewilderworld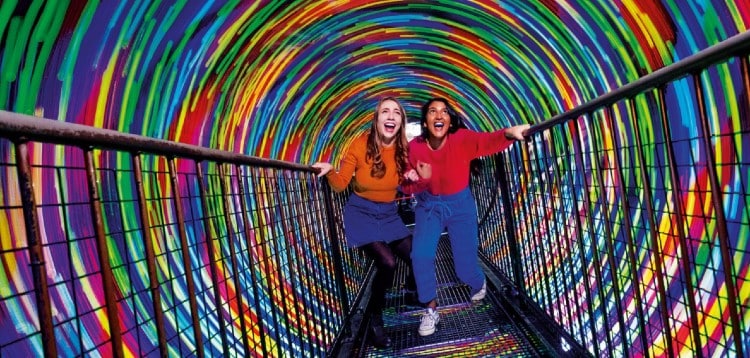 Many tourists found the second floor of Camera Obscura Edinburgh to be the most fun.
It is a collection of the Optical Museum's most popular, biggest, and most amusing illusions.
Don't miss out on the magical Mirror Maze, the Vortex Tunnel, the Light Painter, etc.
Third Floor: Eye Spy Edinburgh
This floor offers an opportunity to see Edinburgh yet again from a different pair of eyes.
Here, you use the view cams and powerful modern cameras to peep into the lives of real people, and they don't even know you are watching!
At the Infinity Corridor, you see old photos of Edinburgh, back when Camera Obscura first opened in the 1850s.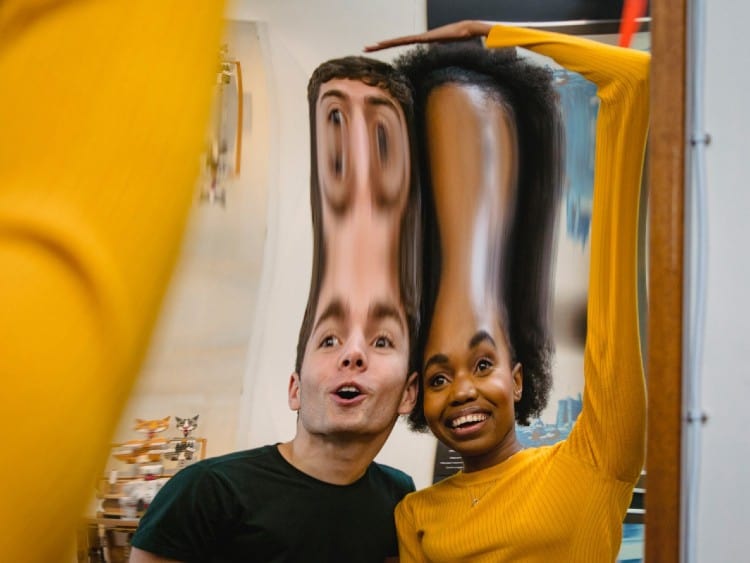 Don't miss out on the funny mirrors and the Thermal Camera, which can tell if you are hot or cold.
Fourth floor: Light Fantastic
Light Fantastic on the fourth floor of Camera Obscura has many exhibits that are unique to this attraction – you won't find them anywhere in the World.
The interactive fun, tricks, and illusions mess with your mind and make your eyes believe in fantastic visual effects.
Check out the Holograms, Colour Shadow Wall, Light Harp, etc.
The Ames Room is a brilliant piece of trickery, for it can grow and shrink you instantly. Most visitors take photos at the Ames Room.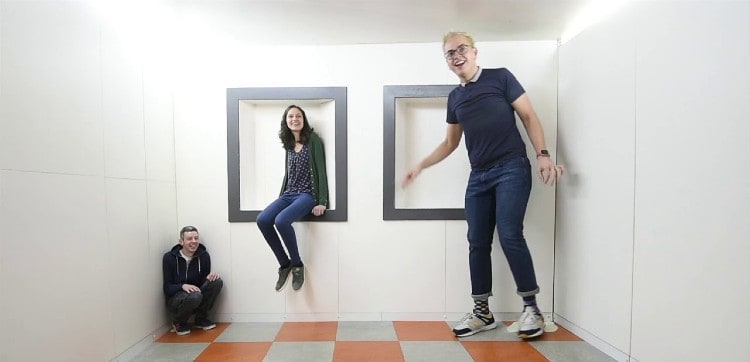 And finally, there is the 'Severed Head' illusion where your head gets served on a plate.
Fifth floor: Magic Gallery
The Magic Gallery houses many more cool optical illusions and interactive experiences.
The Magic Gallery Plasma Tubes and Globes bring electricity right to your fingertips and help you light up the room.
This room also has classic exhibits such as the maddening magic eye pictures, mind-bending mirrors, 'big head' giant lens, etc.
Don't miss out on the mirrors where you can swap noses and heads with your sibling and the Shadow Wall, of course.
Sixth floor: Rooftop terrace
The Rooftop of the Outlook Tower hosts the Camera Obscura chamber (darkroom), where the Camera Obscura Show happens.
An old periscope uses a mirror, lenses, and daylight to conjure up the most epic panoramic views of Edinburgh.
Since this show can happen only during daylight, make sure you opt for the 'All day ticket' (and NOT the evening ticket) while buying your Camera Obscura tickets.
Even as you wait for the show, you can take in stunning sights of the city of Edinburgh through the binoculars and telescopes available.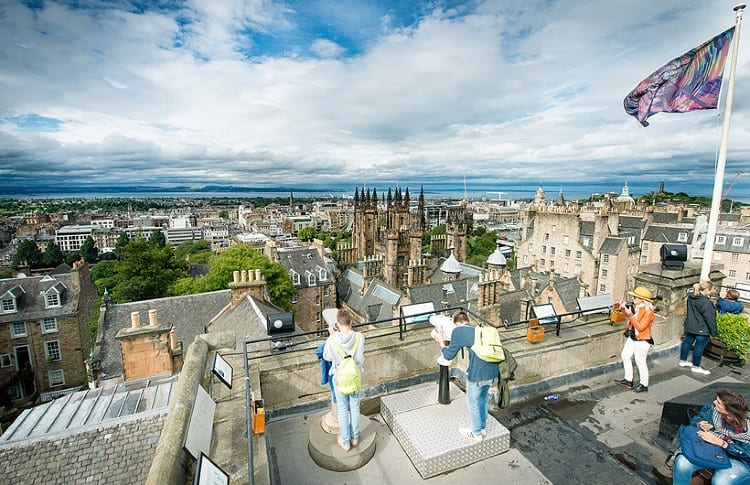 ---
---
History of Camera Obscura
Maria Short was the daughter of a scientific instrument maker called Thomas Short.
When he died, she inherited his telescope.
Since Maria wanted to share the telescope with the people of Edinburgh and make some money in the process, she opened a 'Popular Observatory' on Calton Hill.
This is how Edinburgh's Camera Obscura was born in 1835.
However, she had to close down her Observatory in 1849, under pressure from the city council.
The determined lady that she was, in 1853, she yet again set up shop – on the Royal Mile, and this time she named it Short's Observatory, Museum of Science and Art.
She managed the Short's Observatory till 1869, when she passed away.
After her death, her husband tried to run the Observatory but eventually sold it to a renowned sociologist called Patrick Geddes in 1892.
Patrick renamed the building to the 'Outlook Tower,' which was the birth of Camera Obscura and the World of Illusions.
It has been 185 years since the first visitors stepped into Camera Obscura and 130 years since this attraction got its name!
Sources
# Visitscotland.com
# Tripadvisor.com
# Wikipedia.org
# Camera-obscura.co.uk

The travel specialists at TheBetterVacation.com use only high-quality sources while researching & writing their articles. We make every attempt to keep our content current, reliable and trustworthy.
Popular attractions in Edinburgh