Edinburgh Zoo is one of Scotland's most popular tourist attractions, attracting more than 800,000 visitors annually.
The zoo is home to over 1,000 animals representing more than 200 different species from around the world.
It is an extraordinary wildlife experience for kids and adults alike.
Giant Pandas, Koalas, Penguin parades, etc., are some of the highlights of this century-old Zoo.
The panda exhibit is a major draw for visitors, and the zoo has invested heavily in creating a suitable habitat for these endangered animals.
Edinburgh Zoo is a great destination for animal lovers of all ages, offering a unique opportunity to see some of the world's most fascinating creatures up close.
In this article, we explain everything you must know before you book your Edinburgh Zoo tickets.
Top Edinburgh Zoo Tickets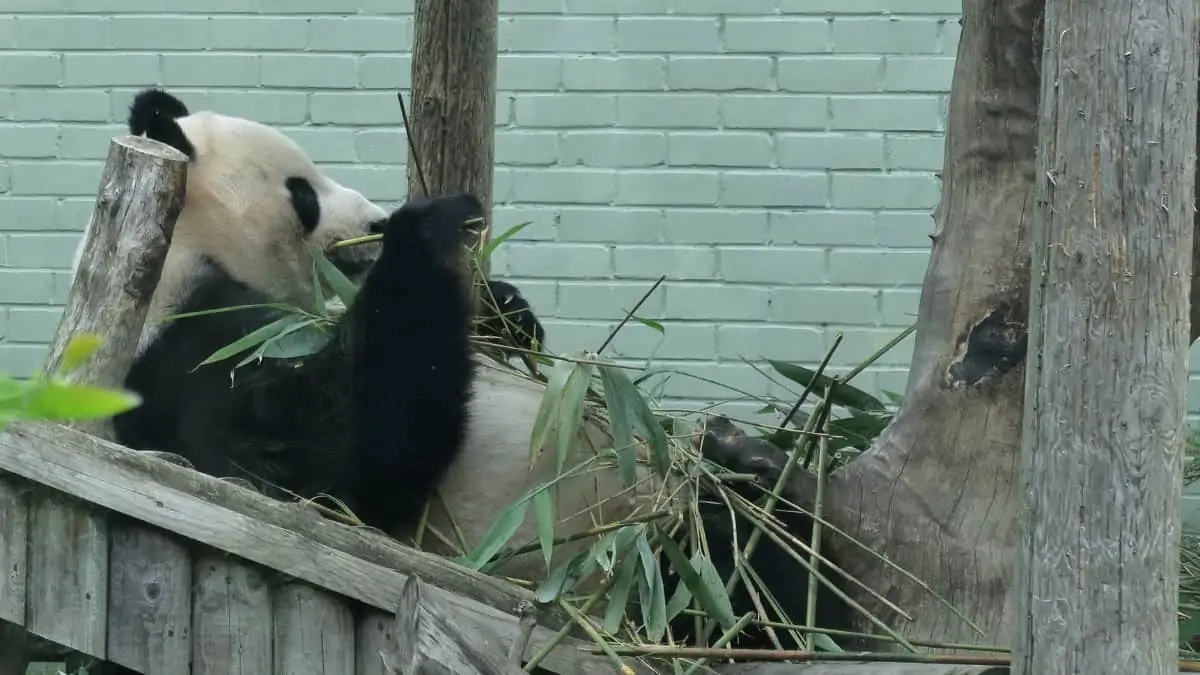 What to see at Edinburgh Zoo
If you are out with your family and kids, we recommend you spend four to five hours and explore as much of the Zoo as possible.
However, if you are hard-pressed for time, here is our list of the Edinburgh Zoo highlights.
Giant Panda Exhibit
The Giant Panda exhibit in RZSS Edinburgh Zoo is home to two Pandas – Tian Tian and Yang Guang.
Their section of the Zoo has tree trunks, sizeable wooden climbing frames, treehouses, caves, ponds, etc.
Visitors don't need to book time slots for seeing the Pandas.
The Giant Pandas' activity patterns vary each day, and there is no guarantee that you will find them active during your visit.
No flash photography is allowed in the Giant Panda exhibit.
Penguins Rock
The centerpiece of Penguin Rock is the massive outdoor pool containing 1.2 Million liters of water.
In this enclosure, you will see more than 100 Penguins amongst the mock sandy beaches and rocky areas, making it seem as real as possible.
Don't miss the famous penguin parade!
The Budongo Trail
Edinburgh Zoo's Budongo Trail is an innovative, interactive Chimpanzee enclosure.
This exhibit is a sizeable indoor-outdoor environment that can house up to 40 chimps.
The Zoo authorities have customized this enclosure for the Chimps and the visitors.
While the Chimps get a network of rooms with different conditions, such as temperature, humidity, and lighting, the visitors get up-close viewing galleries, plasma screens, interactive displays, etc.
Brilliant Birds
Brilliant Birds is a new walkthrough aviary with exotic species from around the World.
See if you can spot the Bali Starling and Nicobar pigeon.
Kids love this must-see exhibit in Edinburgh Zoo because they get to feed the birds.
Koala Territory
Only four Koalas are in captivity in the UK, and they are in Edinburgh Zoo's Koala Territory.
Goonaroo, Alinga, Tanami, and Kalari are active throughout the day and provide excellent viewing.
This exhibit operates on slightly reduced opening hours, so ask for the day's timings on arrival.
Wallaby Outback
The newly built Wallaby Outback is right next to the Koala Territory.
It houses a small herd of Swamp Wallabies.
You can spot a Joey popping its head out of its mother's pouch if you are lucky.
Wee Beasties
Opened in 2017, Wee Beasties is the Zoo's latest indoor attraction.
It is an opportunity to discover unusual species worldwide and get closer to reptiles, amphibians, and insects.
This exhibit is behind Penguin Rock and is open daily from 10 am to 4 pm.
Edinburgh Zoo Gardens
Before this place became a Zoo in 1913, the site was a Nursery.
The tradition continues even today with a specialized team in place to manage the Zoo's Gardens.
With 120 plus species, Edinburgh Zoo is one of the most diverse tree collections in the Lothians.
---
---
Edinburgh Zoo ticket discount
The regular Edinburgh Zoo ticket for an adult costs £20.
The most significant discount on this ticket price is reserved for kids two years and below – they enter for free.
Children between 3 to 15 years get the second-best ticket discount – they get a waiver of £7 on the full adult ticket price and pay only £13.
Seniors (65+ years) and students (with valid ID cards) get a £2 reduction in the ticket price and pay £18.
Online ticket discount
When you buy Edinburgh Zoo tickets online, you pay 10% less than the venue's ticket price.
This is known as the 'online discount.'
This is because when you buy Edinburgh Zoo tickets at the venue, you also pay what is known as a 'ticketing window surcharge' – the cost of maintaining a ticketing window.
---
---
Edinburgh Zoo tickets
This is the cheapest Edinburgh Zoo ticket because of the 10% discount on online purchases.
This ticket gets you complete access to the Zoo, including –
all animals in the Zoo
all keeper talks planned for the day
all educational events and activities
all the restaurants
You can also go to the top of Edinburgh Zoo and see Pentland Hills's stunning views and the city's skyline.
This is a smartphone ticket, which means you don't need printouts – you can show your email ticket on your phone and walk into the Zoo.
You can cancel this ticket 24 hours before the visit date for a full refund.
Edinburgh Zoo ticket prices
Adult ticket (16 to 64 years): £20
Child ticket (3 to 15 years): £13
Student ticket (with valid ID): £18
Senior ticket (65+ years): £18
Kids aged 2 years and younger can enter for free.
---
---
Edinburgh Zoo family ticket
Many visitors wonder if a family ticket is on offer at Edinburgh Zoo before booking their tickets.
Unfortunately, the Zoo doesn't offer a combination of 'two adults + two kids' or 'two adults + one kid.'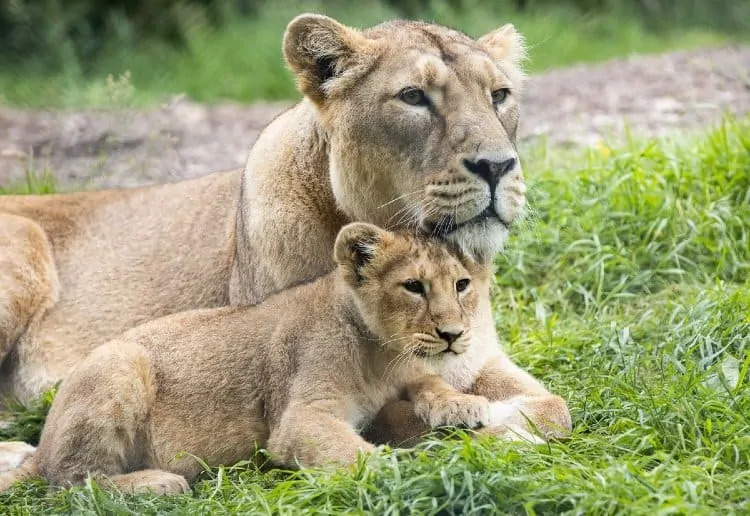 However, if you book your Edinburgh Zoo tickets online, you can still save 10% of the ticket cost.
For instance, for a family of two adults and two kids (between 3 to 15 years), the Zoo tickets will cost £66.
---
---
Edinburgh Zoo animals
Edinburgh Zoo is home to more than a thousand animals from all around the World.
During your visit to the RZSS Edinburgh Zoo, you can see them in their animal enclosures and attend their keeper talks.
Edinburgh Zoo Panda
RZSS Edinburgh Zoo houses the only Giant Pandas in the UK.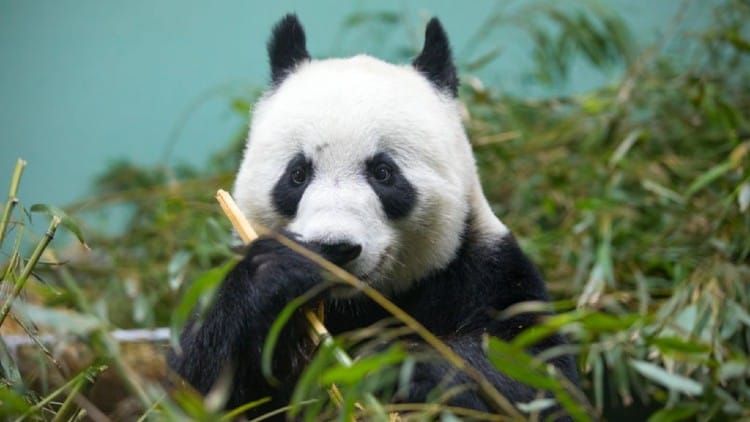 The female Giant Panda is Tian Tian (Sweetie), and the male is Yang Guang (Sunshine).
Since Pandas are solitary animals, they stay in separate enclosures.
Baby Panda
Many visitors wonder if Tian Tian and Yang Guang have a baby Panda.
Unfortunately, despite many years of trying, they don't have a kid yet.
However, Edinburgh Zoo does have a baby Panda called Ruaridh, which means 'red-haired king.'
In Sep 2019, the cute endangered Red Panda was born to his mother, Ginger, who had arrived in 2017 from the Netherlands.
Edinburgh Zoo Koala
Edinburgh Zoo is home to the UK's only Queensland Koalas.
The Zoo's adult male Koala is the 16-year-old Goonaroo, and the female Koala is named Alinga (which means Sun).
The other two Koalas in the enclosure are the four-year-old male Tanami and the two-year-old female Koala called Kalari.
Kalari is Alinga's daughter.
You can meet them all at the Koala Territory.
Edinburgh Zoo Tiger
The Tiger Tracks at Edinburgh Zoo is home to Dharma, a three-year-old Sumatran Tigress who came from Fota Wildlife Park.
The Zoo recently upgraded the Tiger Tracks to three times its previous size.
It now has a spectacular ground-level viewing tunnel and a high-level viewing area for visitors.
The new Tiger Tracks has climbing structures, a feeding post, heated rocks for the Tigeress to relax on, ponds to cool down in, and a new house.
Edinburgh Zoo Penguins
The Edinburgh Zoo hosts three kinds of Penguins – King Penguins, Rockhopper, and Gentoo Penguins.
Visitors can find them at Penguin Rock, which has Europe's largest outdoor penguin pool that is 65 meters long and 3.5 meters deep (213 feet long and 11.5 feet deep).
Rockhopper Penguins are the smallest species of the 100-plus penguins at Edinburgh Zoo but have 'huge' attitudes.
Fun Fact: King Penguins were one of the first species to be kept at Edinburgh Zoo and bred in 1919. It was the first captive breeding of the animal anywhere in the World, so Edinburgh Zoo's logo features a King Penguin.
Penguin parade
The famed Penguin March is Edinburgh Zoo's top attraction, and visitors are known to time their visit around the Penguin Parade.
This parade isn't something the Zoo planned.
Back in the 1950s, one of the gates was accidentally left open, and a Gentoo Penguin walked out.
The other Penguins followed the leader as the ZooKeeper waited to see what would happen next.
The tradition continues, just that now the gate is opened intentionally.
Gay Penguins
Many wonders if Edinburgh Zoo has gay penguins.
Even though rare, same-sex penguin partners do exist.
Some of the most popular Gay Penguins the World has seen so far are –
In 2016, comedian Daniel Sloss spoke about the gay Penguins he had encountered in Edinburgh Zoo (watch video).
He followed up with an update on what happened when one of the gay Penguins died.
However, when writing this, we couldn't find evidence of gay Penguins in Edinburgh Zoo.
Edinburgh Zoo Elephants
Edinburgh Zoo used to have elephants in the days, as shown in the video below.
Sally was one of the most popular elephants at Edinburgh Zoo. Sally's photograph taken in 1965
However, as of 2020, they don't have any elephants in Edinburgh.
Edinburgh Zoo Giraffes
Visitors to Edinburgh Zoo had last seen Giraffes in 2004.
After going without a Giraffe for almost 15 years, the Zoo started a campaign on World Giraffe Day 2019 called 'Stick Your Neck Out for Giraffes.'
The Zoo authorities plan to collect £100,000 to create a unique Giraffe house with open spaces to roam and high-level walkways so visitors can come face to face with the animals.
Edinburgh Zoo Dinosaurs
The Edinburgh Zoo does have its share of Dinosaurs.
They are part of a 'Lost Worlds' Chinese lantern festival in which 600-plus illuminated dinosaurs' lanterns are spread all over the Zoo.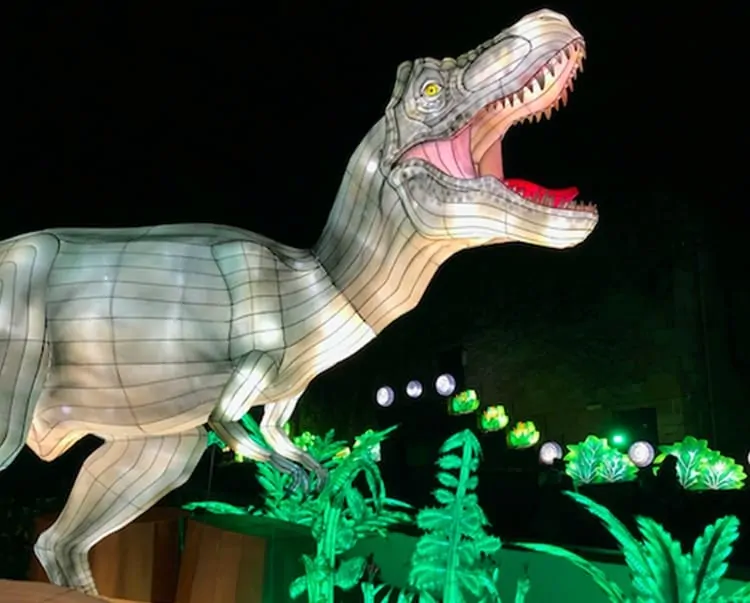 This Edinburgh Zoo dinosaurs special usually runs from mid-November to January end of every year.
---
---
How to get to Edinburgh Zoo
Address: Royal Zoological Society of Scotland, 134 Corstorphine Rd, Edinburgh EH12 6TS, UK.
It is best to rely on Google Maps or the city's public transport for directions to Edinburgh Zoo.
Buses to Edinburgh Zoo
If you are in the city, it is best to catch a bus to Edinburgh Zoo – Lothian's Bus Nos 12, 26, or 31 take you straight to the Zoo entrance.
You can board these buses from Haymarket, Waverly Station, or the Edinburgh City Center (Princess Street, Stop PX).
Bus routes & timetable
Bus No. 12: Seafield > Leith > Princes Street > Haymarket > Zoo > Gyle Centre (Timetable)
Bus No. 26: Seton Sands/Tranent > Portobello > City Centre > Zoo > Clerwood (Timetable)
Bus No. 31: Bonnyrigg > City Centre > Zoo > East Craigs (Timetable)
Bus ticket prices
A one-way bus ticket for an adult (16+ years) is £1.80, and for a child, it is 90p.
The Bus driver won't give back the change when you buy tickets, so carry the exact change.
You can also purchase tickets from the Lothian Buses app.
Airport to Edinburgh Zoo
If you plan to travel from Edinburgh Airport to Edinburgh Zoo, take the Airlink 100 express bus, which offers frequent departures, comfortable seating, and free WiFi.
An Airlink 100 Express leaves the airport every half hour and reaches the Edinburgh Zoo in 20 minutes.
The Airlink buses operate from 4.30 am to 11.55 pm.
A one-way ticket costs £4.50, and round trip ticket costs £7.50.
Booking your Edinburgh Airport to Edinburgh Zoo bus ticket in advance is better. Book Now
Edinburgh Zoo by train
Two stations serve the city of Edinburgh – Waverley Station and Haymarket Station.
We suggest you travel to these stations on Scotrail's trains.
Once you get down, follow the bus recommendations given above to reach the Zoo.
Driving to the Zoo
If you use Satnav, use the postcode EH12 6TS.
We don't recommend getting to the attraction by car because the slots in Edinburgh Zoo's car parking are limited.
The car parking fee is £4 per visit, and only cash is accepted.
Since the Zoo is in a residential area, you may find some parking nearby during the day.
Click here to know more about the nearby parking lots.
---
---
Edinburgh Zoo opening times
All through the year, Edinburgh Zoo opens at 10 am, but its closing time changes according to the season.
During the peak season of April to September, the Zoo closes at 6 pm, and in the winter months of November to February, it closes at 4 pm.
During the shoulder months of October and March, Edinburgh Zoo closes at 5 pm.
The Edinburgh Zoo is closed on Christmas Day.
Some of the Edinburgh Zoo's indoor enclosures, such as the Koala Territory, Wee Beasties, etc., can open later than the stated opening hours and may close 30 minutes before closing.
---
---
Best time to visit Edinburgh Zoo
The best time to visit Edinburgh Zoo is when they open at 10 am.
There are four advantages of starting early – the animals are most active early in the morning, the temperatures are still moderate, the crowd is yet to get in, and you have the whole day to explore.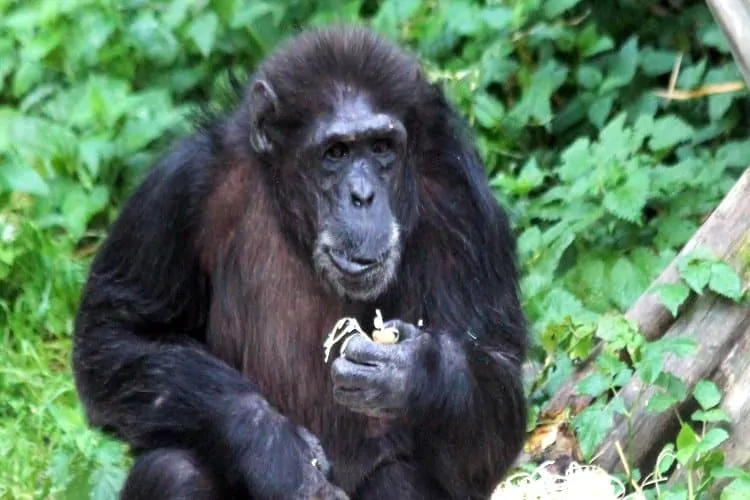 We recommend weekdays for a peaceful visit because it gets crowded on weekends and school holidays.
When you start early, you can explore for a few hours, have lunch at one of the three restaurants, and then begin exploring the Zoo again.
Important: When you buy Edinburgh Zoo tickets online, you can skip the long lines at the ticket office.
---
---
How long does Edinburgh Zoo take
The sloping parkland of Edinburgh Zoo covers an area of 33 hectares (82 acres) and is made up of many enclosures.
Instead of bars and cages, this Scottish Zoo has large, open enclosures and uses ditches and moats to separate the animals from the visitors.
As a result, exploring this famous Zoo takes a bit more time, but visitors get back with a better sense of satisfaction.
If you are visiting as a family with kids and plan to attend keeper talks, feeding sessions, etc., you will need 4 to 5 hours to explore Edinburgh Zoo.
However, if you are a bunch of adults and want to wrap up soon, you can cover most animal exhibits in two hours.
you won't have to waste your time at the zoo's ticket counter if you purchase tickets in advance.
Edinburgh Zoo is on Corstorphine Hill, and some paths involve steep slopes. Please wear comfortable shoes.
---
---
Edinburgh Zoo map
With more than 1000 animals to see, it is wiser to have a copy of the Edinburgh Zoo map to navigate the various exhibits.
Besides the animal enclosures, a map helps you identify visitor services such as restaurants, restrooms, souvenir shops, etc.
Carrying the Edinburgh Zoo's layout is highly recommended if you are traveling with kids because you won't waste time finding the various exhibits and, in the process, get exhausted.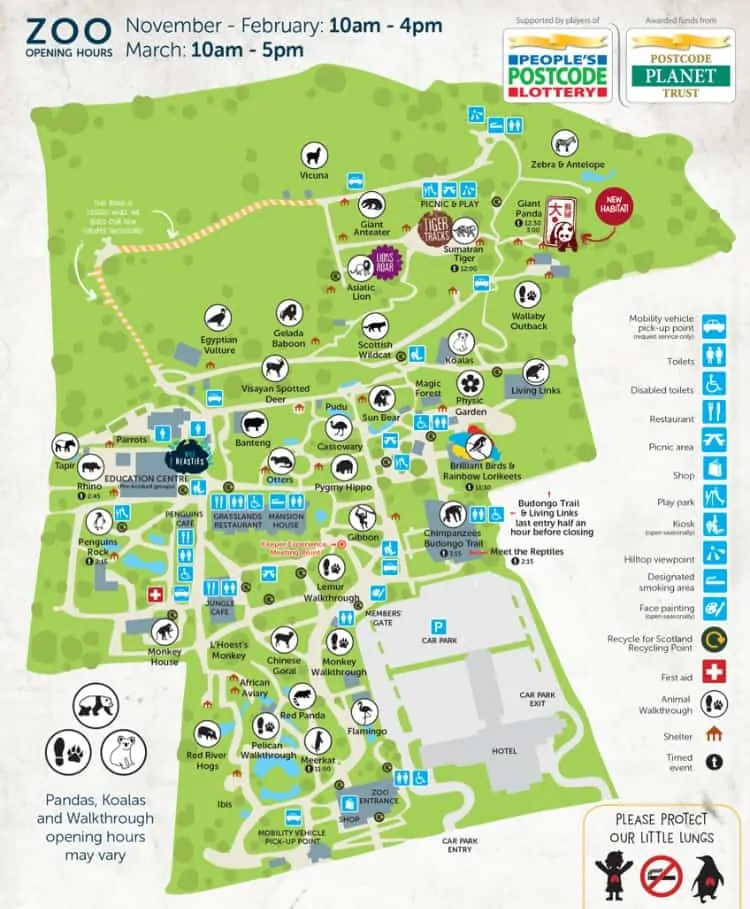 ---
---
Restaurants at Edinburgh Zoo
Edinburgh Zoo has three cafés (and some kiosks) offering a wide range of food and drinks to help visitors recharge themselves.
All these food outlets serve both adult and child portions.
The Gannet Fish Bar
This restaurant serves delicious Scottish fish and chip dipped Cullen skin to vegan haggis and fish cakes, available and take away.
The Gannet fish bar is open seven days a week, from 10 am to 3 pm.
Location: Next to the main lawn
Grasslands Restaurant
Grasslands Restaurant is the main catering outlet at Edinburgh Zoo.
Some items on the menu are freshly made pasta, salads, stone-baked pizza, and some seasonal dishes.
The food gets served at the table, and the setting is perfect for families, couples, or solo visitors.
DGrasslands Restaurant is open from 11.30 am to 3.30 pm during the peak season. And during the lean season, it closes half an hour early.
Location: Mansion House, in the middle of the Zoo
Penguins Cafe
The Café serves a selection of breakfast rolls, ciabattas, salads, and soup.
If you are visiting with kids, check out the 'Penguins Lunch Bags' on offer.
Families also stop by the Penguins Cafe for their cakes and Walls and Mackie's ice creams.
This outlet is open from 10 am until half an hour before the Zoo closes.
Location: Penguins Cafe overlooks the Penguins Rock
Picnic at Edinburgh Zoo
The Zoo authorities don't allow visitors to set up their picnics inside restaurants or cafes.
However, there are plenty of benches and picnic areas provided.
We recommend the picnic area on the hilltop and the one in front of the Mansion House (main lawn).
---
---
Edinburgh Zoo reviews
Edinburgh Zoo is a highly-rated tourist attraction.
Check out two Edinburgh Zoo reviews we picked from Tripadvisor, which will give you an idea of what to expect.
1. Amazing Day Out
Edinburgh zoo is one of my favorite Zoos to go to in the UK as it has a range of animals. For example, Pandas, Koalas, Tigers, Lions, etc.
One of my favorite things about the Edinburgh Zoo is that they offer a Penguin parade. The public lined outside a certain area, and they opened the door of the Penguin cage, which then allowed the Penguins to come out for a walk if they wish. This was such a unique opportunity.
We spent around 5 hours there and at a very reasonable price. We will definitely be back! – TravelWithChar, Southampton, UK
2. Day at the Zoo
A lovely day at the Zoo. Such a great setting, lots of nice areas to sit (even though it was cold). Amazing to see so many baby animals – three Lion cubs, a baby Chimp, and a baby Koala.
Seeing the Pandas was amazing. The zookeepers were all very informative. Lots of interactive things to see and do as well. – Kelly T, Bristol, UK
Sources
# Visitscotland.com
# Wikipedia.org
# Tripadvisor.com

The travel specialists at TheBetterVacation.com use only high-quality sources while researching & writing their articles. We make every attempt to keep our content current, reliable and trustworthy.
Popular attractions in Edinburgh