Alcatraz Island is a small island in San Francisco Bay, California, USA.
The island is best known for its former prison, which operated from 1934 to 1963 and housed some of the country's most notorious criminals, including Al Capone and George "Machine Gun" Kelly.
In addition to its history as a federal prison, Alcatraz Island has been used for military purposes, as a lighthouse station, and as a site for Native American activism.
More than one million tourists book an Alcatraz tour and visit Alcatraz Island annually.
The island also offers stunning views of the San Francisco skyline and the Golden Gate Bridge.
This article explains everything you need to know before buying an Alcatraz Island ticket.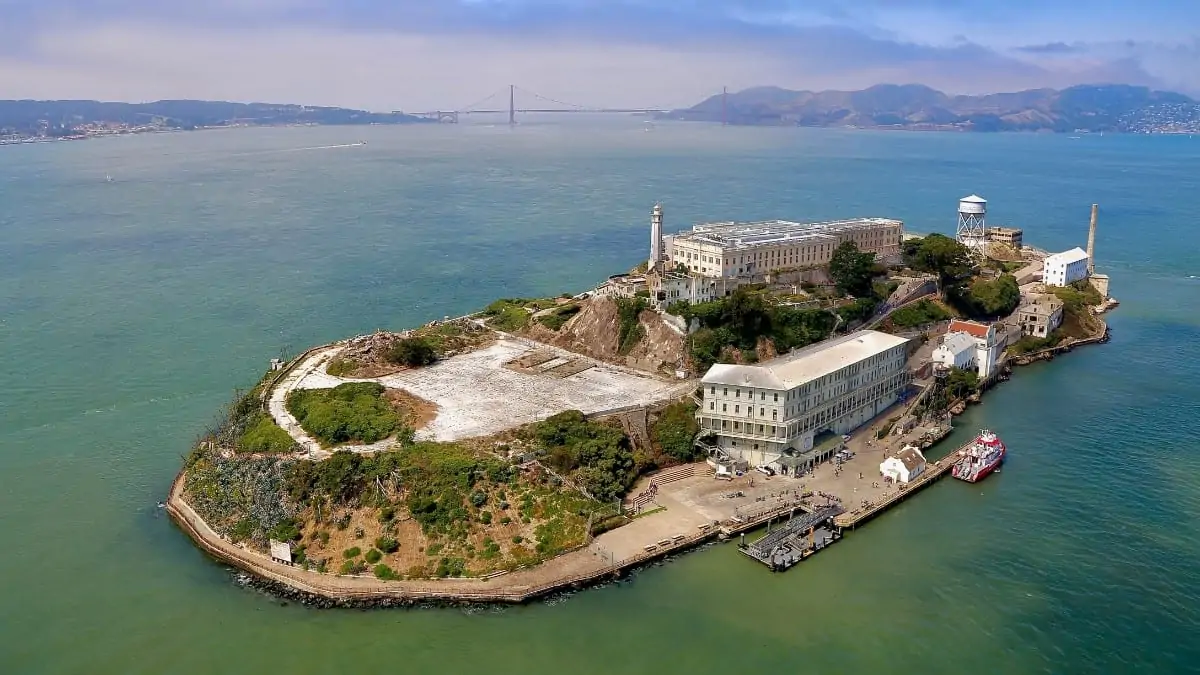 Where is Alcatraz
Alcatraz is a rocky island 2 km (1.5 miles) from the San Francisco shore. (Get Directions)
This island occupies 22 acres (9 hectares).
Can you visit Alcatraz?
Yes, the Alcatraz prison and island grounds are open to the public.
Tourists can plan to visit Alcatraz any day of the year except Christmas, Thanksgiving, and New Year's Day – the three days it is closed.
All you need to do is book an Alcatraz island tour.
What to expect at Alcatraz
---
---
Alcatraz Island tickets

City Experiences manage the sales of Alcatraz tour tickets, which you can purchase up to 90 days in advance.
Alcatraz tour ticket inclusions
An Alcatraz tour ticket includes five things –
Ferry transportation from Pier 33 to Alcatraz Island
The on-board narration during the round-trip ferry ride
The Cell House audio guide
The tour of the prison (using the audio guide)
Other programs and exhibits going on in Alcatraz
Return ferry from Alcatraz Island to Pier 33
Where to buy Alcatraz tickets
Alcatraz Island is the most popular attraction in San Francisco, and there is a considerable demand for tour tickets.
During the summer months, all Alcatraz tickets get booked at least 75 days in advance, and during the winter months, at least 30 days in advance.
If your visit to Alcatraz Island is still a few months away, there are three ways to book your slot on the ferry to Alcatraz.
In-person: Visit the Alcatraz Landing ticket office at Pier 33, The Embarcadero, San Francisco, and buy them in person.
On the phone: Call the Alcatraz City Cruises ticketing center at 415-981-7625 and reserve your Alcatraz island tour tickets.
Online: Log onto the City Experiences website, which Hornblower owns, and book your tickets.
If you are trying for an Alcatraz tour ticket at the last minute, rest assured it has sold out everywhere.
In such a case, it is best to book a combo tour including a visit to Alcatraz Island.
Besides being a last-minute option, these combo tickets also help you save money.
---
---
Alcatraz combo tours
Every day, a limited number of Alcatraz tour tickets get allotted to tour operators in San Francisco to be sold as Alcatraz combo tours.
Once the tickets dry up on the City Experiences website, the Alcatraz combo tickets become your only hope.
Are Alcatraz combo tours reliable
Yes, Alcatraz combo tours are reliable and popular as well.
Local tour companies buy Alcatraz tickets in bulk from Alcatraz City Cruises, the official distributor.
Alcatraz City Cruises allows these tour operators to sell Alcatraz tickets under one condition – the operators must club Alcatraz's visit with other attractions in San Francisco.
Therefore, when all the Alcatraz tour tickets get sold out, your best option is a combo tour for the last-minute Alcatraz ticket.
Best Alcatraz combo tours
We shared below our favorite combo tours, including a visit to Alcatraz Island. Or you can see all the available Alcatraz tours.
Since even Alcatraz combination tickets get sold off fast, it isn't easy to get your preferred dates.
You may have to search for a suitable Alcatraz combination tour with your preferred dates available.
Can't afford so much? Try this tour where you cruise around Alcatraz Island for 90 minutes for only $33 per person.
If these combo tours didn't excite you, check out these time-tested tricks to buy Alcatraz tickets last minute.
---
---
How to reach Alcatraz Cruises

Alcatraz Island tour ferries depart from and return to Pier 33, also known as Alcatraz Landing.
Pier 33 Alcatraz Landing is along San Francisco's northern waterfront promenade, also known as The Embarcadero.
Pier 33 is near the intersections of Sansome Street, The Embarcadero, and Bay Street and Embarcadero.
It is just 400 meters (a quarter of a mile) from Fisherman's Wharf.
The Alcatraz Landing area at Pier 33 includes the Ticket booth, waiting, and boarding areas.
How to reach Pier 33
Fire up your Google Map and see how far you are from Pier 33.
If you can't walk the distance, depending on your current location, you can take one of these buses –
All odd number piers on San Francisco's waterfront are north of the city's famous Ferry Building, at the foot of Market Street, and all the even-numbered piers are south of the Ferry Building.
Many tourists don't realize this and land up at Piers 30, 32, or 34, which are miles from the spot from where they must board the Alcatraz Island ferry.
Parking at Alcatraz Landing
If you are plan to board an Alcatraz ferry to the Island, we don't recommend driving to Pier33.
Parking is difficult to find and very expensive in the Fisherman's Wharf area, especially in the summer and spring months.
If you don't find parking in time, you may miss your scheduled departure.
It is better to get dropped at Pier 33 or take public transport.
Click here to get information about the nearby parking lots.
---
---
Alcatraz tour times
Alcatraz Island opens for tourists as early as 8.45 am.
The first ferry of the day is the 'Early Bird Tour,' available for booking throughout the year.
The rest of the Alcatraz tour timings change with the season.
Ferry timings in Summer
| Tours | Ferry timing |
| --- | --- |
| Early Bird Tour | 8.45 am |
| Day Tour | 9:10 am, 9:30 am, 10:00 am, 10:30 am, 11:00 am, 11:30 am, 12:00 pm, 12:30 pm, 1:00 pm, 1:30 pm, 2:10 pm, 2:40 pm, 3:20 pm, 3:50 pm |
| Night Tour | 5:55 pm, 6:30 pm |
| Behind the Scenes Tour | 4:20 pm, 4:50 pm |
Ferry timings in Winter
| Tours | Ferry timing |
| --- | --- |
| Early Bird Tour | 8.45 am |
| Day Tour | 9:10 am, 9:30 am, 10:00 am, 10:30 am, 11:00 am, 11:30 am, 12:00 pm, 12:30 pm, 1:05 pm, 1.35 pm |
| Night Tour | 3:50 pm, additional ferry at 4:45 pm if needed |
| Behind the Scenes Tour | 2:10 pm, 2:40 pm |
Alcatraz & Angel Island Combo tour happens at 9.30 am, all through the year.
---
---
Best time to visit Alcatraz Island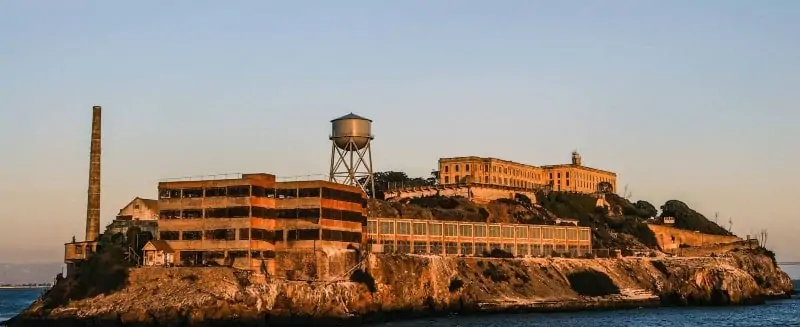 Early morning is the best time to visit Alcatraz – if you get the 'Early Bird Alcatraz ticket' and board the ferry departing Pier 33 at 8.45 am, you can avoid the crowd that comes in later.
The next best time to visit Alcatraz Island is 6 pm in the summer and 4 pm in winter – on the night tour ferry.
Only some people opt for the night tour of Alcatraz Island, making it seem personalized.
As a bonus, you will see amazing views of a lit-up San Francisco skyline when you return from the Island.
Mondays to Thursdays are the best days to visit the island because weekends get crowded.
Best month(s) to visit
The late winter months of January, February, and March see the least crowd at Alcatraz.
The weather is less pleasant than expected, and there is always a threat of rain.
However, since the ferries have covered seating, rains don't affect the travel to Alcatraz Island.
If you want to avoid the crowd and prefer good weather, look at the latest September and October.
Note: San Francisco weather is unpredictable. It can get sunny, foggy, or chilly at an hour's notice, so it is better to dress in layers.
---
---
How long does a tour of Alcatraz take?
The Alcatraz Island day tour includes the ferry ride to Alcatraz Island, the Cell House audio tour, the optional exhibits, and the ferry ride back, all of which take approximately three hours.
The ferry rides take 12-15 minutes each way, allowing for two and a half hours on the island.
If you love history and like to get into the details, and prefer to take many photographs, you can easily spend four to five hours exploring Alcatraz.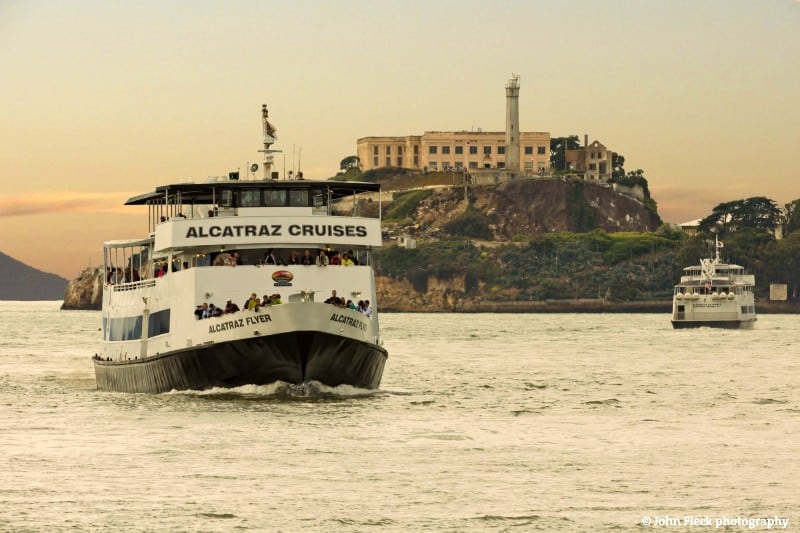 Here are the three factors which impact the duration of Alcatraz tours most:
Once you get down at Alcatraz Island, a steep 400 meters (1312 feet) climb takes you to the Cell House. This elevation change is 40 meters (130 feet). Some visitors prefer to rest in between, while others manage this distance faster.
While some tourists stop to catch their breath, others stop for the breathtaking view during this climb. The sights are so alluring that many tourists take it easy and spend extra time.
The Cell House audio tour at Alcatraz is 45 minutes long. However, you can pause it at regular intervals and pace your exploration.
Alcatraz night tours also tend to take three hours.
Save up to 45% on ticket prices of the top 25 attractions in San Francisco. To save time and money during your SFO holiday, buy San Francisco's Go Card
---
---
Alcatraz tickets FAQs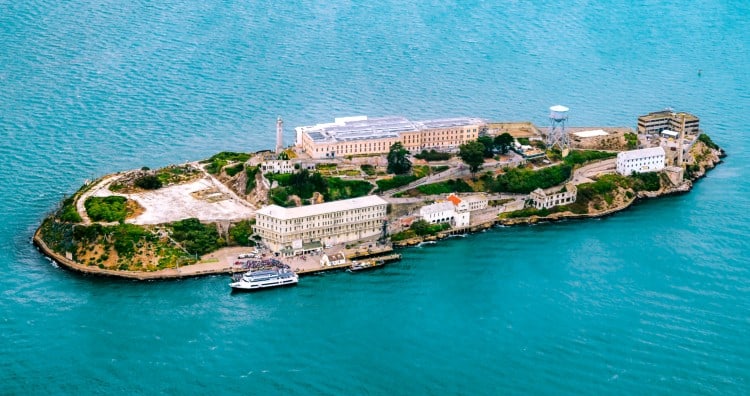 Tourists have a lot of questions before they buy their Alcatraz Island tickets.
We try to answer some of them –
Should Alcatraz tours be booked in advance?


Tickets to Alcatraz Island can sell out much in advance. Please secure your tickets on the Alcatraz ferry as soon as you finalize the plan.

Alcatraz tickets get sold out 75 days in advance during the peak summer months.

During the months with moderate tourist activity (September and October), Alcatraz tour tickets get booked 45 to 50 days in advance.

Where is the Alcatraz cruises ticket booth?


Alcatraz ticket booth is at Pier 33, The Embarcadero, San Francisco.

The office is open seven days a week from 7.30 am to 5 pm Pacific Time.

Where to buy Alcatraz Island tickets?


The official Alcatraz ticket site is cityexperiences.com.

However, tickets on the official website get booked at least 50 to 75 days in advance.

If your holiday is coming up soon, check out the last minute Alcatraz tour tickets.

When Alcatraz tickets are all sold out, how to book an Alcatraz Island tour?


Alcatraz tickets get sold out very fast from the official website.

If you are searching for Alcatraz tickets at the last minute, your only option is to book a combo tour, which includes a ferry ride to the Alcatraz prison island and back.

How much does the Alcatraz tour ticket cost?


Adults (18 to 61 years) and juniors (12 to 17 years) pay the full price of $45, while kids (5 to 11 years) and seniors (62+ years) pay a discounted price of $26 and $43 for their Alcatraz ticket, respectively.

The cost of an Alcatraz tour ticket depends on the visitor's age.

Where to get cheap Alcatraz tickets?


You can get the cheapest Alcatraz tour tickets from the official website – cityexperiences.com.

However, because of the massive demand, they sell off their tickets at least 75 days in advance during peak months and 45 days before during non-peak months.

Here are some tricks to still score cheap last minute Alcatraz tickets.

Can we buy same-day Alcatraz tickets?


Every day, guests can purchase a limited number of same-day Alcatraz tour tickets from the Alcatraz City Cruises ticket office at Pier 33.

The authorities sell it to the tourists on a first-come, first-served basis, so you may have to line up at 5 am. 

We suggest Alcatraz Combo tours instead.

Are there discounts on Alcatraz tour tickets?


Seniors aged 62 years and more get a $2 discount, while kids 5 to 11 years get a $19 discount on the adult price of $45.

Visitors aged 12 to 61 years don't get any discount and pay the full price of $45 for their Alcatraz prison ticket.

Which is the best Alcatraz Island tour?


Three tours are most popular amongst visitors to Alcatraz – the Early Bird Tour, the Day Tour, and the Night Tour.

The Alcatraz night tour comes with a guide and costs eight Dollars more than the Day tour.

The Early Bird tour is best for tourists who prefer to avoid the crowd, and the Night Tour is best for visitors who would rather have a 'scary' experience.

What is the Alcatraz haunted tour?


The Alcatraz Night tour is also often called the Alcatraz haunted tour.

This is because the guides who lead the Alcatraz night tour use the darkness and fewer visitors at night to create a 'haunted' experience.

Do we need to print Alcatraz tickets bought online?


Printing your Alcatraz ticket will save you a lot of time.

You must arrive at the Pier 33 Alcatraz Ticket booth an hour before your ferry's departure to collect the ticket by showing a valid photo ID and the credit card used for the purchase.

If you purchase an Alcatraz tour combo, your travel agent does this hard work.

Can I cancel Alcatraz tickets?


Wherever you buy your Alcatraz tour tickets from, there is no refund. There will be no compensation for no-shows as well.

Does Alcatraz ticket include the ferry?


Yes, all Alcatraz tickets include the full experience – ferry transportation both ways, access to the Alcatraz prison on the Island, and the Cell house audio tour.

What are Alcatraz boat tickets?


Alcatraz tour tickets are sometimes referred to as 'Alcatraz boat tickets' because they include the ferry to Alcatraz Island and back.

What time is the early bird Alcatraz tour?


The ferry for the Early Bird Alcatraz tour leaves Pier 33 at 8.45 am every day.

This is the best option if you want to avoid the crowd during your Alcatraz visit.
---
---
Map of Alcatraz Island
During your visit, it will help to have the Alcatraz Island map.
Even though you are not likely to get lost, you will know where the facilities are, where the Agave trail is, where the bird-watching space is, etc.
We recommend you save this map (pdf) on your mobile or bookmark this page to return to it later.
---
---
What to wear for the Alcatraz tour
The weather on Alcatraz is unpredictable and subject to change at short notice.
However bright the day begins, dress up in layers and bring a light jacket or sweater.
Once you reach Alcatraz Island, you must climb 400 meters (1312 feet) to the Cell House.
While exploring the San Francisco attraction, you will also get exposed to stairways, and gravel walkways, so wearing comfortable and covered walking shoes is an absolute must.
It is better to avoid sandals, high heels, and open-toe shoes.
The sunlight reflecting off the bay's surface can be dangerously bright on the water and the island. We highly recommend sunglasses and sunblock.
Rain is a high possibility if you are visiting during winter and early spring.
---
---
Alcatraz audio tour
The Alcatraz Cellhouse audio tour is at the core of the Alcatraz experience and is included with every Alcatraz ticket.
Visitors can tour the Cellhouse at their own pace with the award-winning audio presentation "Doing Time: The Alcatraz Cellhouse Tour."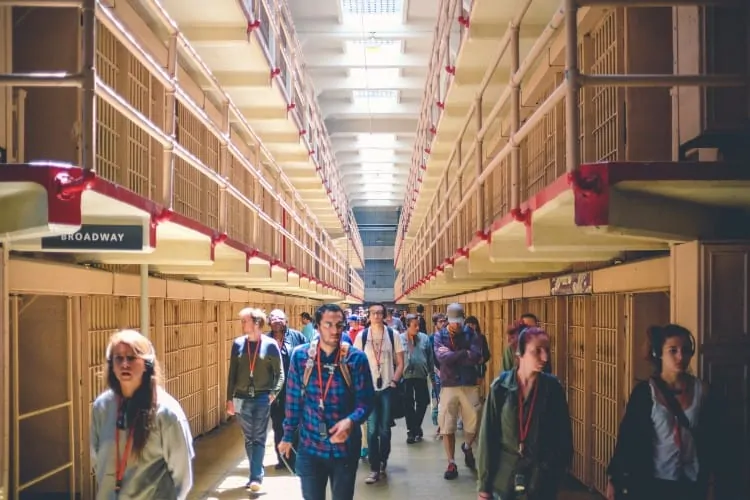 The 45-minute-long tour introduces four former Alcatraz officers and four former inmates, who narrate the tour.
You will be shown a photograph of each man in one of the first prison cells, with a short biography, and having a face to each personality adds that extra zip to the narration.
This audio tour also covers escape attempts, the Battle of '46, food riots at the jail, how the prisoners survived solitary confinement, etc.
Besides English, the Cell House audio tour is available in ten other languages.
You can use the traditional audio tour equipment provided at the attraction or download the mobile app on your device (bring your earbuds).
You can check out a sample of the Alcatraz Cellhouse audio tour here.
Sources
# Alcatrazislandtickets.com
# Tripadvisor.com
# Alcatraztoursf.com

The travel specialists at TheBetterVacation.com use only high-quality sources while researching & writing their articles. We make every attempt to keep our content current, reliable and trustworthy.
Popular attractions in San Francisco
# Alcatraz Island
# San Francisco Zoo
# San Francisco MoMA
# California Academy of Sciences
# Monterey Bay Aquarium
# San Francisco aquarium
# Exploratorium
# De Young Museum
# San Francisco Bus Tours
# Madame Tussauds
# San Francisco Bay Cruise
# San Francisco Ghost Tour
# The Tech Interactive
# San Francisco Dinner Cruise
# SFO Go Car Tour
# Legion of Honor Museum
# Walt Disney Family Museum
# Museum of 3D Illusions
# 7D Ride Experience