If you are a fan of thrill and horror, then you shouldn't miss San Francisco Ghost Hunting Tour.
Search the streets after dark for evidence of paranormal activity on this tour with your friends and family.
This article shares everything you should know before buying tickets for San Francisco Ghost Tours.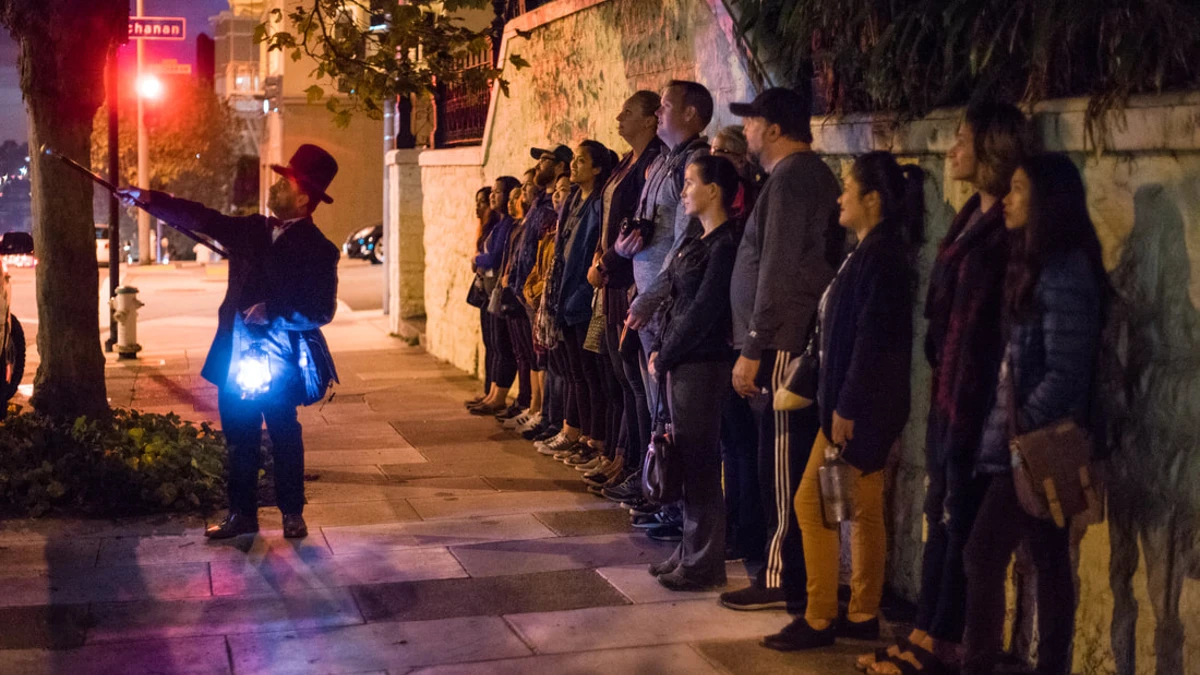 What to expect on Ghosts Tour in San Francisco?
Set off on a San Francisco ghost tour through 8 to 12 different sites around the downtown area.
Meet your experienced tour guide at Union Square and embark on a one-hour tour through the Nob Hill area.
Many ghostly historical events continue to impact the area, and the accounts you'll hear on this tour reveal that these hills have just as much horror as happiness.
This tour is a great way to see the amazing sites of affluent neighborhoods while getting a feel for the city's ghostly atmosphere.
See a side of the city seldom witnessed and walk past haunted hotels, streets, clubs, and office buildings.
Learn about the ancient Mayan secrets of the Sutter buildings and the famous tragedies that haunt The Westin St. Francis.
Know more about the devastation and heartbreak that followed the great earthquake of 1906, which has literally and figuratively haunted the city for over a century.
Find out about the terrible night that leads to Fatty Arbuckle's blacklisting from the film industry.
Where to buy San Francisco Ghost Tour tickets
You can buy Ghost Tours San Francisco tickets online.
Booking tickets online gives you many benefits.
Online tickets provide various offers and discounts, getting you the tickets at a lower price.
When you book tickets online and in advance, you also get your preferred time of visit.
Online tickets also help you avoid last-minute disappointments when tickets get sold out in peak season (for instance, Halloween and Christmas months).
How online ticket works
On the booking page, select your preferred date and the number of tickets, and buy them right away.
After the purchase, you will receive the tickets in your email.
You don't need to take any printouts.
All you have to do is show the ticket on your smartphone and get ready for the tour.
Cost of San Francisco Ghost Tours tickets
The San Francisco Ghost Tour tickets cost US $30 for all visitors aged 13 years and above.
Young visitors aged 6 to 12 years get a US $7 discount and pay only US $23 for the tour.
Tickets for children up to the age of 5 years are priced at US $16, with a saving of US $14.
---
---
San Francisco Ghost Tour tickets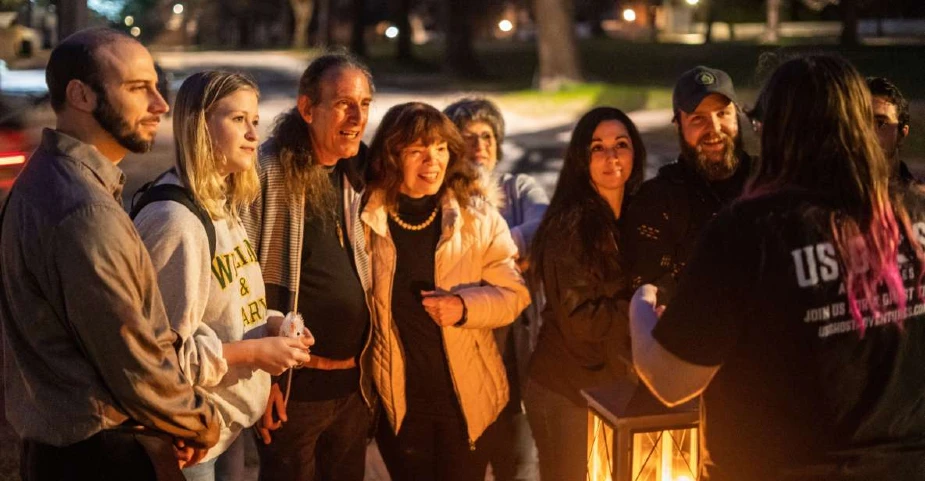 You can book tickets for the Ghosts, Gold, and Ghouls Guided Walking Tour or San Francisco Ghost Hunting Walking Tour.
Take a walk through the darkest corners of San Francisco on this chilling, haunted walking tour of Nob Hill and Union Square.
Seek out the paranormal on San Francisco's ghost-hunting walking tour.
Venture down Gold Rush alleyways after dark, armed with tools to help uncover and contact spirits that remain.
Ghosts, Gold, and Ghouls Guided Walking Tour tickets
Learn about the haunted past of San Francisco on a one-hour walking tour through the historic downtown neighborhoods.
Hear stories of the famous tragedies that still haunt the Westin St. Francis and Fairmont Hotels.
Discover famous San Francisco characters who came to strike it rich during the famous Gold Rush of 1849.
Discover insights into the lives of people who endured the terrible 1906 earthquake that destroyed the city.
Enjoy a walking tour with a local tour guide and get endless photo opportunities throughout the evening.
Ticket Price
Adult Ticket (13+ years): US $30
Youth Ticket (6 to 12 years): US $23
Child Ticket (up to 5 years): US $16
San Francisco Ghost Hunting Walking Tour
Meet by nightfall in the Jackson Square Historic District, a Gold Rush-era neighborhood of eerie Victorian architecture.
Your tour guide will outfit everyone with an E.M.F. meter that you'll use throughout the paranormal investigation.
Explore the alleyways of Chinatown after dark and unveil stories of true crime and historical hauntings.
Ticket Price: US $55
Save money & time! Buy a San Francisco City Explorer Pass and Choose 2 to 5 attractions and tours from over 25 activities. Visit the Aquarium of the Bay, go on a Hop-on Hop-off Big Bus Tour, or take a Francisco Bay Cruise and many more!
Best time to go on a Ghost Tour
You must reach the meeting point of Ghost Tours in San Francisco at least 15 minutes before the start of your tour as the tour guides will be sharing a lot of info about the walking tour.
The ghost tours usually start at 7 pm and last 60 to 90 minutes.
Another best time to take this tour is during the Halloween month when the veil between the living and the dead is at its thinnest.
Popular attractions in San Francisco
# Alcatraz Island
# San Francisco Zoo
# San Francisco MoMA
# California Academy of Sciences
# Monterey Bay Aquarium
# San Francisco aquarium
# Exploratorium
# De Young Museum
# San Francisco Bus Tours
# Madame Tussauds
# San Francisco Bay Cruise
# San Francisco Ghost Tour
# The Tech Interactive
# San Francisco Dinner Cruise
# SFO Go Car Tour
# Legion of Honor Museum
# Walt Disney Family Museum
# Museum of 3D Illusions
# 7D Ride Experience