San Francisco's Exploratorium is an educational experience with more than 650 hands-on exhibits designed to challenge your mind.
With hundreds of explore-for-yourself exhibits, a visit to this science museum will help you ask questions, question answers, and understand the world around you better.
This world of science, art, and human perception is a perfect outing for all family members.
This article shares everything you must know before buying tickets for Exploratorium in San Francisco.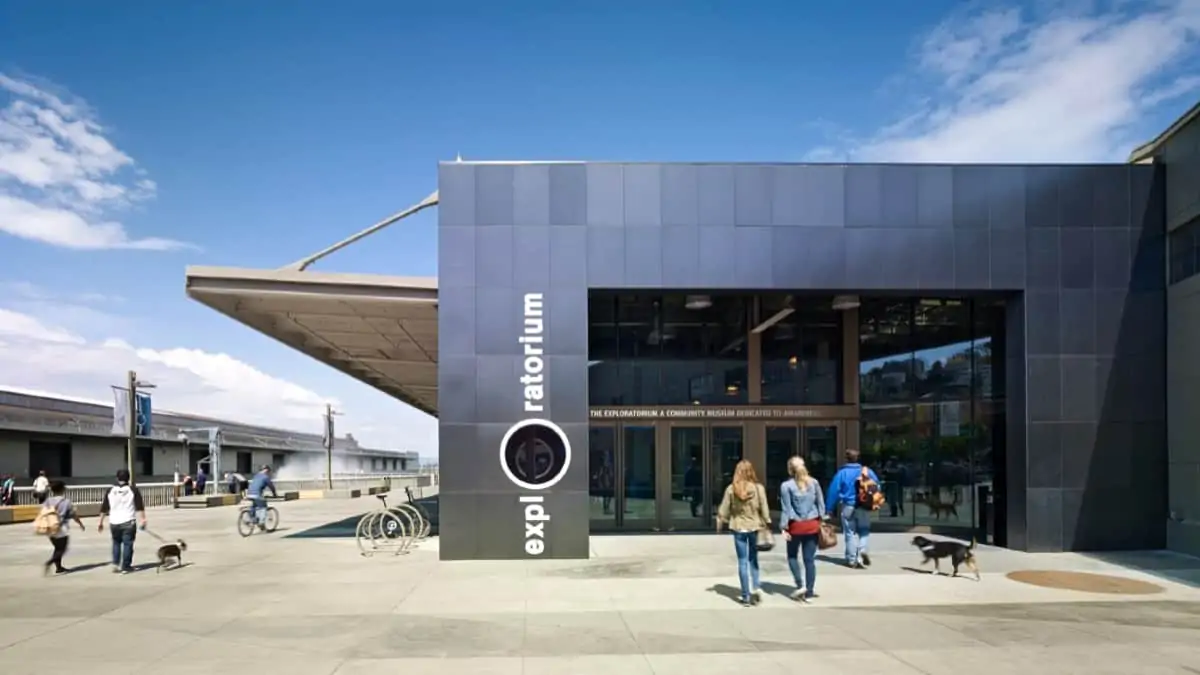 What to expect at the Exploratorium
Exploratorium in San Francisco has been making interactive science exhibits for the last 50 years, which are on display in its six spacious indoor and outdoor galleries.
Since it is a science museum, they don't provide explanations for every exhibit. It is through experimentation and exploration that visitors learn how the world works.
At Exploratorium, visitors don't look at the exhibits—they play with them.
The Exploratorium San Francisco is about getting hands-on – pressing buttons, turning knobs, flipping cards, pausing, noticing, and realizing.
---
---
Exploratorium tickets

This Exploratorium ticket offers you a skip the line entry, which comes in handy to skip the ticket counter queues.
Immediately after the purchase, the tickets get emailed to you, and on the day of your visit, you can show them on your smartphone and walk in.
No need to take printouts!
With these tickets, you also qualify for a museum map, which you can pick up at the entrance.
Ticket prices
Adult ticket (18 to 64 years): $29.95
Seniors ticket (65+ years): $24.95
Youth ticket (13 to 17 years): $24.95
Student ticket (with valid ID): $24.95
Child ticket (4 to 12 years): $19.95
Infants ticket (up to 3 years): Free entry
---
---
Exploratorium after dark tickets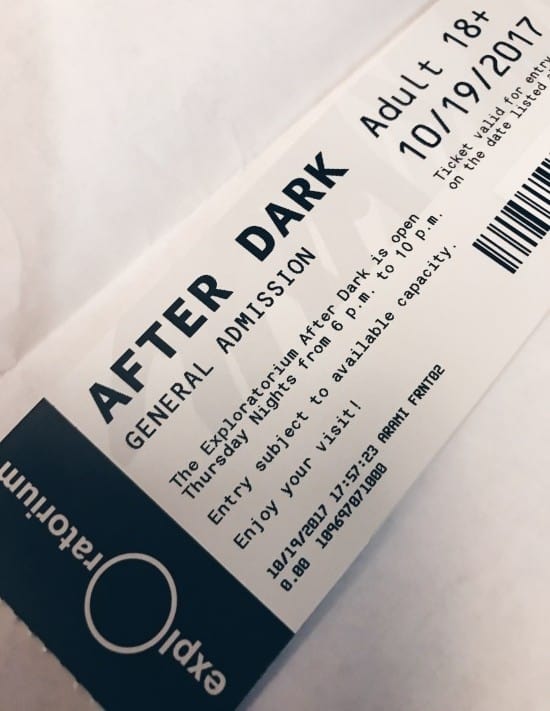 The Exploratorium after dark ticket gets you entry to the science museum after 6 pm on Thursdays.
This ticket is available only for 18+ visitors.
At this unique Thursday night experience, you can grab a drink from the bar and enjoy Exploratorium California, one of the most fun museums in the region.
The Exploratorium after dark ticket gets you access to all the adults-only programming of the evening, such as guest speakers, music, specialty films, and one-of-a-kind activities.
San Francisco CityPASS and GO San Francisco Card are great ways to get massive discounts (up to 45%) and see more of the Bay Area, including Exploratorium, Cal Academy, Legoland, Aquarium of the Bay, de Young Museum, Madame Tussauds, etc.
---
---
How to reach Exploratorium
Exploratorium is at Pier 15, which is on the Embarcadero at Green Street in San Francisco. Get Directions
You can board either Muni's F Market streetcar or E Embarcadero streetcar, both of which stop in front of the Exploratorium at Embarcadero and Green Street.
These streetcars run from 9 am to 7 pm, so plan accordingly.
Muni bus numbers 2, 6, 14, 21, 31, and metro rail lines J, K, L, M, T, N stop within ten minutes of walking from the science museum.
Bus lines 1, 10, 12, 41, and 38 can also get you closer to the attraction.
Embarcadero is the closest BART station and is 1 km (.7 mile) away.
Car Parking
Since parking is not an issue, it is better to drive to Exploratorium if you are a local.
The museum partners with SP+ to offer a discount at Exploratorium Pier 15 Parking Lot and Pier 19 ½ Parking Lot.
To purchase discounted parking, give the discount code 4302100 to the parking attendant.
You can use the same discount code while paying at a kiosk as well.
Metered parking is available aplenty along Embarcadero and on side streets.
---
---
Exploratorium hours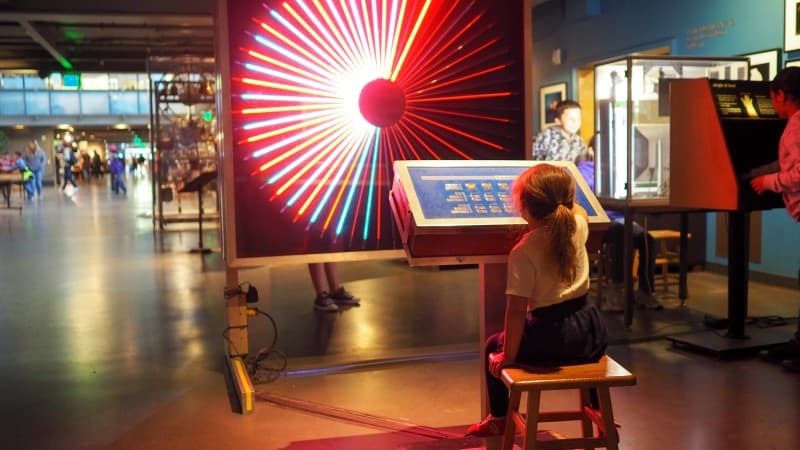 From Wednesday to Sunday, Exploratorium opens at 10 am and closes at 5 pm.
On Thursdays, it opens again at 6 pm for 18+ visitors and closes at 10 pm.
On Sundays, the first two hours – 10 am to noon – are reserved for the members. Non-members can visit the museum anytime after noon.
Exploratorium remains closed on Monday and Tuesday.
---
---
Best time to visit Exploratorium
It is best to visit Exploratorium as soon as they open at 10 am.
Since the science museum is popular with families with kids, starting earlier in the day helps you avoid the crowd.
When you start early, you can explore for a few hours, take a lunch break at one of the two restaurants, and get back to the exhibits again.
If possible, avoid weekends and school holidays.
---
---
How long does the Exploratorium take?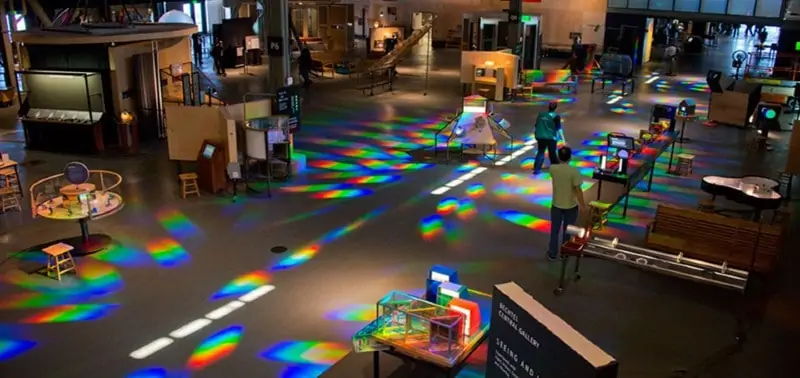 Visitors usually spend three to four hours exploring the 650+ scientific exhibits at the Exploratorium in San Francisco.
Some families take a break at one of the restaurants and get back for the second round of exploration.
But most kids get tired after about four at the science museum.
Exploratorium San Francisco is spread over covers 3.3 acres, so it is better to wear comfortable walking shoes.
---
---
Tactile Dome at Exploratorium
Tactile Dome is the largest interactive exhibit at Exploratorium.
Visitors get to journey through total darkness in this twisting, turning, tactile sculpture.
Using just their sense of touch as a guide, visitors must walk, crawl, climb, and slide their way through.
Cost of tickets
The Tactile Dome experience costs extra – over and above the museum entry ticket.
A session at Tactile Dome costs $8 to $15, depending on the time and duration.
You can book your session inside the Tactile Dome at the museum's Information Desk or in advance by calling 415.528-4444 (option 5).
Session Schedule
| Day/Duration | Timing | Cost |
| --- | --- | --- |
| Weekday, 30 minutes | 10.30 am, 11.15 am, noon, 12.45 am, 1.30 pm | $8 |
| Weekday, 1 hour | 2.15 pm, 3.30 pm, 4.45 pm | $15 |
| Weekend & holidays, 1 hour | 10.15 am, 11.30 am, 12.45 pm | $15 |
| Thursdays (Evening After Dark) | 6.15 pm, 7 pm, 7.45 pm, 8.30 pm, 9.15 pm | $10 |
Restrictions
To enter Exploratorium's Tactile Dome, visitors must be at least seven years old.
Guests who are afraid of the dark, are claustrophobic, have back, neck, or knee injuries, or are in their third trimester of pregnancy can't participate.
Visitors in casts are also not allowed to join the sessions.
---
---
Restaurants in Exploratorium
Exploratorium in California has two dining areas – Seaglass Restaurant and Seismic Joint Cafe.
Seaglass Restaurant is a casual, family-friendly, waterside venue offering stunning views.
It offers multicultural, locally sourced menus and a bar with a thoughtfully curated wine and beer list.
Seaglass Restaurant is open from 11 am to 3 pm, and additionally, on Thursday it is available from 6 pm to 9.30 as well.
The Seismic Joint Cafe is a casual take-out spot near the museum's entrance, just off Embarcadero.
A few sit-down-to-eat spots are available just outside the cafe.
From Wednesday to Friday, Seismic Joint Cafe is open from 10 am to 5 pm.
---
---
Map of Exploratorium museum
With 330,000 sq ft (31,000 m2) of indoor and outdoor exhibit space, Exploratorium is massive.
A map can help you plan your exploration better. For instance, you may want to spend more time in a particular section.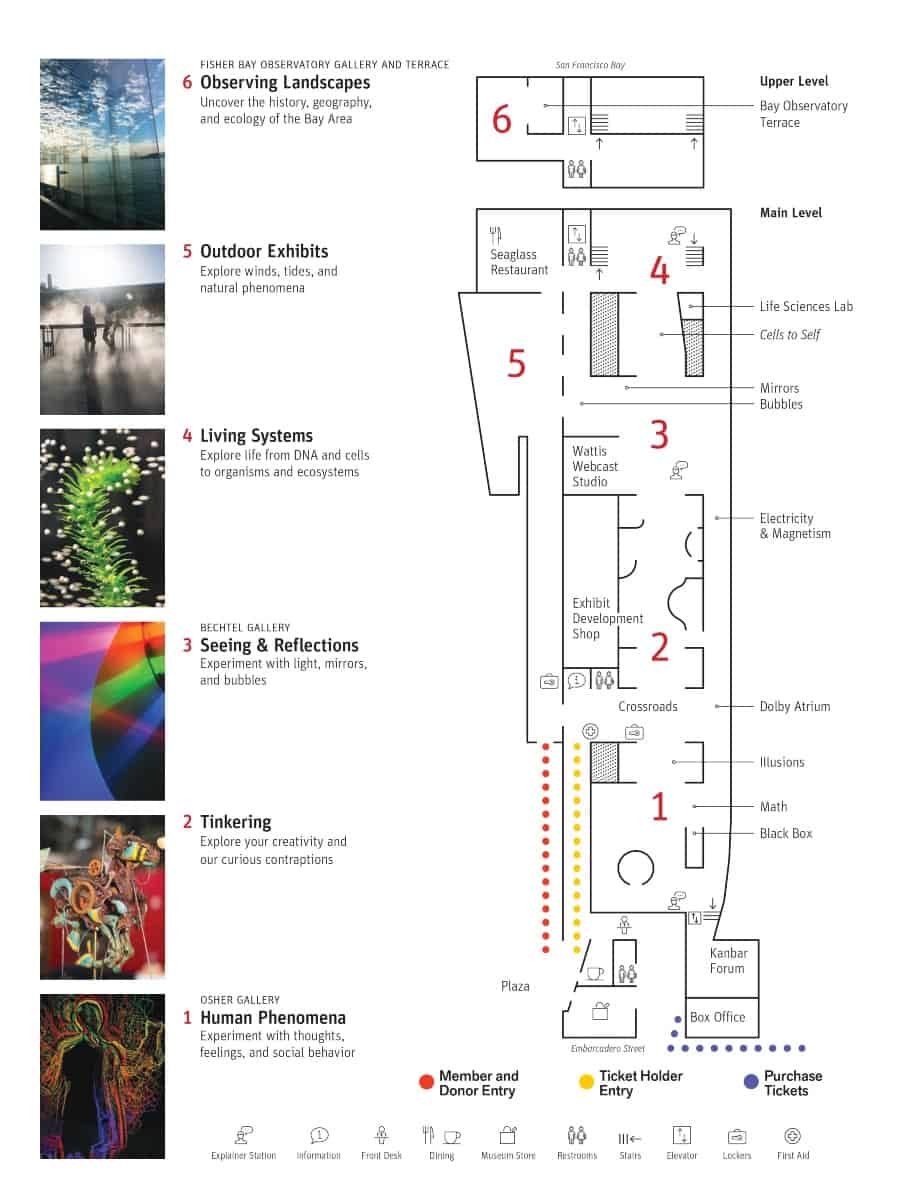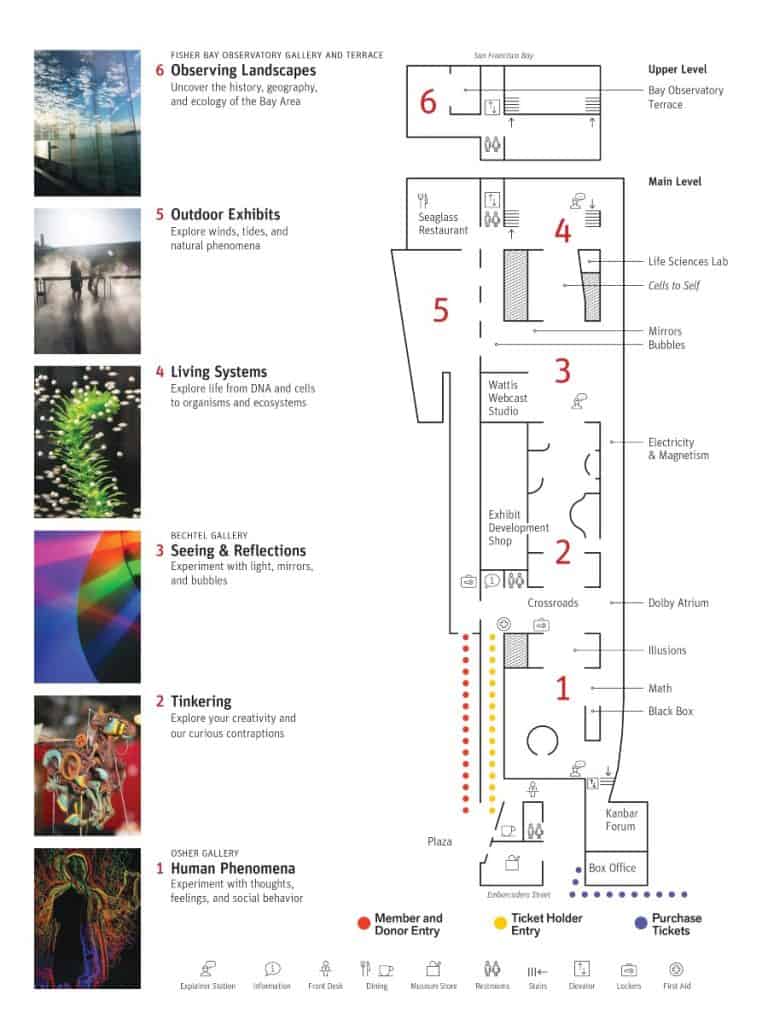 The Exploratorium museum's map will also help you find visitor facilities such as washrooms, cafes, souvenir shops, first aid rooms, etc.
Sources
# Exploratorium.edu
# Wikipedia.org
# Payir.org
# In.coursera.org

The travel specialists at TheBetterVacation.com use only high-quality sources while researching & writing their articles. We make every attempt to keep our content current, reliable and trustworthy.
Popular attractions in San Francisco
# Alcatraz Island
# San Francisco Zoo
# California Academy of Sciences
# Monterey Bay Aquarium
# San Francisco aquarium
# Exploratorium
# San Francisco MoMA
# De Young Museum
# San Francisco Bus Tours
# Madame Tussauds
# San Francisco Bay Cruise
# San Francisco Ghost Tour
# The Tech Interactive
# San Francisco Dinner Cruise
# SFO Go Car Tour
# Legion of Honor Museum
# Walt Disney Family Museum
# Museum of 3D Illusions
# 7D Ride Experience