Monterey Bay Aquarium is one of the finest aquaria in the USA.
Located on the edge of the Pacific Ocean, the Monterey Bay Aquarium is home to thousands of marine animals and plants.
Many tourists come from cities like San Francisco, Los Angeles, etc., to visit this non-profit public aquarium.
The Monterey Bay Aquarium is a world-class institution dedicated to marine conservation, education, and research, offering a unique and immersive experience for visitors of all ages.
In this article, we explain everything you need to know before visiting and buying Monterey Bay Aquarium tickets.
Top Monterey Bay Aquarium Tickets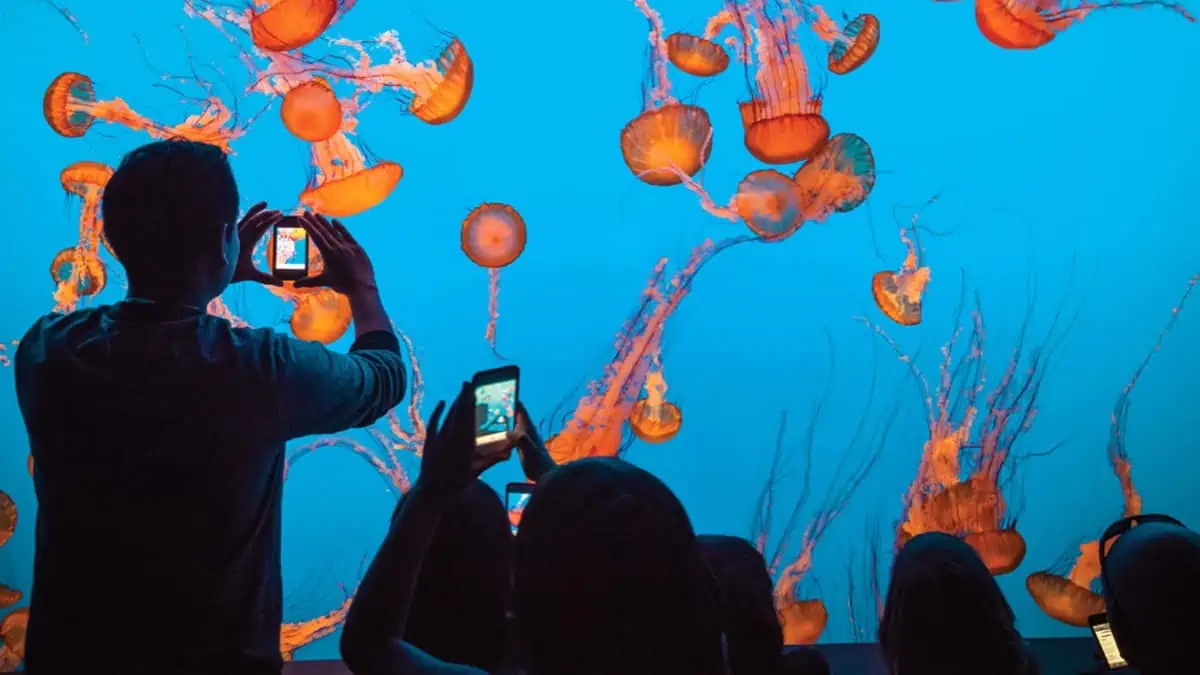 How to reach Monterey Bay Aquarium
There are a couple of ways to reach this Public aquarium.
Where is Monterey Bay Aquarium
Monterey, California, is situated 201 Kms (125 Miles) South of San Francisco and 500 Kms (310 Miles) North of Los Angeles.
Monterey Bay Aquarium is a public aquarium located at the West end of the Cannery Row in Monterey.
Address: Monterey Bay Aquarium, 866 Cannery Row, Monterey, CA 93940.
Use Free Trolley
More than 5 million visit Monterey county every year.
If you are one of them and already in Monterey, MST Free Trolley is the best way to reach Monterey Bay Aquarium.
You can hop abroad the MST trolley for a fast, fun, and free ride to the Aquarium.
The Trolley departs Downtown Parking Garages at Tyler Street and Del Monte Avenue every 10 to 15 minutes.
For a complete list of stops and timings, check out the MST Trolley route in Monterey.
Free Trolley is available every day from 10 am to 7 pm.
Use public transport
If you are traveling from San Francisco, Los Angeles, or some other city, public transport is recommended to get to Monterey Bay Aquarium.
The best four public transport options are Monterey-Salinas Transit, Greyhound bus, Monterey Salinas Airbus, and Amtrack.
Tip: Some travelers who don't want to make the long journey visit Aquarium of the Bay, located in San Francisco.
Book a tour from San Francisco
If you don't want to worry about the transport to Monterey and back, the best option is to book a coach tour.
This option is best suited for families with kids and travelers who are NOT on a budget.
We recommend this day tour from San Francisco.
This tour to the Aquarium and back is full of other exciting stops. Check out the itinerary below –
You can book this excellent tour on GetYourGuide.
Monterey Bay Aquarium parking
You can opt between Metered Parking or Parking Garages near Monterey Bay Aquarium if you are traveling by car.
Metered Parking
Metered parking closest to Monterey Bay Aquarium is available at Foam Street, Ocean View Blvd, and Wave Street.
Garages and Lots
The following parking garages are available near the Aquarium –
Cannery Row Lot 7 on 160 Irving St. Monterey, CA
Cannery Row Parking Garage on 601 Foam St. Monterey, CA
Cannery Row Parking Lot 21 on 32 Cannery Row, Monterey, CA
---
---
Monterey Bay Aquarium ticket discounts
Monterey Bay Aquarium's regular adult ticket costs $60, and some visitors qualify for discounts on this price.
Kids under the age of four get a 100% discount and can walk in for free.
Children 5 to 12 years old get a discount on their aquarium ticket and pay only $45 per person.
Visitors aged 13 to 17 also qualify for a discount on their ticket and pay only $50. They must show their student ID card at the entrance.
Seniors aged 70 years and above also get a reduction like the students and pay $50 for entering the aquarium.
Special discounts
Discounts are also available for special visitors such as –
Groups larger than 12 (tickets to be bought at the venue)
Folks in the Military (ticket to be obtained from the base)
AAA Members (at the venue)
Locals of Monterey, San Benito, and Santa Cruz counties (at venue, ID needed)
---
---
Monterey Bay Aquarium tickets
Monterey Bay Aquarium tickets can keep you busy for the whole day at Monterey.
With this one 'Skip The Line' ticket, you gain access to –
Monterey Bay Aquarium: Full day access to all the exhibits at the Aquarium, including all the feeding sessions of the day.
Sea Lion Center: This is the favorite hangout of hundreds of sunbathing, barking sea lions, and kids love it. Sea Lion Center is also located on Pier 39 and is just five minutes walk from the Aquarium (map below).
Eco Center: Located at Heron's Head Park, this attraction is an educational community center that uses sustainable on-site power, water, and wastewater systems. Eco Center is 10 Kms (6 Miles) from the Aquarium.
Ticket Prices
Adult Ticket (18 to 69 years): $60
Youth Ticket (13 to 17 years): $50
Child Ticket (5 to 12 years): $45
Senior Ticket (70+ years): $50
Children below three years can enter for free.
Tip: Some travelers visit the Aquarium of the Bay, located in San Francisco, for two reasons – the tickets are cheaper, and they can avoid traveling the 201 Kms (125 Miles) to Monterey.
---
---
Monterey tour from San Francisco
Most tourists visiting San Francisco add Monterey Bay Aquarium to their itinerary.
This is because of three reasons –
1. Monterey is only 200 Kms (125 Miles) from San Francisco and can be reached in 90 minutes.
2. The drive to Monterey is on the Pacific Coast Highway (PCH), which hugs the California coastline and blasts past the overhanging rocks. Many consider this road from SFO to Monterey the most scenic drive in California. On this highway, you also get to see the iconic Bixby Creek Bridge.
3. Monterey Bay Aquarium is just too good to ignore, especially if you are holidaying in SFO with kids.
The Monterey tour from San Francisco, which we have recommended below, starts at 8 am and is 10 hours long. Check out the itinerary
This tour includes hotel pick up and drop, free wifi on the air-conditioned bus, and a live guide to take you around.
Tour price
Adult ticket (12+ years): $155
Child ticket (Less than 11 years): $135
---
---
Monterey Bay Aquarium hours
Monterey Bay Aquarium opens at 10 am and closes at 5 pm on all days of the week.
The Aquarium is open every day of the year, except the 25th of December.
---
---
Feeding times
Feeding sessions at Monterey Bay Aquarium are a lot of fun, especially if you are traveling with children.
Most visitors plan their visit to the Monterey Bay Aquarium around the animal feeding times.
| Feeding Session | Timing | Location |
| --- | --- | --- |
| Sea Otter Feeding | 10.30 am, 1.30 pm, 3.30 pm | Sea Otter Exhibit |
| Penguin Feeding | 3 pm | Splash Zone Exhibit |
| *Open Sea Feeding | 11 am | Open Sea Exhibit |
| Kelp Forest Feeding | 11.30 am | Kelp Forest Exhibit |
| Bat Ray Feeding | 1.30 pm | Bat Ray Touch Pool |
| Seabirds Feeding | 10.30 am | Open Sea Exhibit |
*Feeding tuna, sharks, and others.
All feeding sessions at Monterey Bay Aquarium last approximately 15 minutes.
---
---
Best time to visit Monterey Bay Aquarium
The best time to visit the Monterey Bay Aquarium is at 10 am, as soon as it opens.
Reaching early helps you avoid the long lines, attend most of the feeding sessions, and catch the Touch Pool creatures when they are most active.
If your objective is only to avoid the crowd, the 3 pm is also an excellent time to reach the aquarium
Best day of the week to visit
Summer is the peak season at Monterey Bay Aquarium.
If you have no choice but to visit the aquarium in the summer, it is best to plan your visit mid-week.
Not many tourists visit on Tuesdays and Wednesdays.
Weekends are generally busy, even in the offseason.
Best season to visit
If you want the Monterey Bay Aquarium to be less crowded, it is best to plan your visit in October or the winter season when families avoid venturing outside.
We recommend October because the weather is generally pleasant as compared to the later winter months.
---
---
How long does Monterey Bay Aquarium take?
While families with kids spend up to three and half hours exploring the Monterey Bay Aquarium, adults go through the attraction in about two hours.
If you explore all the exhibits, activities, feeding sessions, etc., and take regular breaks at the Aquarium's restaurants, you will need up to five hours at the aquarium.
---
---
What to see in Monterey Bay Aquarium
There are many exhibits at this Public Aquarium, which require a special mention here.
Kelp Forest Exhibit
Enter the Aquarium and turn left to reach the kelp forest exhibit, which recreates the ocean floor with kelp swaying in a two-story tank.
Fish swarm around you, making you feel as if you were standing on the ocean floor of Monterey Bay.
This must-see exhibit is popular with children.
Sea Otters
You can find the Sea Otters Exhibit by turning left when you enter through the middle doors.
It is one of the most loved exhibits of the Monterey Bay Aquarium.
The otters are trained and fed three times a day.
However, the sessions get crowded, so you must land up 10 minutes before starting to get the right spots.
Outer Bay Area
After seeing the Otter exhibit, you can go to the stairs to reach the Outer Bay area.
The Aquarium has two floors that are not continuous.
So, after going up the stairs, go left and head downstairs to witness the Outer Bay tanks.
The Outer Bay Exhibit takes up an entire wing of the Aquarium, including the million-gallon glass exhibit full of tuna, small fish, and small sharks.
There are no railings that allow you to go right to the glass, which the kids seem to love.
Touch Pool
The Touch Pool is an exciting exhibit where you will get the opportunity to feel some of the marine creatures.
You can see and feel a lot of touch-friendly bat rays.
Visit this exhibit early to have the best experience because the bat rays retreat if they tire out.
You can also see the shallower rocky pool full of sea cucumbers and sea urchins.
Sea Nettles
Sea Nettles are colorful, beautiful creatures that look like oversized lamps floating in the ocean.
They will light you up with their fluorescence.
Splash Zone
You can find the colorful and famous Clownfish in the Splash Zone area.
This exhibit has become very attractive for children after Pixar's movie 'Finding Nemo.'
Fun Kids Area
When you leave the Outer Bay wing, you will get to the fun kid's area to find flippers and flukes hanging to entertain the children.
After you take some time here, go back towards the Otter Bay area to reach the skywalk, taking you to the other side of the Aquarium building.
Anchovy Tank
The Anchovy Tank is straight ahead after you cross the skywalk.
The tank is full of anchovies, and this is one of the exhibits where you can witness the creatures very closely.
They blend in well with their background and look fabulous from whichever level and angle you see them.
Giant Octopus
The Giant Octopus is one of the most entertaining single creature exhibits in the Aquarium.
It looks like liquid flowing in the tank with different colors ranging from orange to dark red depending on its surroundings.
---
---
Aquarium's floor layout
Since Monterey Bay Aquarium is massive, it helps to be aware of the location of the exhibits.
If you familiarize yourself with the Aquarium's map, you won't miss out on any exhibits, and you won't waste your time getting lost as well.
A map of the Aquarium will help you find the exhibits and all the other visitor services like washrooms, restaurants, and so on.
Aquarium's First Floor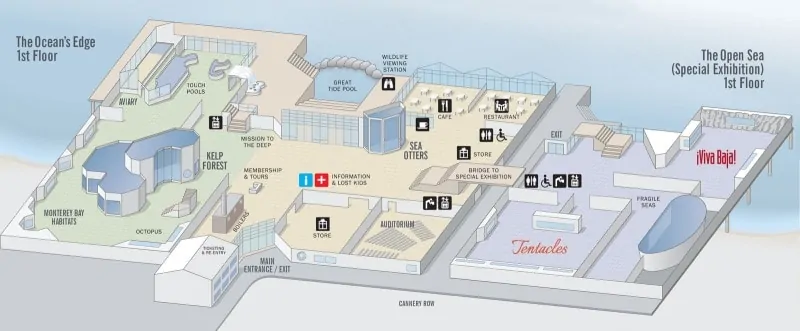 Aquarium's Second Floor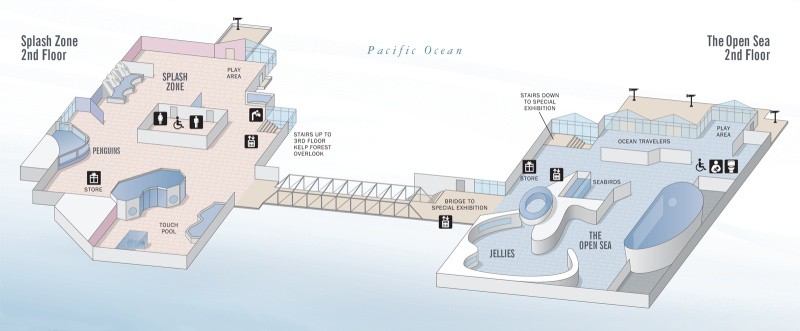 We recommend you bookmark this page or download the map (pdf, 1.4 mb) for later use.
---
---
Tripadvisor reviews
Monterey Bay Aquarium is highly rated on TripAdvisor – 4.5 out of 5.
We have picked two of the most recent Monterey Bay Aquarium reviews to give you an idea of what to expect during your trip.
An aquarium that is worth its admission fee
As a former aquarist for an East Coast aquarium, I know an excellent aquarium when I see one. I've been fortunate to have experienced the behind-the-scenes areas which are absolutely pristine. The exhibits are all well done and very well cared for.
A must during your Monterey visit. – Megan Bocean, New England
We LOVED the aquarium!
The Giant Pacific Octopus was the coolest thing ever! We stood mesmerized. Hey, only a few facilities in the world have them, and it was worth the price of admission just to see them up close. We also adored the otters! We had to drag my 13-year-old daughter away from the Otter area, or she would have stayed there all night. The Aquarium is a must for everyone! First class! 278katen, Charlotte, North Carolina
---
---
Sleepover at the aquarium
If you cannot plan a daytime visit, or if you want to experience the Aquarium at night, the Monterey Bay Aquarium Sleepover may be just the opportunity for you.
As the name suggests, visitors get to spend the night at the Aquarium, indulging in fun activities, bedtime snacks, and a bed under the blanket of sea stars.
The following day, you wake up to an excellent breakfast and can start exploring the beautiful marine creatures of the Aquarium yet again.
---
---
Food and drinks
Enjoy snacks or fine dining along with the best on-site views of Monterey Bay.
Cafe
The Cafe at the Aquarium remains open from 10 am to 4.30 pm.
It serves casual quick bites ranging from brick oven pizzas and burgers to delicious desserts.
Coffee Bar
Centrally located, offering beautiful views of Monterey Bay, the Coffee Bar at the Aquarium is a must stop to enjoy refreshing and organic beverages and coffee drinks.
The Coffee Bar is open from 10 am to 5 pm.
The Restaurant
The Restaurant at the Aquarium offers you the opportunity to sit back, relax and enjoy the seasonal cuisine of the area.
The restaurant stays open from 11 am to 3 pm.
---
---
Nearby beaches
There are five amazing beaches near Monterey Bay Aquarium in Monterey.
Visitors to the Aquarium usually plan a trip to one of these beaches, before or after their rendezvous with the water creatures.
McAbee Beach
The McAbee Beach is 300 meters (1000 feet) from Monterey Bay Aquarium and is in the center of the Cannery Row area.
Tourists visit this beach for scuba diving and kayaking in suitable weather conditions.
The beach offers scenic beauty even though hotels surround it.
Hopkins Marine Station Beach
The Hopkins Marine Station Beach is also 300 meters (1000 feet) from Monterey Bay Aquarium.
There are two beaches at the Hopkins Marine Station in Pacific Grove.
The beaches come under the private property of Stanford University.
You can witness a rare sight of a seal colony on the west side of the Campus.
It is a fantastic experience for nature enthusiasts and conservationists alike.
It is a short distance from the Aquarium along the Monterey Peninsula Recreation Trail, continuing to many excellent viewing points in Pacific Grove.
San Carlos Beach
San Carlos Beach is 1 Km (0.6 mile) from the Monterey Bay Aquarium and is on the west end of the Cannery Row.
The beach, also known as Reeside Beach Access, is famous for scuba diving, and with many benches and picnic tables, it is perfect for a family outing.
Berwick Park
Berwick Park is also 1 Km (0.6 Miles) from the Monterey Bay Aquarium located in Pacific Grove.
This one-acre grass park has picnic tables, benches, and trails for further exploring the rocky coast.
There are some great spots available below the Berwick section of Shoreline Park for tide pool exploration during low tides.
Lovers Point Park Beach
Lovers Point Park Beach is 1.3 Kms (0.8 Miles) from the Monterey Bay Aquarium.
It is one of the most popular public beaches in Pacific Grove, probably because it is one of the few safe swimming beaches.
It is a great spot to have a picnic or go on a run or ride a bike.
Sources
# Montereybayaquarium.org
# Wikipedia.org
# Tripadvisor.com
# Seemonterey.com

The travel specialists at TheBetterVacation.com use only high-quality sources while researching & writing their articles. We make every attempt to keep our content current, reliable and trustworthy.
Popular attractions in San Francisco
# Alcatraz Island
# San Francisco Zoo
# California Academy of Sciences
# San Francisco MoMA
# Monterey Bay Aquarium
# San Francisco aquarium
# Exploratorium
# De Young Museum
# San Francisco Bus Tours
# Madame Tussauds
# San Francisco Bay Cruise
# San Francisco Ghost Tour
# The Tech Interactive
# San Francisco Dinner Cruise
# SFO Go Car Tour
# Legion of Honor Museum
# Walt Disney Family Museum
# Museum of 3D Illusions
# 7D Ride Experience