San Francisco Museum of Modern Art (SFMoMA) is the largest museum of modern art in the United States.
SFMoMA has about 170,000 square feet of galleries featuring Picasso, Henry Matisse, Chuck Close, Jeff Koons, Frida Kahlo, Andy Warhol, Roy Lichtenstein, etc.
This article explains everything you must know before buying tickets to the San Francisco Museum of Modern Art.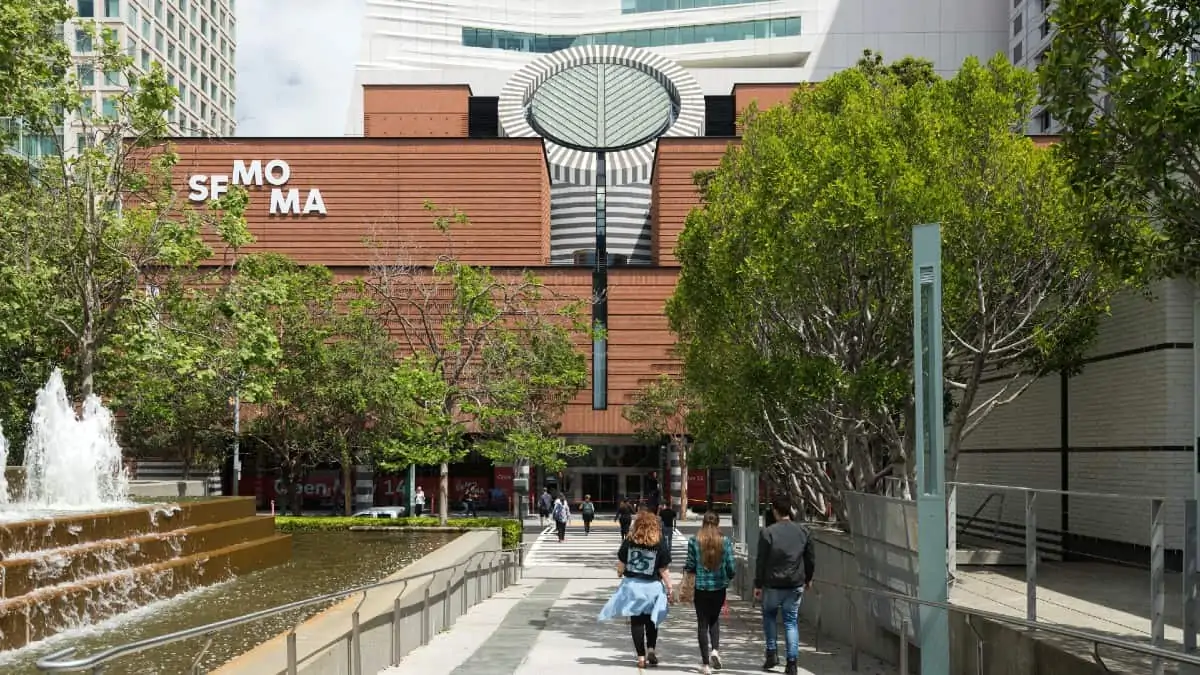 What to see at SFMoMA
All of the SFMoMA exhibits are fantastic and equally breathtaking, but it is humanly impossible to see all of them.
One hour masterpieces tour
If you need a quick list of masterpieces, following what the Director of SFMoMA recommends is best.
4 to 5 hours tour of SFMoMA
We have a long list if you can spend four to five hours in the Museum.
Ground floor: Let's start with the intricate Richard Serra's behemoth walk-in sculpture Sequence, and then let us climb up.
Second Floor: You can spot Matisse's Femme au Chapeau, along with artworks by Robert Rauschenberg.
Third Floor: Welcome to the floor dedicated to photography. Look at Alexander Clader's "motion Lab" apart from one-of-a-kind clicks.
Then step outside on the large terrace with a vertical garden and grab a coffee at Sightglass coffee bar.
Fourth Floor: Halfway through the Museum, check out the progressive works of Ellsworth Kelly. Up next, you'll see Agnes Martin's spirit-raising artworks.
Fifth Floor: You can head to the Fisher Collection with its minimal pop art, Chuck Close, and many more. Then step into Café 5 to save yourself from art fatigue.
Sixth Floor: Full and energized, look at the Fisher Collection with mind-blowing post-war German masterpieces.
Also, feast on the Museum's famous sequence gallery dedicated to Gorge Baselitz and many more.
Seventh Floor: Almost out of time! Let's run through contemporary pieces by Cindy Sherman and more.
Before you head out, visit the new Museum Store to buy a souvenir.
---
---
SFMoMA tickets
San Francisco Museum of Modern Art tickets gives you access to all the permanent collections and the temporary exhibitions at the museum.
These smartphone tickets get emailed to you as soon as you purchase them.
On the day of your visit, you can show the ticket on your phone along with a valid ID at the entrance and walk in.
Occasionally, a 'special exhibition' may be going on, which would require an upgrade. These ticket upgrades can be done on the spot, on the 2nd floor.
Discounts at SFMoMA
At SFMoMA, kids below 18 years get a 100% discount on their tickets. Even though under-18s get in for free, you must still book a free ticket.
Youth aged 19 to 24 pay US$ 6 less for their tickets, and seniors aged 65 and above get a US$ 3 reduction on the total adult price.
SFMoMA ticket price
Adult ticket (25 to 64): US$ 25
Youth ticket (19 to 24): US$ 19
Seniors ticket (65+): US$ 22
Child ticket (0 to 18): Free entry
Visual Story: 13 must-know tips before visiting MoMA
---
---
Getting to SFMoMA
San Francisco Museum of Modern Art is at 151 3rd Street, San Francisco, CA 94103, USA. Get Directions.
SFMoMA entrances
The SFMOMA has three entrances.
The main entrance is on Third Street between Mission and Howard.
The second entrance is the entry on Howard Street between Hawthorne and Third Street.
Regular visitors can use either the main or second entrance to the San Francisco Museum of Modern Art.
After-hours and educational group tours use the Joyce and Larry Stupski Entrance at Minna Street.
How to reach SFMoMA
SFMoMA is closest to Powell Street, Montgomery Street BART, and SF Muni Light Rail stations.
SFMoMA is just 0.65 Km (half a mile), and visitors usually walk the distance from Powell Street station for eight minutes.
SFMoMA is much closer to Montgomery Street Station, and you can reach it in five to six minutes of walking.
If you prefer cable cars, the closest stops are Powell Street and California Street.
If a bus is your preferred mode of transport, get on to any bus heading towards Mission Street, Howard Street, Third Street, or Second Street.
All these streets wrap around the San Francisco Museum of Modern Art.
Car parking
SFO's Museum of Modern Art has its garage on Minna Street, a few steps from Third Street's main entrance.
The parking is open from 7 am to 11 pm daily.
Click here to know about the nearby parking lots.
---
---
SFMoMA hours
From Friday to Tuesday, the San Francisco Museum of Modern Art opens at 10 am and closes at 5 pm.
On Thursday, SFMoMA continues to stay open till 8 pm.
The art museum remains closed on Wednesday.
This premier Art Museum in San Francisco is closed on Thanksgiving, Christmas, and New Year's Day.
---
---
How long does SFMoMA take
Most visitors spend up to three hours exploring the numerous artworks displayed on the seven floors of the San Francisco Museum of Modern Art.
Staying longer at SFMoMA
Tourists who have been to numerous art museums say that art fatigue sets in after approximately 2 to 3 hours of roaming around.
But it is possible to overcome art fatigue and spend more time at the most prominent art museum in the USA.
Be well-rested and well-fed before your visit
Buy the SFMoMA ticket online so that you don't waste your time and energy waiting in the long lines
Visit one of the cafes and take a break
---
---
Best time to visit SFMoMA
The best time to visit SFMoMA is when they open at 10 am on weekdays.
Visiting early in the day helps you avoid the crowd and explore the exhibits peacefully.
SFMoMA gets more than 1.25 million art lovers yearly, and it can get crowded during peak summer months.
SFMoMA Thursday nights
Thursday night is the next best time to visit San Francisco's Modern Art Museum.
The museum is open on Thursdays till 9 pm, with many special events lined up.
If you stay late in the museum, you can end the day with a Michelin-starred dinner at In Situ, the in-house restaurant.
The regular SFMoMA ticket gets you to Thursday night as well.
---
---
SFMoMA for free
45,000 sq feet of art-filled space at SFMoMA requires no ticket.
Many artworks on Floor 1 and 2 offer a great introduction to the art of our time, and visitors can explore it for free.
Besides, visitors can also access some of the temporary exhibitions at San Francisco's Modern Art Museum for free.
SFMoMA Free Day
Occasionally, SFMoMA announces Free Family Day with many hands-on activities and movie screenings.
On such days, up to two adults may each claim a free ticket, and they can be accompanied by a visitor 18 years and younger.
You can't book these free tickets online but claim them at the venue on the free entry day.
The museum hasn't yet announced the next free family day.
---
---
SFMoMA audio guide
You can't buy/rent an audio guide for this SFO Art Museum.
However, you can explore SFMoMA with the help of their mobile app, which has beautifully produced stories about the artworks on display.
The apps haven't been rated well by the tourists who have used them before, but you have nothing to lose.
SFMoMA audio guide is available for both Android and iPhone.
Note: Don't forget to charge your mobile and bring your earphones.
---
---
SFMoMA reviews
San Francisco Museum of Modern Art is a highly-rated tourist attraction.
Check out two SFMoMA reviews we selected from Tripadvisor, which give you an idea of what to expect at this attraction.
Great stop for modern art lovers
I love Modern Art, and this Museum had a little of everything. Photography, Sculptures, Paintings, Videos and Music exhibits, Architecture, Light Art, etc. It was well worth my time and money. – Netia1128, Denver, Colorado
Outstanding Museum
This is a must-see for anyone in San Francisco. From Warhol to Lichenstein, it is the major Modern Art home on the West Coast. The only competition – Getty in Los Angeles. – Aphmann, Cambridgeshire, United Kingdom
---
---
SFMoMA restaurants
Art and food go along very well, so SFMoMA's three restaurants are always full.
Steps Coffee
Stop by to enjoy illy coffee, tea, desserts, pastries, and more in a lively setting surrounded by art.
Located inside SFMOMA on floor 2, right off the Roman Steps in Schwab Hall, this space includes a community bookshelf, puzzle table, and charging stations.
Steps Coffee opens from 9.30 am to 4.30 pm, Friday to Tuesday, and Thursday from 11 am to 6 pm.
The Coffee shop remains closed on Wednesday.
Cafe 5
Have a fine-dining family-friendly experience in this quiet café and sculpture garden on the 5th floor.
The restaurant offers rich coffee, wines, and seasonal ingredients.
It is open from Friday to Monday from 11.30 am to 4 pm.
This café remains closed on Tuesday, Wednesday and Thursdays.
grace
grace on floor 1 is a restaurant with a welcoming gathering place for the community.
Enjoy French American fare, drinks, and art in a casual indoor/outdoor setting.
Sunday to Monday: 11.30 am to 5 pm
Tuesday: 11.30 am to 9 pm
Thursday to Saturday: 11.30 am to 9 pm.
grace is closed on Wednesday.
---
---
SFMoMA map
The San Francisco Museum of Modern Art can be a maze for first-time visitors.
The exhibits are spread over seven stories, and there is much to see and do.
With the help of a floor plan, you won't waste your time trying to find what you want to see.
A floor plan can also help you find other tourist facilities such as washrooms, restaurants, shops, etc.
Map of Level 1
Map of Level 2
Map of Level 3
Map of Level 4
Map of Level 5
Map of Level 6
Map of Level 7
It is better to download the floor plan (pdf) for your visit.
---
---
SFMoMA store
The museum's store is curated as carefully as the exhibits and has excellent books, toys, home décor, and many more.
Your every purchase supports the exhibits and education programs.
We recommend you stop by the Museum Store on floors 1 and 2 before you leave.
Sources
# Sfmoma.org
# Wikipedia.org
# Tripadvisor.com
# Snohetta.com

The travel specialists at TheBetterVacation.com use only high-quality sources while researching & writing their articles. We make every attempt to keep our content current, reliable and trustworthy.
Popular attractions in San Francisco
# Alcatraz Island
# San Francisco Zoo
# California Academy of Sciences
# Monterey Bay Aquarium
# San Francisco aquarium
# Exploratorium
# De Young Museum
# San Francisco Bus Tours
# Madame Tussauds
# San Francisco Bay Cruise
# San Francisco Ghost Tour
# The Tech Interactive
# San Francisco Dinner Cruise
# SFO Go Car Tour
# Legion of Honor Museum
# Walt Disney Family Museum
# Museum of 3D Illusions
# 7D Ride Experience