De Young Museum in Golden Gate Park is one of the largest public arts institutions in San Francisco.
The San Francisco Museum gets its name from Michael H. de Young, who spearheaded the creation of the fine arts destination in 1895.
The museum is home to painting, sculpture, and decorative arts from the seventeenth to the twenty-first century, from Africa, the Americas, and Oceania.
Besides costume and textile arts, visitors also explore international modern and contemporary art.
This article shares everything you must know before booking your De Young Museum tickets.
De Young Museum hours
De Young Museum opens at 9.30 am and closes at 5.15 pm from Tuesday to Sunday.
During the peak season (28 Mar to 28 Nov), the museum remains open till 8.45 pm on Fridays.
The last entry is an hour before closure.
It remains closed on Mondays, Thanksgiving Day, and Christmas Day.
---
---
De Young Museum tickets
These skip-the-line De Young Museum tickets get you access to the complete permanent collection.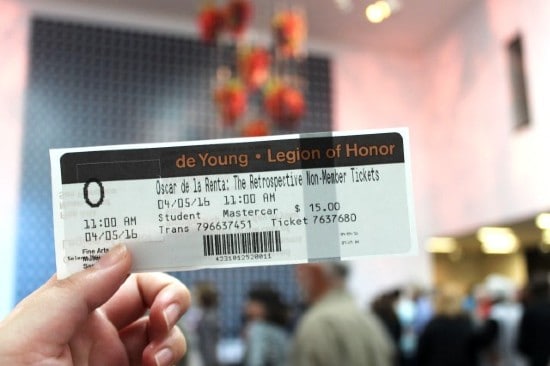 While booking the ticket, you can upgrade the experience by adding the audio guide. It costs $8 extra per person.
Since these are timed tickets, you must select a time and date for your visit.
Image: Selene
On the day of your visit, you must be at the museum entrance within 90 minutes on both sides of the selected time slot.
For instance, if you select 1 pm while booking your tickets, you can enter the museum between 11.30 am and 2.30 pm.
Once at the art museum, you can explore at your own pace or join a free guided tour led by one of the museum guides.
Note: If you want to visit an ongoing temporary exhibition, you can purchase an upgrade from the ticket desk at the entrance.
Ticket prices
Adult ticket (18 to 64 years): $15
Seniors ticket (65+ years): $12
College Students (with student ID): $6
Child ticket (up to 17 years): Free entry
These tickets include same-day general admission to Legion of Honor, yet another art museum, 10 minutes drive from De Young. So you get to explore two museums for the price of one.
---
---
How to get to De Young Museum
De Young Museum is at Golden Gate Park, 50 Hagiwara Tea Garden Drive, San Francisco, CA 94118. Get Directions
The building is an essential architectural landmark of San Francisco and offers sweeping views of the city from a fascinating observation deck.
Taking public transportation, the weekend Golden Gate Park Shuttle, or walking to the museum is better.
We recommend the following options within walking distance of the De Young fine arts Museum.
44 / O'Shaughnessy Bus
5 & 5R / Fulton Bus
7 Haight/Noriega Bus (10 minutes walk)
28 Bus (10 minutes walk)
N / Judah Muni Metro (15 minute walk)
Car parking
De Young Museum doesn't have parking of its own.
Several parking slots are available within Golden Gate Park and along Fulton Street.
Paid parking is available in the Music Concourse garage, which you can access from Fulton Street or the 10th Avenue entrance.
The garage is open seven days a week from 7 am to 7 pm.
The parking charges are $5.25 per hour from Monday to Friday; on weekends, it is $6.25 per hour.
Another alternative is the UCSF Medical Center Garage, located at Irving Street near 3rd Avenue, about 20 minutes walk to the de Young.
de Young entrance
If you park your vehicle in Music Concourse Garage, you can cross into the museum through a simple tunnel walk from Fulton Street and 10th Avenue.
If you have parked elsewhere or have taken public transport, you must enter from the entrance on Tea Garden Drive.
Click here to know more about the nearby parking lots.
Tip: Book your De Young Museum tickets in advance for a quick, seamless entry.
---
---
Best time to visit De Young Museum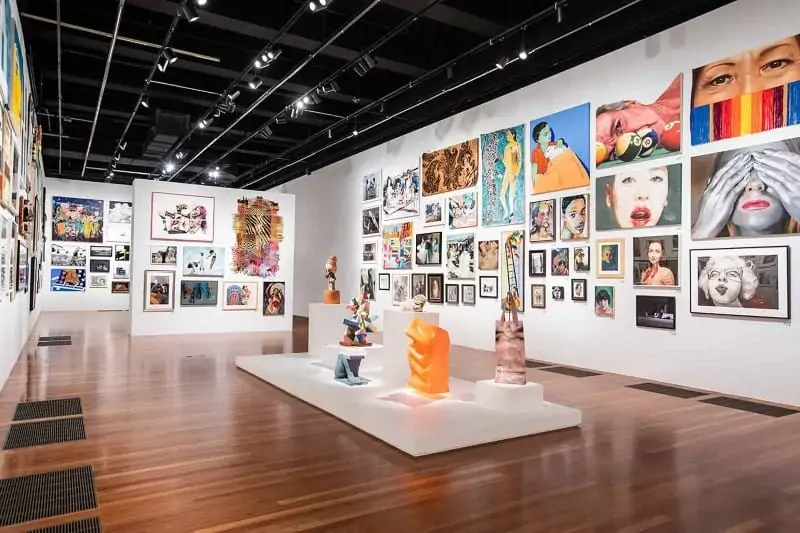 Since De Young Museum is spaciously laid out and doesn't seem crowded even when many visitors are exploring the exhibits, any time of the day is good enough for a visit.
Most visitors usually spend two to three hours exploring De Young Museum.
When you start early, you can explore the exhibits and then stop by De Young Cafe for lunch.
---
---
Audio tours at De Young Museum
Visitors who prefer an immersive experience of the Permanent Collections can opt for De Young's audio tours, which are available for purchase.
Visitors can get the audio tour in English and Spanish at the entrance for $7 per person.
Or book them online along with your De Young Museum tickets.
The audio tour is customized for kids and adults and is designed by the museum's curators.
Visitors must bring their mobiles and headphones.
Check out this visitor guide if you don't plan to spend on the museum's audio tours.
---
---
De Young Museum free days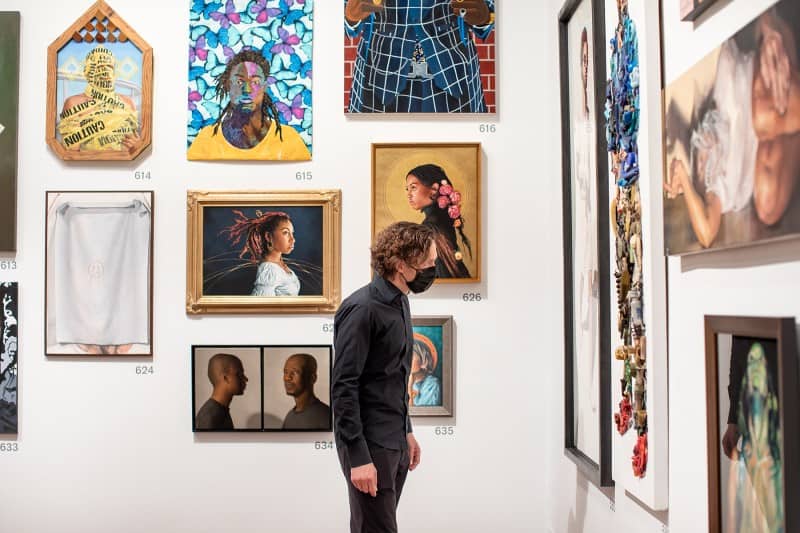 De Young in San Francisco offers free entry to qualified visitors on the first Tuesday of the month and all Saturdays.
Free Tuesdays for all
General admission is free on the first Tuesday of every month.
Visitors can see the permanent collection galleries for free but must purchase tickets to enter the special exhibitions.
It would be best if you visited the museum's Ticketing Desk to avail these free tickets, which are issued based on availability.
Free Saturdays for locals
The de Young art museum offers all nine Bay Area county residents free general admission every Saturday.
Locals must reserve tickets in advance and have a valid local ID (driver's license or postmarked envelope) for verification on the day of the visit.
The nine qualifying counties are Alameda, Contra Costa, Marin, Napa, San Francisco, San Mateo, Santa Clara, Solano, and Sonoma.
---
---
What's inside De Young Museum
The San Francisco fine art museum has a three-story main building and a nine-story educational tower.
Access to both these sections is included in the regular De Young Museum tickets.
The primary building has three levels: Concourse, Exhibition, and Upper Gallery.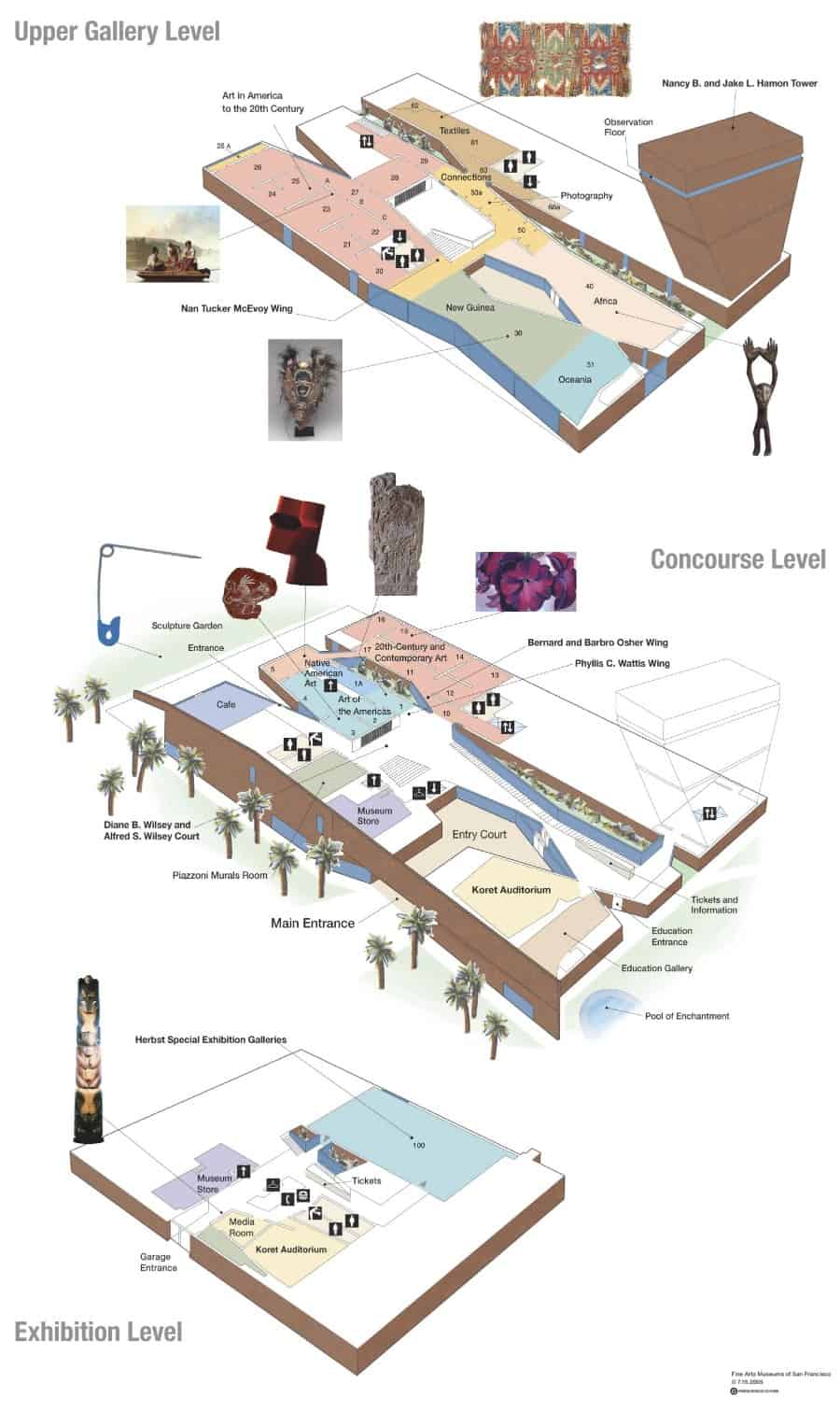 The main entrance of the De Young Museum leads to the Concourse Level.
Here, visitors see the art of the Americas, 20th Century and Contemporary Art, Native American Art, and the Piazonni Murals Room.
The de Young Cafe is also on the Concourse Level, as is the Sculpture Garden entrance.
The exhibition Level is below the Concourse Level, and the Herbst Special Exhibition Galleries is the main attraction here.
Upper Gallery Level is above the Concourse Level.
You can view various paintings, sculptures, decorative objects, furniture, and more throughout your visit.
Besides what's on display in the galleries, visitors enjoy the outdoor sculptures and site-specific artworks near the West Entrance in the Osher Sculpture Garden and the Marcus Garden of Enchantment.
De Young's Hamon Tower
The nine-story De Young's Hamon Tower has an observation deck offering sweeping views of San Francisco and the Pacific Ocean.
Visitors don't need a ticket to get to the observation deck and enjoy the fascinating views.
The Hamon Tower Observation Level closes one hour before the museum closes for the day.
---
---
De Young Cafe
The De Young Cafe on the Concourse Level is the perfect place to take a break from centuries-old artwork on display at the museum.
The café is open from 11 am to 3 pm with limited indoor and outdoor dining.
Reservations are not accepted; you must have a De Young Museum ticket to enter.
Sources
# Famsf.org
# Wikipedia.org
# En.wikiarquitectura.com
# Tripadvisor.com

The travel specialists at TheBetterVacation.com use only high-quality sources while researching & writing their articles. We make every attempt to keep our content current, reliable and trustworthy.
Popular attractions in San Francisco
# Alcatraz Island
# San Francisco Zoo
# California Academy of Sciences
# Monterey Bay Aquarium
# San Francisco aquarium
# Exploratorium
# De Young Museum
# San Francisco Bus Tours
# Madame Tussauds
# San Francisco Bay Cruise
# San Francisco Ghost Tour
# The Tech Interactive
# San Francisco MoMA
# San Francisco Dinner Cruise
# SFO Go Car Tour
# Legion of Honor Museum
# Walt Disney Family Museum
# Museum of 3D Illusions
# 7D Ride Experience