The California Academy of Sciences is a renowned scientific and educational institution in San Francisco, California, USA.
The California Academy of Sciences is one of the largest natural history museums in the world and is dedicated to exploring, understanding, and preserving the natural world.
Since it is home to the Steinhart Aquarium, Morrison Planetarium, and Kimball Natural History Museum, it is a perfect family outing.
In addition to its public exhibits, the California Academy of Sciences is also a leading research institution. Its scientists conduct cutting-edge research in various fields, including biodiversity, ecology, evolution, and sustainability.
It is often also referred to as Cal Academy.
This article shares everything you must know before buying your California Academy of Sciences ticket.
Opening hours
The Academy is open 365 days a year!
The California Academy of Sciences opens at 9.30 am and closes at 5 pm from Monday to Saturday. On Sundays, it opens at 11 am and closes at 5 pm.
However, you gain early access on Tuesday and Sunday if you are a museum member. Members can enter the Museum one hour before the rest of the public.
Member timings
Tuesday: 8.30 am to 9.30 am
Sunday: 10 am to 11 am
California Academy of Sciences' Nightlife timings is from 6 pm to 10 pm on Thursdays. The visitor needs to be above 21 years and must provide a valid ID.
---
---
California Academy of Sciences tickets
Most visitors prefer to purchase their Cal Academy tickets online because they can skip the long lines at the ticketing counter, and online tickets are cheaper.
When you purchase your tickets in advance, you don't pay the extra $5 per ticket, which is charged on certain busy days.
About Cal Academy tickets
This ticket gives you complete access to the California Academy of Sciences.
You can visit the Natural History Museum, Planetarium, Aquarium, Osher Rainforest, and Living Roof and participate in various daily programs.
Immediately after purchase, you will get these Cal Academy tickets in your email.
On the day of your visit, show the ticket on your mobile and walk-in – no need to take printouts.
The ticket is valid for one year from the date of purchase.
Ticket Prices
Adult ticket (18 to 64 years): $41
Child ticket (3 to 17 years): $32
Seniors ticket (65+ years): $35
Student ticket (with valid student ID): $35
Children below the age of 3 years enter for free.
Visual Story: 13 must-know tips before visiting California Academy of Sciences
---
---
NightLife at the California Academy of Sciences
Enjoy an evening of music, creatures, and cocktails while embracing the unexpected.
Every Thursday from 6 pm to 10 pm, you can experience the California Academy of Sciences nightlife – an event that combines the Museum's exhibits with cocktails and music.
As a bonus, you get to explore the Museum without the crowd.
The inclusions of this Nightlife ticket are:
– Unique after-hours access to all the Academy's exhibits
– Special talks, demonstrations, and performances
– Live music and DJs
Only guests 21 years and older (you may be asked to show valid ID) are allowed on this VIP tour.
The Cal Academy Nightlife tour costs $23 per person.
Are you looking for a discount?
The California Academy of Sciences + de Young Museum combo and the Walt Disney Family Museum + California Academy of Sciences help you get a 10% and 5% discount on ticket costs, respectively.
---
---
Cal Academy free entry
San Francisco residents receive free entry to the Academy twice a year on designated weekends – one weekend in the fall and the other in the spring.
The other way to visit the California Academy of Sciences for 'almost free' is to buy discount cards – GoSan Francisco Card or San Francisco CityPASS.
Go San Francisco Card
The Go San Francisco Card is an all-inclusive attraction pass valid for 1 to 5 days, depending on your choice.
You pay once to buy the discount card, giving you free access to the top 25 attractions of San Francisco.
San Francisco CityPASS
Enjoy entry to four of San Francisco's top attractions and save 46%.
CityPASS tickets are valid for nine days, beginning with the first day of use.
---
---
How to reach Cal Academy
There are many ways to get to the California Academy of Sciences.
It is best to use San Francisco's Muni buses and Metro trains to get close to Cal Academy and then use Google Maps to walk the rest. Get Directions
N-Judah Muni Metro
N Judah, a Muni Metro light rail line in San Francisco, is a convenient option for getting to Cal Academy.
You must reach 9th Avenue and Irving Street station and walk 800 meters (half a mile).
If you don't want to walk, get onto the 44-O'Shaughnessy bus outside 9th Avenue and Irving St Station and get down at the Cal Academy stop on Music Concourse Drive​.
#44-O'Shaughnessy bus
When Southbound, 44-O'Shaughnessy bus stops at the Music Concourse on Tea Garden Drive (across Cal Academy).
When Northbound, it stops in front of the Academy of Music Concourse Drive.
#5-Fulton bus
5-Fulton bus stops at 8th Avenue and Fulton Street, just outside the park.
You can walk through the park in five minutes and reach the Science Museum.
Car parking
When driving to the California Academy of Sciences, the Music Concourse Garage is the best spot to park your car.
It is an underground parking facility a few steps from the Academy's main entrance.
You can enter the parking facility from Music Concourse @ MLK, Jr. or Fulton @ 10th.
The Garage remains open from 7 am to 7 pm from Fridays to Wednesdays.
On Thursdays, it stays open from 7 am to 11 pm.
The parking charges are $5/hour on weekdays and $6/hour on weekends.
After 5.30 pm, the cost of parking goes up to a flat rate of $17.
Click here to know more about the nearby parking lots.
---
---
Best time to visit Cal Academy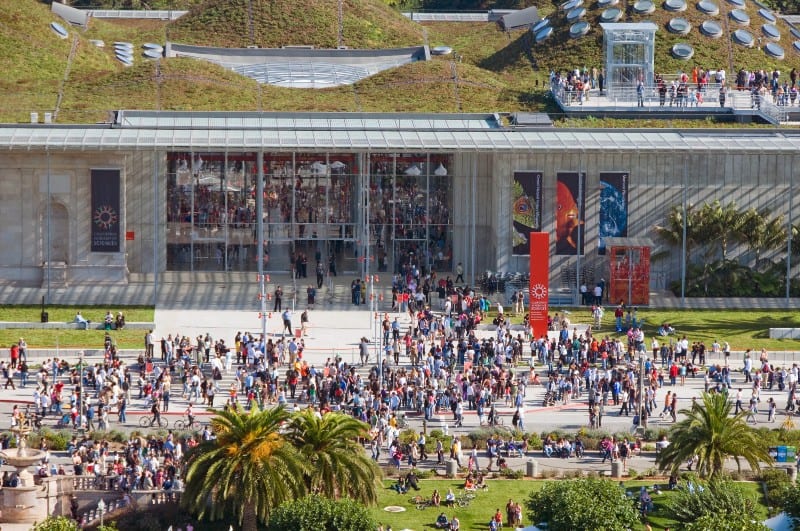 The best time to visit the California Academy of Sciences is after 2 pm on weekdays because the crowd has left.
Most school field trips to the Cal Academy are scheduled in the morning, and it is normal to see many students before lunch.
Weekends and school holidays attract even bigger crowds.
---
---
How long does Cal Academy take
Families who explore all the must-see exhibits, attend the numerous planetarium shows, 3-D shows, check out rainforest exhibits, etc., spend around four hours at the California Academy of Sciences.
If you want to see only the must-see exhibits at the Cal Academy, you need around two hours.
If you are visiting with kids who love Museums (and science), and you don't mind having lunch at the attraction, you can spend the whole day exploring.
---
---
What to See in California Academy of Sciences
There are many exhibits at the Cal Academy, from the 87-foot-long skeleton of a blue whale to the T. Rex.
Morrison Planetarium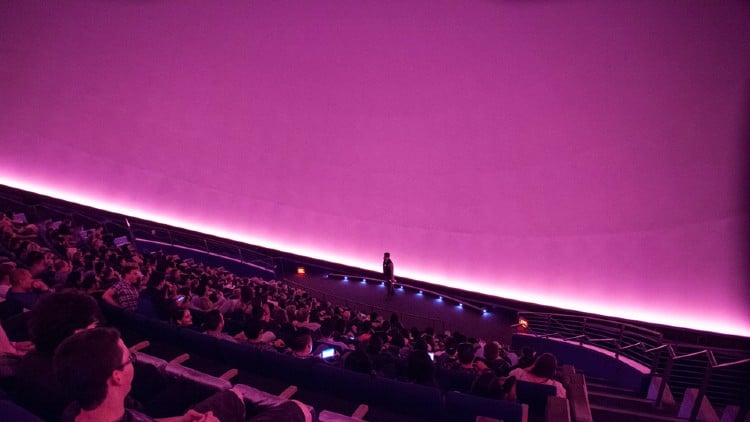 Witness the universe's wonders and beyond through the spectacular digital visualizations at the Morrison Planetarium of California Academy of Sciences.
The 75-foot dome displays one of the most accurate digital Universes ever created and projects an immersive experience one can sense only by being there.
Kids under four are not allowed inside the Planetarium, and the shows may not be appropriate for children under seven.
Access to the Planetarium is included in the regular Cal Academy ticket.
Osher Rainforests
The Osher Rainforest is a stunning 27 meters (90 feet) glass dome engulfing a living, breathing rainforest.
The four-story-high rainforest contains butterflies, birds, spiders, Amazonian fish, and so much more.
It is home to more than 1,600 live plants and animals.
Visitors can plunge four stories down for a beneath-the-surface view of an Amazonian-flooded forest from the canopy.
Opening hours
Monday to Saturday: 10 am to 4.45 pm
Sunday: 11 am to 4.45 pm
Steinhart Aquarium
Steinhart Aquarium is the heart of the California Academy of Sciences with its beautiful architecture and fun, interactive exhibits.
The Aquarium focuses on showcasing and highlighting discoveries, and little know ecosystems.
Its tanks have over 900 unique species with almost 40,000 live animals.
It was the first-ever Aquarium to explore the 'twilight zone' further.
Pogo and Ozzie, our two new penguin chicks, have joined the rest of the colony!
Kimball Natural History Museum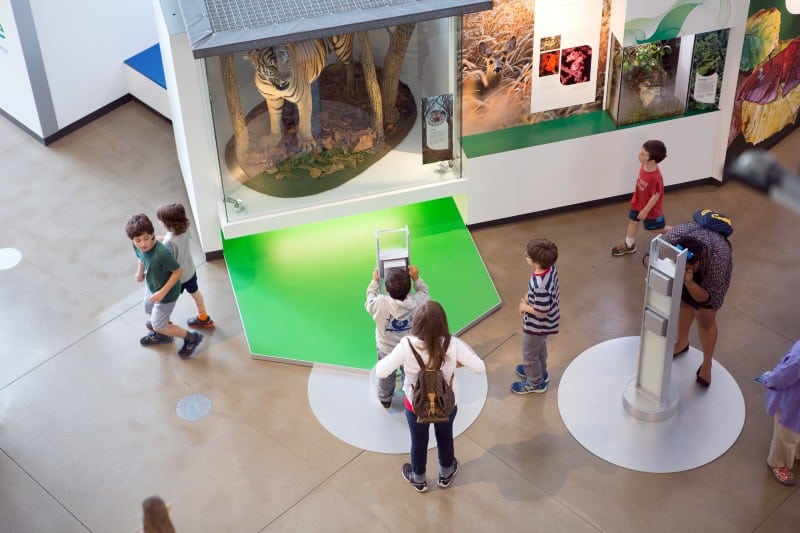 Taking the tradition of scientific research further, The Kimball Natural History Museum allows you to learn about some of our time's most unique and significant discoveries and relevant issues.
It is a step forward to make people aware of preserving our biodiversity and how to sustain it through their interactive exhibits and beautiful historical specimens like the 87-foot tall blue whale skeleton.
Learn about the fascinating role of color in the natural world, compare fossils of our early human relatives, and marvel at one-of-a-kind specimens from the Academy's record-breaking scientific collections—all while strolling beneath the bones of some of the planet's largest inhabitants.
Earthquake House
The Shake House explores seismic science and allows visitors to experience an earthquake.
The earthquake simulator resembles an old Victorian home and is popular with kids and adults alike.
Experience the sustained tremors of San Francisco's two biggest quakes—the 6.9-magnitude Loma Prieta earthquake and the 7.9-magnitude Great San Francisco quake of 1906—from inside the dining room of a Victorian-era "Painted Lady" house.
The Living Roof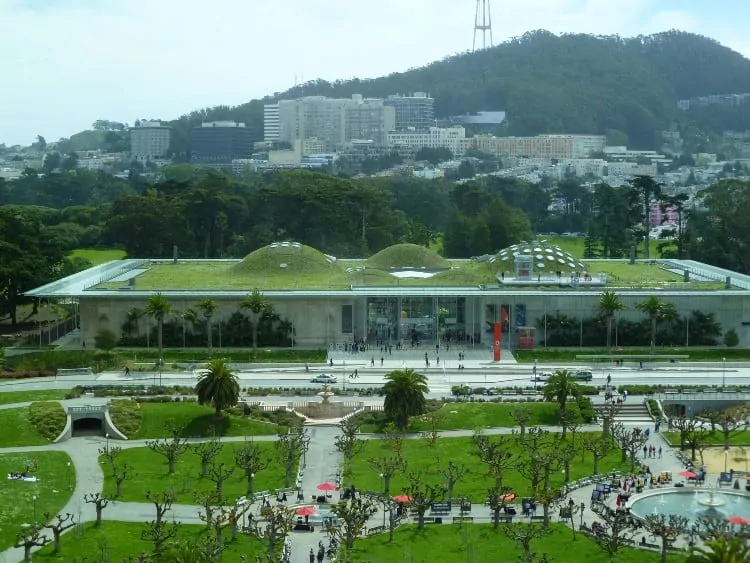 The Museum's 2.5-acre rooftop is called 'The Living Roof' because 87% is covered in rolling hills, fields, and local wildlife.
The California Academy of Sciences roof is home to 1.7 million plants.
Kid activities
If you visit the California Academy of Sciences with children, here are a few things you must try.
Discovery Pool: At this small pool, kids can touch starfish, urchins, abalone, and numerous other tide pool creatures.
Curiosity Grove: This is a new, forest-themed learning and activity space created for children of all ages.
Children's Eel Garden: Kids enter the world of small, wiggling eels at this exhibit located next to the Philippine Coral Reef tank.
Naturalist Center: The Naturalist Center is the perfect space for kids to get closer to nature by touching specimens, playing games, watching videos, etc.
---
---
California Academy of Sciences map
California Academy of Sciences is unique for having many never-before exhibits in one place, including a rainforest, planetarium, and aquarium.
For a first-time visitor, the Science Museum can be confusing.
You don't want to miss any of the must-sees, and you don't want to waste time looking for them.
That's why we recommend you bookmark this page to use the map once you are in the Museum.
This California Academy of Sciences map also gives information about the visitor facilities such as restaurants, restrooms, gift stores, elevators, first aid, baby changing rooms, etc.
Sources
# Calacademy.org
# Wikipedia.org
# Archdaily.com
# Tripadvisor.com

The travel specialists at TheBetterVacation.com use only high-quality sources while researching & writing their articles. We make every attempt to keep our content current, reliable and trustworthy.
Popular attractions in San Francisco
# Alcatraz Island
# San Francisco Zoo
# California Academy of Sciences
# Monterey Bay Aquarium
# San Francisco aquarium
# Exploratorium
# San Francisco MoMA
# De Young Museum
# San Francisco Bus Tours
# Madame Tussauds
# San Francisco Bay Cruise
# San Francisco Ghost Tour
# The Tech Interactive
# San Francisco Dinner Cruise
# SFO Go Car Tour
# Legion of Honor Museum
# Walt Disney Family Museum
# Museum of 3D Illusions
# 7D Ride Experience