The Tech Interactive in San Jose is also known as The Tech Museum of Innovation.
It is a science and technology museum with interactive exhibits and hands-on activities exploring science, technology, engineering, and math.
The Tech Interactive in San Francisco also offers educational programs, student workshops, and teacher resources.
The museum aims to inspire the next generation of innovators and problem-solvers.
It presents a variety of special exhibits that rotate throughout the year.
These exhibits showcase emerging technologies and allow visitors to learn about the latest innovations in virtual reality, artificial intelligence, and space exploration.
This article shares everything you should know before booking tickets for the Tech Museum in San Jose.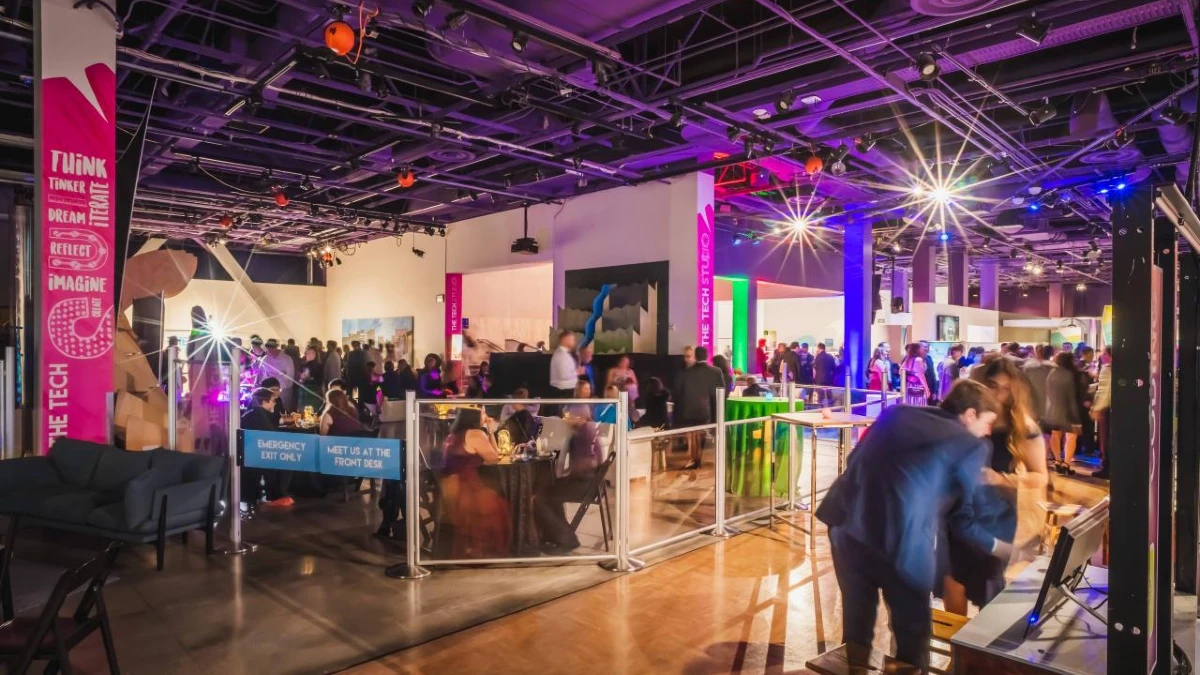 What to expect at Tech Interactive San Francisco?
When visiting The Tech Interactive, visitors can see mind-blowing exhibits focusing on science, technology, engineering, and math (STEM).
Visitors can learn about robotics, biotechnology, and renewable energy through shows such as the "Robotics Lab" and "Eco-Adventure."
The museum also has a planetarium and a dome theater, which features a variety of immersive shows and films.
The planetarium allows visitors to explore the night sky and learn about astronomy.
At the same time, the dome theater offers an interactive experience that introduces different scientific concepts, such as the physics of motion and the properties of light.
Tech Interactive in San Jose is a great place to visit for people of all ages, whether you're a student, a teacher, a parent, or simply someone interested in science and technology.
Apart from the exhibits, the museum hosts activities to educate and inspire guests.
It's a great way to learn about new and exciting technologies interactively and engagingly.
Where to buy the Tech Interactive San Francisco tickets
The tickets for Tech Interactive in San Francisco are available online and at the ticket booth open at the museum.
However, we recommend that you book your tickets online because it provides you with several perks.
– By booking tickets online, you can save money since you receive an online discount.
– You don't have to travel to the attraction and exert yourself by waiting in long lines at the ticket counter.
– The tickets usually get sold out quickly. But you can prevent last-minute disappointments if you buy tickets online.
– Reserve now to keep your travel plans flexible.
How online ticket works
When you book your tickets for Tech Interactive in San Jose, on the booking page, select your preferred date and the number of tickets and purchase them right away.
You will receive an email with your tickets as soon as you purchase them.
There is no need for you to bring printouts.
On the day of your tour, swap your smartphone voucher for a paper ticket at the Guest Services desk in the lobby.
You may enter at the next available time slot upon arrival.
Cost of The Tech Interactive tickets
The Tech Interactive tickets cost US $27 for all visitors aged 19 years and above.
Kids aged 3 to 10 years get a US $5 discount and pay only US $22 for entry.
Students with a valid ID cards also get the same discount.
Tickets for seniors 65 years and above are priced at US $22.
Children up to the age of 2 years can enter the museum for free.
---
---
Tickets for The Tech Interactive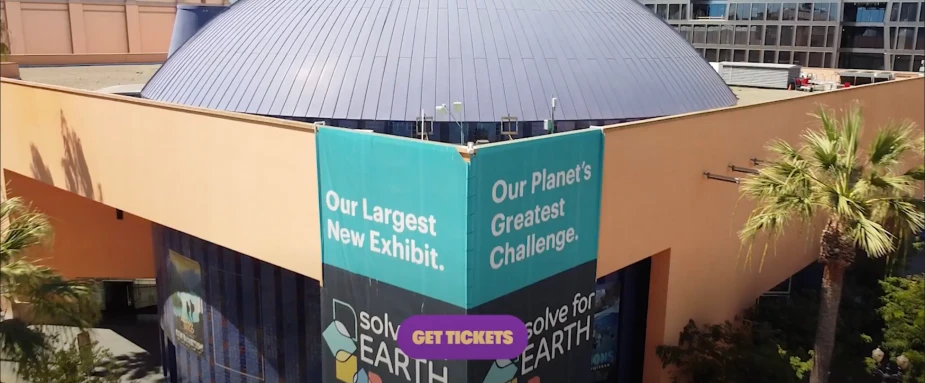 Book your Tech Interactive tickets, unleash your inner innovator, and discover what it takes to change the world.
You will be granted unrestricted access to the Tech Museum in San Jose and all exhibits by booking tickets in advance.
At Tech Interactive, you can get hands-on experience dealing with various fascinating science and technology-based issues.
You can also test your problem-solving skills in experimental labs and design challenges.
Free entry for active US military & veterans with ID (discounts for family members).
Sensory-friendly discount offered to families for a quieter visit. Check the venue's website.
IMAX tickets can be purchased on-site (subject to availability). If you arrive during the last hour before closing, receive a discounted rate on a general admission ticket. Also, discounts are offered on-site on general admission tickets for low-income families (up to six people).
Ticket Price
Adult Ticket (19 to 64 years): US $27
Student Ticket (11 to 18 years): US $22
Child Ticket (3 to 10 years): US $22
Senior Ticket (65+ years): US $22
Kids Ticket (up to 2 years): Free
Save money & time! Buy a San Francisco City Explorer Pass and choose 2 to 5 attractions and tours from over 25 activities. Visit the Aquarium of the Bay, go on a Hop-on Hop-off Big Bus Tour, or take a Francisco Bay Cruise and many more!
How to reach The Tech Interactive San Francisco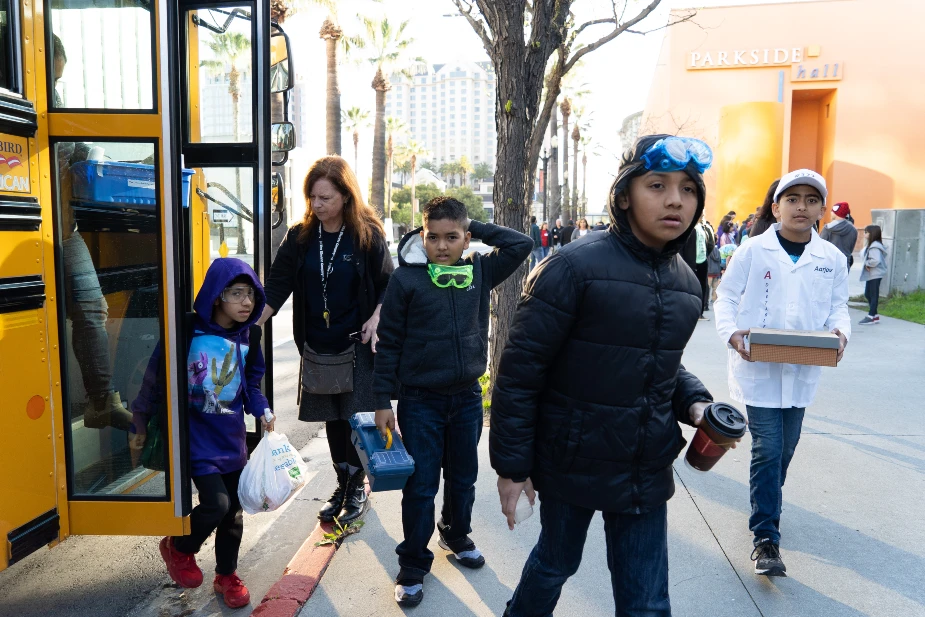 The Tech Interactive is on S. Market St. in San Jose.
Address: The Tech Interactive, 201 S. Market St., San Jose, CA 95113. Get Directions
You can take public transport or a personal vehicle to reach The Tech Interactive.
By Bus
The nearest bus stop is San Jose Downtown (available bus: Flixbus).
The bus stop is 320 meters (0.2 miles) from Tech Interactive, and you can take a 4-minute walk to the museum.
Other bus stops are San Carlos Market (available buses: 23) and San Carlos and Almaden (available buses: 23, Rapid 523), both a 4-minute walk from the museum.
Light Rail
Convention Center Station is the nearest light rail station (available rails: Blue Line, Blue Line Special, Green Line, and Green Line Special), just at a 4-minute walking distance.
By Car
Get in your car, open Google Maps, and proceed to your destination as you see fit.
Click here to view the nearest parking lots.
Limited spaces for accessible parking are available near the main entrance on South Market Street.
The Tech Interactive San Francisco timings
Tech Interactive in San Francisco is open from 10 am to 3 pm, Tuesday to Friday.
On Saturday, the museum operates from 10 am to 5 pm, and Sunday, from 11 am to 5 pm.
The Tech Museum in California remains closed every Monday and on special occasions like Thanksgiving Day and Christmas.
---
---
How long does The Tech Interactive San Francisco take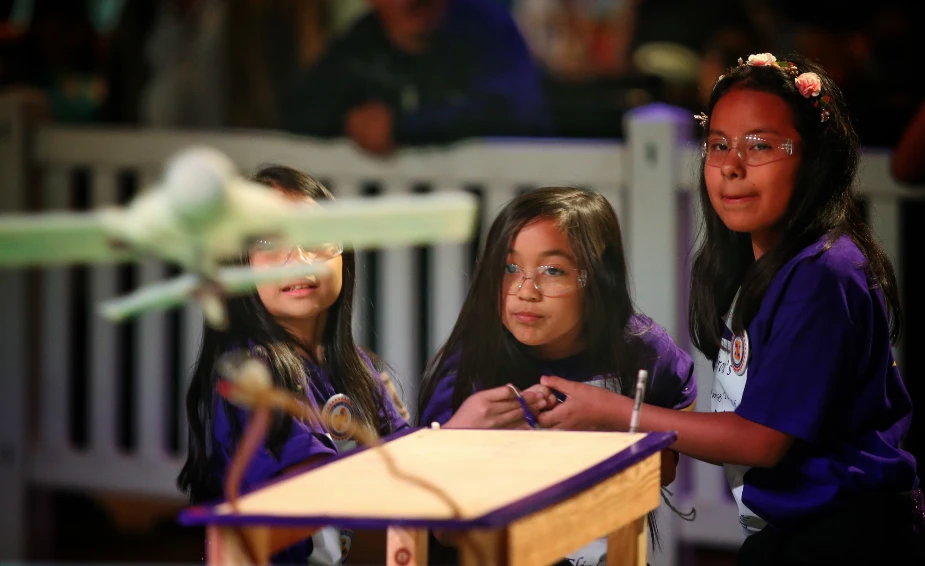 At the Tech Interactive in San Francisco. visitors typically spend about three hours fully exploring the museum.
The museum is full of interactive exhibits, immersive galleries, and inspiring shows that may need more than three hours to explore if you are into technology and learning.
Best time to visit The Tech Interactive San Francisco
The best time to visit The Tech Interactive San Jose is as soon as it opens at 10 am.
You can experience and enjoy your tour properly when fewer visitors are around in the morning.
Since the museum can get busy on weekends, weekdays are better for visiting and exploring the place.
The Tech Café
The Tech Cafe, provided by Tony Caters, is a great relaxing place.
The Cafe has a menu and a Grab & Go case filled with sandwiches, salads, cold beverages, desserts, and savory snacks for lunch or quick eats.
The café is open for visitors per county public health regulations, and indoor and outdoor seating is offered.
The cafe opens at 10 am, and the closing hours vary.
The Tech Store
The Tech Store is a unique gift shop in downtown San Jose that has a wide selection of books, games, T-shirts, toys, scientific kits, and memorabilia.
Things to Remember
– Only service animals are allowed in the museum.
– Lockers are available for 50 cents.
– Wheelchairs are available at the Information Desk.
– Photography and video for personal use are allowed.
– Wheelchair-accessible restrooms are available on each level. A family restroom is located on the ground level. There is a nursing station on the lower level.
– Water fountains are available, or guests may bring their water bottles with tight-fitting, fully closing lids that should remain closed while interacting with exhibits. No other food or drinks are allowed in the galleries.
Popular attractions in San Francisco
# Alcatraz Island
# San Francisco Zoo
# California Academy of Sciences
# Monterey Bay Aquarium
# San Francisco aquarium
# Exploratorium
# San Francisco MoMA
# De Young Museum
# San Francisco Bus Tours
# Madame Tussauds
# San Francisco Bay Cruise
# San Francisco Ghost Tour
# The Tech Interactive
# San Francisco Dinner Cruise
# SFO Go Car Tour
# Legion of Honor Museum
# Walt Disney Family Museum
# Museum of 3D Illusions
# 7D Ride Experience