Few cities can be as romantic as San Francisco, for it offers sweeping ocean views, exciting landmarks, fascinating wine country, and elegant historic city streets.
If you prefer moments of romance and intimacy, you would like to celebrate Valentine's Day 2024 in the City by the Bay.
Young and old couples, visitors, and locals alike enjoy spending their Valentine's Day in San Francisco.
If you adore your sweetheart (and we don't doubt it!), you will want to spoil them with all the romantic surprises Silicon Valley has to offer.
Plan ahead of time, for many lovers will be flocking to this city to celebrate the most romantic day of the year – 14 February 2024.
Check out our pick for the most romantic Valentine's Day itinerary in SFO.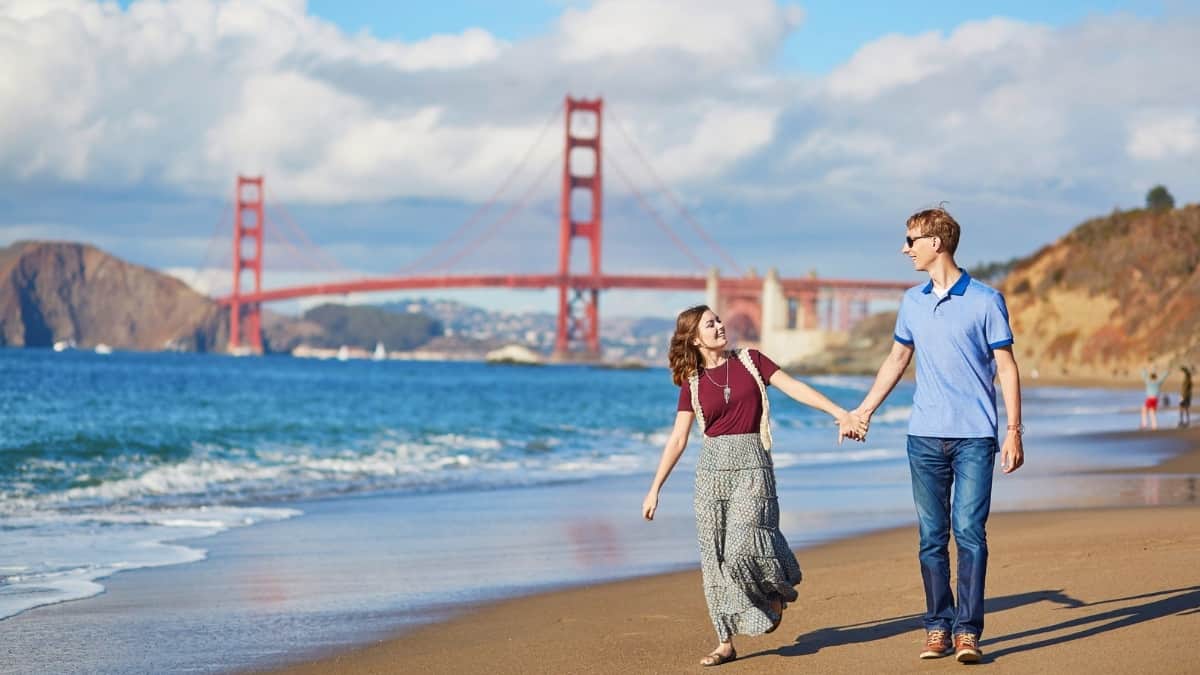 Things to do on Valentine's Day in San Francisco
Here are our recommended 12 romantic things to do during your Valentine's Day week in San Francisco.
You only need to bring your partner along.
Napa and Sonoma Valley
Without a doubt, Napa and Sonoma are two of the most well-known wine regions in the world.
Both Napa and Sonoma are about an hour's drive from San Francisco, with rolling hills growing some of the best grapes globally, resulting in some of the finest wines.
Wine tours are an excellent way to celebrate Valentine's Day with your loved one.
We recommend the following wine tours –
*For four travellers
---
---
Segway tour of the city
See many of the city's top sights on a 2.5-hour guided Segway tour of San Francisco.
You will get started on your self-balancing Segway after a brief orientation on using the future means of transportation.
You will pass Fishermen's Wharf, the Golden Gate Bridge, the USS Pampanito Submarine, and other city attractions with your spouse in tow.
The views of Alcatraz and the Pacific Ocean are also spectacular.
It is an ideal Valentine's Day activity for young couples.
---
---
Cruise around the Bay
San Francisco Bay is one of the world's largest natural harbors.
Going out into the bay with one of the San Francisco Bay cruises is one of the best experiences in the city.
You will see fascinating views of the city, the Golden Gate Bridge, and Alcatraz that you can't get on land.
These tourist cruises take guests under the Golden Gate Bridge and circle Alcatraz, though some include longer trips with more sites.
The views from the bay are diverse, making it a romantic outing – especially if you opt for the sunset cruise.
There are many San Francisco Bay cruises, and we recommend our favorites below –
---
---
GoCar tour of San Francisco
If you or your lover is a driver over 21 years, we highly recommend the GoCar experience for your Valentine's Day celebration in San Francisco.
During the two-hour tour, a GPS-guided, talking GoCar will be your guide on an exciting loop of San Francisco's breathtaking Golden Gate Bridge and Lombard Street.
GoCar allows you to enjoy the splendor of the real San Francisco because it can visit places where tour buses can't go – all at your own pace.
The cute, yellow storytelling GoCar also makes for impressive social media posts!
---
---
Muir Woods National Park
Muir Woods is a 550-acre park located outside San Francisco and is densely forested with coastal redwoods.
These incredible evergreens are close to the Giant Sequoia – no wonder Muir Woods' tallest tree is 79 meters (258 feet) tall.
The average age of the trees in this dense forest is 600-800 years.
Couples who like peace and quiet will enjoy a two-hour trek around Muir Woods' main area.
You might spend up to four hours hiking around if you choose one of the longer trails.
Tours to Muir Woods come in various combinations, and you can select from our recommendations below.
---
---
Movie Sights Tour
If you and the love of your life are movie buffs, look no further than the Move Sights Tour of San Francisco.
The 3-hour adventure features clips from over 50 of the most famous movies ever shot in San Francisco and the locations where they got filmed.
Actors turned guides lead you on this tour, which is both illuminating and funny.
The route includes locations from Mrs. Doubtfire, The Princess Diaries, Full House, Dr. Doolittle, George of the Jungle, Hulk, X-Men 3, and many more.
---
---
Roam around Sausalito
Sausalito is a seaside community in San Francisco's backyard offering scenic views, charming houseboat enclaves, plenty of space for walks along the water, lots of shops, and dining opportunities.
From Sausalito, a laid-back town with a Mediterranean vibe, you can take in beautiful views of San Francisco and the Golden Gate Bridge as well.
It is ideal for both young, middle-aged, and elderly lovers.
If you want to spend a lazy Valentine's Day 2024, book one of the tours recommended below, and head for Sausalito.
---
---
San Francisco Museum of Modern Art
San Francisco Museum of Modern Art (SFMOMA) is an unforgettable experience and a must-see destination in Silicon Valley.
It exhibits more than thirty thousand modern and contemporary artworks by star painters such as Alexander Calder, Frida Kahlo, Julie Mehretu, etc.
If you or your partner love art, plan to visit SFMOMA on 14 February 2024.
After all, it is one of the largest modern and contemporary art museums in the United States.
---
---
California Academy of Sciences
California Academy of Sciences is a must-visit natural history museum and aquarium complex.
The science museum is in Golden Gate Park, which also houses the Academy of Flowers, Botanical Gardens, Japanese Tea House, Pacific Ocean Beach, and other attractions.
The best thing will be the breathtaking view from the top of the building, so go up there and take it all in.
Since it is usually quiet, the terrace is also lovely for 'closer valentine's day moments.'
If you (or your partner) loves earrings, check out the gift shop, which has some fantastic designs available.
---
---
Alcatraz Island
Alcatraz prison rests on the small rocky island in the Bay of San Francisco, known as Alcatraz Island.
The island was initially used as a lighthouse for the bay, but it turned into a jail for hardened criminals over time.
Alcatraz Island, also known as 'The Rock', is on every tourist's itinerary.
This trip is not a romantic item on our list of things to do on Valentine's Day, but it is the most important thing to see for a history buff in San Francisco.
You can either take a cruise around Alcatraz Island or land on the island and explore the prison as well.
Alcatraz tickets are usually available in combination with other activities. For instance, you can either opt for Alcatraz + Big Bus City Tour or go for the Alcatraz entry + Waterfront Tour.
---
---
Wildlife – Aquarium and the Zoo
If both of you love wildlife, you can dedicate this 14 February to the creatures at the Aquarium of the Bay and San Francisco Zoo.
They are just 16 km (10 miles) apart.
Or select just one of the two wildlife destinations and spend a relaxed two to three hours exploring.
---
---
Bus tour of San Francisco
Board a sightseeing bus for a tour of the 'City by the Bay' and delve into the fascinating history of San Francisco and its legendary sites.
There are three routes you can choose from, and the hop-on-hop-off bus stops at key points of interest all around San Francisco.
Experience the diverse culture, beautiful parks, stunning architecture, and picturesque views from the top of an open-air sightseeing bus.
This tour is an ideal way to spend your Valentine's Day week with the person you love because of the flexibility – you decide when you board and when to get off.
---
---
San Francisco City Pass for more activities
What can be more romantic than not worrying about the cost and roaming around San Francisco freely?
Imaginative romantic couples go for a Discount Pass, which helps them get more out of less during Valentine's Day week, making it that much more special.
The San Francisco CityPass helps you save 44% in ticket costs at the top four attractions of the city.
The best part is that the Pass is valid for nine days after the first use, which means you can stretch your romantic celebration.
So how do you and your love plan to celebrate Valentine's Day 2024 in Silicon Valley?
Book ahead before your options run out – after all, it is yet another way of showing that you care.
Additional Reading
Valentine's Day in Paris
Valentine's Day in Venice
Best honeymoon places in the World
Romantic places to take your girlfriend or wife