Universal Studios Hollywood gets almost 10 million visitors annually, and on peak days, more than 35,000 guests try out its rides, shows, and attractions.
This massive crowd results in long queues at the ticket counters outside the gate and lots of waiting at the rides and shows inside.
Visitors can save time at the ticket counter queues by purchasing their General Admission Tickets or Universal Express Tickets online.
However, avoiding the queues at the rides and shows isn't as straightforward.
In this article, we share everything you must know about Universal Studios Hollywood wait times and how to avoid them.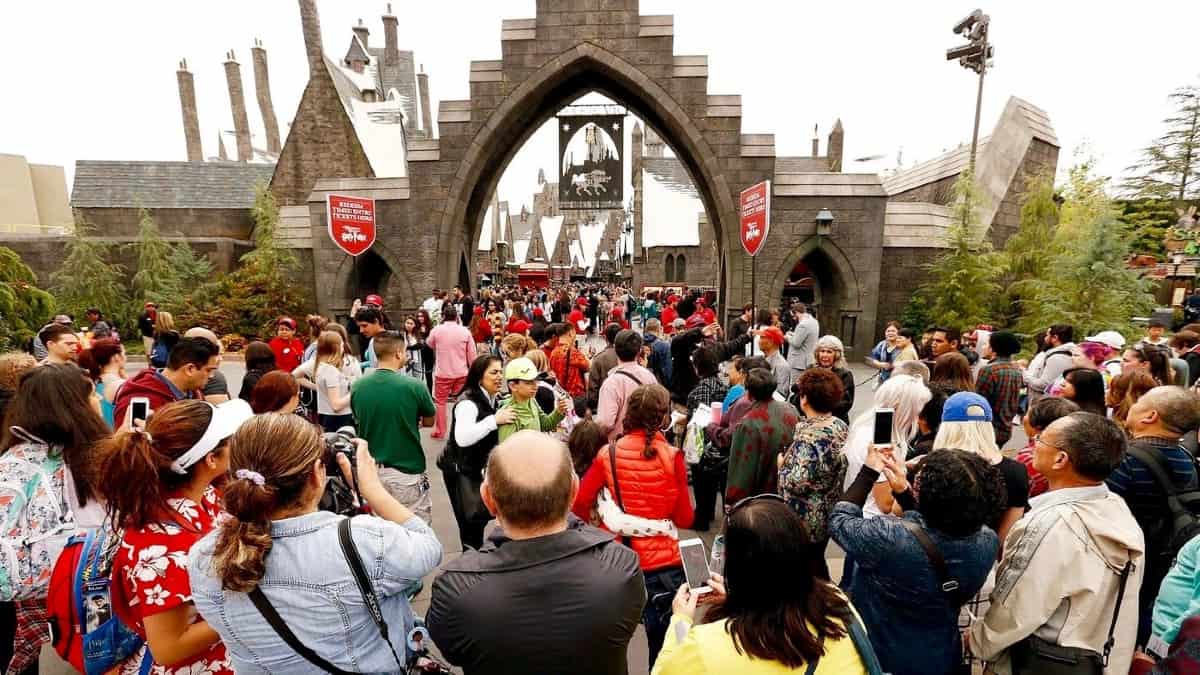 Average crowd level by month
Universal Studios Hollywood's peak season is from April to August – the crowd starts increasing by April, peaks in July, and tapers off in August.
The wait times will be high during these months, whether a weekend or weekday.
If you are visiting during the peak months, it is better to get Universal Studios Express Pass, which gets you one-time express access to each ride, attraction, and show. Buy Express Pass!
If cost isn't a concern and you want the best treatment at the theme park, you can opt for the VIP Experience Tour.
March, September, and October are the shoulder season, which means they see a moderate crowd with little waiting at all the rides.
During the shoulder months, weekdays are relatively easy, but weekends are still heavily crowded.
December again peaks at March levels because of the Christmas season.
January, February, and November get the minimum number of visitors – less than half the number of people who visit during the peak months.
If you visit during the off-season, you can do the rides as often as you want without waiting in any queues.
---
---
Average waiting by day of the week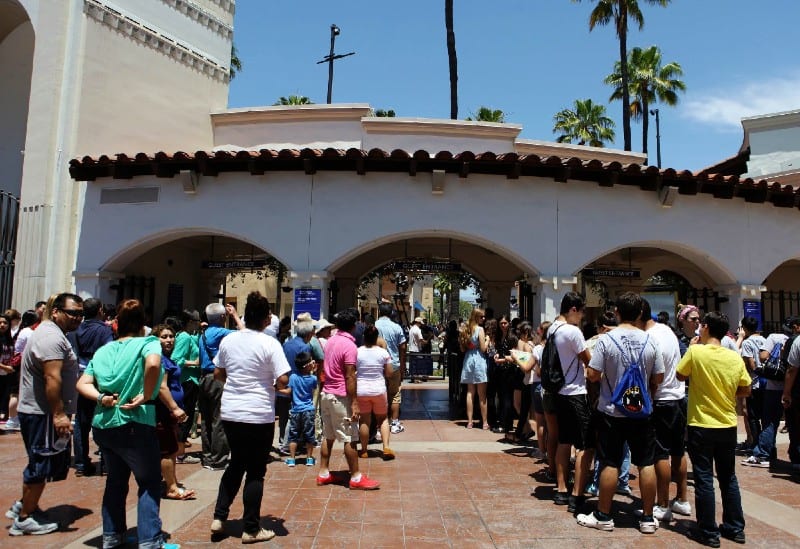 Tuesday, Wednesday, and Thursday are often the best days to save time in the ride queues.
On these lean days, average waiting times are around 30 minutes.
Saturday is the busiest day, with the longest queues in front of almost every ride and an average waiting time of 55 minutes.
Sundays are also crowded but less than Saturdays.
| Day of the Week | Average Wait Times |
| --- | --- |
| Monday | 35 minutes |
| Tuesday | 30 minutes |
| Wednesday | 30 minutes |
| Thursday | 30 minutes |
| Friday | 35 minutes |
| Saturday | 55 minutes |
| Sunday | 45 minutes |
Visual Story: 13 must-know tips before visiting Universal Studios Hollywood
---
---
Average queue time by ride
Universal Studios Hollywood has 12 rides, which are massive hits with visitors.
The Jurassic World Ride, where you sit in a boat and enter an immersive world where dinosaurs roam freely, is the most popular ride at the Theme Park.
On average, the wait times at the Jurassic World Ride go up to 55 minutes.
The Simpson Ride, a virtual reality roller coaster, is the second most popular ride at the theme park.
It sees long queues, and visitors must wait an average of 45 minutes before getting on board.
Harry Potter and the Forbidden Journey, part of the Universal Studios Hollywood Wizarding World of Harry Potter, is the third most popular ride, with wait times of up to 40 minutes.
Thrill rides such as Transformers, Revenge of the Mummy, Despicable Me Minion Mayhem, Secret Life of Pets, etc., have similar waiting times of about half an hour.
| Universal Studios Ride | Average Waiting Time |
| --- | --- |
| Jurassic World – The Ride | 55 minutes |
| The Simpson Ride | 45 minutes |
| Harry Potter and the Forbidden Journey | 40 minutes |
| Transformers – The Ride | 35 minutes |
| Revenge of the Mummy | 35 minutes |
| Despicable Me Minion Mayhem | 30 minutes |
| Studio Backlot Tour | 30 minutes |
| Secret Life of Pets – Off the Leash | 30 minutes |
| Ollivanders | 25 minutes |
| Flight of the Hippogriff | 20 minutes |
| Kung Fu Panda Adventure | 20 minutes |
| Super Silly Fun Land | 10 minutes |
---
---
Tips to reduce wait times
Nobody loves to spend time waiting in long lines, but unfortunately, that's what happens at Universal Studios Hollywood.
There are two places where visitors must wait in queues – the ticketing counter at the gates and the rides and shows inside the theme park.
However, if you follow a few simple tricks, you can avoid high wait times and use that chance to explore more of the park.
Buy your tickets in advance
When you purchase your Universal Studios Hollywood tickets online, you save both time and money.
Universal Studio Hollywood's online tickets help you avoid the long lines at the ticket counters. During peak hours, this wait can even go up to 60 minutes.
The General Admission ticket price at the gate is US$ 159 for all visitors aged ten years and above and US$ 153 for visitors between three to nine years.
When you buy the same tickets online, depending on the day of your visit, the ticket costs between US$ 106 and US$ 145 per adult or US$ 100 and US$ 135 per child when purchased in advance.
Buy Express Pass
The Express Pass, or the Universal Express Pass, is the best way to skip the lines at the rides and get priority seating for shows.
The Express pass, which includes admission and one-time express access to each ride, show, and attraction, costs US$ 399 for all visitors when purchased at the gate.
But when you buy Express Pass online, you pay a discounted rate of US$ 235 to US$ 294 per person, thus saving a significant amount per person on select days.
Recommended Reading: Ticket discounts at Universal Studios
Use Universal's mobile app
The Universal Studios Hollywood app is an excellent tool for finding upcoming shows, reserving a show time, checking wait times, and finding restaurants and shops in the park.
The mobile app is available for both iPhone and Android.
Get Alerts To Get In Line
On the mobile app, you can set alerts for your favorite rides when the wait times reach five minutes and as a reminder for shows.
These alerts help you avoid waiting in the queue unnecessarily and stay on top of your planned itinerary inside the park.
Get in a Virtual Line
Visitors can also use the Universal Studios Hollywood app to save a spot in the Virtual Line.
The Virtual Line is available for select attractions, and you can choose a ride time for your family or group and focus on exploring the rest of the theme park.
The app sends you an alert when it's your time to ride, and you can head to the attraction entrance anytime within your reservation window.
Select the perfect day to visit
While all days at Universal Studios Hollywood are good, some days are better.
If you visit during a weekday, fall, winter, and spring, you will likely find a less crowded theme park.
If you don't want to wait in queues, avoiding the peak summer months and public holidays is better.
Visit the Lower Lot first
If you want to avoid the lines, be at the theme park when it opens, and start with the rides in the Lower Lot.
Most people start with the rides and shows in the Upper Lot and reach the Lower Lot later in the afternoon, which is why the Lower Lot has the shortest wait times early in the day.
It is better to be aware of the minimum height limits for the rides at Universal to plan your route.
Use the Single Riders line
If you are on a budget holiday and can't afford to buy the Universal Express Pass, you may want to try the Single Riders line to avoid waiting time.
If you are visiting alone or don't mind splitting up your family or group on a ride, the Single Riders line is the fastest way to get on a ride.
Here are the attractions that offer the Single Riders line facility –
Jurassic World – The Ride
Revenge of the Mummy – The Ride
Transformers: The Ride 3D
Harry Potter and the Forbidden Journey
Flight of the Hippogriff
Single Riders' line is a free opportunity to skip the lines.
Hardcore theme-park fans visit both Disneyland Park and Universal Studios. Find out how to go from Disneyland to Universal Hollywood and vice versa.
---
---
Is Universal Hollywood worth it?
With notoriously long waiting times, visitors wonder if visiting Universal Studios Hollywood is even worth it.
Visiting the Los Angeles theme park is worth it if you enjoy movies and TV shows (tour of Universal Studios backlot) or love the thrill and adrenalin rush of roller coasters.
Despite the long waiting times, it is a must-visit attraction if you are a family with kids.
You must arrive early and leave late to get the most out of your Universal Hollywood visit.
Experience with zero wait times
If money isn't an issue, but your experience at Universal Studios Hollywood matters, you should opt for the VIP Experience Ticket. It costs between US$ 412 and US$ 471 per person (on select days) and gets you unlimited priority access to all rides, attractions, shows, a continental breakfast, a gourmet lunch in the VIP dining room, valet parking, and an exclusive Universal Studios Backlot Tour.
Sources

# Themeparkcenter.com
# Undercovertourist.com
# Thrill-data.com
# Universalstudioshollywood.com

The travel specialists at TheBetterVacation.com use only high-quality sources while researching & writing their articles. We make every attempt to keep our content current, reliable and trustworthy.
Popular attractions in Los Angeles
# Universal Studios Hollywood
# Warner Bros Studios Hollywood
# Hollywood Sign
# Los Angeles Zoo
# Madame Tussauds
# Petersen Automotive Museum