Out of the 33 theme parks in California State, six major ones are in and around Los Angeles.
Of these six, the crowd favorites are Universal Studios Hollywood and Disneyland.
No wonder then that tourists often ask, "How far is Universal Studios from Disneyland?"
Some families with kids or thrill-seekers who love to go on roller coasters visit both places.
This article shares how you can go from Universal Studios Hollywood to Disneyland and vice versa.
Distance from Universal Studios to Disneyland
Disneyland Park in Anaheim is approximately 35 miles (56 km) from Universal Studios Hollywood, and since both parks are near freeway exits, driving time should usually be 35 to 40 minutes.
Unfortunately, it takes much longer because the highway corridor between Los Angeles and Anaheim is congested.
Depending on the traffic when you start from Universal Studios, it can take you 90 minutes to two hours to get to Disneyland.
At Universal Studios Hollywood, you can book three kinds of tickets – General Admission Ticket (cheapest way to enter), Universal Express Ticket (helps skip all lines), or the VIP Ticket (gets you a royal treatment). Disneyland offers only one kind of Disneyland entry ticket.
Recommended Reading
– Universal Studios Hollywood Express Pass
– Universal Hollywood's VIP Experience Tour
---
---
Uber from Universal Studios Hollywood to Disneyland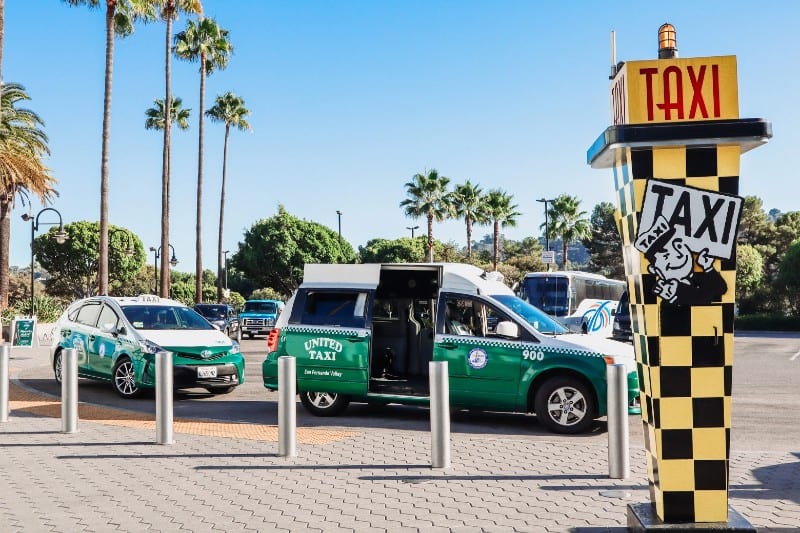 If you are not on a budget holiday, you can opt for either Uber or Lyft to go from Universal Studios Hollywood to Disneyland or vice versa.
Rideshare works out best if you are a small group or don't mind paying for an SUV, which could be a bit costlier.
The best part about hiring a cab is that you can go directly to your destination – Disneyland Park or Universal Studios and not waste time on the way.
Expect to pay around US$ 60- US$ 100 each way for Uber or Lyft.
---
---
Driving between Disneyland and Universal Studios
If you want complete freedom and convenience, renting a car and driving to the theme park yourself is a good idea.
Vehicle rental is the best plan if you wish to try out other places around the Los Angeles area before or after visiting the theme park.
The traffic you will encounter in Los Angeles, the city between Universal Studios and Disneyland Park, can be a bit of a bother.
The office traffic peaks between 7.30 to 10 am and again between 3 to 6.30 pm during the weekdays.
Self-driving may leave you too tired to have fun at the theme park.
And then there is the cost of renting a car, gas, and parking at the theme park.
Both Disneyland Resort and Universal Studios Hollywood charge approximately US$ 30 per car for parking.
Note: Some car rental companies allow you to retain the vehicle till the next morning, which gives you time to enjoy the city's nightlife.
---
---
Using public transport to get to Universal or Disneyland
You can either take a train or a bus to get to the theme park of your choice, but we don't recommend it because it takes a lot of time, which you can better use exploring the theme park.
For instance, you can take the L.A Metro bus from Anaheim to Universal Studios in just a few dollars, but you will lose almost three hours in travel.
Not to mention the stress of multiple transfers.
Trains are relatively more straightforward – you can take Amtrak or Metro link trains from Anaheim ARTIC train station and reach Union Station in Los Angeles.
An Uber driver can drop you at Universal Studios Hollywood from the Union Station in around 10 minutes.
---
---
Shuttles between Universal Studios and Disneyland
Given the popularity of the two theme parks, you may expect them to provide shuttle service between them.
Unfortunately, that's not the case because they are in intense competition with each other.
In 2019, Starline Express began offering a shuttle service between the two locations; but, the service is not currently operating.
However, Hollywood to Disneyland Taxi Service by Disneyland Express Shuttle takes you to the amusement park in Anaheim in the most comfortable way possible.
Prime Time Shuttle service is another service provider to take you from Hollywood to Anaheim and Disneyland.
They won't let you complain about the shuttle service from Hollywood to Anaheim and Disneyland.
The advantage of shuttles is that you can sit back and relax and avoid the stress of driving in Los Angeles traffic.
You also get to learn trivia about Los Angeles from the narrative guide on the coach.
The only disadvantage of using a shuttle service to go from Universal to Disneyland or vice versa is that you must stick to the shuttle's schedule.
Sometimes, they also have stops at other Los Angeles area attractions, which may delay your arrival at your destination.
---
---
Tips for maximizing the fun during your visit
Whichever mode of transport you choose between Disneyland and Universal, here are a few tips to have the maximum fun.
Buy your Universal Studios Hollywood tickets or Disneyland tickets in advance to avoid waiting at the ticket counters.
When you purchase your tickets in advance, you save both time and money (tickets at the gate are costlier!)
Besides buying online tickets, there are many other ways to get a discount at Universal Studios as well.
It makes sense to eat your breakfast before you get there so that you can hit the rides, shows, and attractions before the long lines start forming.
At Universal Studios, it makes sense to explore the Lower Lot first because the lines are the shortest in the morning.
Universal Hollywood isn't just about the roller coasters – for a complete experience, factor in time for the Wizarding World of Harry Potter and Universal's Backlot Studio Tour as well.
If you are not on a budget holiday, try out the Universal Express Ticket, which helps you skip all lines, or the VIP Ticket for a royal treatment.
---
---
Best Day to travel from Disneyland to Universal Studios
The 'best day' to travel from either Disneyland Park to Universal Studios or from Universal to Disneyland depends on you because you know what's essential for your family or group.
Weekdays tend to have the lowest crowds, but unfortunately, the roads are busier because people are going to (and coming back) from their offices.
If you want to avoid the rush hour traffic, weekends are better because roads will have fewer vehicles.
But weekends see larger crowds at the theme parks, resulting in longer waiting times for rides, shows, and other attractions.
If you want to spend more time at the theme parks, weekends are better because the attractions remain open for longer. 
Sources

# Rome2rio.com
# Lajollamom.com
# Thriftyfamilytravels.com
# Theparkprodigy.com

The travel specialists at TheBetterVacation.com use only high-quality sources while researching & writing their articles. We make every attempt to keep our content current, reliable and trustworthy.
Recommended Reading
– Best rides at Universal Studios Hollywood
– Minimum height requirements for the rides
– Universal Studios Hollywood wait times

Popular attractions in Los Angeles
# Universal Studios Hollywood
# Warner Bros Studios Hollywood
# Hollywood Sign
# Los Angeles Zoo
# Madame Tussauds
# Petersen Automotive Museum