Universal Studios Hollywood is a fantastic theme park, but like most of the attractions in Southern California, it is costly.
But don't worry; we will share many tips and tricks on how you can buy Universal Studios Hollywood discount tickets from authorized sellers.
The methods recommended below for buying Universal Studios Hollywood discount tickets are genuine.
And you won't have to search for coupons, special offers, promo codes, freebies, etc., which usually don't work.
Whatever method of saving money you choose, you are guaranteed an exciting day at Universal Studios Hollywood.
This article shares how to Buy Universal Studios Hollywood Discount Tickets in 2023.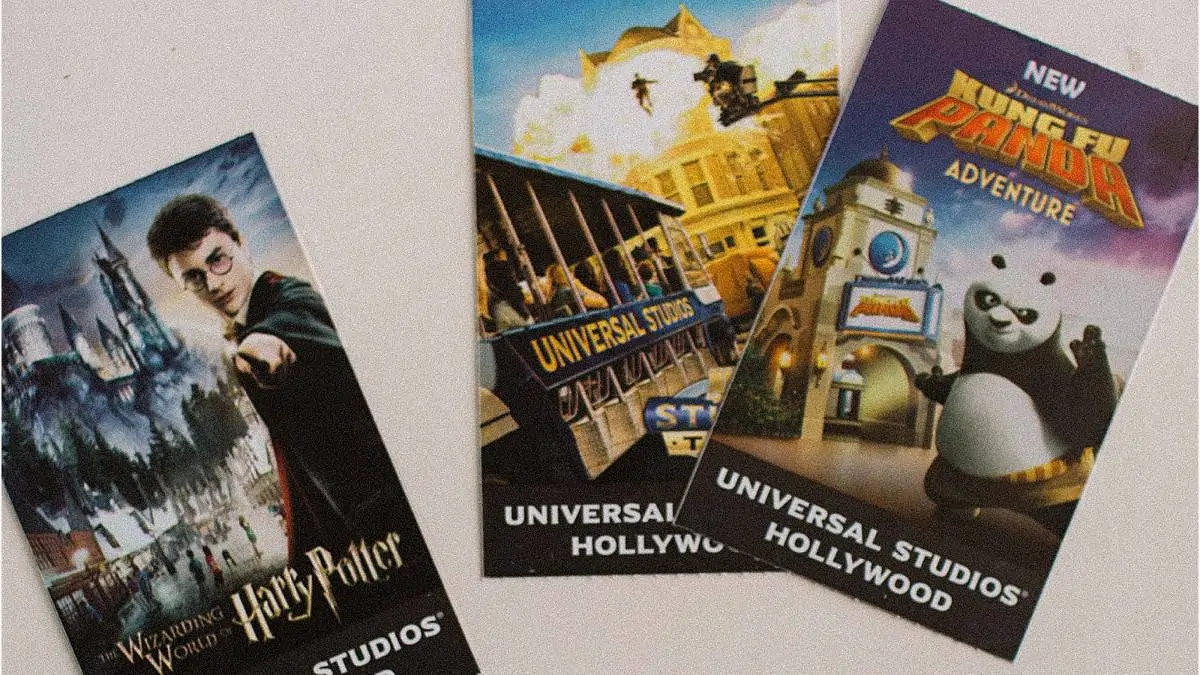 Discount on online tickets
Tourists and locals can choose from three Universal Studios Hollywood tickets – 1-DayGeneral Admission, Universal Express, and VIP Experience.
A 1-Day General Admission ticket is the cheapest and the most popular ticket.
The Universal Express ticket helps you skip the lines at all the rides at least once, while the VIP Experience ticket gets you a personalized experience at the theme park.
Tourists visiting the theme park on peak days and aware of the notoriously long wait times at Universal Hollywood opt for the Universal Express Pass or the VIP Experience Ticket.
The 60-minute Universal Studios Hollywood Studio Tour is included with all three tickets.
Why online tickets are better
Before booking Universal Studios Hollywood's tickets online, some tourists wonder if there is any difference between tickets bought at the venue and those purchased online.
The answer is, "No!"
There is no difference between online tickets and those purchased at the gate.
However, there are three massive advantages of buying Universal Studios tickets over the Internet –
Online tickets are cheaper as you don't pay the 'ticketing window surcharge.'
You save time because you don't stand in line at the ticketing window. During peak hours, this wait can even go up to 60 minutes.
When you buy online, in advance, you can be inside the theme park as soon as they open and go on the popular rides before the crowd comes in.
How online tickets work
As soon as you book your discounted Universal Studios Hollywood tickets online, they get emailed to you.
You don't need to take any printouts.
Since these are not timed tickets, you can reach the attraction whenever possible (the sooner, the better).
Since you already have a ticket, you can skip the long queues at the ticket counter, show your ticket on your smartphone at the entrance, and enter.
How much you save on online tickets
The price of Universal Studios Hollywood tickets fluctuates depending on the season and demand.
For instance, ticket prices surge during weekends, public holidays, and school holidays.
If you're traveling during peak season, getting your tickets ahead of time is a good idea to avoid paying higher prices.
Discount on 1-Day General Admission Ticket
The General Admission ticket price at the gate is US$ 159 for all visitors aged ten years and above and US$ 153 for visitors between three to nine years.
When purchased online, the same tickets are priced between US$ 121 and US$ 146 for visitors aged ten and above and between US$ 115 and US$ 140 for visitors between three to nine years, so you get a significant discount per ticket on select dates. 
Buy General Admission tickets online to claim the reduced prices.
Discount on Universal Express Ticket
Universal Studios Hollywood Express Pass costs US$ 399 for all visitors aged three years and above at the gate.
But when you buy them online, on some days, you pay a discounted rate between US$ 235 and US$ 294 per person or , thus saving a significant amount per person on select days. 
When you buy an Express ticket online, you skip the queues at the rides and shows.
Discount on VIP Experience ticket
Universal Studios Hollywood's VIP ticket gets you unlimited priority access to all rides, attractions, shows, a continental breakfast, a gourmet lunch in the VIP dining room, and valet parking.
The premium ticket costs US$ 519 for all visitors aged five years and above at the gates.
Buying VIP tickets online, in advance is available at a much-lowered price between US$ 412 and US$ 471, helping you save a significant amount per person on select days.
If you are a family, that's a massive saving that you can use for other expenses at the theme park.
Eat breakfast in advance
Eat breakfast before entering the theme park to maximize your time with the rides, attractions, and shows. You also save money because the food inside is costly.
Visual Story: 13 must-know tips before visiting Universal Studios Hollywood
---
---
Height discount on the tickets at the gate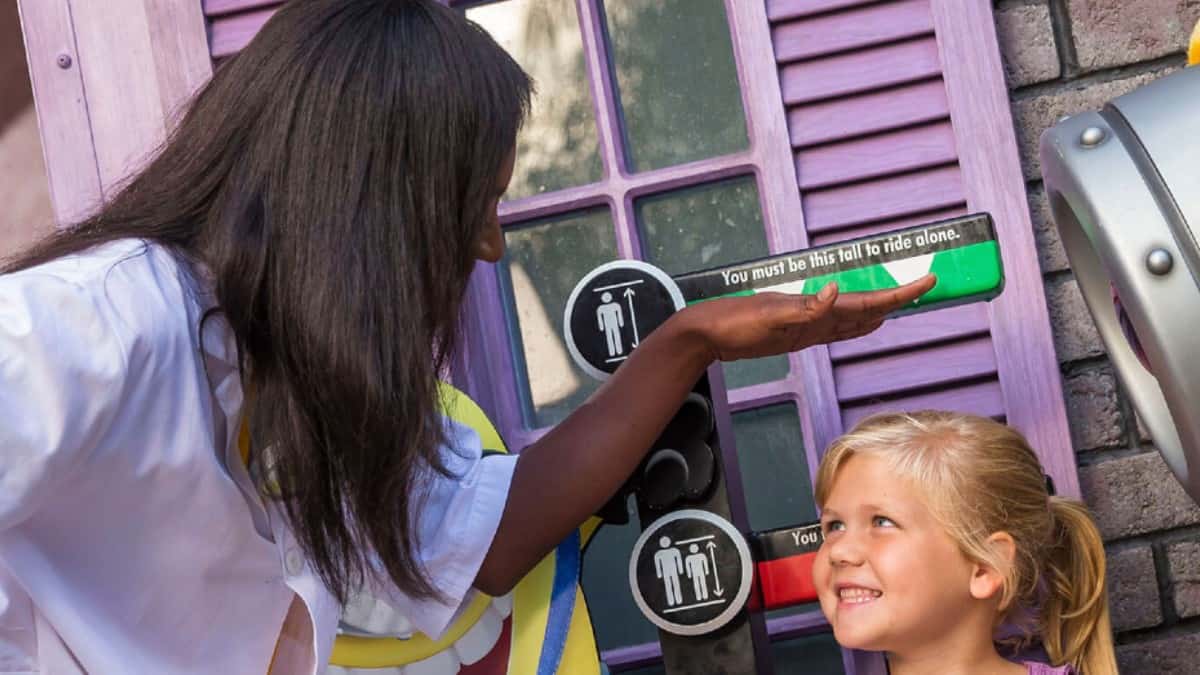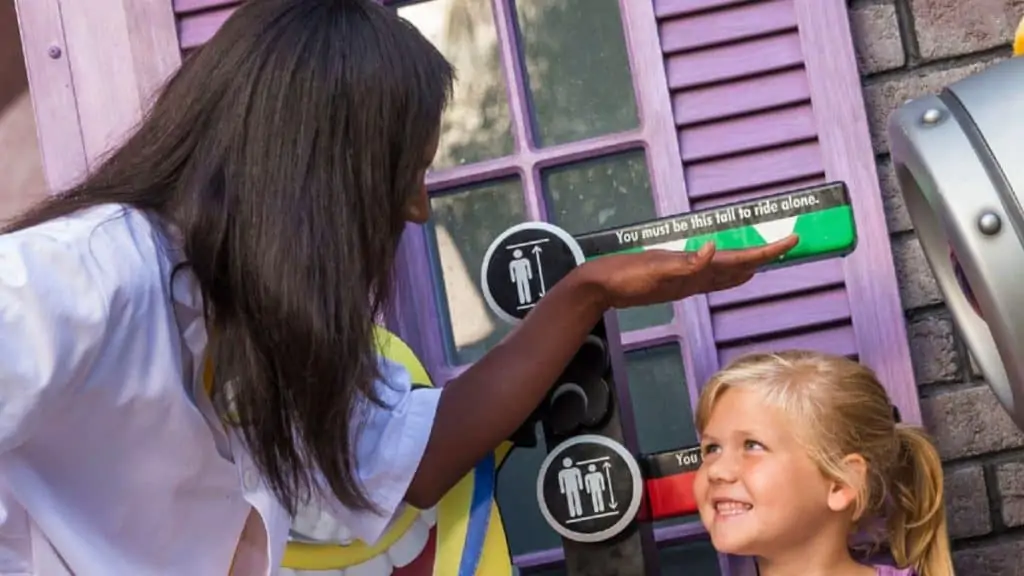 Certain Universal Studios Hollywood rides and attractions have a minimum height restriction.
As a result, guests under 48 inches (122 cm) qualify for a discounted admission price on the general admission tickets at the front gate.
This benefit applies to all qualified guests, irrespective of their age.
At the theme park's entrance, many signs are available, using which guests and park employees can determine if someone qualifies for the height discount.
Since offering this height discount online is impossible, an age discount is provided, and visitors aged three to nine qualify for the reduced entry rates.
If your kids are ten years and above but still qualify for the height discount, you should buy your tickets at the Universal Studios Hollywood entrance.
We recommend this only if you are on a budget holiday because you will save time at the ticket counters.
Recommended Reading: Universal's Wizarding World of Harry Potter
Visual Story: 13 must-know tips before visiting Universal Studios Hollywood
---
---
Go City Los Angeles – All Inclusive Pass
With the Go Los Angeles pass, save up to 40% off admission to over 40+ top Los Angeles and other Southern California attractions.
If you are in Los Angeles and plan to visit two to three attractions, the Go City Los Angeles Pass is an excellent way to save money.
When you opt for the 3, 5, or 7-day Pass, you enjoy one-day free entry to Universal Studios Hollywood.
Besides Universal Studios, you can visit other attractions such as Madame Tussauds Hollywood, LEGOLAND® California, Aquarium of the Pacific, San Diego Zoo, Warner Bros Studio Tour, etc.
---
---
Combo tickets, including Universal Studios
Many tourists search for combo tickets that combine Universal Studios Hollywood with other nearby Southern California attractions.
Such combo tickets help you get a 10% to 15% rebate, and you can visit the attractions whenever you want – any day convenient for you.
We recommend the following two combos –
Universal Studios + Madame Tussauds
When bought separately, these tickets cost US$ 147, but you get a 10% reduction and pay only US$ 133 per person when bought together.
Universal Studios + World of Illusions
Individually these tickets cost US$ 144, but you get a 10% reduction and pay only US$ 130 per person when you buy them together.
Those who love roller coasters' adrenaline rush prefer to visit Universal and Disneyland. But since they are competitors, they don't sell their tickets as a combo. However, you can buy the tickets individually and visit them both. Find out how to go from Universal Studios Hollywood to Disneyland and vice versa.
---
---
Military discounts at Universal
Universal Studios Hollywood offers discounted tickets to active and retired US Military, DOD personnel, National Guard, Reservists, and their dependents.
They can show a valid military or US government ID at the gate and get up to US$ 3 off general admission tickets.
For more significant discounts, the uniformed services can purchase tickets from participating MWR/ITT offices throughout the United States.
---
---
Costco Discount Tickets
Some Costco stores in Southern California used to sell Universal Hollywood discount tickets.
However, they have now stopped the practice.
Their help section mentions that they are currently not selling tickets to Universal Studios Hollywood.
Visit the Lower Lot first
As soon as the park opens, everybody rushes to the rides and attractions in the Upper Lot, and as a result, the Lower Lot is relatively free. If you reach early and head for the Lower Lot, you may not need to buy the costlier Express Tickets.
---
---
AAA Discount Tickets
AAA members can save money on their General Admission and VIP tickets in three ways.
They can show their ID at the Universal gate and get US$ 3 off admission prices and a 10% discount on food and beverages.
For reductions of up to US$ 25 or more on ticket prices, AAA members must buy tickets from AAA's website or the branch.
Group Discounts
Universal Studios Hollywood discount tickets are available for groups of ten or more visitors.
You can only purchase these discounted tickets over the phone – please call 1-800-959-9688 (Monday – Friday, 9 am to 5 pm PT).
College Student Discounts
Universal Studios Hollywood partners with many colleges to provide cheap tickets for students.
If your institution's name is on the list, you can purchase discounted General Admission, California Neighbor, and Universal Express tickets.
Even faculties and other staff can avail of these reduced ticket prices.
You must keep your official college email address handy for online orders.
Discount for Amex cards
American Express is an official partner of Universal Studios Hollywood, which means you can use your Amex Card to score a discount.
American Express cardholders receive 10% off food and non-alcoholic beverage purchases of US$ 10 or more.
You will also get a 10% reduction on photo packages if your order crosses US$ 25.
Save on drinks
Visitors can bring water bottles (up to 2 liters), baby food, fruits, and vegetables into the theme park.
Sources

# Universalstudioshollywood.com
# Undercovertourist.com
# Funex.com
# Citypass.com

The travel specialists at TheBetterVacation.com use only high-quality sources while researching & writing their articles. We make every attempt to keep our content current, reliable and trustworthy.
Popular attractions in Los Angeles
# Universal Studios Hollywood
# Warner Bros Studios Hollywood
# Hollywood Sign
# Los Angeles Zoo
# Madame Tussauds
# Petersen Automotive Museum