Universal Studios Hollywood VIP Experience Tour is the most exclusive way to go behind the scenes at the world's largest movie studio and Theme Park in Los Angeles.
During the VIP Experience tour, you will be shown around exclusive backlot areas not open to the public, gain express entry to all the rides, shows, and attractions, enjoy a gourmet meal, access the VIP lounge, etc.
If you want to be treated like royalty at Universal Studios Hollywood, opt for the Universal VIP experience tour.
The other two ways to explore the LA theme park area – are with a General Admission ticket, which helps you skip the ticket counter lines, or with an Express ticket, with which you avoid both the ticket counter lines and the queues at the rides and shows.
This article explains everything you must know before booking your Universal Studios Hollywood VIP Experience.
Top Universal Studios Hollywood VIP Tickets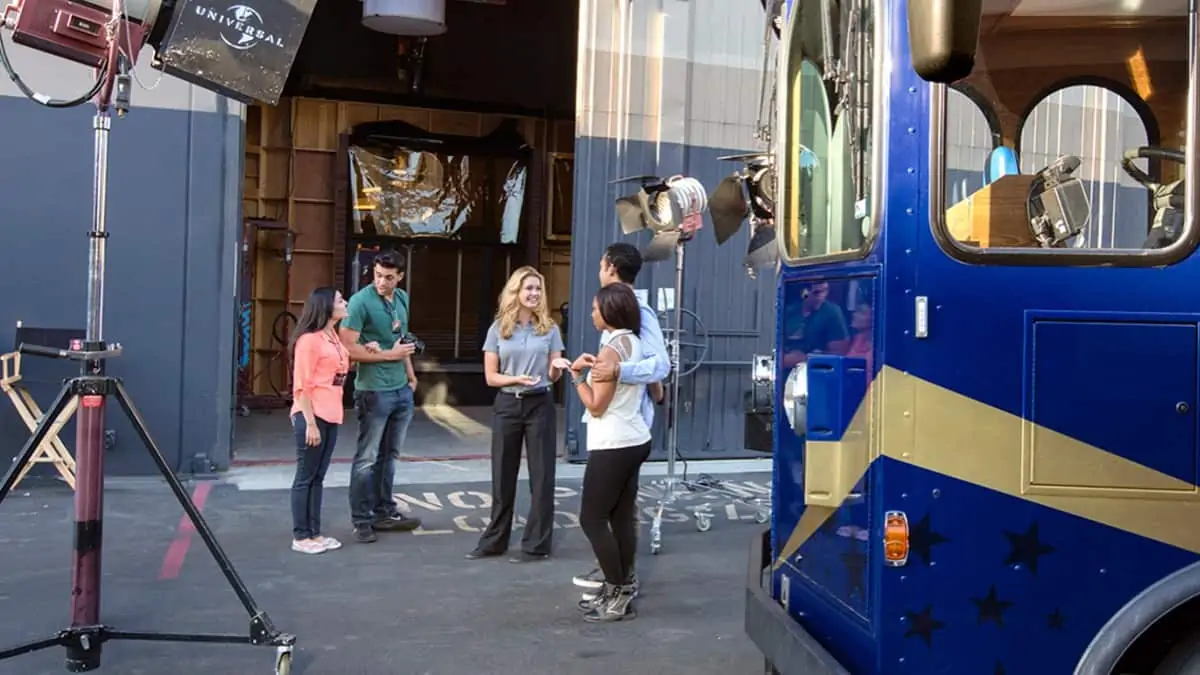 What to expect on a Universal VIP Tour
A select few receive star treatment during this exclusive, guided tour of Universal Studios Hollywood.
If you drive, you will get free valet parking (worth US$ 40) at the entrance.
After meeting your expert guide at the VIP Reception of the Theme Park, you will begin your day at the exclusive VIP lounge with a light breakfast.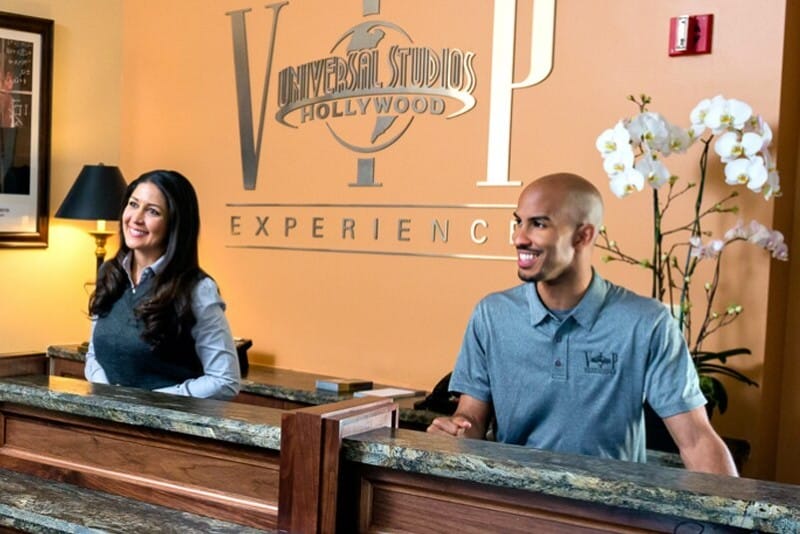 After the light meal, the expert VIP guide takes you on the Universal Backlot Tour, also known as the World Famous Studio Tour.
The guide will immerse you in the past, present, and future of Universal's Backlot.
Besides seeing sets of famous movies such as Jaws, Psycho, War of the Worlds, etc., you will also experience how Hollywood creates floods, earthquakes, etc.
You will also visit authentic sound stages where blockbuster films and television series are shot.
And explore the massive Archive and Collections Department to see how Universal's historical props, documents, photos, and costumes are preserved.
Entry into the working Sound Stages and the Property Warehouse are exclusive to the VIP Experience and are not part of the regular Universal Studios Hollywood Studio Tour.
And then, the private guide helps you get VIP privileges on all the rides at Universal Hollywood.
Because of the VIP Ticket, you don't spend any time waiting at the roller coasters and can go on the ride as many times as you want.
The guide also gets you priority seating at the Waterworld and Universal's Animal Actors show.
When you feel like taking a break, you can head to the private VIP dining room and savor a gourmet lunch prepared by Universal's executive chef.
After lunch, relax in the VIP lounge and head back to either the Upper Lot or Lower Lot of the theme park to enjoy VIP privileges at the rides.
At the end of around six hours, the guide takes their leave, after which you can continue to stay in the Park and have fun.
Note: The content of all VIP Universal Experience tours is subject to change, dependent on production timelines and other reasons.
Visual Story: 13 must-know tips before visiting Universal Studios Hollywood
---
---
Universal VIP tour tickets
Universal Studios Hollywood VIP Experience is the best way to visit Universal Studios Hollywood.
Reservations for Universal VIP Experience tours are limited to up to 18 guests per tour and, as a result, are in short supply.
Universal VIP Pass is unavailable at the venue and usually gets sold out in advance.
Visiting with kids
Children under five are not allowed on the Universal Studios Hollywood VIP Experience.
Universal Hollywood's Express Pass is your next best option if you have a child under five years but want special privileges.
Visitors must be at least 17 years old to attend without an accompanying adult.
How do the VIP tickets work
Immediately after purchase, you will receive a gate-ready 1-day entrance ticket to Universal Studios Hollywood.
You can present this ticket on your smartphone for instant entry into the theme park.
You don't need to take a printout, but please go ahead if you prefer a hard copy.
Cancellation Policy
The VIP Experience Tour Ticket is only valid for your selected date and time and is non-transferable and non-refundable.
However, you can reschedule your date of visit.
Requests to change your reservation must be made at least 48 hours in advance.
VIP Experience discount
Unfortunately, Universal Studios Hollywood offers no discount on its VIP Experience Tour.
Since this is an exclusive tour and spaces are limited, all visitors five years and above are classified as one and pay the same price for their ticket.
Seniors, students, and disabled visitors also don't get any cost concessions.
Cost of VIP Tour: From US$ 412 per person
*On peak days, the ticket price can go up to US$ 471 per person.
Do you tip Universal VIP tour guides?
Tipping is not mandatory but is appreciated. Ten to twenty percent is a good tip for your guide.
---
---
VIP Tour hours
The Universal Studios Hollywood opens at 9 am; some days, it begins at 10 am; VIP Experience Tours start soon.
You can select your preferred time slot while booking your Universal Studios VIP ticket.
However, because of the exclusive nature of Universal's VIP tour, it may get rescheduled to one hour before or one hour after the time slot you selected.
You must arrive at the VIP Reception at least 20 minutes before your scheduled tour time.
---
---
How long is the VIP Experience Tour
The Universal Studios Hollywood VIP Experience lasts approximately six hours.
However, visitors can continue to explore the Park after their tour for as long as they wish.
The Park's closing time varies seasonally, from 6 pm in winter to 11 pm during peak summer.
Recommended Reading
– Universal Studios Hollywood discount tickets
– Universal's Wizarding World of Harry Potter
– Height requirements of Universal Studios rides
– How to go from Universal Hollywood to Disneyland
---
---
Private VIP Experience at Universal Hollywood
Universal Studios in Los Angeles also offers a private VIP tour, which is even more exclusive than the VIP Experience Tour.
While on the VIP Tour, you get clubbed with other visitors; during a Private VIP Tour, the guide is exclusively for your group.
It is impossible to book this high-end tour online or at the gates.
You must call Universal Studios at (818) 622-8477 for price and availability.
This tour has no age minimum, but guests must be at least 17 years old to attend without an accompanying adult.
Sources

# Universalstudioshollywood.com
# Tripadvisor.com
# Attractiontickets.com

The travel specialists at TheBetterVacation.com use only high-quality sources while researching & writing their articles. We make every attempt to keep our content current, reliable and trustworthy.
Popular attractions in Los Angeles
# Universal Studios Hollywood
# Warner Bros Studios Hollywood
# Hollywood Sign
# Los Angeles Zoo
# Madame Tussauds
# Petersen Automotive Museum