The Wizarding World of Harry Potter at Universal Studios Hollywood was inaugurated in 2016 and since then has become one of the major attractions of the theme park.
The Harry Potter World is not a separate theme park but is a themed land in the Upper Lot of Universal Studios Hollywood in Los Angeles.
At this magical section of Universal, visitors explore the mysteries of Hogwarts Castle, ride adrenalin-pumping Harry Potter-themed roller coasters, and try out Butterbeer.
Before booking your tickets, this article shares everything you must know about Universal Studios Hollywood Wizarding World of Harry Potter.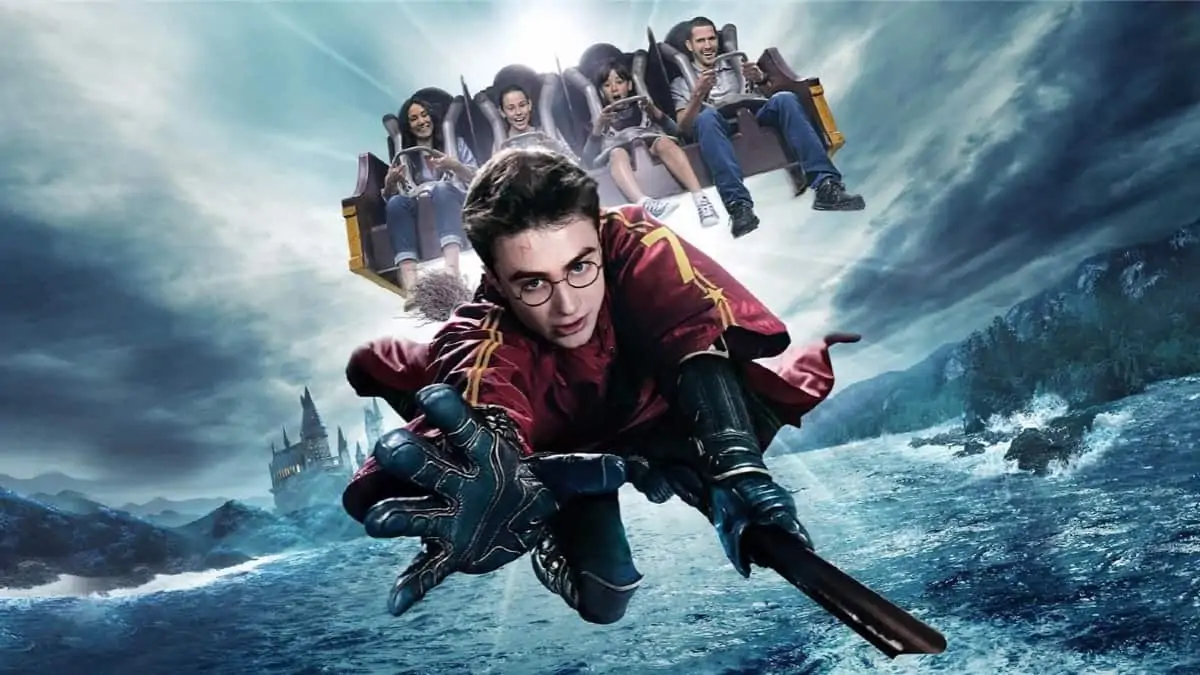 Tickets to Universal's World of Harry Potter
Visitors can choose from three types of Universal Studios Hollywood tickets – General Admission ticket, Universal Express Pass, and VIP Experience Tour.
General Admission ticket is the cheapest and the most popular ticket.
Universal Hollywood Express Pass helps you skip the lines at all the rides at least once.
During Universal Studios VIP Experience tour, you will be shown around exclusive backlot areas not open to the public, gain express entry to all the rides, shows, and attractions, enjoy a gourmet meal, access the VIP lounge, etc.
All these tickets get you complete access to The Wizarding World of Harry Potter.
---
---
Harry Potter and the Forbidden Journey
Harry Potter and the Forbidden Journey is the most popular attraction within Universal Studios Hollywood's Wizarding World of Harry Potter.
Before getting to the state-of-the-art roller coaster, you must enter through the towering Hogwarts Castle gates and go down the familiar corridors of Hogwarts School of Witchcraft and Wizardry.
On the way, you will see Dumbledore's office, the Defence Against the Dark Arts classroom, the Gryffindor Common Room, the Room of Requirement, etc.
Then you board the thrilling roller coaster and soar above the castle grounds as you join Harry Potter and come face-to-face with many magical creatures.
The flying happens via a cleverly disguised robotic arm that takes you through various Harry Potter scenes and projection domes.
This Harry Potter ride has a minimum height limit of 48″ (122 cm).
Physical restrictions
Harry Potter and the Forbidden Journey employs safety restraints that may restrict some guests from riding due to their body shape and size.
Visitors with waistlines of 40″ (101 cm) or more will find it difficult to don the safety restraints, so they must try the test seat provided at the attraction's entrance.
The average waiting time at Harry Potter and the Forbidden Journey is 40 minutes, and at Flight of the Hippogriff, it is 20 minutes. Read up on waiting times at Universal Hollywood's rides so that you can plan your route better.
---
---
Flight of the Hippogriff
Flight of the Hippogriff is a family-friendly roller coaster that everyone in the family can enjoy together.
Visitors must enter the Care of Magical Creatures grounds and pass by Hagrid's hut to get to Flight of the Hippogriff.
As you near the ride, Hagrid offers instructions on the best way to approach a Hippogriff – the magical creature with front legs, wings, and head of a giant eagle and the body, hind legs, and tail of a horse.
Younger kids love it as the ride spirals, dives around the pumpkin patch, and then swoops past Hagrid's hut.
The Flight of the Hippogriff ride has a minimum height limit of 39″ (99 cm).
Kids under 48″ (121.9 cm) must be accompanied by an adult 14 or older.
Recommended Reading
– Minimum height required for Universal rides
– All rides at Universal Studios Hollywood
Visual Story: 13 must-know tips before visiting Universal Studios Hollywood
---
---
Hogsmeade Village
Universal Hollywood's Wizarding World is set in the Hogsmeade village.
The brilliant re-creation of the wizarding village from the Harry Potter books has many shops and food outlets.
Visitors must walk past Hogsmeade to get inside Hogwarts Castle and, eventually, the rides.
Universal Studios Hollywood's version of Wizarding World is a copy of the original, opened in Orlando in 2010.
We explain some of the attractions in Hogsmeade.
Ollivanders
Every re-creation of the Wizarding World of Harry Potter must have Ollivanders, Makers of Fine Wands since 382 BC.
In this room, stacked from bottom to top with boxes of magic wands, Potter fans enjoy a brief 'wand selection session' and then select one for themselves.
Many kinds of wands are available for purchase, each costing around $40. An 'interactive' wand costs much more.
If you opt for the expensive wand, you can wave your wand to stimulate a fun trick at 11 different spots in the Wizarding World.
These 'interactive' wands come with a map that shows the magical spots.
Zonko's Joke Shop
Like how the village of Hogsmeade in the Harry Potter books and the movies have Zonko's Joke Shop, Universal's replica in Los Angeles also has the same.
For Potter fans, it will be nostalgic to see items such as Chinese Fortune Sticks, Tin Toys, Pik-a-Stiks, Fluffy Pygmy Puffs for pets, etc., for sale.
Hogwarts Express
Hogwarts Express train at this Harry Potter-themed attraction is a prop and doesn't move.
The kids love to take free selfies with the Hogwarts Express' ever-smiling conductor.
In the station house, right next to the train, is the re-creation of the train carrying the students would take to go to Hogwarts School of Witchcraft and Wizardry.
Visitors can sit in this carriage and have their photographs taken by the official photographer.
You must pay extra for this souvenir— selfies aren't allowed inside the carriage.
Frog Choir
At the Frog Chair, you will hear the vocal stylings of a small choir of Hogwarts students, accompanied by the smooth bass rumbles of their giant throaty frogs.
Each performance has four students – from Gryffindor, Slytherin, Hufflepuff, and Ravenclaw houses.
Triwizard Spirit Rally
Triwizard Spirit Rally is a colorful performance by students from the legendary wizarding schools of Hogwarts, Beauxbatons Academy of Magic, and Durmstrang Institute as they lead the excitement for the Triwizard Tournament.
First, the girls from Beauxbatons perform a choreographed act with ribbons, and then the boys from Durmstrang perform a few martial arts-style stunts.
The performance lasts six to eight minutes, and the students are available for group photos.
Honeyduke's
Honeyduke's, the famous candy shop from the World of JK Rowling, has been recreated in Universal Studios Hollywood Harry Potter World.
It is stocked with Rowling inventions such as Chocolate Frogs, Fudge Flies, Fizzing Whizzbees, and the Wizarding World favorite, Bertie Bott's Every-Flavour Beans.
Butterbeer
In Hogsmeade, you will find several carts selling Butterbeer.
Visitors can opt for cold or frozen Butterbeer with a marshmallowy foam topping.
Kids and adults love it because one can have Butterbeer only in the Wizarding World and not in the real world.
A plastic cup of Butterbeer is about $8; if you want the drink in a souvenir mug, you must pay $14.
Fortescue's ice cream
In the books and movies, Florean Fortescue's Ice Cream Parlour is part of Diagon Alley, not Hogsmeade.
But Florean Fortescue's Ice Cream is so popular with the fans and the wizards that the Universal staff have made them available at street kiosks.
While the Wizarding World of Harry Potter stays true to the book, it also caters to popular demand.
Don't miss the Chocolate Chili flavor.
Which Universal World of Harry Potter ticket will it be?
General Admission ticket, the cheapest and the most popular ticket. Or the Express ticket, which helps you skip the lines at all the rides at least once. Or the VIP Experience ticket gets you royalty treatment at the theme park. Or, if you are on a budget holiday, check out how to get discounts at Universal Studios.
---
---
Restaurants in Harry Potter World
Universal Studios Hollywood Wizarding World of Harry Potter has three food and drink outlets – Three Broomsticks, Hog's Head, and Magic Neep Cart.
Three Broomsticks
Three Broomsticks is the cozy, snow-capped inn where Harry Potter has his first taste of Butterbeer.
The sit-down restaurant serves tasty British fare, including 'The Great Feast,' Fish & Chips, Shepherd's Pie, and Fresh Vegetables.
The restaurant also has beautiful cast-iron chandeliers, weathered wood beams, and balconies brimming with curious bric-a-brac.
Alcoholic beverages are available and are served to visitors above 21+ years with valid ID.
Hog's Head
Hog's Head is a pub in the back of Three Broomsticks restaurant and is the perfect place for all kinds of drinks, including Butterbeer and Pumpkin Juice.
The bar serves domestic and imported beers, exclusive Hog's Head Brew, Gillywater (bottled water), specialty drinks, wine, spirits, and mixed drinks.
You can't miss the stuffed hog's Head hanging over the bar, which will snarl at you as you pass.
Magic Neep Cart
The Magic Neep Cart offers fresh fruit, cold beverages, bottled beers, and snacks.
Try out the Butterbeer Ice Cream, which you can't get anywhere else.
Sources

# Universalstudioshollywood.com
# Wizardingworld.com
# Wikipedia.org
# Timeout.com

The travel specialists at TheBetterVacation.com use only high-quality sources while researching & writing their articles. We make every attempt to keep our content current, reliable and trustworthy.
Recommended Reading
– Universal Studios Hollywood's Backlot Tour
– How to go from Universal to Disneyland
Popular attractions in Los Angeles
# Universal Studios Hollywood
# Warner Bros Studios Hollywood
# Hollywood Sign
# Los Angeles Zoo
# Madame Tussauds
# Petersen Automotive Museum