Universal Studios Hollywood gets almost 10 million visitors annually, and during peak days, more than 35,000 visitors walk in through its gates.
Because of this crowd, it is common to see long queues at the rides, attractions, and seated shows.
Waiting times at Universal Hollywood's rides can quickly exceed an hour during weekends, public holidays, and school breaks.
There are only two ways to avoid these lines – buy a VIP Ticket, which costs upwards of US$ 400 per person, or opt for the cheaper Express Pass which is priced around US$ 250.
Besides quick entry into the theme park, Universal Studios Hollywood Express Pass gets visitors one-time express access to each ride, attraction, and show. 
This article explains everything you must know before buying Universal Studios Hollywood Express Pass.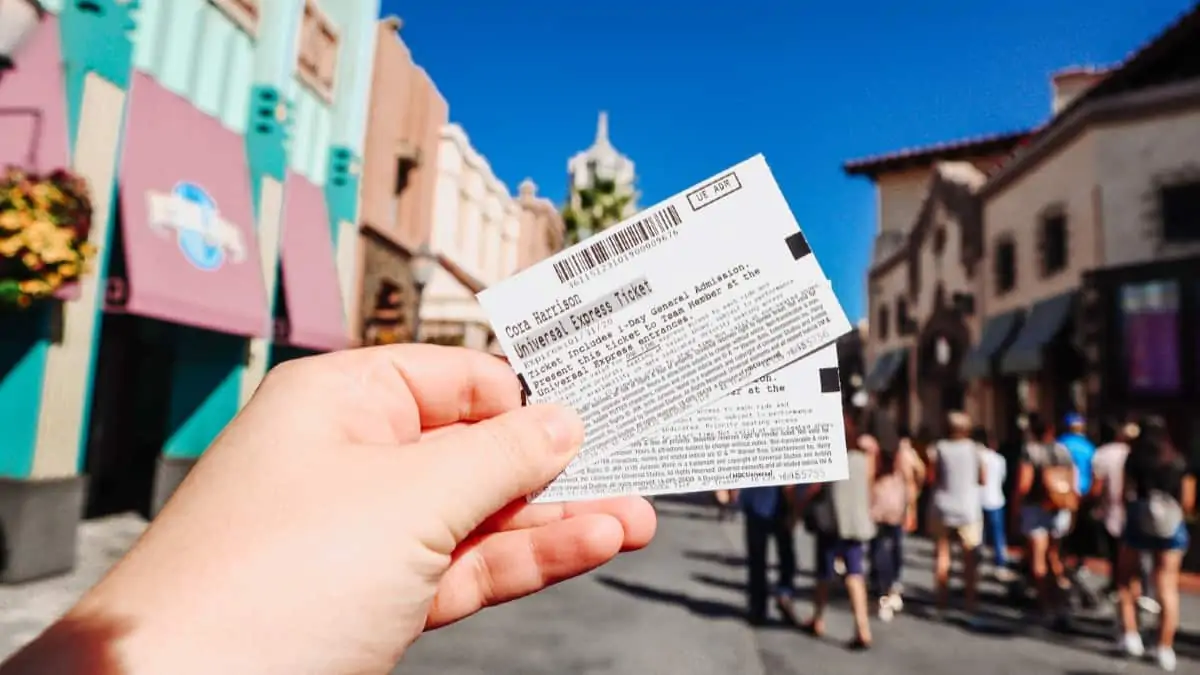 How Express Pass works at the rides
The Express Pass is also known as the Universal Express Pass or Universal Express Ticket.
It is an upgrade on the General Admission Ticket, the cheapest and most popular way to enter Universal Studios.
The Express Pass also includes the Universal Studios Hollywood Studio Tour, the 60-minute tram tour around the backlots.
When you purchase an Express Ticket, it gets emailed to you.
On the day of your visit, you can show the pass on your smartphone and walk into the theme park.
Every time you go on a ride, you can skip the long ride queue and walk in through the entrance for Express Pass holders.
You will scan your Express Pass and get on the ride without waiting.
Universal Studios Express Pass eliminates your waiting time, making it a great way to save time and see more of the Park.
---
---
How to use Express Pass at the shows
The Universal Studios Hollywood Express Pass gets you one-time priority access to WaterWorld and Universal's Animal Actors show.
Visitors with Express Passes are allowed into the venue before everyone else.
The Pass also gets you priority seating, but you must be in the Express queue at least 10 minutes before the audience enters the theater.
After ushering you to the premium seats, the Universal Studios staff lets the others in.
The Pass also gets you exclusive meet-and-greets with the animals and staff after the rest of the audience has left.
---
---
Cost of Universal Express Pass
If you visit during the peak seasons the Universal Express Pass prices will be significantly more than during the lean season.
Universal Hollywood Express Pass costs between US$ 235 and US$ 294 per person on non-peak and peak days.
When you purchase the Express Pass at the gate, you pay $10 extra per person.
Since this is an exclusive pass and only a limited number are sold daily, all visitors three years and above are classified as one and pay the same price for their ticket.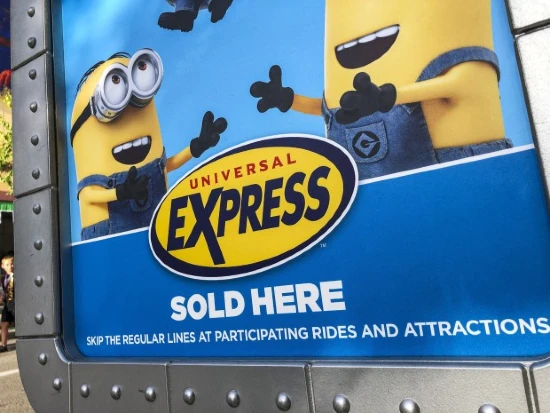 Even though you can buy the Universal Studios Hollywood Express Pass at the theme park, it is wiser to get them online. When you get them in advance, you pay less and start reaping the benefits immediately.
---
---
Is the Express Pass worth it?
Even though these tickets cost more than regular admission, the benefits are well worth it.
Only limited quantities of Universal Studios Hollywood Express Passes are available each day, so we recommend buying yours online in advance.
This limit also ensures that the benefits of buying the Express Ticket are maintained.
With the Pass that lets you avoid the queue, even on a non-busy day, you can save 60 to 90 minutes.
If you are not on a budget holiday, your time is worth it, so go for it.
Visual Story: 13 must-know tips before visiting Universal Studios Hollywood
---
---
When do you need Express Pass
Many locals and tourists wonder if they need to buy Universal Studios Hollywood Express Pass to enjoy their day at the park.
The answer to that question depends on when you are visiting.
Universal Studios gets crowded during peak summer months, weekends, and school breaks, and on these days, the Express Pass can help you skip lines and have more fun at the theme park.
The Los Angles attraction is most crowded from May to mid-August, Thanksgiving week, Christmas week to the second week of New Year, Spring break, and Easter season.
You don't need the Express Pass if you visit on a weekday during the off-season months.
Don't leave it for the last
Some tourists want to visit the attraction, check out the crowd, and decide whether to purchase the Express Pass.
This approach is not recommended because only a limited number of Express Passes are sold daily, and they get over soon during peak times.
Recommended Reading
– Popular rides at Universal Studios Hollywood
– Universal's Wizarding World of Harry Potter
---
---
How many Universal Express Passes to buy?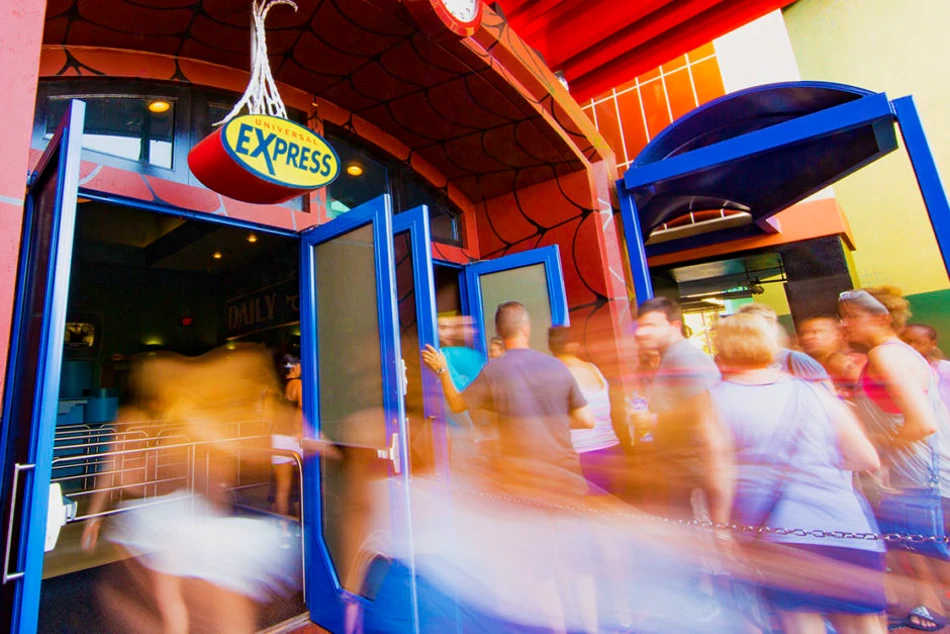 You may not need to buy Express Pass for everyone in your group.
If you have a family member who doesn't meet the minimum height requirements for the rides or is scared, the Express Ticket will be useless for them.
You can buy the General Admission Ticket for them, instead.
Since your Express Pass will get you on the ride without any waiting time, you will quickly reunite with the family members who decided to stay back in the Child Switch Room.
Want to save money? Read up everything about Universal Studios Hollywood discount tickets
---
---
FAQS on Express Pass
Universal Studios Hollywood's Express Pass, which helps skip all the lines, is a massive help to those who can afford it. Buy it Now!
Besides helping you experience everything in the park at least once, you can do much more with the time you save.
This section lists some of the tourists' most common questions about this skip-the-line pass.
Does the Universal Express pass include admission?

When you buy the Universal Express Ticket online, you get both the admission ticket and the Express Pass to skip the queues at the rides and shows. 

Can I buy Universal Express Pass at the Park?

Visitors can purchase Universal Express passes at the counters at the front gates or inside the theme park. However, leaving them for the last minute is not a good idea because they have a limited inventory and, on crowded days, sell out.

Why is Universal Express Pass so expensive?

Universal Express passes are costly because they help you skip the lines and save time. If they were cheaper, many visitors would buy them, and the queues for the Express Pass holders will also become longer.

How long are the lines with Universal Express Pass?

With an Express Pass, more often than not, you will skip the ride's queue and be the next person to board the ride. For popular attractions with more elaborate and long queues, after scanning the Express Pass, you will join the Express queue, which will be much shorter than the General Admission queue.

Does Universal Express Pass sell out?

During the peak summer months, school vacations, long weekends, etc., Universal Studio Hollywood's Express Passes are in high demand and sell out early in the day. That's why you should buy your Express Passes in advance if you are visiting during a busy season.

What is the difference between Universal Express Pass and Unlimited Pass?

You can apply the Universal Studios Hollywood Express pass to a ride or a show only once. In contrast, a Universal Express Unlimited pass gets you unlimited access to all the rides and shows.

Does Universal Studios Hollywood have a Fast Pass?

Universal Express Pass and the Universal Express Unlimited Pass are Universal Studio Hollywood's equivalent of Fast Pass. They help you skip the long lines at the rides and attractions and save time.
---
---
Unlimited Universal Express
Buying the Unlimited Universal Express upgrade is a good idea if you plan to visit with children who may want to go up on the rides many times.
Unlimited Universal Express is available for purchase at the theme park, and it works as an upgrade with all kinds of tickets – the General Admission Ticket, the Express Ticket, and the Season Pass.
Upgrading your General Admission Ticket to Unlimited Universal Express will cost you US$ 100 – US$ 170.
If you already have a Universal Express ticket, upgrading to Unlimited Universal Express costs only US$ 30 – US$ 40 per person.
Universal Hollywood ticket prices can vary depending on the day and the crowd.
---
---
Universal Studios Hollywood VIP ticket
Opt for the Universal Studios Hollywood VIP tour if cost is not an issue and you want something better than the Express Pass.
On a VIP Tour, you get unlimited priority access to all rides, attractions, shows, a continental breakfast, a gourmet lunch in the VIP dining room, and valet parking.
The VIP tour tickets also get you a closer look behind the scenes and exclusive access to the Universal Studios Backlot.
These tickets cost US$ 429 for all visitors aged five years and above at the gates.
When you buy them online in advance, these tickets are available at a much-lowered price between US$ 412 and US$ 471, helping you save significant amount per person.
When you buy a VIP Ticket, a guide is with you throughout the day, facilitating your experience at the park.
Hardcore theme-park fans visit both Universal and Disneyland. Find out how to go from Universal Hollywood to Disneyland Park and vice versa.
Sources

# Undercovertourist.com
# Tripadvisor.com
# Getawaytoday.com

The travel specialists at TheBetterVacation.com use only high-quality sources while researching & writing their articles. We make every attempt to keep our content current, reliable and trustworthy.
Popular attractions in Los Angeles
# Universal Studios Hollywood
# Warner Bros Studios Hollywood
# Hollywood Sign
# Los Angeles Zoo
# Madame Tussauds
# Petersen Automotive Museum