If you are not able to choose between Jameson Distillery and Guinness Storehouse, you aren't alone.
Many tourists, especially those on a budget holiday or those with only a few days in Dublin, face this dilemma.
There are two easy ways to decide, which we will share below, and if you are still undecided, you can continue reading to see our comparison of these two Dublin tourist attractions.
Quick recommendation
If you don't have the time to read the complete comparison of Jameson Distillery and Guinness Storehouse, and what a quick recommendation here we go –
Your favourite drink?
The easiest option is to choose between Guinness Storehouse and Jameson Distillery based on what you would love to drink.
If you love whiskey, opt for the Jameson Distillery tour, and if you prefer beer, book your Guinness Storehouse tour.
If the drink doesn't matter, or if you love both beer and whiskey, check out our next suggestion.
How much time do you have?
If you have time on your hands and aren't on a budget vacation, we suggest you try the Jameson Distillery and Guinness Storehouse combo tour.
This is a 4-hour guided tour that starts at 1.45 pm with a visit to Jameson Distillery, where you learn their process and sample Jameson Whiskey variants and compare.
You then collect the coveted Whiskey Taster Certificate and your complimentary drink at JJ Bar and relax for a bit before heading towards Guinness Storehouse.
A brisk 15-minute walk gets you to Guinness Storehouse, where your second tour of the day starts.
As part of the world-famous tour, you go through the seven floors of the Guinness experience, learn about the drink, and taste the dark pint.
As the last part of the Guinness Storehouse tour, you go to the Gravity Bar on the seventh floor with your complimentary drink to enjoy stunning views of Dublin.
Cost of combo tour: 79 Euros/ person
If you are still undecided, continue reading to know about these attractions, which will help you decide if you want to visit Jameson Distillery or Guinness Storehouse.
---
---
Why tourists visit Jameson Distillery
The Irish Government and many associations affiliated with the numerous distilleries in the country are trying to make Ireland the No 1 destination for whiskey tourism.
Thanks to their efforts, more than a million tourists visited Irish whiskey distilleries in 2019.
Four out of every ten tourists who had an Irish Whiskey Experience at Dublin visited Jameson Distillery in Bow Street.
With around 400,000 visitors annually, Jameson is the No. 1 Irish whiskey visitor attraction in the city.
Jameson Distillery in Bow Street is the No 1 whiskey visitor attraction in Europe as well.
They were even voted the world's leading distillery tour for the second year running at the World Travel Awards in 2019.
Now that we have told you what an elite experience Jameson Distillery in Bow Street Dublin is let's share some details about their award-winning tour.
Jameson Distillery Bow Street Experience
The Bow Street Experience is Jameson Distillery's flagship whiskey tasting experience, and more than 90% of the visitors opt for this tour.
A Jameson Ambassador hand holds you all through the 40-minute guided tour.
Visitors learn Jameson Whiskey's story and process and then indulge in a comparative whiskey tasting.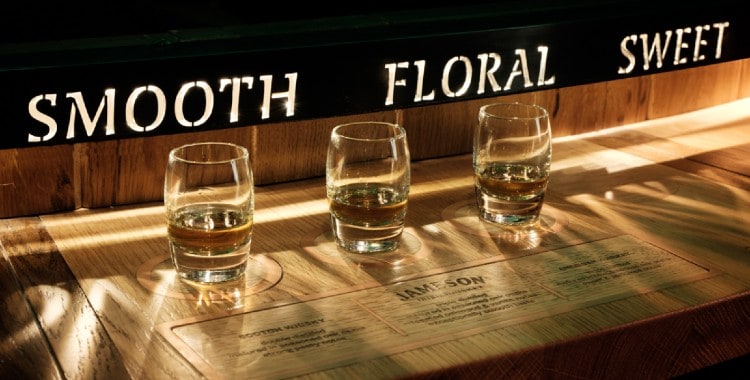 After the comparative tasting is over, everyone gets a complimentary Jameson drink at JJ's Bar.
This tour starts every 15 minutes, and if you have booked your tickets online, you can enter and join the immediate next one.
Jameson Distillery tour price
Adult ticket (18 to 64 years): 25 Euros
Student ticket (18 to 64, with student ID): 18 Euros
Seniors ticket (65+ years): 18 Euros
Child ticket (up to 17 years): 11 Euros
Visual Story: 13 must-know tips before visiting Jameson Distillery
Jameson has a Distillery in Midleton, Cork County as well. Follow the link to find out which is a better Jameson Distillery.
---
---
Why tourists visit Guinness Storehouse
Guinness Storehouse is the most popular tourist attraction in Dublin, Ireland, and ever since it opened in 2000 has welcomed 20 million visitors.
And in 2019 alone, Guinness Storehouse received 1.7 Million visitors, a quarter of whom was from the United States.
Guinness stout is an Irish icon, and you can't be holidaying in Dublin without drinking a pint of the dark beer.
And the best place for some Guinness stout is the 7th-floor Gravity Bar of Guinness Storehouse, located at St. James' Gate Brewery.
Guinness Storehouse tour with a free pint
Guinness Storehouse offers three tours, but its most basic tour, which includes a free pint of Guinness stout, is the most popular.
Even though Guinness Storehouse doesn't publish the figures, based on the reviews on popular travel websites, it is safe to say that more than 75% of the visitors opt for this experience.
This self-guided tour starts from the ground floor and goes all the way up to the Gravity Bar on the seventh floor, and in the process, you learn everything about Guinness.
With the complimentary pint of the Guinness beer, you can spend as much time in the Gravity Bar as you want, even as you enjoy stunning views of the Dublin skyline.
Guinness Storehouse tour price: 26 Euros
---
---
Jameson Distillery vs. Guinness Storehouse
Still undecided about where you want to go?
Here is a point-by-point breakdown of what separates the two Dublin attractions.
How the 'Brands' up against each other
Guinness is the bigger of the two brands and is as Irish as they come. It is by far Ireland's top export.
Jameson Whiskey, however, is not as internationally renowned as the dark beer, but it is Ireland's most famous whiskey.
Tripadvisor ratings
Both Jameson Distillery and Guinness Storehouse are rated 4.5 out of 5 on TripAdvisor.
However, Guinness has 4.6K reviews against Jameson's 1.1K reviews, indicating that the former gets almost four times more visitors.
Both of them are Tripadvisor's Certificate of Excellence winners.
Location of the attractions
Guinness Storehouse is in an old fermentation plant in the heart of St James's Gate Brewery at St James's Gate, Dublin 8.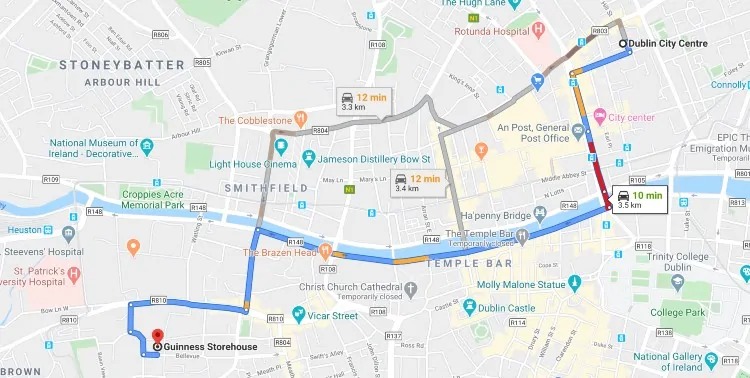 Meanwhile, the Old Jameson Distillery is on Bow Street, just off Smithfield Square in Dublin.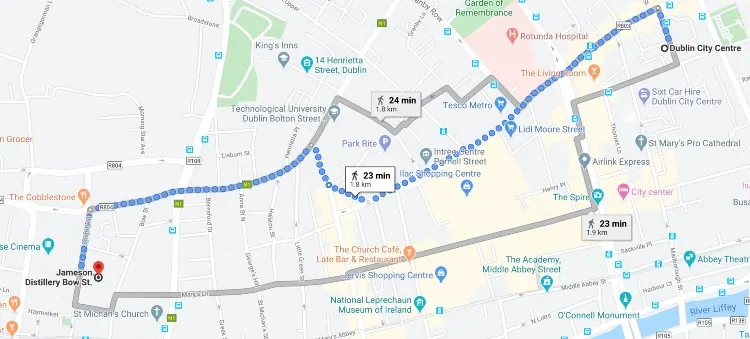 The two attractions are 1.5 Kms (almost 1 Mile) apart, and it takes approximately 20 minutes to walk the distance.
Opening hours
Guinness Storehouse opens early at 9.30 am and closes at 5 pm, every day of the week. The last entry is at 5 pm.
However, Jameson Distillery starts a bit late at 10 am and its closing time depends on the season – during summer it closes at 6 pm and in winter at 5.30 pm.
On Friday and Saturday, Jameson stays open for an hour longer in the evening.
Drink of choice
Both the attractions offer their branded drinks as complimentary during the tour.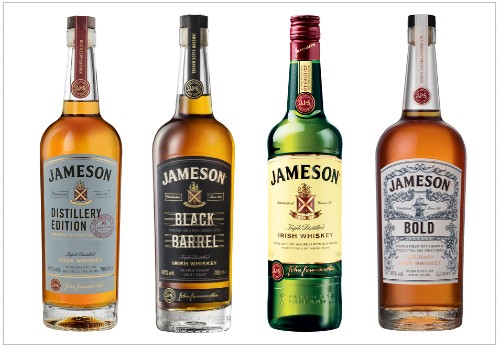 At Jameson, one gets to do a comparative whiskey tasting (if the Jameson Ambassador selects you), and at the end of the tour, everybody gets a complimentary Jameson whiskey drink.
If you want, after or before your tour, you can buy all of their whiskies from the gift shop.
At Guinness Storehouse, the multi-sensory tasting journey brings the distinctive flavours of Guinness beer.
Visitors also enjoy the complimentary pint of the Guinness dark beer at the end of the tour.
If you need more, you can buy at the Gravity Bar.
Cost of the tours
The Bow St. Experience distillery tour, which is the most popular tour at Jameson, costs 25 Euros for an adult (18 to 64 years), 18 Euros for seniors and students, and only 11 Euros for kids till 17 years.
The most popular experience at Guinness Storehouse costs 26 Euros per person. Nobody gets any discounts.
Bars at Jameson and Guinness
Jameson distillery has a regular bar called JJ Bar, which even visitors without a tour ticket can use.
Tourists who have visited JJ Bar go ga-ga over their whiskey cocktails.
However, Guinness Storehouse has a much better bar on the 7th floor called the Gravity bar, offering fantastic views of Dublin.
To access the Gravity Bar, one needs to be part of the Guinness Storehouse tour.
Photography friendliness
When it comes to photography, it is a toss-up between the picture-perfect Guinness Storehouse and the raw and rugged Jameson Distillery.
Guinness Storehouse offers 'STOUTie,' a never before experience, which is perfect for Instagrammers.
On the third floor of the attraction, you can take a snap of yourself and get it imprinted on your pint of beer.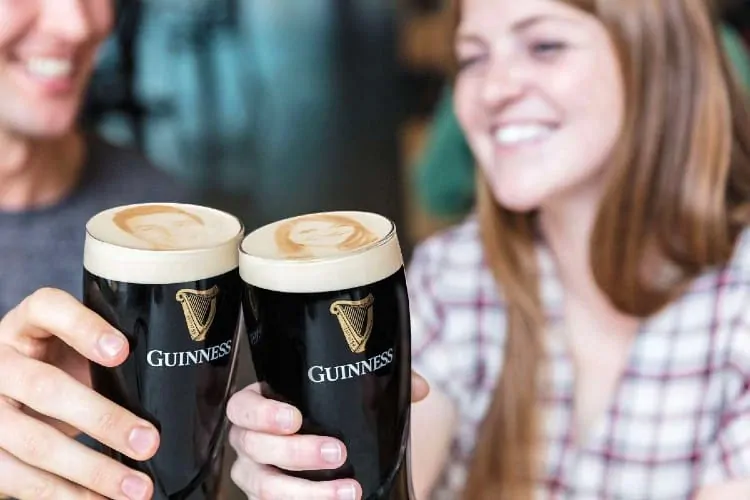 While Jameson is also suitable for photographs, some tourists found a few dark areas, resulting in not such clear pictures.
How much crowd to expect
Guinness Storehouse receives 1.7 Million visitors in a year, which is an average of 4650 tourists every day.
Jameson Distillery receives far less in comparison – approximately 400,000 visitors per year, averaging 1100 visitors per day.
So if you aren't much of a crowd person, go for a whiskey tasting at Jameson.
What is the experience like?
Both Guinness Storehouse and Jameson Distillery offer a clubhouse-like feel at their attraction.
But the Storehouse does it at a massive scale while Jameson Distillery pulls it off at a much smaller size.
Tourists believe Jameson Distillery seems more personal, and one also gets the feel of learning more because a Jameson Ambassador guides visitors all through the tour.
Guinness Storehouse tour is a self-guided experience.
Gift Shops
Guinness Storehouse's gift shop is on the ground floor and is the most extensive collection of Guinness merchandise globally.
In contrast, the gift shop space at Jameson is relatively small.
---
---
Similarities between Jameson Distillery and Guinness Storehouse
Despite all their differences, there are some significant similarities between the two Dublin attractions.
1. Both Jameson Distillery and Guinness Storehouse once used to be active distillery and brewery, but not anymore. Now they are visitor centers customized for whiskey and beer tours, respectively.
2. Both the attractions have some actual historical equipment on display for the visitors and films that narrate their story.
3. The last part of both Jameson Distillery and Guinness Storehouse tours are tasting and complimentary drinks.
4. After both the tours, visitors can hang around in the Bars for however long they want.
So what will it be? Will it be Jameson Distillery or Guinness Storehouse?
Or did you decide to visit both the attractions?
Other comparisons
# Irish Whiskey Museum or Jameson Distillery
# Teeling Distillery or Jameson Distillery
# Jameson Distillery Dublin or Jameson, Cork County
Sources
# Emilyembarks.com
# Tripadvisor.com
# Travel.usnews.com
# Thenavigatio.com

The travel specialists at TheBetterVacation.com use only high-quality sources while researching & writing their articles. We make every attempt to keep our content current, reliable and trustworthy.
Popular attractions in Dublin
# Guinness Storehouse
# Glasnevin Cemetery
# Malahide Castle
# Jameson Distillery
# Irish Whiskey Museum
# Teeling Distillery