Dublin Castle is a symbol of Ireland's lively past, located in the heart of Dublin.
Situated on Dame Street, this historic structure has experienced numerous changes in politics, society, and culture that have influenced the country's present.
The castle's architecture is an intriguing fusion of different styles, showcasing how Irish architectural preferences have evolved over time.
Even today, Dublin Castle is a remarkable tourist attraction due to its impressive architecture, historical importance, and valuable cultural artifacts.
It is a must-visit destination if you are interested in history and architecture.
This article shares everything you should know before booking tickets for Dublin Castle.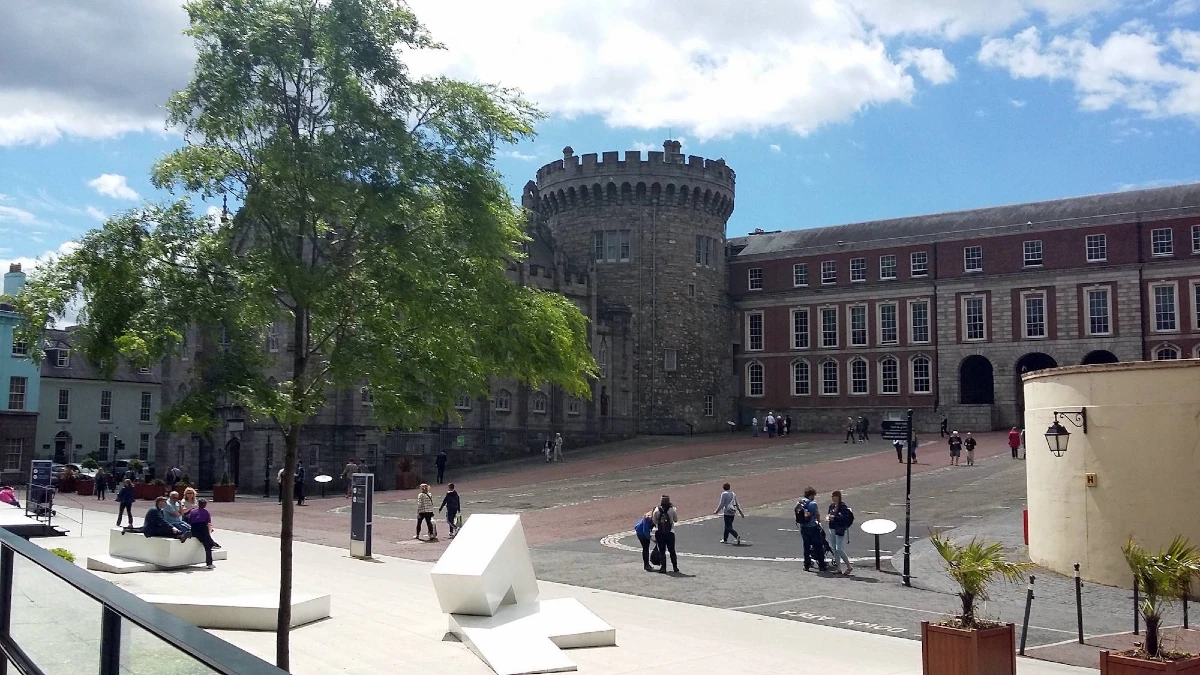 What to expect at the Dublin Castle
Here are some highlights from the Dublin Castle in Ireland:
State Apartments
Explore the magnificent State Apartments, once the residence of the British monarch's representative in Ireland.
Admire the opulent interiors, period furnishings, and exquisite artwork that reflect the castle's regal past.
Chapel Royal
Visit the Chapel Royal, a stunning example of Georgian architecture.
Marvel at the intricate stained glass windows and decorative details while learning about the history of the castle's religious significance.
Dubh Linn Gardens
Stroll through the serene Dubh Linn Gardens, located within the castle grounds.
Enjoy the well-manicured lawns, colorful flower beds, and peaceful atmosphere, providing a tranquil escape from the bustling city.
Chester Beatty Library
Explore the impressive Chester Beatty Library, housed within Dublin Castle.
Discover its extensive collection of rare books, manuscripts, and artworks from various cultures and periods.
This includes ancient Egyptian papyrus texts, Asian manuscripts, and European masterpieces.
History and Guided Tours
Dive into the rich history of Dublin Castle by joining a guided tour.
Knowledgeable guides provide insights into the castle's past, sharing stories and anecdotes that bring its history to life.
Dining and Shops
Grab a bite to eat or browse through the castle's gift shops.
You can find various options, from cozy cafes to elegant restaurants, unique souvenirs, and Irish crafts to take home as mementos.
Government Complex
As a functioning government complex, Dublin Castle is home to the offices of the Taoiseach (Prime Minister) and the President of Ireland.
While access to these areas is restricted, it adds to the atmosphere of importance and significance surrounding the castle.
---
---
Where to book Dublin Castle tickets
Dublin Castle Ireland entry tickets are available at the attraction or online in advance.
If you land at the venue to buy tickets, you'll have to line up at the ticket counter.
During peak times, these lines can get long, and you will end up wasting your time.
Online tickets for Castle Dublin are cheaper than those sold at the venue.
Online tickets also help you avoid last-minute disappointments when tickets get sold out.
When you book early, you also get your preferred time slot.
How do online tickets work?
Go to the Dublin Castle ticket booking page, select your preferred date, time slot, and number of tickets, and buy the tickets instantly.
After the purchase, you will receive the tickets in your email.
You don't need to take any printouts.
Meeting Point: Trinity College Dublin, at the Main Front Gate, facing towards College Green
Dublin Castle ticket cost
The Dublin Castle Tour tickets cost €63 for people over 13 years.
Children aged between four and 12 get a 7% discount and pay only €58 to enter Castle Dublin in Ireland.
Infants under three do not require a ticket and can enter the attraction for free.
Tickets for Dublin Castle in Ireland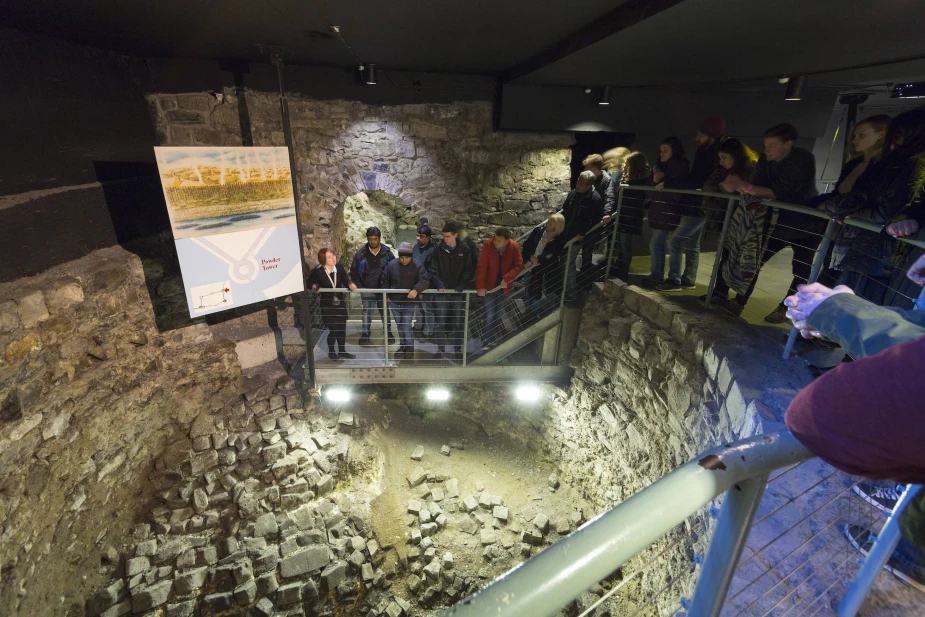 The Dublin Castle, Ireland tickets include access to various areas and attractions within the castle complex.
You get admission to the State Apartments, Chapel Royal, Dubh Linn Gardens, and Chester Beatty Library.
You will start your Dublin tour by meeting a knowledgeable guide at Trinity College's main entrance.
Prepare to be amazed by the intricate details and meaningful symbols in the Book of Kells, an ancient illuminated manuscript containing the four Gospels.
It is a remarkable example of medieval artwork.
The second part of the tour takes you to Dublin Castle, constructed in the 12th century under the reign of King John.
Your expert guide will showcase the castle's exterior highlights, including its beautiful gardens.
This tour offers you an exceptional and unforgettable experience, considered one of the best in Ireland.
Ticket Prices
Adult Ticket (13+ years): €63
Child Ticket (4 to 12 years): €58
Infant Ticket (up to 3 years): Free
Save time and money! This Dublin All-Inclusive Pass allows you to visit over 40 sights and locations, including the Guinness Storehouse, Chester Beatty Library, and Christchurch Cathedral. Visit as many attractions as you like with a 1, 2, 3, 4 or 5-days Dublin Pass. You just need to show your QR-coded digital pass on your phone to get entry.
---
---
How to reach Dublin Castle in Ireland
The Dublin Castle is situated in the city center, near other popular landmarks such as Christ Church Cathedral and Trinity College.
Address: Dame Street, Dublin 2, Ireland. Get Directions!
You can reach Castle Dublin by both public and private transportation.
We recommend using public transport to reach the attraction.
By Bus
You can board bus numbers 27, 56A, 77A, 150, and 151 to reach the Werburgh Street 2310 Bus Stop, a four-minute walk from the castle.
By Tram (Luas)
You can take the Green Tram Line to reach St.Stephen's Green Tram Stop, a 13-minute walk from Castle Dublin.
By Car
The easiest way to reach Dublin Castle is by car, so turn on Google Maps on your smartphone and get started.
Dublin Castle does not have public parking facilities on its premises.
However, several parking options are available nearby for visitors.
Dublin Castle timings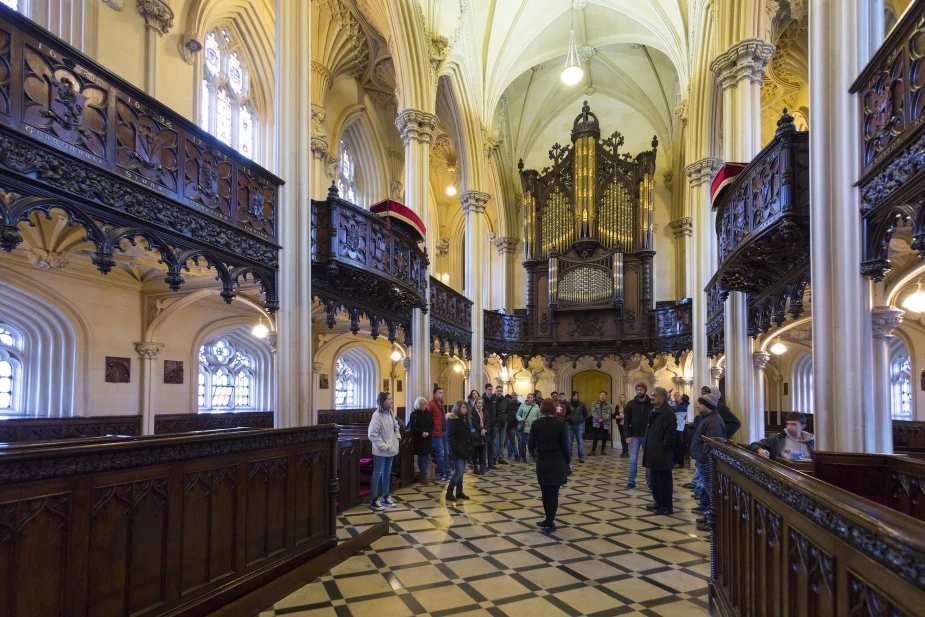 The Dublin Castle opens at 9.45 am and closes at 5.45 pm daily.
The attraction remains open on weekends and public holidays.
The last admission is at 5.15 pm.
Best time to visit Dublin Castle in Ireland
The best time to visit Dublin Castle in Ireland is in the mornings when it opens around 10 am or afternoons.
Consider visiting on weekdays to have a more serene and less crowded experience.
Ireland's weather is often unpredictable.
The summer months of June, July, and August generally offer milder temperatures and longer daylight hours, making it a popular time to visit Dublin Castle.
How long does the Dublin Castle tour take
The self-guided tour of Dublin Castle takes approximately 45 minutes to one hour.
But the guided tour of Dublin Castle and the Book of Kells takes around 2.5 hours.
If you wish to have a more comprehensive visit or explore the castle at your own pace, you should allocate additional time.
History of Dublin Castle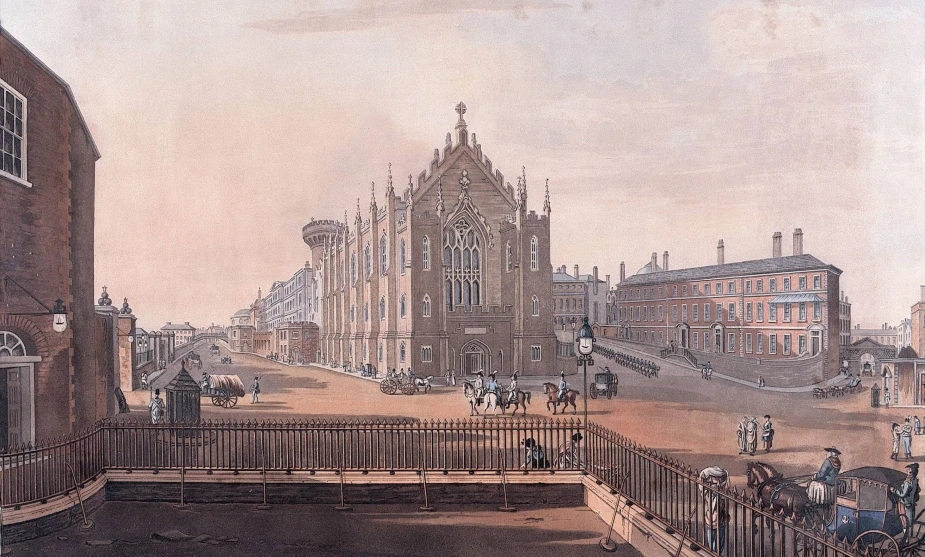 Originally built as a defensive fort in the early 13th century on the orders of King John of England, Dublin Castle has evolved over time.
With time, the castle became an architectural blend of medieval, Gothic and Georgian styles.
For over seven centuries, Dublin Castle served as the powerhouse of British rule in Ireland, symbolizing the influence of the Crown.
The castle played a major role in Irish history, as it witnessed the Easter Rising of 1916.
You can still see the scars of the struggle in the castle's majestic Record Tower, a reminder of the fight for independence by Irish Republicans.
Today, Dublin Castle is a famous heritage site with visitors from across the world.
---
---
FAQs about the Dublin Castle
Here are some FAQs about Dublin Castle, Ireland.
How much does it cost to visit Dublin Castle?
The Dublin Castle tickets cost €63 for people over 13 years. Children aged between 4 and 12 get a 7% discount and pay only €58 to enter Castle Dublin in Ireland.
How long does it take to tour Dublin Castle?
The duration of the tour can vary depending on the depth of exploration. Generally, a Dublin Castle visit can take one to two hours.
Are guided tours available at Castle Dublin?
Yes, guided tours are available at Dublin Castle. Knowledgeable guides provide insights into the castle's history, architecture, and significant points of interest.
Can I take photographs inside Dublin Castle?
Yes, photography is allowed at Castle Dublin. However, flash photography is not allowed inside the State Apartments.
Is Dublin Castle wheelchair accessible?
Dublin Castle aims to provide accessibility for visitors with disabilities. Wheelchair ramps, elevators, and accessible routes are available in most areas inside the castle.
Are there any gift shops at Dublin Castle?
Yes, Dublin Castle has gift shops where visitors can find unique souvenirs, Irish crafts, and other items related to the castle and Irish culture.
How do I get to Dublin Castle?
Dublin Castle is centrally located in the heart of Dublin, making it easily accessible by public transportation, including buses and trams.
Is there a parking facility available at Dublin Castle, Ireland?
Regrettably, Dublin Castle does not provide parking facilities for visitors. 

The closest options for public car parks include Q-Park Christchurch car park and Park Rite Drury Street.
Are audio guides available at Dublin Castle?
Yes, audio guides are available to download in the English language.
Sources
# Dublincastle.ie
# Wikipedia.org
# Tripadvisor.com

The travel specialists at TheBetterVacation.com use only high-quality sources while researching & writing their articles. We make every attempt to keep our content current, reliable and trustworthy.