Malahide Castle is a beautiful 12th-century building set on 250 acres of parkland and gardens in the picturesque seaside village of Malahide.
At this tourist attraction near Dublin, you get to admire the 800 year old Castle's exciting mix of architectural styles, stunning gardens, a Butterfly House, antique furniture, and an extensive collection of Irish portraits.
The Castle is part of the Malahide Demesne Regional Park and is an ideal destination for singles, couples, and families with kids.
In this article, we share everything you must know before booking your Malahide Castle tour.


Malahide Castle opening hours
Malahide Castle and Gardens opens every day at 9.30 am and closes at 5.30 pm. It remains closed on three days in a year – 24, 25 and 26 December.
The last entry for the different attractions within the Malahide Castle vary.
To avoid the crowd, purchase the tickets in advance.
Malahide Castle
In summer months (April to October), which is the peak tourist season, the last entry to Malahide Castle is at 4.30 pm. In winter months (November to March), it is at 3.30 pm.
Fairy Trail and West Lawn
In summer months, the last entry to Fairy Trail and West Lawn is at 4.30 pm, and in winter, it is 3 pm.
Butterfly House and Walled Garden
All through the year, the last entry to the Walled Garden, which also has the Butterfly House, is 4.30 pm.
Avoca Store, Cafe and Food Market
Monday to Friday: 9.30 am to 5.30 pm
Weekends & Bank holidays: 9.30 am to 6 pm
---
---
How long does Malahide Castle take
To fully explore Malahide Castle, visitors need approximately two and a half hours.
The guided tour of Malahide Castle takes 45 minutes and to see the other attractions such as the Fairy Trail, Walled Garden, West Lawn, and the Butterfly House you will need around 90 minutes.
Since visitors are free to walk around the gardens and even sit down for a picnic, some families tend to spend more time at the Castle.
---
---
Free entry to Malahide Castle
The Demense (the Green around the Castle) and Gardens are free to enter and walk around.
The Demense is always accessible, but the Malahide Gardens are open between 9.30 am and 5.30 pm, during which anyone can enter and explore.
Even though the Castle gardens are free for visitors, the entry to Malahide Castle isn't free. To get in, visitors must buy a Castle tour ticket.
Free with Dublin Card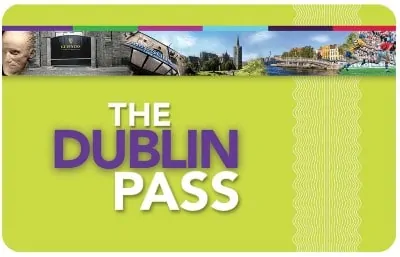 If you have the Dublin Pass, it is possible to enter Malahide Castle and go on a tour for free.

Besides Malahide Castle, this Dublin City Pass gets you free entry to 32 other attractions.
This discount card is a great way to save money and time and comes for 1, 2, 3, 4, or 5 days.
---
---
Malahide Castle tickets
The most popular Malahide Castle tour from Dublin is the one that also includes a visit to Howth on the North Coast of Ireland.
This 5-hour, half-day tour starts at 11 am from Dublin Bus Head Office, 59 Upper O'Connell Street.
Your first stop is at the 800 years old Castle, where you explore the Malahide Castle and its gardens, including the Fairy Trail and Butterfly House.
You then drive through the Malahide village and past the magnificent coastal scenery to Howth Harbor.
This tour includes a one hour stop in Howth fishing village.
From Howth head, a vast rocky mass, you get to see lovely views of Dublin Bay and the Wicklow Mountains.
Experts consider this view as one of the World's most fabulous seascapes.
During this Malahide Castle tour, a local guide will be with you all through.
Malahide Castle tour price
Adult ticket (15+ years): 25 Euros
Child ticket (4 to 14 years): Free Entry
*Two kids under 14 years can accompany for free with each full fare-paying adult. However, you must mention them on the ticket booking page.
If 11 am is a little early for you, book the Malahide Castle tour that leaves from Dublin at 2 pm. Find Out More
---
---
What to do in Malahide Castle
With so many things to do and see, Malahide Castle is the perfect day outing for all kinds of tourists.
Before we list out the must do items, do check the video below to know what to expect.
Visitor Center
The Castle's Visitor Center is in the Courtyard.
Besides getting all the information you need about the Castle, here you also get to see a small exhibition area which showcases the story of the Castle's beautiful gardens.
The story gets narrated through the eyes of Lord Milo Talbot, the person responsible for the gardens.
Lord Talbot of Malahide went to great pains to nurture his gardens, so far as to get around 5000 plant species transported from Australiasia and Chile.
Malahide Castle tour
To get into the Malahide castle, visitors must book the 45-minute guided tour.
In the Castle, you get to see the four rooms which are open to the public and an exhibition.
1. The Oak Room
Oak Room got added as an extension to the Castle in 1475.
It is one of the best examples of a 16th century paneled room in Ireland, with the walls overlaid with richly carved oak.
Six finely carved panels depict incidents from Biblical stories, which enthrall all visitors even today.
2. Small and Great Drawing Rooms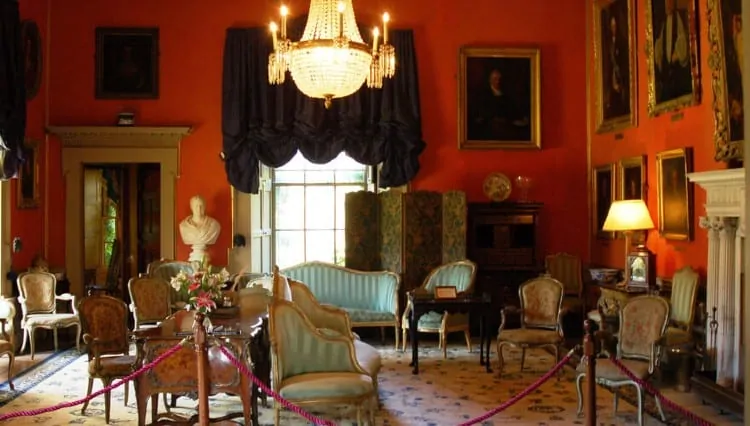 Between the years 1765 and 1782, the inhabitants of the Castle reconstructed the West Wing because a fire had damaged it.
As part of this re-building, the present Drawing Rooms got added to the Castle.
Both the Drawing Rooms are excellent examples of mid-Georgian rooms featuring the transitional character Rococo to Neoclassical.
3. The Great Hall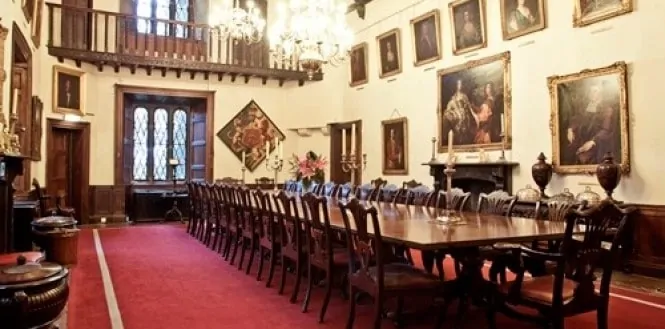 The Great Hall is one of the earliest portions of the present-day Castle and dates to around 1400.
It was the first room to be renovated, as far back as 1475.
The Great Hall displays Talbot family history in the form of paintings from the National Gallery of Ireland.
4. Exhibition on Talbot family
The Malahide Castle Exhibition is on the ground floor and narrates the story of the family that lived here for centuries.
Visitors get to learn about the Talbot family and their involvement in some of Ireland's key historical events.
For instance, the story of how on the day of Battle of the Boyne, 14 Talbot cousins rode out to defend their Catholic King James II against William of Orange, but only one returned.
You also get to learn about the ghosts of the Castle, all of whom are still known to be active.
Malahide Castle Gardens
This ancient Dublin attraction has two beautiful gardens and a trail.
All Malahide Castle tickets include access to these gardens.
1. West Lawn
It is a massive 20 acres garden full of trees and ornamental wooden sculptures.
Photographers love this garden because some of the best views of the Castle are in this area.
2. Fairy Trail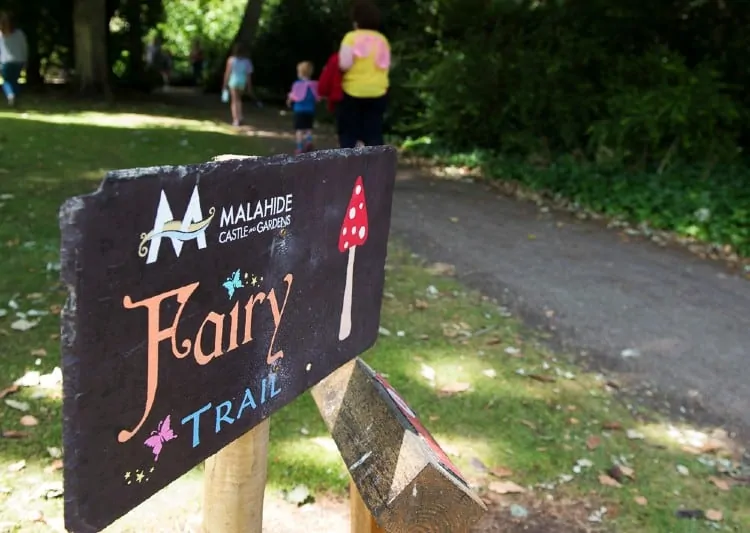 The magical Fairy Trail of Malahide Castle is in West Lawn Gardens.
With fun sculptures, fairy houses, and lots of other hidden things to find, the interactive Fairy Trail is a perfect experience for kids of all ages.
If you are traveling with kids, you must collect the interactive booklet from the Visitor Center, so that the kids can solve the clues and move forward in the Fairy Trail.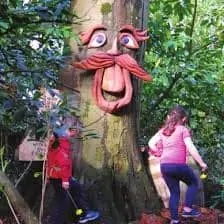 Fairy Trail is 1.8 km (1.1 Mile) long and takes approximately 75 minutes to complete, but we guarantee you won't look at your watch.
This experience is included in the Malahide Castle tickets recommended below.
3. Walled Garden
The Walled Garden was initially (200 years ago!) a kitchen garden, before the final Baron of Malahide, Lord Milo Talbot turned it around.
While exploring the Walled Garden, don't miss out on the winding stone paths, Isobel Talbot's pond, the blooming Rose Garden, and the Victorian Conservatory.
The only Butterfly House in the whole of Ireland is in the Walled Garden.
4. Butterfly House
This exhibit is a Cambridge Glasshouse in the Walled Garden and a huge hit with the visiting families.
Access to the Butterfly House is included in the Malahide Castle tickets recommended below.
Visitors can see more than 20 species of butterflies at the Malahide Butterfly House.
Note: At the Visitor Center, pick up a leaflet that can help you identify all the species.
If you are a whiskey connoisseur, check out this Castle Tour and Whiskey Tasting Experience.
Avoca store, cafe, and food market
Avoca is known as one of Ireland's most exciting retail stores, and that's why they have got the permission to set up shop inside Malahide Castle.
At the Castle's courtyard, they have a beautiful retail store, a large cafe overlooking the Walled Gardens, and a tempting food market.
Malahide Village
Malahide is a picturesque seaside village and quite popular with both Dubliners and overseas visitors.
Though not part of the Malahide Castle, the Malahide village is also one of the attractions tourists explore during their Castle visit.
The village is just 2 km (1.25 Miles) from the Malahide Castle, and a brisk 24-minute walk can get you to your destination.
The village's impressive range of restaurants offering both Irish and international cuisine has earned it a nickname: The Gourmet Capital of the East Coast.
Visitors explore Malahide's sandy beach with lots of boating and water sports. Some walk the dunes or take the coastal route to Portmarnock.
If you prefer to see small train models, check out the Model Railway Museum, located in the 200 years old beautifully restored Casino cottage.
---
---
How to reach Malahide Castle
Malahide Castle and Gardens is around 13 Kms (8 Miles) North of Dublin City Center.
There are many ways to get to Malahide Castle, and we list them below –
Train to Malahide
The Dublin Area Rapid Transit system (DART) is an electrified commuter rail railway network serving the coastline and city center of Dublin.
Malahide Train Station is the DART station closest to the Malahide Castle and Gardens.
A brisk 20-minute stroll can help you cover the 1.6 Kms (1 Mile) distance from the Station to the Castle.
Bus to Malahide
Two Dublin Bus routes serve Malahide –
Bus No. 42
Bus No 42 leaves from Outside Connolly Station.
After 35 minutes and 42 stops, it reaches Malahide Presbyterian Church in Malahide Village, where you must get down.
Malahide Castle is 1.5 Kms (1 Mile) from the Church, and a 20-minute walk gets you there.
Bus No. 32
Bus No 32 leaves from Busáras Central Station.
After 40 minutes and 52 stops, the bus reaches Malahide Village (Stop 4387), where you must get off and start walking towards the Castle.
Malahide Castle is 2 Kms (1.25 Mile) from the bus stop, and the walk takes approximately 25 minutes.
If you are traveling to Malahide Castle from the Dublin Airport, Route number 102 can get you there.
Car parking
A 25-minute drive from Dublin City Center can get you to Malahide Castle, and from the Dublin Airport, it is even faster – just 10 minutes.
There are lots of free car and coach parking slots available at the Castle.
The accessible parking spaces are in the Main Car Park – make sure you ask for them once you reach.
Tours with transport
Most tourists opt for half-day coach tours from Dublin to Malahide Castle because they work out both convenient and cheaper (because you travel as a group).
If you are an early bird, you can opt for this morning tour to Malahide Castle, which starts at 11 am.
And if you prefer a later time, check out this afternoon tour which starts at 2 pm.
These group tours generally last 4 to 5 hours.
---
---
Malahide Castle's history
In 1185, King Henry II gifted Richard Talbot lots of land for his services to the Empire.
The first wooden fortress got built on these lands, and with time it was replaced by a stone structure.
The Malahide village settlement began around the Castle.
Over the next 800 years, this stone structure got enhanced and renovated and became what we see today as Malahide Castle.
Talbots lived in the Castle for almost 800 years – except for a brief period between 1649 and 1660, when Cromwellian soldiers seized their lands, and Lord Chief Baron of Ireland occupied the Castle.
Lord Milo Talbot, who was responsible for the beautiful gardens around the Malahide Castle, lived here till his death in 1973.
After his death, his sister Rose inherited the estate and eventually sold it to the Irish State in 1975.
Ever since, the Malahide Castle has been used both as a tourist attraction and a State property to receive international guests, etc.
Popular attractions in Dublin
# Guinness Storehouse
# Glasnevin Cemetery
# Irish Whiskey Museum
# Jameson Distillery
# Teeling Distillery