The Dublin Ghostbus Tour is a popular and entertaining sightseeing tour exploring Dublin's spooky and supernatural side.
It combines elements of a traditional city tour with ghost stories, folklore, and eerie legends.
During the tour, visitors board a vintage double-decker bus transformed into a ghostly-themed vehicle.
The tour covers various haunted locations and landmarks in Dublin, such as haunted houses, eerie graveyards, and sites associated with famous ghost stories.
The knowledgeable and entertaining guide will recount chilling tales of spirits, apparitions, and supernatural occurrences related to each location.
Along the way, you'll learn about Dublin's rich history and cultural heritage as the tour weaves historical facts and legends together.
It's a unique opportunity to explore the city's dark side and immerse yourself in its spooky atmosphere.
The Dublin Ghostbus Tour suits visitors and locals interested in ghost stories, the paranormal, and Dublin's history.
This article shares everything you need to know before booking tickets for Dublin Ghostbus Tour – ticket prices, timings, how to reach, what to expect, FAQs, and more!
Top Dublin Ghostbus Tour Tickets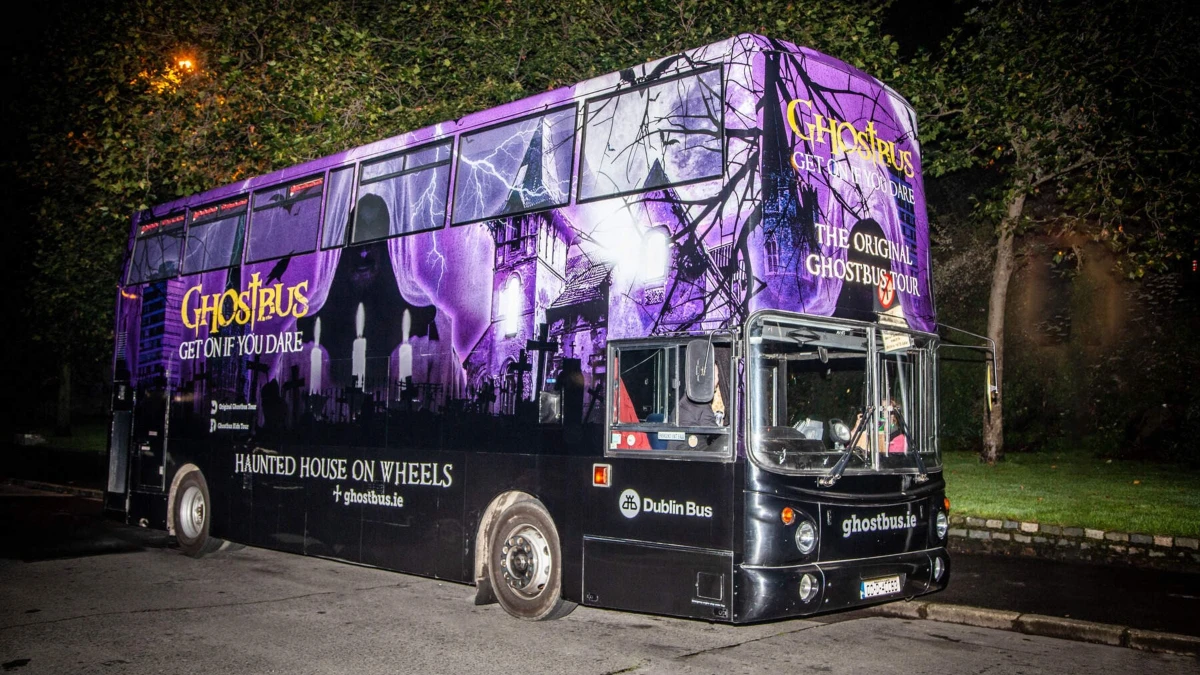 What to expect at Dublin Ghostbus Tour
The Ghostbus Tour Dublin is a unique and entertaining way to explore the haunted history of Dublin, Ireland.
Here's what you can expect on your Dublin Ghostbus Tour.
Ghostly atmosphere: The Ghostbus tour aims to create a spooky and atmospheric experience. The tour bus is decorated in a gothic style, setting the tone for the evening.
Haunted destinations: The tour takes you to various locations around Dublin associated with ghostly tales, dark history, and paranormal activity. These places could include haunted castles, graveyards, abandoned buildings, and sites of notorious events.
Captivating stories: Throughout the tour, you'll be accompanied by knowledgeable, professional actors and entertaining guides who share chilling stories, legends, and historical anecdotes related to the haunted locations. They often add a touch of theatricality to enhance the eerie ambiance.
Live performances: To further enhance the experience, the tour features live performances on the bus or at specific stops. These performances include actors portraying famous ghosts or retelling supernatural stories to the point that it sometimes becomes hard to know if they are still acting!
Interactive elements: The Ghostbus Tour encourages audience participation, allowing guests to engage with the stories and ask questions. Some tours include interactive activities or surprises to make the journey more engaging.
The tour lasts 2 to 2.5 hours and occurs in the evenings or at night, as darkness adds to the eerie atmosphere.
The Ghostbus tour is ideal for birthdays, hen or stag parties, office night outs, and private hires.
---
---
Where to book tickets for Dublin Ghostbus Tour
Tickets for the Dublin Ghostbus tour are available online or at the attraction.
To ensure a hassle-free experience, we suggest booking your tickets online.
Online ticket prices tend to be cheaper than tickets at the venue.
When you buy online, you can avoid the long queues at the attraction's ticket counters.
Because some attractions sell a limited number of tickets, booking early helps avoid last-minute disappointment.
When you book early, you also get your preferred time slot.
How do online tickets work?
Go to the Dublin Ghostbus tour ticket booking page, and select your preferred date, time slot, and number of tickets to buy.
You will receive the ticket confirmation in your email after the booking.
Ticket printouts are not required.
You will get entry into the Ghostbus by redeeming your smartphone ticket and passing the security check on the day of your visit.
Visit the venue 15 minutes before the tour departure.
Cost of ticket for the Dublin Ghostbus Tour
The ticket for the Dublin Ghostbus tour costs €35 for all visitors.
The tour is not suitable for children under 14 years of age.
Dublin Ghostbus Tour tickets
Take a spooky trip through Dublin on this unique two-hour bus tour.
Be transported into a world of felons and phantoms as your storyteller takes you to the sites of Dublin's darkest secrets.
Listen to Dublin's darkest tales from the engaging on-board storyteller and learn the real origins of Dracula and his Dublin-born inventor, Bram Stoker.
The tours are provided in English only.
Visit the College of Physicians to recreate the strange activities of Dr. Clossy and also visit a hidden city center graveyard, the 12th-century St. Audeon's Steps.
The tour is suitable for 14 years and over; adults must accompany children under 16.
The Ghostbus tour is not wheelchair accessible.
Ticket Price
Adult Ticket (14+ years): €35
Save time and money! This Dublin All-Inclusive Pass allows you to visit over 40 sights and locations, including the Guinness Storehouse, Chester Beatty Library, and Christchurch Cathedral. Visit as many attractions as you like with a 1, 2, 3, 4 or 5-days Dublin Pass. You just need to show your QR-coded digital pass on your phone to get entry.
---
---
How to reach
Dublin bus tour head office is on O'Connell Street.
Address: 59 Upper O'Connell Street Upper, North City, Dublin 1, D01 RX04, Ireland. Get Directions.
Dublin Ghostbus tour departure point is well-connected to multiple forms of public transportation.
By Bus
The nearest bus stop is Rotunda, Dublin Bus Head Office, with buses 4, 7, 7A, 7B, 7D, 9, 13, 116, and 155. Take a one-minute walk towards the meeting point.
Another bus stop near the Ghostbus tour departure point is O'Connell St Upper, stop 274. with bus numbers 38, 38A, 38B, 38D, 123, and 140.
The meeting point is only one minute's walk away.
By Tram
The nearest tram stop is O'Connell Upper, with Green Line as the operating tram.
By Car
You can rent a cab or drive to the departure point.
Open Google Maps and start driving!
There are numerous parking lots around the departure point.
Timings of Dublin Ghostbus Tour
The tour departs at 7 pm and 9.30 pm.
You can pick the preferred time slot while booking online.
Best time to visit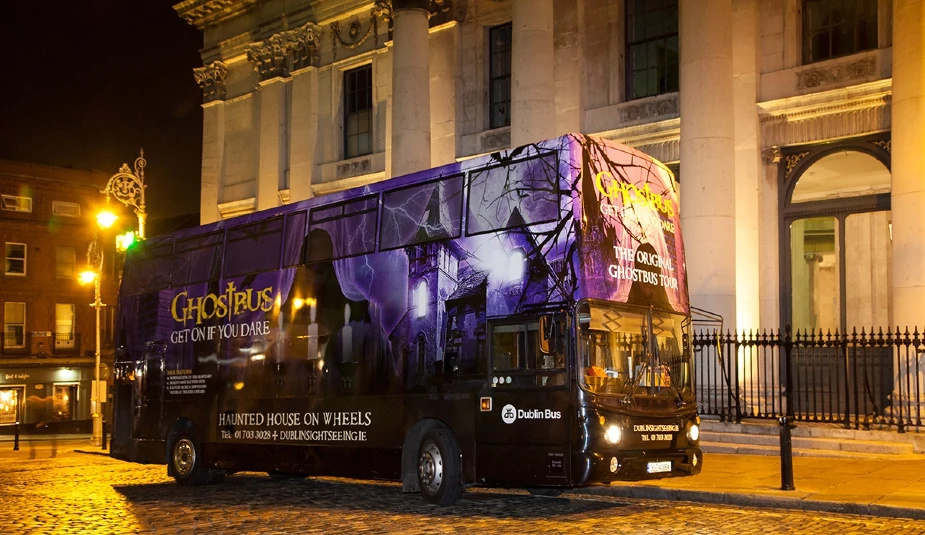 You can book your tickets for a 7 pm or 9.30 pm tour, depending on your preference.
Reaching the meeting point 15 minutes before the tour departure is important to get the best of your night out.
How long does the tour take
The duration of the Dublin Ghostbus tour is approximately two hours.
Within these two hours, you can discover the dark side of Dublin's past and unravel the mysteries of haunted sites around Dublin City.
---
---
FAQs
Here are some questions that visitors usually ask about before booking tickets for the Dublin Ghostbus tour.
How long is the Dublin Ghostbus tour?
The tour typically lasts approximately two hours but may vary slightly depending on traffic and other factors.
Where does the Dublin Ghostbus tour start and end?
The tour starts and ends at Dublin Bus Headquarters at 59 Upper O'Connell Street, Dublin 1 (Get Directions). 

The exact meeting point and drop-off location will be provided when booking your tickets.
Are the stories told on the Ghostbus tour based on real events?
While Dublin's history and legends inspire the stories on tour, they are dramatized for entertainment. 

Some stories may have elements of truth, but they are primarily intended to provide an engaging and spooky experience.
Is the Dublin Ghostbus tour suitable for children?
The Dublin Ghostbus tour is primarily designed for adults and older children who can handle spooky stories and atmospheric settings. 

It may only be suitable for children above 14 years due to the nature of the content. 

Parents should use their discretion when deciding whether to bring their children on the tour.
Is photography allowed during the tour?
Yes, you are allowed to take photographs during the tour. 

However, flash photography may be restricted to maintaining the eerie atmosphere in certain locations.
Can I bring food or drinks on the bus?
Food and drinks are generally not allowed on the bus. 

However, you can enjoy snacks and beverages before or after the tour at the designated meeting point or nearby establishments.
Is the Ghostbus tour wheelchair accessible?
The Dublin Ghostbus tour is not wheelchair accessible.
Do I need to book tickets for the Dublin Ghostbus tour in advance?
Booking your tickets for the Dublin Ghostbus tour in advance is highly recommended, especially during peak tourist seasons. 
What happens if it rains during the Dublin Ghostbus tour?
The Dublin Ghostbus tour operates regardless of the weather conditions. 

The bus is fully enclosed, protecting you from the rain. 

However, it's a good idea to dress appropriately for the weather, especially during colder months.
Sources
# Ghostbus.ie
# Wikipedia.org
# Tripadvisor.com

The travel specialists at TheBetterVacation.com use only high-quality sources while researching & writing their articles. We make every attempt to keep our content current, reliable and trustworthy.