Guinness Storehouse is the most popular tourist attraction in Dublin, Ireland, and ever since it opened in 2000 has welcomed 20 million visitors.
During this must-do experience, you first learn about Ireland's iconic drink and its 250 year-long history and then grab your complimentary pint of Guinness beer and head to the topmost floor to enjoy stunning views of the city.
In this article, we share everything you must know before booking your Guinness Storehouse tour.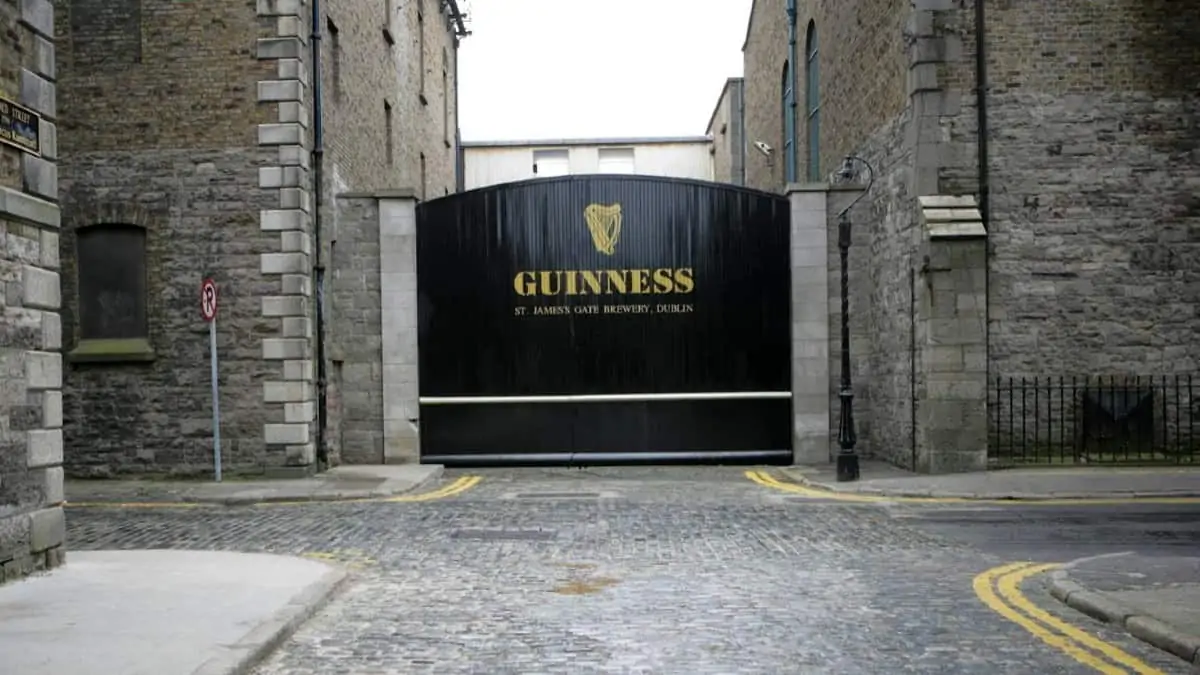 What to expect at Guinness Storehouse
The Guinness Storehouse visit is a self-guided tour, where you explore the seven stories of the building and learn every aspect of the famous beer.
While learning about Ireland's long brewing history, you also get to see the world's largest pint glass.
The whole ambiance has a night club-type feel to it, with good food and even better beer.
Check out the video below to know what one can expect from the tour –
Visitors can choose from three types of Guinness Storehouse tours.
The regular tour with a complimentary Pint is the cheapest and most popular tour.
If you are not on a budget, you can choose between the Signature Package, which includes a carry home gift box, or the Connoisseur Experience, a VIP tour with a private bar for beer tasting.
---
---
How to reach Guinness storehouse
Guinness Storehouse is in an old fermentation plant in the heart of St James's Gate Brewery.
Its address is St James's Gate, Dublin 8, Ireland.
Guinness Storehouse entrance
The main entrance of the Guinness Storehouse is on Market Street.
All visitors – individuals, groups, wheelchairs, and pushchairs must use this entrance.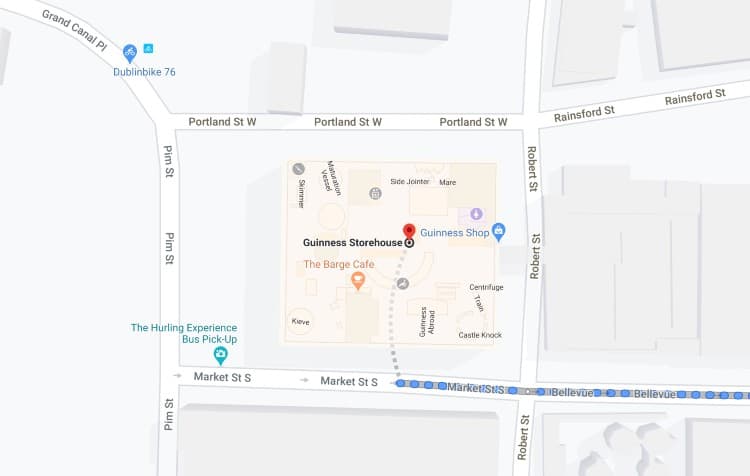 Walking to Storehouse
If you are in Dublin City Center, we recommend you walk the distance of 2.5 Kms (1.5 Miles) to Guinness Storehouse.
The 30-minute walk will also take you over River Liffey.
By Bus
Buses takes ten minutes from Dublin City Center to reach Guinness Storehouse.
You can board Bus No 123 from either Upper O'Connell Street or from Dame Street.
Buses run at a frequency of 8-10 minutes.
You must get down at James Street (Stop 1940), from where the Guinness Storehouse entry is only 500 meters (one-third of a Mile).
Traveling by Tram
Luas is the tram/light rail system in Dublin, Ireland.
If a Tram is your preferred mode of transport, you must board the Luas Red Line and get down at James's Luas Stop.
Once you get down, you must walk 1 Km (.6 Miles) to reach the attraction.
The walk usually takes 15 odd minutes.
Car parking
If you plan to travel by car, you can use the free parking available on Crane Street.
It is a 3-minute walk from the attraction.
Since the slots are available on a first-come, first-serve basis, you may want to start early in the day.
A limited number of wheelchair accessible parking spaces are also available.
If you don't get a spot at the free parking garage, check out these paid parking lots – Q-Park Four Courts, St. Augustine Street Car Park, and Q-Park Christchurch.
---
---
Guinness Storehouse hours
The Guinness Storehouse opens at 9.30 am and closes at 5 pm, every day of the week.
The last entry is at 5 pm.
For two months a year – July and August – Guinness Storehouse stays open till 9 pm.
During this period, the last entry is at 7 pm.
The Guinness Storehouse remains closed from 24 to 26 December every year.
---
---
Is the Guinness Storehouse tour worth it?
Guinness Storehouse 90-minutes tour is a real bang for buck experience if you love beer, food or history.
Having said that, even non-drinkers are known to say that their visit to Guinness Storehouse was totally worth it.
Here are five reasons why we think everybody must go on the tour –
The Storehouse is not a monument or a Museum. It is a different kind of tourist attraction with videos, interactive touchscreens, exhibits, and activities that help visitors learn how water, hops, barley, and yeast come together to make the trademark Guinness beer.
The Guinness Storehouse building is designed with creative visitors in mind, so you get to see smart quips and captions written all across the floors. Even the building itself is a brilliant design – it resembles a seven-story pint glass.
There is a lot of history to learn – Guinness' advertising campaigns over the last 200 years, transportation methods to send their beer across countries, etc.
There are not many places where you can learn how to store, serve, and taste a pint of Guinness. More importantly, the tour ends in the Gravity Bar, which is the best place in the whole world to have a pint of Guinness.
From the Gravity bar, you also get 360° views across Dublin's magnificent skyline.
---
---
Best time to visit Guinness Storehouse
If you want to avoid the crowd and enjoy the experience at lower noise levels, the best time to visit Guinness Storehouse is between 9.30 am to 12 noon on weekdays.
From noon onwards, long lines start getting formed at the ticket counter, and the exhibits inside also get crowded.
This is why we recommend buying tickets online, much in advance.
The peak tourist season for Guinness Storehouse is from May to September.
---
---
Guinness Storehouse tour length
The Guinness Storehouse tour is self-guided and lasts approximately 90 minutes.
After their tour, visitors are encouraged to stay on for as long as they want and enjoy stunning views of Dublin from Gravity Bar.
Since this is a relatively short tour, some tourists combine it with either the Jameson Whiskey Experience or the Big Bus Hop-on Hop-off Tour.
---
---
Guinness Storehouse tour
Beverage connoisseurs and lovers of food-themed experiences enjoy the self-guided Guinness Storehouse tour.
In 2019, the Guinness StoreHouse had 1.7 Million visitors.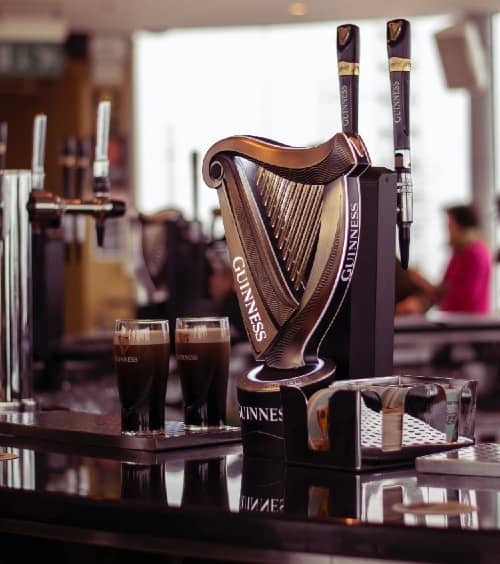 Tourists go through the seven floors of pure fun and then sit down at the Gravity Bar and take in the views of the city.
If you want some guidance, you can opt for the 'Beer Club Guided Tour' at the venue.

Image: Ana Ribeiro
And an official guide takes you through the first three floors – about Guinness history, the Guinness family, the brewing process, and the advertising floor.
This Guinness Tour also has audio guides in Spanish, French, German, Italian, Portuguese, and Mandarin, which you can rent out for two Euros each (from the ground floor).
For hearing impaired visitors, a visual guide is available in international sign language.
Can kids join the tours?
Guinness Storehouse is a child-friendly tourist attraction and even has room for prams and buggies.
However, an adult must always accompany kids below the age of eighteen.
Needless to say, kids below 18 won't be able to drink or purchase a drink.
However, they can redeem their Guinness Storehouse ticket for a free soft-drink.
---
---
Guinness Storehouse tour tickets
In this section, we tell you everything you need to know about the tour tickets before you make the booking.
Cancellation Policy
All Guinness Storehouse entry tickets come with a 24-hour cancellation guarantee – that is, you can cancel 24 before your visit date for a full refund.
Inclusions
Every tour ticket also comes with a complimentary pint, which you can redeem at the Guinness Academy on the fourth floor, Arthurs' Bar on the fifth floor, or the Gravity Bar on the seventh floor.
You can book an upgraded experience such as 'Signature Package' or 'Connoisseur Experience,' and get additional activities included with your ticket.
Guinness Storehouse discount
The best way to get a discount on your Guinness Storehouse ticket is by getting the Dublin Pass.
Holders of the Dublin Pass get free Skip The Line access to the Storehouse, on any day of their choice.
That is a 100% discount on the ticket price! Find out More
Tickets at the door
Yes, visitors can buy the Guinness Storehouse tickets at the venue's entrance on the day of their visit, but we don't recommend that.
The waiting line at the ticketing counter can be quite long, especially on weekends and peak tourist seasons – sometimes leading up to an hour.
On regular weekdays, after 12 pm, the wait time to buy the tickets is 15 to 20 minutes.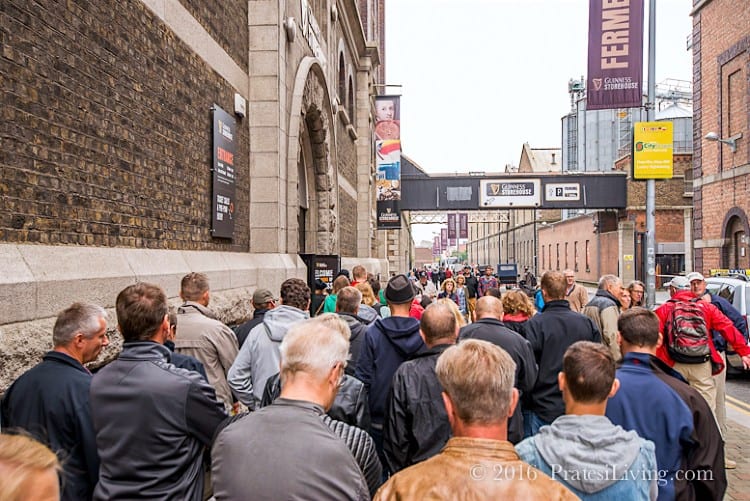 That's why it is better to buy the Guinness Storehouse tickets online, and much in advance.
Online tickets are more than 10% cheaper and aren't attached to any specific date or time slot. You can use it anytime within the next year.
Now, we share the three types of Guinness Storehouse experiences you can book –
Guinness Storehouse tour with a free pint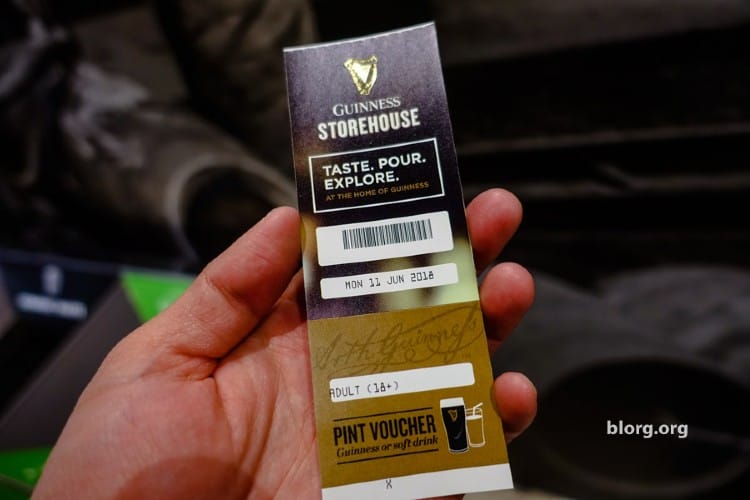 This is the cheapest and most popular Guinness Storehouse tour, and around 75% of the visitors opt for this experience.
This skip the line ticket gets you access to all seven floors of the Storehouse, and a complimentary pint of the Guinness beer.
Ticket price: 26 Euros
Guinness Storehouse Signature Package
This is a premium Skip the Line ticket, and around 20 percent of the visitors opt for this experience.
Besides the complimentary pint, the Signature Package also gets you a gift box containing an exclusive Guinness Dublin glass and a Guinness Storehouse Postcard (in pic below).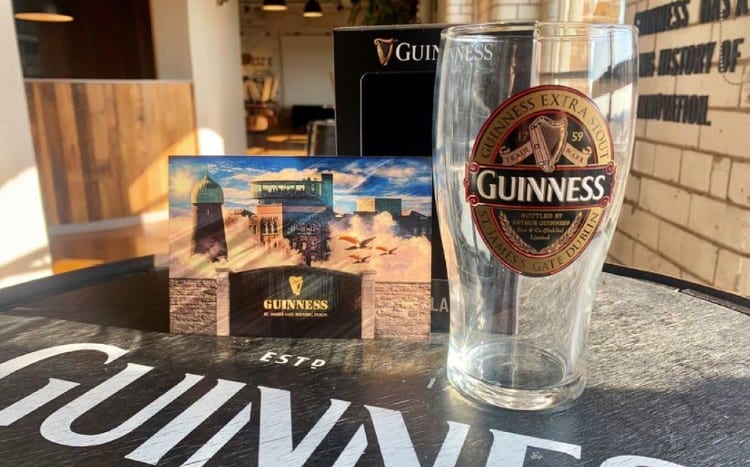 Ticket price: 32.75 Euros
Guinness Storehouse Connoisseur Experience
Connoisseur Experience is a special VIP tour offered to only 16 people two to four times per day.
During this 90-minute guided tasting with a beer specialist in a luxurious private bar in the Guinness Storehouse, you get to try four variations of Guinness.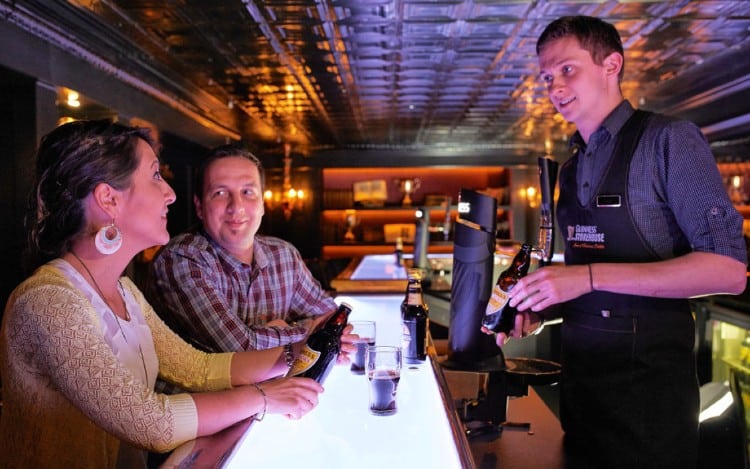 Since only a limited number of Connoisseur Experience tickets get sold every day, we recommend early booking.
This activity is a timed tour, and you must choose between four slots – 11 am, 1 pm, 3 pm, and 5 pm.
Ticket price: 65 Euros
Guinness 'Behind The Scenes' tour
This newly launched Guinness Brewery Tour is a 'Behind the Gates' 3-hour Guinness experience. The tickets are 95 Euros per person and during the 3-hour walking tour, you access the Storehouse, the Roast House, Brewhouse 4, the underground passenger tunnel, etc.
---
---
Guinness Storehouse combo tours
Since Guinness Storehouse tours don't last for more than 90 minutes to two hours, tourists tend to combine them with other activities in the city.
We list below three of the most popular combinations –
Guinness & Jameson Irish Experience Tour
This trip is a 4-hour fully guided tour – first to Jameson Whiskey Distillery and then to Guinness Storehouse.
The tour starts at 1.45 pm from outside Jameson Whiskey Distillery's entrance.
At Jameson's, you taste different whiskeys and learn about the three ingredients which go into making the world's most famous Irish whiskey.
After the tasting is over, you get your Whiskey Taster Certificate and head towards Guinness Storehouse for the second leg of your tour.
Ticket price: 79 Euros
If you can only visit one attraction, check out this fantastic analysis on Guinness Storehouse or Jameson Distillery.
Guinness Storehouse and Open Gate Brewery
This ticket is an excellent way to prolong your Guinness experience.
If you have this ticket, after the Guinness Storehouse tour is over, you can head over to the Open Gate Brewery for some more beer.
Open Gate Brewery is only 400 meters (.25 Miles) from the Storehouse and visitors can walk over in less than 5 minutes.
Note: Only visitors older than 18 are allowed inside Open Gate Brewery
Ticket price: 34 Euros
Guinness Storehouse & Big Bus HOHO Tour
This is a perfect combo ticket if you are in Dublin for a short while.
You enjoy a day of Dublin sightseeing onboard a hop-on, hop-off bus tour, and towards the end of the day, get down at Guinness Storehouse to see the most popular attraction in the city.
This ticket comes in two flavors –
Classic ticket: 1 day hop-on, hop-off, fast track entry to Guinness Storehouse and a complimentary pint of Guinness
Classic ticket price: 49 Euros per person
Premium ticket: 2 days hop-on, hop-off, walking tour, night tour, fast track entry to Guinness Storehouse and a complimentary pint of Guinness
Premium ticket price: 52 Euros per person
---
---
Guinness Storehouse floors
This Guinness building has seven floors.
Visitors start their Guinness Storehouse tour on the ground floor of the building and end it in the seventh level.
The sixth floor of the building gets used for administrative purposes, and thus there is nothing much for the visitors to see.
Ground Floor
The Ground Floor has two parts – the Guinness Retail Store and an exhibit called 'Our Brewing Story.'
1. Guinness Retail Store
Guinness Flagship Retail Store is the most extensive collection of Guinness memorabilia and exclusive merchandise in the world.
Some visitors pick up personalized engraved glasses at the Store.
2. Our Brewing Story
In this section, visitors learn about the history of Guinness, what it takes to brew the beer, and the extraordinary lengths the company goes to make it world's number-one stout.
First Floor
The first floor of the building has three sections covering the founder Arthur Guinness, the Master Coopers and a themed Cafe.
1. The Arthur Guinness Story
This section narrates the story of Arthur Guinness, who was so confident about his brew that besides stamping his family name on it, he leased out St. James's Gate area where his brewery stood at £45 per year for 9,000 years.
And that's no typo!
2. Cooperage & Transport
Tip: A Cooper is a person who makes wooden casks, barrels, vats, buckets, tubs, troughs, etc.
This section is about the role played by Master Coopers, who hand-made the wooden barrels in which Guinness got transported all over the world.
The barrels used to be stacked so high that the pilots could spot them from their planes, earning them the nickname 'Dublin Pyramids.'
3. The Cooperage cafe
Cooperage cafe is a humble tribute to the barrels and the art of barrel making.
If you wish, you can stop here for recharging yourself or stop at the 5th-floor restaurants.
Second Floor – The Tasting Experience
This is the floor where you get to into a multi-sensory tasting journey to understand the distinctive flavors of Guinness's iconic beer.
First, you awaken your senses, then smell the distinct aromas and finally taste the velvet-smooth sip to the very last drop.
Third Floor – World of Advertising
On the third floor, you enter Guinness's World of Advertising and experience eighty years of groundbreaking print, digital, and TV campaigns.
In this section, you can also take a snap of yourself and get it imprinted on your pint of beer.
They proudly call it the STOUTie.
Fourth Floor
The fourth floor of Guinness Storehouse has two activities – the Guinness Academy and Connoisseur Experience.
1. Guinness Academy
At the Guinness Academy, visitors learn to pour the perfect pint of Guinness and then drink it too.
After learning the six-step ritual, you get a Guinness certification.
2. Connoisseur Experience
If you like VIP experiences, you must opt for the Connoisseur Experience, where you get a private bar to yourself.
And a personal guide takes you through the flavours during the tasting experience.
Fifth Floor – Restaurants
Three of the Guinness Storehouse restaurants – Brewers' Dining Hall, 1837 Bar & Brasserie, and Arthur's Bar are on the fifth floor of the building.
1. Brewers' Dining Hall
The look, feel, and dishes at this restaurant take inspiration from the 18th and 19th-century dining rooms in the vicinity of the brewery.
Brewers' Dining Hall features an open kitchen and offers iconic Guinness dishes and traditional Irish food.
2. 1837 Bar & Brasserie
It was in 1837 that Guinness and oysters hit the headlines for the first time as a pair that go together rather well.
This restaurant with a relaxed ambiance is perfect for small plates, hearty mains, and sharing platters. Download Menu
3. Arthur's Bar
Arthur's Bar is everything one would expect of an Irish bar – Irish hospitality, Guinness beers, light bites, and traditional Irish music for a bit of foot-tapping. Download Arthur's Bar Menu
Seventh Floor – Gravity Bar

Guinness Storehouse Gravity Bar on the 7th floor of the building offers excellent 360-degree views of the city.
And that is why the Guinness Storehour tour finishes here even as you sip a pint of the black stuff while watching Dublin's magnificent skyline.
You can enter Gravity Bar only if you have the tour tickets and once in, you can stay for however long you want.
---
---
Guinness Storehouse reviews
According to Tripadvisor, Guinness Storehouse is the top attraction in Dublin, Ireland.
Check out two Tripadvisor reviews on what's best about the Guinness Experience.
I like Guinness now
I'm not a fan of Guinness, but I loved discovering the history of the drink and company. The whole experience is very impressive and unique, and you can explore and discover at your own pace. We stopped for food in the restaurant, and I enjoyed the Guinness burger…highly recommended.
Being able to pour our own Guinness was great fun, understanding the techniques and details behind the design of the glass.
You can then enjoy your Guinness, but the most fun was the view from the top, 360 bar. – TravelWithRosy
Great and valuable 90 minutes
This tour was fantastic! Even though it is self-guided, there was accommodation for many languages, and the pace of the walking tour was perfect.
The intermittent need for ushers to move the visitors was not oppressive, but necessary.
The 'Perfect Pour' segment was superb, and meeting in the upper 'Gravity Bar' was a real international experience. Very highly recommended for anyone who enjoys any type of beer. – N4825MGdennism
Sources
# Guinness-storehouse.com
# Tripadvisor.com
# Wikipedia.org
# Visitdublin.com

The travel specialists at TheBetterVacation.com use only high-quality sources while researching & writing their articles. We make every attempt to keep our content current, reliable and trustworthy.
Popular attractions in Dublin