More than a million tourists land in Dublin for Whiskey tourism every year.
Most of these tourists want to book an Irish Whiskey Experience but are not sure about the best whiskey tour in Dublin.
All of them have the same question: should they tour Jameson Distillery or Irish Whiskey Museum?
In this article, we explain both these attractions and help you decide if you must book a tour of the Irish Whiskey Museum or the Jameson Distillery.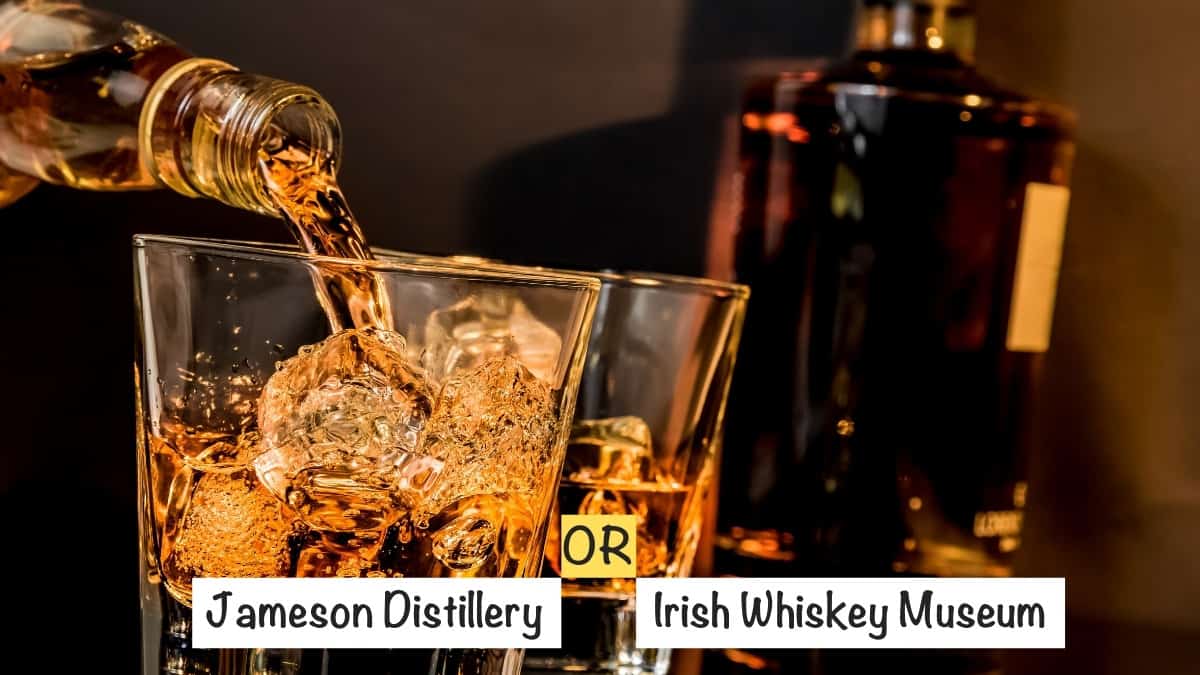 Why visitors end up selecting one
There are two main reasons why visitors tend to choose between the two attractions –
They are on a budget holiday and can only afford one
They are in Dublin for a limited time and can only take in one whiskey tour
If you aren't on a budget vacation and have plenty of time in Dublin as well, we suggest you book your tickets for both the Irish Whiskey Museum and Jameson Distillery.
They are both very different whiskey experiences.
---
---
Museum vs Distillery – the rivalry till now
Since both are the top two whiskey experiences in Dublin, they compete with each other.
It wasn't always like this.
Till the end of 2014, Jameson Distillery was the undisputed leader of whiskey tours.
But everything changed in Nov 2014, when the Irish Whiskey Museum got inaugurated just 1.7 kms (1 Mile) from the Jameson Distillery.
While the Distillery focused on the technicalities of whiskey making and drinking, the Museum concentrated on the tumultuous history of the Irish whiskey.
Both of them ended their experience with whiskey tastings.
The Whiskey Museum became a major hit immediately and started taking away tourists from the Distillery.
Within 18 months, Jameson Distillery realized that they needed to up their game to stay relevant, and in mid-2016, they shut down for refurbishment.
Over the next year, they spent 11 Million Euros on improving the building, upgrading the tour, and the experience.
When Jameson Distillery re-opened in mid-2017, it was attracting tourists yet again.
From 1997, when the attraction has opened, till mid-2016 (when it shut for refurbishment), around 4 million people had visited the premises.
However, in the very first 12 months after renovation, around 400,000 booked their whiskey tours.
Jameson Distillery was back in the game again.
And as a result, the decision for the tourists in Dublin – Jameson Distillery or Irish Whiskey Museum – became difficult.
---
---
Why visit Jameson Distillery, Dublin
With around 400,000 visitors annually, Jameson is not just the No. 1 whiskey attraction in Dublin but the whole of Europe.
They were even voted the world's leading distillery tour for the second year running at the World Travel Awards in 2019.
Jameson Distillery's most popular tour
More than 90% of the visitors to Jamesons opt for the Bow Street Experience, its flagship whiskey tasting experience.
During this guided 40-minute tour, you learn Jameson Whiskey's story, and process and then indulge in a comparative whiskey tasting.
After the comparative tasting is over, everyone gets a complimentary Jameson drink at JJ's Bar.
Jameson Distillery tour price
Adult ticket (18 to 64 years): 25 Euros
Student ticket (18 to 64, with student ID): 18 Euros
Seniors ticket (65+ years): 18 Euros
Child ticket (up to 17 years): 11 Euros
Visual Story: 13 must-know tips before visiting Jameson Distillery
---
---
Why visit Irish Whiskey Museum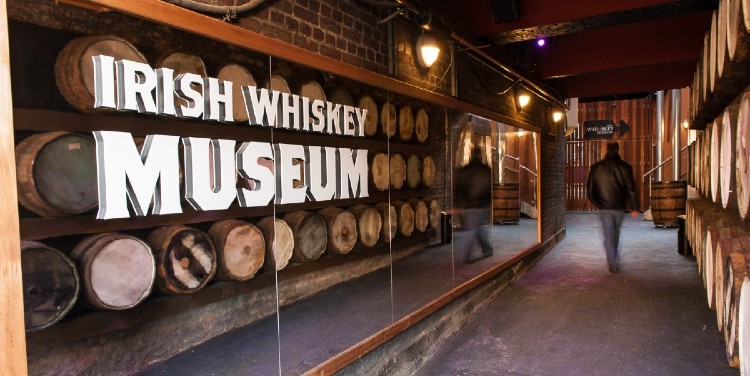 It is the biggest Whiskey Museum in the world and the only Irish Whiskey Museum.
This Dublin Museum narrates 2000 years of Irish whiskey history, with the help of memorabilia, audio-visual aid, and the fine art of storytelling.
And since the Museum is independent of all whiskey distilleries (it isn't affiliated to any one brand), visitors get to taste 100+ different types of Irish whiskeys.
Irish Whiskey Museum's most popular tour
The Classic tour is a 1-hour guided tour where Whiskey Experts of the Museum take you through the history of Irish whiskey and close with three perfectly crafted Irish whiskey tastings.
If you prefer to taste four whiskeys, you can upgrade to the 'Premium' experience at the cost of 3 Euros extra per person.
Visitors who upgrade also get to carry home a unique souvenir whiskey glass.
Classic tour ticket price
Adult ticket (13 to 64 years): 20 Euros
Child ticket (5 to 12 years): 10 Euros
Student ticket (with valid ID): 18 Euros
Seniors ticket (65+ years): 18 Euros
Family ticket (2 adults + 2 kids): 50 Euros
*On the ticket booking page, you can select either 'Classic' or 'Premium'
---
---
Jameson Distillery vs. Irish Whiskey Museum
In this section, we compare Jameson Distillery to the Irish Whiskey Museum on ten different parameters.
Location of the attraction
Irish Whiskey Museum is in the middle of the city, located directly across the main entrance of Trinity College.
The Address: 119, Grafton Street, Dublin 2, Ireland. Get Directions
The Old Jameson Distillery is also in the city center, just off Smithfield Square in Dublin, Ireland.
Address: Bow St, Smithfield, Dublin 7, D07 N9VH, Ireland. Get Directions
They are 1.7 Kms (1 Mile) apart, on both sides of river Liffey, which runs through the city.
A brisk 20-minute walk separates the two attractions.
Nature of attraction
The Old Jameson Distillery in Bow Street, where tourists go for their tours, is more of a visitor center, with non-working props on display.
It promotes Jameson products only.
If you want to walk through an operational distillery, you must visit Jameson Distillery in Midleton (or Teeling Distillery in Dublin).
The Irish Whiskey Museum is a collection of rooms with historical whiskey memorabilia, which promotes all kinds of Irish whiskeys.
Tripadvisor ratings
Irish Whiskey Museum has a 5/5 rating while the Jameson Distillery in Dublin has a 4.5/5 rating on Tripadvisor.
When it comes to reviews, both are on par – they have around 11K traveler reviews.
Both the Distillery and the Museum are Tripadvisor's Certificate of Excellence winners.
Type of visitors
Both Jameson Distillery and the Irish Museum have a similar kind of visitor break up.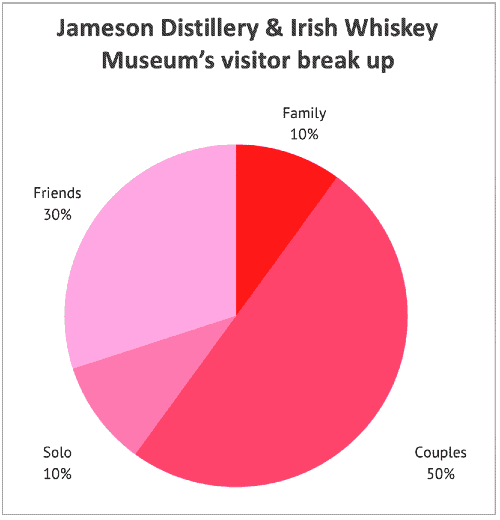 Around 50% of the visitors are couples, and the next most significant visitor type is groups of friends.
Only 10% of the visitors were families, which is understandable because both are whiskey attractions.
Whiskey tastings
As part of all Jameson Distillery tours, visitors indulge in a comparative whiskey tasting where they get to compare three whiskeys – single distilled American Whiskey, a double-distilled Scotch Whiskey, and a triple-distilled Jameson Irish Whiskey.
The focus of this tasting session is to let the visitors know how Jameson stands out in aroma, flavor, and taste.
At the Irish Whiskey Museum, the focus is only on Irish drinks, so the three whiskeys (four if you book the Premium tour) you get to taste are from Ireland.
Complimentary drink
At the end of the Jameson Distillery's tasting session, everybody gets a complimentary Jameson drink.
At Irish Whiskey Museum, you don't get a complimentary drink.
Cost of tours
The Bow St. Experience distillery tour, which more than 90% of the visitors to Jameson opt for, costs 25 Euros for an adult (18 to 64 years), 18 Euros for seniors (65+ years) and students (with valid ID), and only 11 Euros for kids till 17 years.
In contrast, the Irish Whiskey Museum's tickets are a bit cheaper.
The Museum's Classic tour adult ticket (13 to 64 years) costs 20 Euros, while seniors (65+ years) and students (with valid ID) pay 18 Euros. Kids 5 to 12 years end up paying only 10 Euros.
The Whiskey Museum also has a family ticket (2 adults + 2 kids), which costs 50 Euros. Jameson Distillery doesn't have a family ticket.
Tours offered
Jameson Distillery Dublin offers five tours, all of which focus on technicalities of whiskey and its tasting.
Bow Street Experience
Whiskey Blending Class
Whiskey Cocktail Making Class
Secret Whiskey Tasting
Cask Draw Experience
Of these five, Bow Street Experience is the most popular attracting more than 90% of the visitors.
Irish Whiskey Museum offers four types of tours –
Whiskey Museum's Classic Tour
Whiskey Museum's Premium Tour
The Blending Experience
Museum Brunch (on weekends only)
Of these four, the Museum's Classic and Premium tours sell the most.
The Museum Brunch tour stands out because it includes an exceptional dining experience.
Crowd to expect
Jameson Distillery in Dublin gets more than 400,000 tourists every year.
That is around 1,100 visitors every day, more so during the peak summer months.
And since the attraction is open for eight hours in a day, it is safe to assume that when you are touring the Distillery, around 140 other visitors will be with you inside the attraction.
Even though there are no public visitor numbers for the Irish Whiskey Museum, it is safe to assume that they are also equally popular.
Free with Dublin Pass
The Dublin Pass is a useful tool in the hands of a budget traveler because it gives free access to more than 30 city attractions.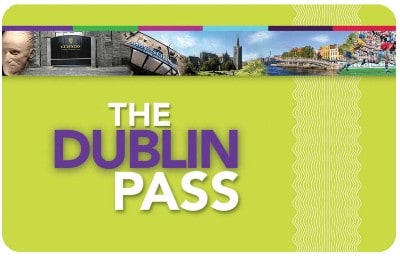 The Jameson Distillery Bow Street tour comes free with the Dublin Pass. Find Out More
All you have to do is reach the Distillery before 3 pm, show your Pass and walk in.
Unfortunately, the Dublin Pass doesn't get you free entry into the Irish Whiskey Museum.
---
---
Our recommendation
We think that both the Irish Whiskey Museum and Jameson Distillery are different experiences, and you must try both of them.
You can start by visiting the Whiskey Museum first.
If you can't do both, we recommend you book the Premium tour at Irish Whiskey Museum and here are our reasons –
It is rated higher on Tripadvisor
Whiskey Museum's tickets are cheaper
It offers the right mix of history and tasting
More suitable for non-drinkers
Sources
# Tripadvisor.co.uk
# Wandertooth.com
# Theirishroadtrip.com
# Sidewalksafari.com

The travel specialists at TheBetterVacation.com use only high-quality sources while researching & writing their articles. We make every attempt to keep our content current, reliable and trustworthy.
Other comparisons
# Jameson Distillery vs Guinness Storehouse
# Jameson Distillery Dublin or Midleton
# Jameson Distillery vs Teeling Distillery
Popular attractions in Dublin
# Guinness Storehouse
# Glasnevin Cemetery
# Malahide Castle
# Irish Whiskey Museum
# Jameson Distillery
# Teeling Distillery