Visitors to Los Angeles love its Mediterranean climate, ethnic and cultural diversity, theme parks, clubs, beaches, and world-famous Hollywood, which is why it is an ideal Valentine's Day destination.
Young and old couples, visitors, and locals alike love spending their Valentine's Day in the City of Angels.
If you adore your Sweetheart (and we don't doubt it!), you will want to spoil them with all the romantic surprises Los Angeles has to offer.
Plan ahead of time, for many lovers will be flocking to this city to celebrate the most romantic day of the year – 14 February 2024.
Check out our pick for the most romantic Valentine's Day itinerary in Los Angeles.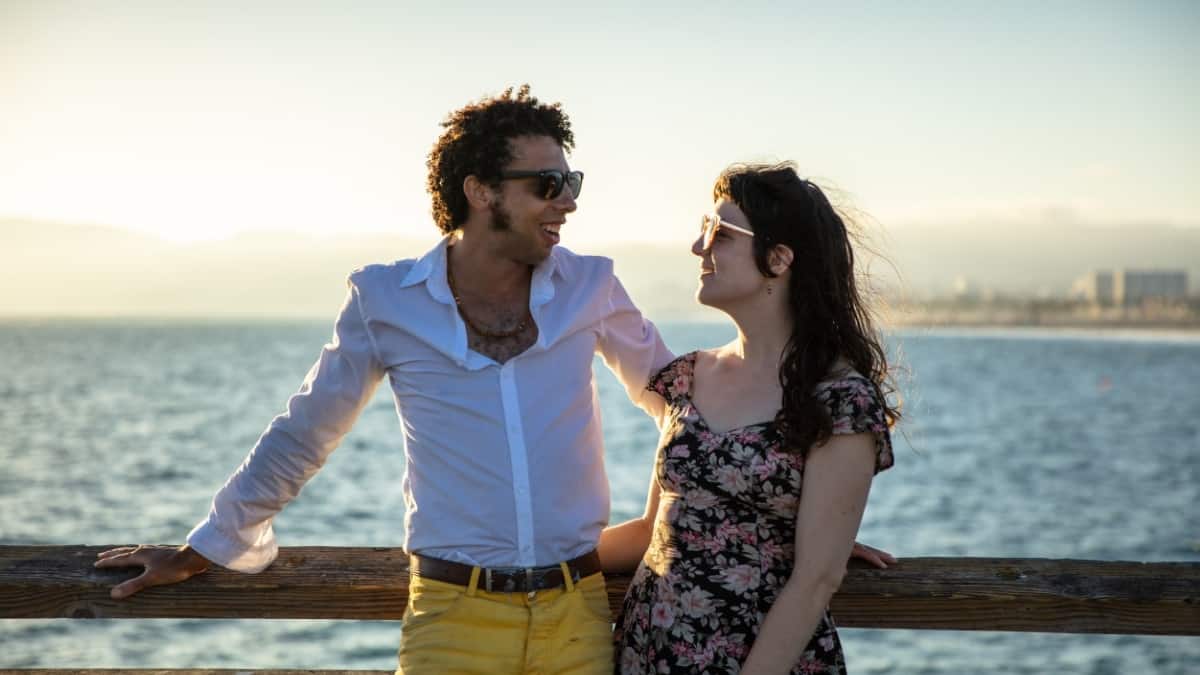 Things to do on Valentine's Day in Los Angeles
Here are our recommended seventeen romantic things to do during your Valentine's Day week in Los Angeles.
You only need to bring your partner along.
Hold hands on a whale-watching cruise
Spend your Valentine's Day 2024 on a cruise with your Sweetheart and watch whales.
Choose from a variety of whale-watching excursions just minutes from the Disneyland Resort.
Many whales can be seen, including the enormous blue whale, finback whale, and grey whale.
With your Valentine, take in the stunning vistas of the Newport-Laguna shoreline.
A cruise is a unique experience because you never know what you'll find, and it's a popular romantic activity in Los Angeles.
This tour is an ideal way to spend time with your loved one.
---
---
Fall in love yet again on a romantic helicopter tour
A helicopter tour over Los Angeles with a mountain landing is the perfect romantic getaway for two.
The private 45-minute helicopter tour starts from Bob Hope Airport in Burbank.
Once up in the air, you will see iconic landmarks of Los Angeles, including Universal Studios, the famous Hollywood Sign, and some celebrity homes of Beverly Hills and Bel Air.
Then you will see the world-famous beaches of Santa Monica and the Pacific Palisades, after which you will land at your own private and secluded plateau overlooking the magnificent shores of Malibu beach.
The helicopter pilot leaves you alone so that you and your lover can spend 30 minutes on the peak alone.
You also get a complimentary toast, a delicious dessert, and a rose to celebrate your special occasion.
If you are looking for more options, check out these heli tours as well –
---
---
Stare into the horizon on a Champagne Brunch Cruise
A champagne brunch cruise is a great way to spend a few hours relaxing, dining, and sightseeing with your spouse in Los Angeles' quiet waterways.
On this cruise with stunning harbor views, you and your partner can relax back and enjoy champagne.
In addition to the salty breeze and abundant sunshine, you will hold the hands of your partner and feel the love in the air.
The romantic indulgence is sure to bring both of you even closer, so don't miss it!
You can book this brunch cruise from Marina Del Rey or from Newport Beach.
---
---
Go Paragliding with your partner
Enjoy an exciting paragliding trip high above the beach, ocean, and foothills on Valentine's Day 2024.
With your sweetheart, take in the most fantastic views of Malibu and the Pacific Ocean.
You both have a chance of spotting whales, dolphins, rays, sharks, deer, mountain lions, hawks, vultures, and other intriguing animals in the area.
The tandem paragliding flight can be made as extreme as you and your partner want it to become.
Young couples love this experience.
---
---
Enjoy Kayak and Paddleboard Tour with Sea Lions
Take a Kayak and Paddleboard tour with your girlfriend or boyfriend and have a great time.
Prepare your kayaks and head to Marina's main channel, and on the way, admire the gorgeous and unusual vessels.
Also, look out for sea lions, birds, dolphins, and other aquatic creatures.
This activity is a fantastic experience and one of the best things to do with your Valentine in Los Angeles.
---
---
Pedal away together – Hollywood Highlights Bike Tour
Bike your way through the ultimate Hollywood experience with your spouse, seeing everything there is to see.
On Valentine's Day 2024, discover Los Angeles by riding through well-known sites.
Melrose Avenue, Chinese Theatre, Farmers Market & The Grove, El Capital Theatre, and many other famous sights are all worth seeing.
Visit iconic movie sites for a behind-the-scenes look at Hollywood.
It's a great valentine's day activity for couples who have an interest in movies and TV shows.
---
---
Sweat it out on the Griffith Observatory Hike
On 14 February 2024, hike to the Hollywood Sign, the ultimate LA tour list item.
This moderate hike is a fantastic combination of workouts and sightseeing.
Admire the breathtaking vistas, and make sure to take plenty of photos to remember your romantic hike.
As your hike comes to an end, learn about the Hollywood sign's unusual history.
This hike is a one-of-a-kind experience that young couples enjoy.
---
---
Visit Universal Studios Hollywood
Universal Studios Hollywood is a film studio and a movie-based theme park attracting almost 10 million visitors annually.
Both adults and kids enjoy thrilling rides, live-action effects, shows, musical performances, etc., at this Los Angeles attraction.
If your partner loves adrenaline-pumping roller coasters, Universal Studios in Los Angeles is the ideal place to visit on Valentine's Day 2024.
---
---
Check out the Hollywood Sign
The Hollywood Sign in Los Angeles is one of the most famous landmarks in the world.
More than 45 million visitors come to Los Angeles annually, and all of them see the sign at least once.
There are many ways to tour the Hollywood sign, the most prominent landmark of Los Angeles city.
You can choose to travel on a tour bus, hike to the sign, or take to the skies in a helicopter and circle around the Hollywood sign.
We list down some of the most popular tours in LA, including a visit to this American landmark.
---
---
Go in search of Los Angeles' best food
With your sweetheart, sample a variety of delectable meals from the top specialized food stores, buzz-worthy locations, and ethnic cuisines in Los Angeles.
The Bradbury Building, the Million Dollar Theatre, and the Biltmore Hotel are famous landmarks to explore.
As you and your spouse travel through the historic Grand Central Market, learn amazing morsels of facts only locals know.
Skip the lines and sample some of Downtown LA's best BBQ, tacos, and desserts.
This food stroll is a great way to spend Valentine's Day with your significant other.
---
---
Explore Hollywood & Celebrity Homes
You and your spouse will love the comfort of an open-top bus, even as you go on a sightseeing tour of Hollywood's highlights.
Admire the views of downtown LA from prominent spots such as the Hollywood Sign, where you and your partner can stop for a photo.
Discover where Hollywood celebrities live, work, and party, and be wowed by Beverly Hills' celebrity houses.
This tour is a fantastic experience and one of the best things to do in Los Angeles with your husband or wife.
---
---
Enjoy Sunset Cruise with Wine and Cheese
While cruising along Los Angeles' largest harbor in a fully electric Duffy boat, enjoy a wine and charcuterie platter with a selection of meats, cheeses, and fruit.
With your lover, explore the natural scenery and be on the lookout for sea lions and various bird species.
Take a closer look at the boathouses and luxury ships lining the path.
Relax with a glass of wine while admiring the serene river and bonding with nature on 14 February 2024.
The romantic indulgence will undoubtedly bring both of you even closer, so don't miss it!
---
---
Experience 420 Cannabis Tour
The 420 Cannabis Experience begins with a visit to Universal Studios Hollywood, followed by a visit to a high-end dispensary.
Visit one of SoCal's only licensed Cannabis Grow facilities with your spouse.
The glass blowing demonstration at AMG (American Made Glass) will put you right in the middle of the action, so don't miss it.
This tour is ideal for couples who want to see the finest that Los Angeles offers.
Hold hands with your partner and finish this tour with shopping.
---
---
Visit Warner Bros. Studios
Warner Brothers Studio in Hollywood, Los Angeles, has entertained the world for almost a century.
The Warner Bros Studios Tour hosted by their expert guide is the best way to explore one of the world's busiest working studios.
If you and your spouse are interested in movies or TV series, the Warner Bros Studios is the perfect Valentine's Day destination.
---
---
Go wild at the Aquarium of the Pacific
The Aquarium of the Pacific in Long Beach will take you and your boyfriend or girlfriend on a journey of discovery.
Discover warm Southern California and Baja, the icy waters of the Northern Pacific, and the tropical Pacific's colourful reefs.
Enjoy the outdoor exhibitions, such as Shark Lagoon with your Valentine.
In the June Keyes Penguin Habitat, meet the Magellanic Penguins.
---
---
Take selfies with your lover at Madame Tussauds
If you are interested in celebrities, there is no better place than Madame Tussauds in Hollywood.
The wax figures at Tussauds Hollywood include movie stars, TV show hosts, musicians, sports stars, politicians, superheroes, etc.
It is a fantastic opportunity to click selfies with 100+ famous lifelike wax figures from all walks of life.
---
---
Take your petrolhead partner to Petersen Museum
Petersen Museum is rated the No 1 Automotive museum in the world.
Its vast vehicles, including restored antiques, race cars, and cars from famous movies, entertain kids and adults alike.
The three main floors and the Vault in the basement are home to 350 unique vehicles.
If you are an automobile-loving couple, Petersen Museum is a great place to spend a few hours on 14 February 2024.