Neuschwanstein is one of the most popular of all the palaces and castles in Europe.
Every year 1.4 million people visit the Neuschwanstein Castle, which ironically was built for a single inhabitant – Ludwig II of Bavaria.
The shy King built the imposing structure because he wanted to get away from the public.
It is so beautiful that Walt Disney got inspired to create Disneyland's 'Sleeping Beauty' Castle.
This article shares everything you need to know before booking your Neuschwanstein Castle tour.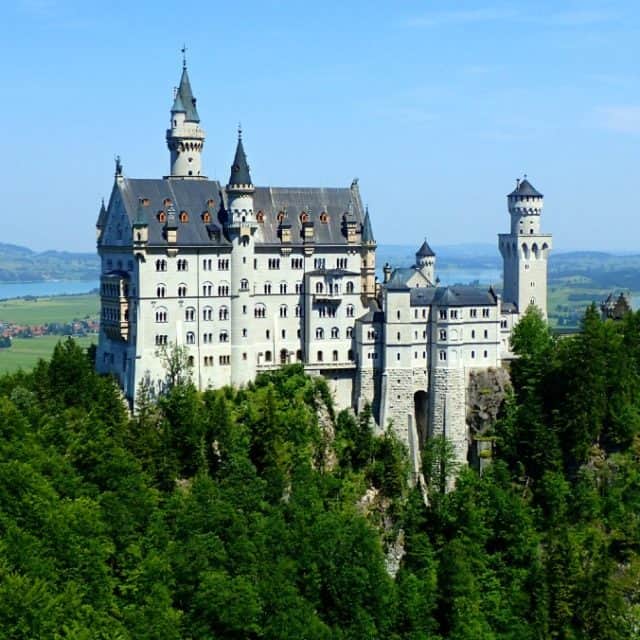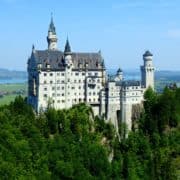 What to expect at Neuschwanstein Castle
---
---
Best Neuschwanstein Castle tours
To get inside Neuschwanstein Castle, visitors must book the official guided tour.
These guided tours are timed, and visitors are expected to be on time.
This guided tour of Neuschwanstein Castle can either be booked online or at the venue.
We present below four tours of Neuschwanstein Castle from Munich and two from Frankfurt.
Neuschwanstein & Linderhof Castles from Munich
This trip is the most popular Linderhof Palace (and Neuschwanstein Castle) tour from Munich.
Both these Castles were the dream projects of King Ludwig II of Bavaria.
The 10-hour tour starts at 8.30 am from Munich.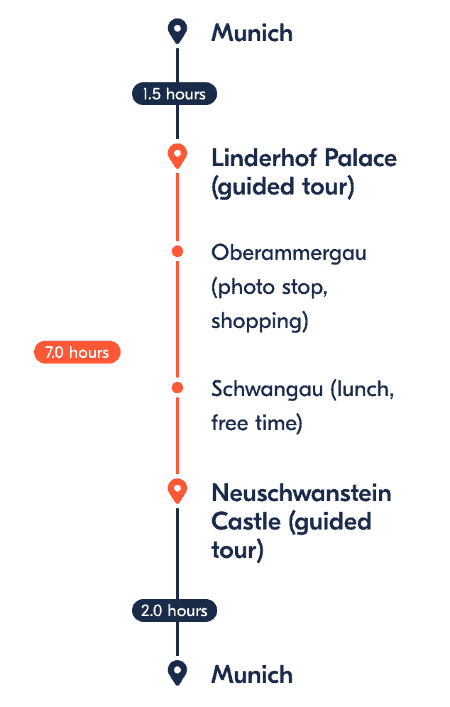 The group boards a luxury air-conditioned tour bus for the 95 Km (60 miles) journey to Linderhof.
Audio Guides are available both in the bus and the Castle in Spanish, Chinese, French, German, Italian, Japanese, Portuguese, Russian.
Once you reach the Linderhof Park entrance, you get down and walk 1.5 km (one mile approximately) to the Palace entrance.
This leisurely walk on the uphill road takes approximately 30 minutes.
After a guided tour of the palace, you board the bus to go to the tiny Bavarian town Oberammergau for some photos and shopping.
The next stop is Ludwig's childhood home of Hohenschwangau, where you have your lunch. Lunch is not part of the tour costs.
Next, you board the bus for the trip to Neuschwanstein Castle, in the foothills of the Alps.
After a guided tour of Neuschwanstein Castle, you get back to Munich around 7 pm.
Tour prices
Adult ticket (27+ years): €57
Youth ticket (15 to 26 years): €46
Child ticket (4 to 14 years): €29
Infant ticket (Less than 3 years): Free entry
Visitors who prefer to customize their visit can opt for the private tour of both the Castles.
Follow the link to book a tour of Neuschwanstein and Linderhof Castles in Spanish.
Neuschwanstein Castle tour from Munich
This tour is the ideal Neuschwanstein Castle day trip from Munich if you have already seen Linderhof Palace or want to skip it.
The tour starts at 9.30 am, and a local guide takes you by train or coach to the castle.
You will skip the long lines for a tour of the inside of Neuschwanstein Castle by a specialist castle guide.
After the tour, the group will take a short climb up to Marienbrücke, the bridge from where one gets to see picture-perfect views of the neo-romantic castle as well as the gorge beneath.
Pack your swimwear for if the weather permits, you can even enjoy a swim in the Alpsee lake.
Tour prices
Adult ticket (14+ years): €55
Youth ticket (6 to 13 years): €36
Child ticket (up to 5 years): €11
If you are traveling with kids aged less than 12 years, this Neuschwanstein Castle tour from Munich will work out cheaper.
If you are a group of four or more travelers, follow the link to book a small-group tour to the castle that inspired Walt Disney.
Neuschwanstein Castle tour from Frankfurt
This 13-hour tour starts at 8.30 am from Frankfurt.
You first travel to the Southwest of Bavaria to see Neuschwanstein Castle, the most iconic palace in Germany.
If you prefer, you can go for the guided tour of the interiors or seek a vantage point and enjoy the views from outside.
Once you have explored Bavarian King Ludwig II's masterpiece, you continue along the Romantic Road to Rothenburg ob der Tauber, the best-preserved medieval town in Germany.
Once you have seen enough of the picturesque old lanes, you start for the return trip to Frankfurt.
*There must be at least two travelers for this tour to happen.
Tour prices
Adult ticket (13+ years): €298
Child ticket (up to 12 years): €195
It would be criminal to go up to the Neuschwanstein Castle and not see Linderhof Palace. If you aren't traveling with kids, it is easy to do this 14-hour tour from Frankfurt to Neuschwanstein Castle and Linderhof Palace.
---
---
How to reach Neuschwanstein Castle
Neuschwanstein Castle is near Schwangau village and Füssen town in Bavaria, southern Germany.
The Castle is 2.5 Kms (1.5 miles) from Schwangau and 3.7 kms (2.3 miles) from Fussen.
To get to the 19th-century castle, you must get to the path that starts from Hohenschwangau.
By public transport
Neuschwanstein Castle in Germany is 120 km (75 miles) from Munich and makes for a perfect day trip.
If you are driving or part of a tour group, this distance gets covered in two hours, but if you opt for public transport one-way travel will take approximately three hours.
That is why most people book a tour to both Neuschwanstein Castle & Linderhof Palace.
Those that don't want to stretch themselves with two attractions in a day opt for the more relaxed day trip to Neuschwanstein Castle.
However, if you want to manage your own transport, it is best to board the train from Munich Hauptbahnhof, the city's central station.
From Munich, you must book a train to a charming little town called Fussen.
All through the day, there are 18 trains to Fussen, and it is better to book your train tickets in advance.
The average journey time by train between Munich Hbf and Füssen is 2 hours and 20 minutes.
Once you step out of the Füssen train station, try to spot Bus No 78 in the parking lot.
"Hohenschwangau castles" will be written on the bus, and enough tourists will be rushing towards it.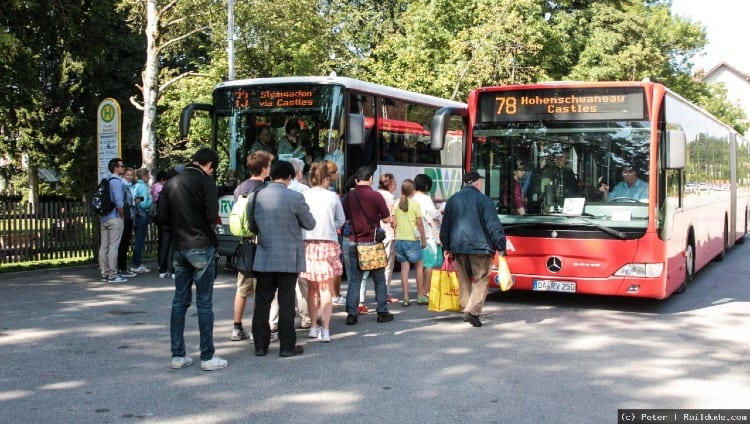 Travelers can purchase a round-trip ticket from the driver.
Bus No 78 takes approximately ten minutes to reach Hohenschwangau, the village from where you can walk to the Neuschwanstein Castle.
Driving to the Castle
If you plan to drive from Munich to Neuschwanstein Castle, it is best to fire up your Google Map and drive towards Hohenschwangau.
If you prefer the old fashioned way, take the A7 motorway (direction Ulm-Kempten-Füssen).
Once you reach Füssen, follow road B17 to Schwangau, and then the signs to Hohenschwangau.
Your other option is to take the A7 motorway until the exit Kempten and then the road B12 to Marktoberdorf.
Continue on the road B16 to Roßhaupten – OAL I to Buching – and then take the road B17 to Schwangau and eventually to Hohenschwangau.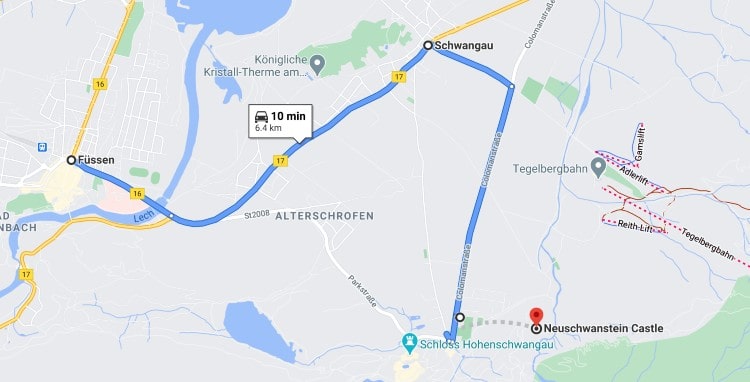 Car parking
The walking path to the Neuschwanstein Castle starts from the village of Hohenschwangau.
Everybody must park their cars in Hohenschwangau because no vehicles are allowed beyond the village.
The village has four parking spots:
P1: next to "Apollo Duty Free" shop
P2: between Schwangauer road and Coloman road
P3: at the roundabout next to Restaurant Cafe Kainz
P4: next to lake Alpsee under Hohenschwangau Castle
---
---
Hohenschwangau to Neuschwanstein Castle
Hohenschwangau is the former village and now an urban center that caters to the tourists visiting Neuschwanstein Castle.
Besides the Neuschwanstein Castle's ticket office, Hohenschwangau also has some private car parks, restaurants, hotels, souvenir shops, etc.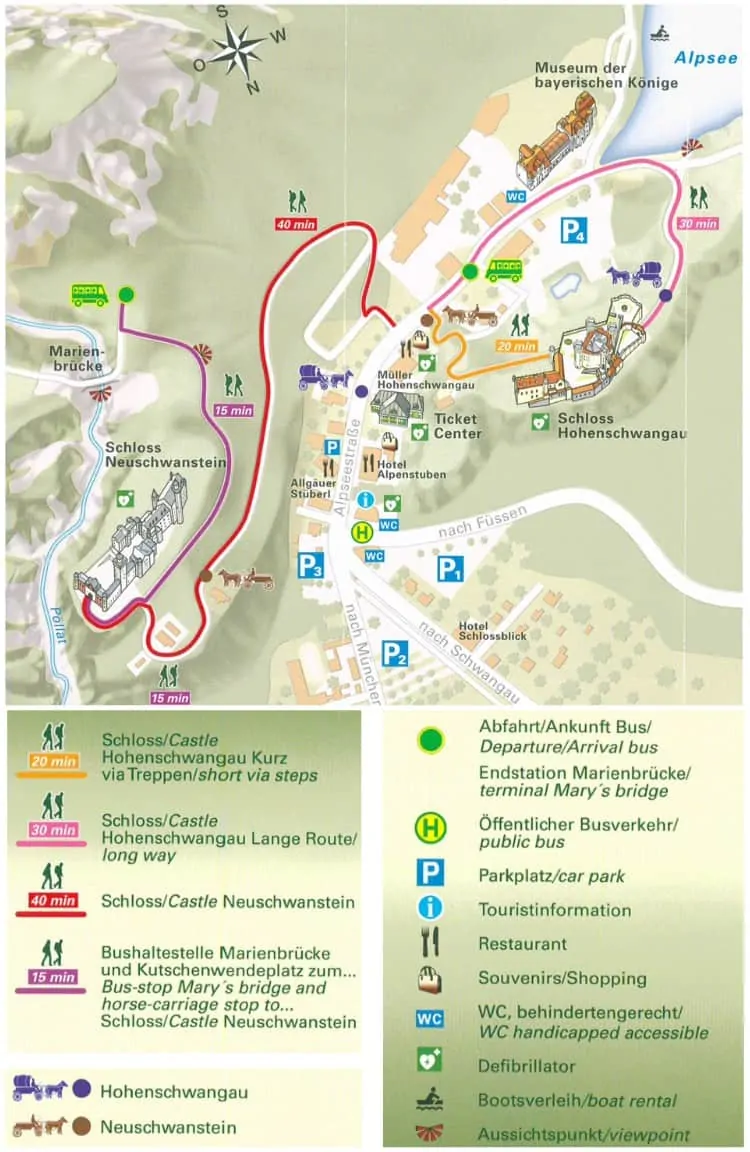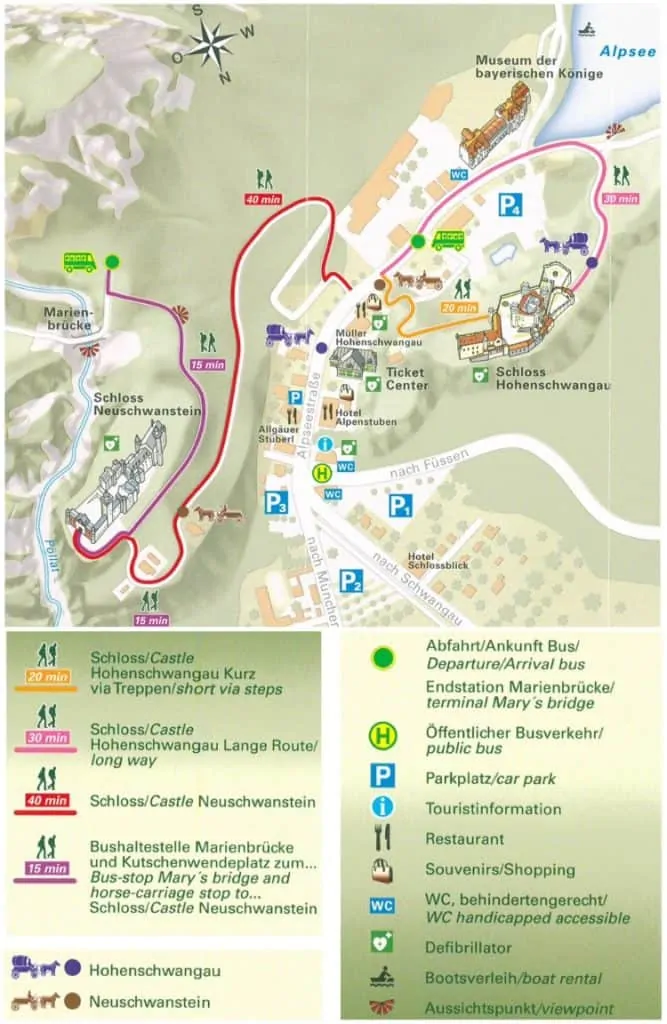 Hohenschwangau is 1.5 km (almost a mile) from the castle, and there are three ways to travel this distance.
By walk
From Hohenschwangau, it is a steep uphill road to King Ludwig II's Castle.
If you are reasonably fit, you can walk the distance in 30 to 40 minutes.
By horse-drawn carriage
Horse-drawn carriages are available from Hotel Müller in Hohenschwangau.
Because of space limitations, the carriages take you only till the 'carriage turning area' from where the castle is still 450 meters (1475 feet) away.
The carriages operate all year round and shuttle according to demand, with no fixed timetable.
The uphill trip is priced at €7 and the downhill trip at €3.50.
Tickets are available all through the day from the carriage driver.
By the shuttle bus
Shuttle buses are available from the parking lot just below Hohenschwangau Palace.
The buses can't go right up to the castle because of a lack of space.
Instead, they take the alternate route via Bleckenaustraße to the Jugend lookout point, also known as Mary's Bridge.
This famous bridge is also known as Marienbrücke and offers stunning views of Neuschwanstein Castle.
Visitors must get down and take a downhill walk of about 500 meters (1650 feet), which takes 10 to 15 minutes.
The buses operate all year round without a fixed timetable. Visitors can purchase tickets from the bus itself.
The uphill trip costs €2.50, the downhill trip €1.50, and the return trip is priced at €3.
---
---
Neuschwanstein Castle hours
During the peak season of April to 15 October, Neuschwanstein Castle opens at 9 am and closes at 6 pm.
From 16 October to the end of March, the castle opens late at 10 am and closes early at 4 pm.
Ticket center timings
All through the year, the ticket office starts issuing tickets an hour before Neuschwanstein Castle opens for visitors.
During the peak season (April to October), it closes at 4 pm, and the rest of the year, it closes at 3 pm.
The Bavarian Castle is closed for visitors on January the first and 24, 25, and 31 December.
---
---
Where to buy Neuschwanstein Castle tickets
You can purchase Neuschwanstein Castle entry tickets from the official website or the ticket counter at the venue.
The adult ticket costs €13 per person at the venue and applies to all visitors 18 years and above.
Visitors 17 years and below can enter for free. However, they must book a free ticket.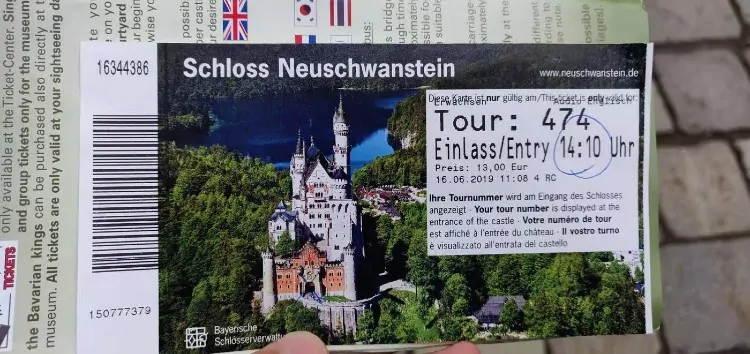 When you book the tickets online, a booking fee of €2.50 gets applied on every ticket – so the final price of the Neuschwanstein Castle adult ticket ends up being €15.50, and a child ticket ends up costing €2.50.
Booking in advance is NOT recommended
Here are two reasons why we don't recommend you buy the tickets in advance:
Neuschwanstein Castle tickets are timed. That is, visitors are expected to choose a time of entry when booking their tickets. Since it helps the authorities control the number of visitors inside the castle, they are very strict about the timings. If visitors are late beyond 15 minutes, they aren't allowed inside.
Neuschwanstein Castle is far away from major cities such as Munich and Frankfurt, and it isn't easy to predict your arrival time, especially if you opt for public transport.
That's why it is better to book a tour with a professional guide and leave the details to them.
These guides get you from Munich (or from Frankfurt) to the castle and help you buy the ticket counter tickets without having to stand in the long lines.
Since you are already at the castle when you purchase the tickets, you can't miss your time slot.
We list some of the best tours to the Bavarian King's most famous castle.
---
---
Inside Neuschwanstein Castle
Neuschwanstein wasn't built to be a royal castle to impress the world. Instead, it was to be a retreat for the King.
Ludwig II escaped into a dream world created with a lot of inspiration from the operas of his long time friend and composer Richard Wagner.
For instance, once inside, you can't miss the numerous pictures on the walls and ceilings taken from Wagner's operas.
Some of the feelings these pictures depict are love and guilt, repentance, salvation, etc.
Three prominent figures often appear in the castle's messaging – the poet Tannhäuser, the swan knight Lohengrin, and the Grail King Parzival (Parsifal).
The 'swan' was the animal of the Counts of Schwangau and is used extensively within the castle.
It is also the Christian symbol for 'purity,' which King Ludwig was seeking.
Religious and political thoughts were also conveyed using art. For instance, in the Throne Room, one can see paintings that depict how Ludwig was a King' by the grace of God.'
Modern technology
Even though Neuschwanstein Palace looked as if it came out of the Middle Ages, it catered to every convenience a royalty may need.
The latest technology was used to fit the royal residences with hot air central heating.
Every floor had running water, and the toilets had an automatic flushing system.
During the brief time he lived in the castle, the King used an electric bell system to call on his servants.
Some of the rooms even had telephones, and the castle itself had lifts.
---
---
Neuschwanstein Castle and Disney
Neuschwanstein in Germany, is the castle behind Walt Disney's castle.
When Ludwig commissioned a beautiful castle on top of a hill, he wouldn't have imagined that he was setting the trend for how every fairytale castle will be drawn and colored.
Before he built the Disneyland in California in 1955, Walt Disney and his wife Lillian visited the Bavarian castle built on a rugged hill above Hohenschwangau's village near Füssen.
Soon enough, an inspired Mr. Disney built the first Sleeping Beauty's Castle in Disneyland in California.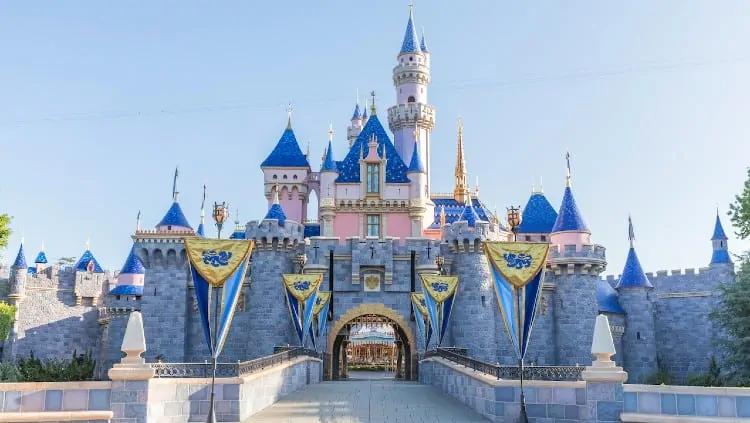 Since then, even though they are named differently, every Disneyland has had a castle.
Recommended Reading: Neuschwanstein Castle and Disney
---
---
Neuschwanstein Castle bridge
Marienbrücke in Schwangau is a bridge across Pöllat gorge, overlooking Castle Neuschwanstein.
King Ludwig II built the bridge so that people could admire his castle from a distance as well.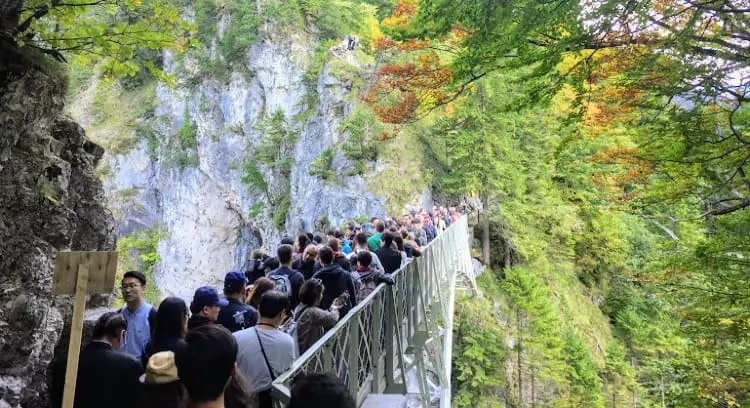 The King named the bridge after his mother, Queen Mary, and Marienbrücke translates in English to Mary's Bridge.
At this location, the first bridge was built by Ludwig's father, King Maximilian II, in 1845.
However, Ludwig II wanted Mary's bridge to match his castle's extravaganza, so he decided to get it replaced by a filigree iron structure in 1866.
The bridge was restored in 1984, more than a century later.
However, some of the original parts of the Neuschwanstein Castle's bridge are still in use.
---
---
Neuschwanstein Castle weather
Since Neuschwanstein is in the Bavarian Alps, weather plays a massive role in how visitors experience the beautiful castle.
It is best to visit the castle during the summer months, even though that's when it is most crowded.
During the summers, average day temperatures start from a low of about 15°C (60°F) to a high of 20°C (70°F).
Neuschwanstein Castle in winter
During Winter, Neuschwanstein Castle in Bavaria gets covered in snow and looks stunning – straight out of a fairytale.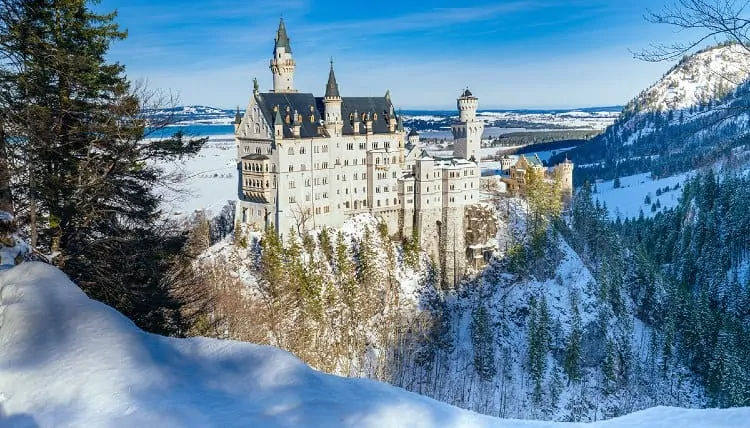 However, it is not a great time to visit Ludwig's castle.
From November to April, the temperature on most of the days is close to zero.
January is the coldest month of the year, and February the second coldest. During this period, it is customary to get an inch of snowfall every day.
During these colder months, some of the services around the castle also shut down.
For instance, the bus shuttle doesn't ply, and visitors cannot get on the Marienbrucke bridge to see the castle's stunning views.
Neuschwanstein Castle in Autumn
If you don't mind the chill, Autumn can also be a great time to visit Neuschwanstein.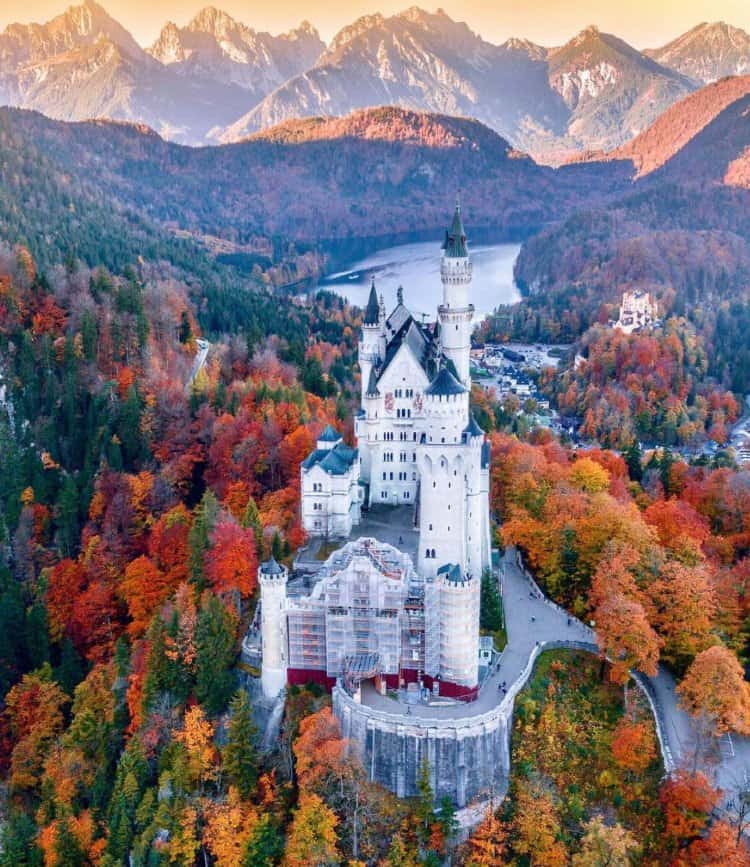 The temperatures are still mild, with averages of 12°C (50°F) and highs of about 18°C (64°F), and rainfall is almost negligible.
During September and October, the crowd is also minimal.
Sources

# Neuschwanstein.de
# Radiustours.com
# Tripadvisor.com

The travel specialists at TheBetterVacation.com use only high-quality sources while researching & writing their articles. We make every attempt to keep our content current, reliable and trustworthy.
Popular attractions in Munich
# Linderhof Palace
# Hofbrauhaus Munich
# Allianz Arena Tour
# Dachau Concentration Camp